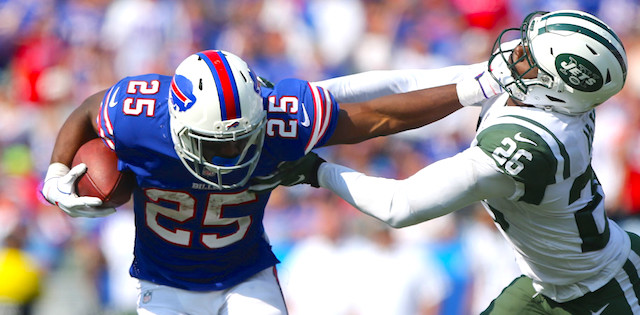 We all have had that one draft, or maybe even two, that our team cannot come back from. We thought we nailed our draft but when we look back on our picks at the end of the season, we realize we could have done better. Let's take a look back at 2018 ADPs and see who the biggest fallers were between expected value on draft day, versus actual fantasy value returned by the end of the year.
For this article, we will be using 2018 ADP from Fantasy Football Calculator and really examining the players who fell more than 10 spots between their position ADP and final position ranking. We also won't consider players who missed significant games during the season due to injury, so guys like Odell Beckham Jr. and Leonard Fournette won't be included in this article.
Did any of these guys lead to your downfall in 2018? If they did, you may not take a shot on them again in 2019. Let's dive into the 2018 ADP losers.
Editor's Note: Get any full-season NFL Premium Pass for 50% off. Our exclusive In-Season Lineup Tools, Lineup Optimizer and over 150 days of Premium DFS Research.
Sign Up Now!
Quarterback
Tom Brady, New England Patriots (ADP QB3, finished QB19)
Tom Brady was the biggest faller at quarterback by a significant margin. Maybe it was missing Julian Edelman for the first four games? Maybe it was a large drop off from Rob Gronkowski? Maybe it was just Father Time catching up to him? Whatever the reason, Brady missed for owners who drafted him as a top-tier quarterback, only to find him sniffing the bench by the end of the season.
Brady didn't have a bad football season, but fantasy wise, he just didn't put it together. Brady saw his lowest touchdown percentage since 2013, coming in at 5.1%. Brady also had his highest interception percentage in a season since 2011 with 1.9%. Even with those stats being slightly off, Brady was in line with career averages for completion percentage, average yards per attempt and yards per completion.
There is no denying Brady is coming towards the end of his career and the Patriots could spend 2019 focusing on their running back tandem of Sony Michel and James White instead of asking Brady to carry the offense. Brady may not even be considered a QB1 heading into next year's draft.
Running Back
Royce Freeman, Denver Broncos (ADP RB15, finished RB47)
I really don't know who to blame here. Do I blame Royce Freeman for not doing enough to go get the starting job? Do I blame Phillip Lindsay for just being great this year and not letting Freeman take the job? Do I blame the Broncos coaching staff for not putting him in a better situation to succeed? It's really a mix of all three, but Lindsay's spectacular year was the biggest culprit and kudos to him.
Freeman saw more stacked boxes than any other running back in the NFL this season, facing eight or more men 40.71% of the time. Every time Freeman was in the game, opposing defenses knew the Broncos would run the football. Even if the Broncos wanted to feature both running backs, they couldn't write together a good enough game plan to get them both going. Hopefully, a new scheme and coaching staff will help with that.
LeSean McCoy, Buffalo Bills (ADP RB16, finished RB39)
For the first time in his career, LeSean McCoy was unable to reach 1,000 rushing yards in a season that he played at least 14 games. Even if McCoy had played all 16 games this season, he still wouldn't have been close. The offensive issues in Buffalo are real and most fantasy football owners may have already forgotten because Josh Allen was able to cover some of those things up by running all over the place to end the season.
McCoy only averaged 3.2 yards per carry in 2018. His second lowest YPC came last season at four yards per carry, so we may be seeing the downturn of McCoy. Even though he is under contract for one more season, the Bills could walk away from McCoy this off-season and only face a $2.625 million-dollar cap hit. With the amount of free agent running backs on the market this year and draft full of promising, yet under-the-radar running backs, we may have seen McCoy's final game in the NFL.
Wide Receiver
Chris Hogan, New England Patriots (ADP WR19, finished WR69)
The Chris Hogan hype train began with the suspension of Julian Edelman to start the 2018 season. Knowing Tom Brady would be without his favorite target for the first four games this season sent fantasy owners into a frenzy for Hogan hoping this would be the guy to help carry the Patriots on offense to start and hopefully carry that throughout the season.
During that time frame, Hogan only had eight receptions for 109 yards and two touchdowns. The rest of the season was just downhill from there as Hogan had four games where he failed to catch a ball. Hogan will be a free agent heading into the off-season, so maybe he can land with a team that could utilize him more, but the team that typically does that is the Patriots and it didn't happen there.
Allen Robinson, Chicago Bears (ADP WR25, finished WR40)
Things will be better for Allen Robinson during the 2019 season, but I was not a fan heading into 2018. Robinson was coming off a missed season due to an ACL injury and was going to need to learn a new offense with a quarterback that had mixed reviews in his rookie season. 2018 was a bit of a roller coaster with highs, lows, twists and turns.
Robinson had a couple of massive games this season but was either a decent play each week or disappointed. Robinson may not be the receiver who had 1,400 receiving yards and 14 touchdowns in 2015 but if Mitch Trubisky can take another step forward in 2019, Robinson will be a solid option each week for owners.
Michael Crabtree, Baltimore Ravens (ADP WR30, finished WR53)
When Michael Crabtree signed with the Baltimore Ravens, there was a bit too much hype. His ADP finally settled in as a WR3 but prior to that, some owners though he and Joe Flacco could work well enough together that Crabtree would get back to 2016 numbers that made him the WR11 that season.
That didn't even come close to happening though as Flacco and Crabtree never really connected well and after Lamar Jackson took over, Crabtree's value tanked. The Baltimore offense has moved to a run-first playbook and even if Jackson continues to grow as a passer, Crabtree probably won't be able to haul in enough catches to get back to WR2 status.
Tight End
Jimmy Graham, Green Bay Packers (ADP TE4, finished TE12)
It was always the touchdowns. We could see that Jimmy Graham took a step back last season and that his skills had started to diminish slightly. His 10 touchdowns helped to cover that up though and led fantasy owners to expect the same if not more with Aaron Rodgers throwing him the football. That did not happen though.
Graham was able to haul in more yards this year than last, but the touchdowns were non-existent as Graham only found the end zone twice in 2018. The good news is that the tight end position was down all season, so Graham was still able to find his way to TE1 territory. Next season it will be safe to say fantasy owners won't invest nearly as much in Graham.
More Fantasy Football Year-in-Review
Check out all of RotoBaller's fantasy football rankings. Staff rankings are updated regularly for all positions and include standard formats, PPR scoring, tiered rankings and dynasty leagues.