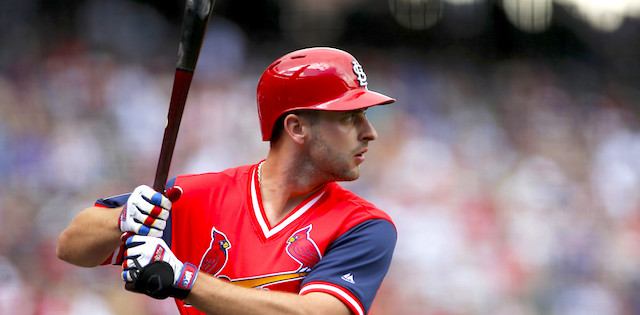 Welcome to the Thursday, July 25th edition of Daily Slivers of the Fantasy Soapbox.
Discussing baseball is as fun as the game itself. It has a way of bringing people together to share different opinions about the sport we all love. A similar action can be done with fantasy baseball where we not only discuss topics but also look to improve our teams as well as the teams of our fellow fantasy baseball enthusiasts. Everyone has their own perspectives which are not to be cast off as frivolous. They should be used as a method of expanding our own knowledge.
In this article, I review the previous day's boxscores and provide my opinion on a variety of topics. Some will be random, some will be fun, and some will be stat-driven. It's a soapbox so I may rant from time to time as well. So without any further delay, below are my thoughts on July 25th. Enjoy them. You can even respond with your own thoughts on Twitter @EllisCan2.
Editor's Note: Get any full-season MLB Premium Pass for 50% off. Exclusive access to our Draft Kit, premium rankings, projections, player outlooks, top sleepers, dynasty and prospect rankings, 15 in-season lineup tools, and over 200 days of expert DFS research.
Sign Up Now!
Daily Musings
Anthony Rendon always a Most Underrated candidate. 21st HR. 3.9WAR(ranks 10th)
"Rockies add depth" - translation: muddy the waters. Yonder Alonso w/three hits in first five at-bats.
'Member when Sean Doolittle's job was in jeopardy in late May? 23SV, 2.72ERA, 1.28WHIP.
David Price w/Quality Start, but Charlie Morton is the money-man. 7IP, 2ER, 11K.
No HR for Travis d'Arnaud. Tommy Pham updated the books after nine games w/o a long-distance acquisition. 16HR, 11SB, .271AVG. You figure the Cardinals wish they still had that?
Mark it down. 24Jul2019. Vince Velasquez with a W. 5.2 scoreless innings w/9K. He has arrived!!! What?! Oh…I regret to inform you that it was against the Tigers. Owners, please take caution in future starts. Psst, SF is next.
Scott Kingery striving for 15/10 club. 13HR, 7SB, .279AVG is well more than anyone though after 2018 debacle.
Justin Verlander w/13W. 11K & 0ER. Goochland Pride!
George Springer strives to be the best leadoff man in baseball. 23HR, 5SB, .295AVG despite missing a month. & he is an amazing person. You get my vote all day, every day.
At 29 years old, have we seen the last of the Amazing Altuve? Jose Altuve has 15HR and only 4SB w/.287AVG. Speed may not be what it used to be, but I'm not ready to write him off just yet. Hell, they have no reason to steal bases.
Well done, Khris Davis. You may only have 16HR, but your .227AVG is perfectly positioned to reach .247 for fifth year in a row.
The IL is quite popular these days. Gary Sanchez is back for a visit, Joey Gallo might stop by, Kris Bryant has knee pain. If Nick Senzel's dizziness gets worse, he'll need some R&R time.
Keston Hiura w/10th missile. To think, I missed on acquiring him in TGFBI by $4. Lesson: You want a guy, Get him!
Another two-straight games w/HR(eight) for Anthony Santander. Watch out, young man. People will start to take notice. Batting third adds intrigue.
14HR/6SB/.260AVG in 2018 to 22HR/5SB/.321 in 2019. Ketel Marte, color me quite impressed.
Looking for a hot bat? Rougned Odor has it. 5HR, .333AVG. Hahaha. No, that's not his average on the year. That's just for last week. Don't get ridiculous.
Daniel Vogelbach happy as pie to have a job. Two special deliveries(25). 42.4%Sweet Spot, 89.7mph avg exit velo, & 77%Contact makes for good times.
Did someone say start Tyler Beede vs the Cubs? 5.2IP, 4ER, 7K. In Philly isn't going to be any easier.
Javier Baez is so fun to watch. 25HR full of fun.
How mean do you have to be to let someone just fall on their own sword again and again? Jordan Lyles. 1.2IP, 8R, 5ER, 3K)
Paul DeJong has his moments. A three-tater day is momentous. (18HR).
The Pirates catchers can't catch you(2SB), but I see you Yairo Munoz. Hmmm, .300AVG is good. 18.5%K rate is not bad. AY-OH! 47%Chase?! 14.5%SwingStrike rate?! Well, 7SB is interesting. I'll continue to assess.
Starling Marte batting .419 last week needs mentioning. Of course, so does 0SB in last two weeks.
Francisco Lindor visits 15/15 club for the fourth time in his career.
Shane Bieber w/complete-game one-hitter & 10K. Only one walk. Get out of here with that "It was Toronto" talk.
My signed pitching rubber and I would like to know when Thor will become a superhero again. Noah Syndergaard 7IP, 3ER, 8K, but 5BB!
Ian Kennedy as a closer. It still boggles the mind. 19SV though.
Oh, Bless his heart! At some point, someone said, "He'll be ok." Jake Odorizzi finished w/4IP, 9ER, 7K.
Someone tell me why Nelson Cruz is only 87% owned. SHENANIGANS! Three-straight games w/HR(22). I don't care if he is DH-only. Find A Way!!!
Edwin Encarnacion w/30HR. Yet, only 87% owned?!?! SHENANIGANS!!! No, I don't care about .230AVG. It's .313 over the last two weeks.

**Wait a minute…I get it now…there's a bunch of ageists out there.

Reynaldo Lopez & Zac Gallen get together. "You beat up my guys and I'll beat up your guys." "Deal."
Jaime Barria gets W vs Dodgers. Impressive. Shhh, he gets the Tigers next. Very intriguing.
Have a great Thursday. Good Vibes! Share the love today.
No Fear, Just Fantasy.
More Fantasy Baseball Analysis