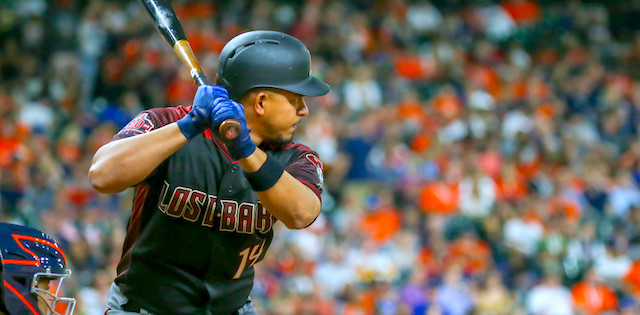 Welcome to the Thursday, June 27th edition of Daily Slivers of the Fantasy Soapbox.
Discussing baseball is as fun as the game itself. It has a way of bringing people together to share different opinions about the sport we all love. A similar action can be done with fantasy baseball where we not only discuss topics but also look to improve our teams as well as the teams of our fellow fantasy baseball enthusiasts. Everyone has their own perspectives which are not to be cast off as frivolous. They should be used as a method of expanding our own knowledge.
In this article, I review the previous day's boxscores and provide my opinion on a variety of topics. Some will be random, some will be fun, and some will be stat-driven. It's a soapbox so I may rant from time to time as well. So without any further delay, below are my thoughts on June 27th. Enjoy them. You can even respond with your own thoughts on Twitter @EllisCan2.
Editor's Note: Get any full-season MLB Premium Pass for 50% off. Exclusive access to our Draft Kit, premium rankings, projections, player outlooks, top sleepers, dynasty and prospect rankings, 15 in-season lineup tools, and over 200 days of expert DFS research.
Sign Up Now!
Daily Musings
James Paxton fails to solve the mystery that is the Blue Jays bats. (4.2IP, 3ER, 4K on 5Jun). Today: 4.1IP, 6ER, 4BB, 3K.  NYM next. (Six ER in 2.2IP on Jun11). Ugh!
Giancarlo Stanton to the IL for the third time this year (PCL strain). Daily yoga. Daily pilates. Big boy needs strong tendons and ligaments. Brett Gardner back in play. Maybe a little Clint Frazier time.
James McCann continues to provide steady production as second catcher
A quick check…yep, Rafael Devers continues to lead baseball w/# of 95+mph hits (126). 21st ranked player overall. The 22-year-old is not an All-Star finalist. Befuddling!
Jon Jay didn't help Machado come to Chicago but Jay has been hitting well since coming off IL. 4-for-9. Not a player to add but a great story.
This is why you don't "sell on Jose Abreu." 19HR, 59RBI(top-10).
Wow, Red Sox bullpen can't get a break. Matt Barnes faltered this time. 0.1IP, 2ER.
Andrew Benintendi should be WELL RESTED w/four days off, a little pre-All-Star-break break.
Ok, fine. I'm late to the Lourdes Gurriel Jr. party. Two-HR game(12)
Yankees MVP, none other than DJ LeMahieu. 58R, 12HR, 54RBI, 4SB, .336AVG. Someone got free money on draft day. Wasn't me.
Vladimir Guerrero Jr. has been…not good. 7HR, .250AVG. Time to sell. Yes, you should sell all your shares…to Me. I'm buying!!!
Nothing like a good Royal elixir to make you feel better. Trevor Bauer was FILTHY. 6.2IP, 1ER, 12K. Plural Version, Jake Bauers, hit HR(10).
Eric Hosmer giggling like a little school girl w/all the potential around him. 12HR, 55RBI, .287AVG.
Fernando Tatis Jr. feeling froggy on the basepaths (two SB). Jarrod Dyson too (two SB).
Combo meal for Eduardo Escobar. Enjoy it. They don't come around often for him. (18HR/3SB). This guy, Dominic Smith got one too (7HR/1SB).
Cody Bellinger w/26th HR. Oh, well since you asked, YES, I would sell high…for one specific guy.
Jean— not Claude Van Damme —Segura goes Bloodsport on the ball for ninth HR w/three RBI. He's back in the two-hole, his comfort zone.
NEWS ALERT! We interrupt these ramblings to bring you a special news bulletin: Peter Alonso has stolen his first base. **Applause**The crowd goes wild**High-Fives for everyone**First-daters make their own kiss cam**The sound of Matracas fill the air**Confetti dropped from Goodyear blimp**Mustard & Ketchup stains everywhere….and noone cares. Ah, this is baseball. It is a sight to see. We now return to regularly scheduled ramblings.
Zac Gallen good vs Nats (5IP, 3ER, 8K); Patrick Corbin was better (7IP, 1ER, 9K). REMATCH in five days.
Trea Turner tied for 10th in SB(14), even w/all that missed time.
Danny Santana continues Hunter Pence impersonation. 5HR, 8RBI, 2SB, .360AVG last week. Only 34% owned.
Mike Minor continues to tickle senses. Complete game one-hitter. 7K. ERA sits at 2.40. You act like the best, you get the best. Mike Trout next.
Liam Hendriks w/the SV(two). Get your abacus out. We are about to rack em up.
Though Kentucky Derby has passed, you can still enjoy a Minter Julip. Dad joke of the day. Check. A.J. Minter quenches your thirst for stats w/fourth SV. Two wins & a save in last week. Mmmm, delicious.
THUNDAH!!! Willson Contreras w/4HR, 11RBI, .400 in last week.
YES, Nick Senzel is sizzling. After no steals in 25 games, he has two in last five games. Bring the Speedy Gonzales wheels.
Yasiel Puig hit his 10th HR in last month. *looks outside* Yep, summer is here. Even has a .284AVG during that time.
Ji-Man Choi batting .234 w/three HR over last 15 days; Nate Lowe in Triple-A hitting .294 w/two HR in last week. C'mon. Stop playing around already.
Framber Valdez was not the answer. NEXT, PLEASE!
That didn't take long. George Springer w/18HR. A 448ft missile. YOWZA!
Josh Bell w/21st bomb. He can't wait to get to July. Get ready, folks.
Jose Osuna w/good game. 4HR, 12RBI, .316AVG in last month. Ok, time to look deeper.
THUNDAH!! Mike Moustakas w/23rd bomb. Constantly undervalued, multi-positional eligible guy.
Tony Gonsolin did not have a good debut. 4IP, 4ER, 3K. Might not get another start for a while.
Enjoy your Thursday baseball, only a 10-game slate.
No Fear, Just Fantasy.
More Fantasy Baseball Analysis