The 2023 NFL Scouting Combine marks a critical milestone in the journey of aspiring NFL players. Each year, the combine provides an opportunity for college football prospects to showcase their athletic abilities and catch the attention of NFL coaches, scouts, and executives. This year, the event promises to be an exciting and competitive one, with top prospects from across the country eager to prove their worth on the field.
The NFL Scouting Combine consists of a series of physical and mental tests designed to evaluate players' athletic abilities, football skills, and mental toughness. From the 40-yard dash to the bench press, the combine tests players in a variety of ways, providing valuable insight into each player's strengths and weaknesses. Additionally, players are interviewed by NFL teams to assess their character and football IQ.
The 2023 NFL Scouting Combine is expected to draw a significant amount of attention from football fans and analysts alike. With several high-profile prospects expected to participate, there will be no shortage of drama and intrigue as NFL teams look to identify the next generation of football stars. This article will provide an in-depth look at what fans and enthusiasts can expect from the 2023 NFL Scouting Combine, including the top prospects to watch at the wide receiver position as things begin to shake out for the NFL Draft.
Top Tier
The top tier of this year's wide receiver class, I believe is made up of a group of three interchangeable players. At the top of my board is Jaxon Smith-Njigba. Despite the injury-plagued 2022 season, Smith-Njigba has been widely considered perhaps the most polished receiver in this year's draft class. The former five-star recruit presents problems for opposing defense with his blend of route-running ability and separation in the short to the intermediate area of the field.
He uses deceptive footwork and his ability to read coverage to quickly find holes in a secondary and give his quarterback a dependable target. Although he lacks the top-end speed you want to see from a top receiving prospect, he makes up for it with his awareness in space as he works through all levels of the field. Smith-Njigba's ability to elevate at the catch point may be unrivaled by his peers in this class, a skill that will be very useful at the next level.
What we see from Smith-Njigba at the combine can go a long to help propel him toward being the first receiver taken in the 2023 NFL Draft. His landing spot, as will be the case with most of this year's class will be very important. If he lands in an offense where he will be the second option and they accentuate his positives, Smith-Njigba could make some noise in fantasy as early as 2023. But as for his dynasty outlook, you are likely looking at a player capped as a WR2/WR3 in his first two seasons before finally blossoming into a player with WR1 upside.
Next up in this tier for me, and not far behind, is Jordan Addison. After the 2021 season, you could have said that Addison looked like he would be the top receiver in the 2023 class based on his production at Pittsburgh and bringing home the Biletnikoff award. He thrived playing mostly as a slot receiver during Kenny Pickett's strong final season.
Heading into 2022, Addison chose to transfer to USC where he transitioned to play more snaps on the outside and his production seemed to falter. Addison plays with a sense of patience that you don't often see at the position as he can change his pace depending on coverage and uses what he sees before attacking. His release off of the line and ability to separate across all levels of the field may be a tad bit better than Smith-Njigba's. But similarly, to Smith-Njigba, he lacks the true top-end speed that you want to see. At the next level, Addison would be best utilized out of the slot and used as a high-volume receiver.
As of late, Addison has been gaining steam as the consensus top receiver in this class and could be the first to come off the board due to his all-around skillset. If he can land on an offense that employs a West-Coast type scheme with quick throws to the short-to-intermediate area, Addison's impact in fantasy could be felt very quickly. But like Smith-Njigba, I can see some growing pains early on as he adjusts to NFL coverages. Eventually, you are seeing a receiver in a dynasty that should be a consistent fringe WR1.
To wrap up the top tier of receivers in this year's class I have Quentin Johnston. The analysis on Johnston has been all over the place as we head into the combine. Some see a receiver with a size/speed combination and are wowed by what he can do in the NFL. While others see his inconsistencies in breaking away from press coverage and his ability to win in contested catch situations as problems that will affect him at the next level. In watching the film it is easy to see that Johnston is more impactful against zone coverages, as he uses his quick first step to separate from defenders and find open space.
Against these zone coverages, his ability to expand his route tree is visible as he wins in most of these instances. With the ball in his hands, Johnston can be tough to bring down for opposing defenses as his speed can allow for him to separate, while he also has the size to break through arm tackles. What people will be awaiting to see at the combine with Johnston is what he runs in the 40-yard dash. It is expected that he puts up an incredible time for a player of his stature. If he does this, it will only cement his status as one of the top receivers to be drafted in this class.
From a fantasy perspective, you want to see Johnston land with a team that likes to push the ball vertically down the field. This is where you see him being mocked to the Los Angeles Chargers quite a bit. That landing spot could potentially be quite the boost, as he could quickly become the top option for Justin Herbert. But in a nutshell, I do not see Johnston as a major factor in PPR formats early in his career. He's a big play waiting to happen and his ability to get into the end-zone predicates that. From a dynasty standpoint, the WR1 potential is there down the line, but he'll likely be a consistent contributor as a WR2.
Players to Watch
Zay Flowers has been a hot name in the fantasy industry as of late. During practices leading into the combine, Flowers has shown that even though he has a somewhat smaller frame, his athleticism and competitiveness will carry him a long way. During his career year in 2022, Flowers showed to be an electric player in space with a run-after-catch ability to rival the best receivers in the class. If there is a knock on him at all is that his hands can be inconsistent at times. But that is something that can be worked on through proper coaching as he progresses to the next level. Flowers projects to fill the role of a slot receiver in the NFL, a role that he could prove to flourish in with the right offensive staff that can work with his best abilities.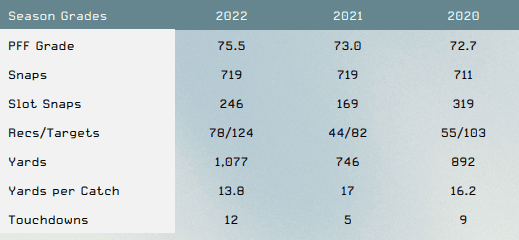 Projected Dynasty Value - Potential PPR WR2 that will demand a high-volume target share.
Jalin Hyatt is a receiver that you are seeing mixed emotions on as we head into the combine. The 2022 Biletnikoff award winner, Hyatt thrived in Tennessee's wide-open passing game. He is an explosive athlete that utilizes his speed to blow past defenders and run away from coverage. His ability to track the ball down the field and trustworthy hands are elite traits that will be coveted in this class. But if there is a knock on him is that he will likely struggle against press coverage in the NFL, something that we saw limited him in the game against Georgia. Watch for what his 40-yard time is at the combine because if it is among the fastest in workouts, he will likely solidify himself as a first-round selection in the NFL Draft.
Projected Dynasty Value - WR3 that will have flashes of WR2 potential.
Kayshon Boutte feels like a receiver that is being slept on in this class just a bit. He was once considered to be one of the next great receivers coming into the league from LSU, but as the Tigers struggled with consistency in 2022, Boutte was one to suffer from that. But from a pure prospect perspective, he has the blend of size and speed that is coveted at the position. He has the speed to line up outside and get past defenders but can also be lined up inside and use an exceptional run-after-catch ability as well. If he cleans up his inconsistencies in his release off the line of scrimmage, Boutte could evolve into one of the best receivers in this class.
Projected Dynasty Value - WR3 early on as he transitions, but has the skill set to potentially become a fringe WR1.
Potential Sleepers to Watch
Cedric Tillman came into the 2022 season as the Vols WR1 but was limited all season with a nagging ankle injury. His prototypical size and plus ball skills will be coveted by a team looking to improve their red-zone packages. If he can show a more expansive route tree at the next level, there's a future as a steady fantasy contributor.
Jayden Reed is a very experienced receiver, Reed is a player that can be utilized all across the field. The versatility he can bring to a team will be crucial for an offense looking to find mismatches for him. His lack of elite speed could cap his true potential, but the skills he has in the return game will allow him to log snaps and be involved in game plans. Reed will be a player worth drafting in dynasty to see how things take shape as he makes the transition to the NFL.
Xavier Hutchinson, simply put, is a well-rounded prospect. He has the size and build to play on the outside, but the route-running ability to be placed inside if needed. His abilities in contested catch situations are one of the tops in the class and could allow him to develop into a red-zone threat down the line. His trustworthy hands will help him build trust with a quarterback, but his lack of explosiveness will cap his potential as a steady fantasy contributor.
Download Our Free News & Alerts Mobile App
Like what you see? Download our updated fantasy football app for iPhone and Android with 24x7 player news, injury alerts, rankings, starts/sits & more. All free!


Win Big With RotoBaller
Be sure to also check out all of our other daily fantasy football articles and analysis to help you set those winning lineups, including this new RotoBaller YouTube video:


More Fantasy Football Analysis
Check out all of RotoBaller's fantasy football rankings. Staff rankings are updated regularly for all positions and include standard formats, PPR scoring, tiered rankings and dynasty leagues.