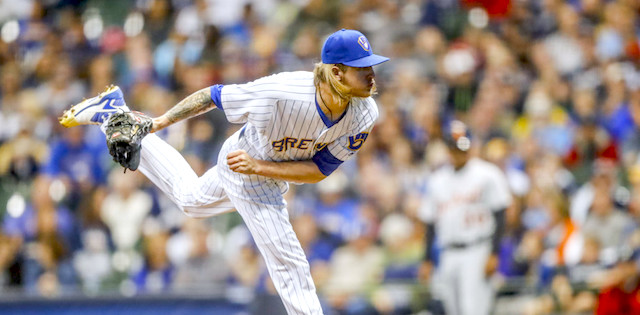 Often regarded as an inferior fantasy baseball format, points leagues offer a different style of boasting over your friends or coworkers similar to that of fantasy football. These setups are typically head-to-head formats for a one-week stretch where the player with the most points gets a win. Easy right? While it's true that roster construction is more basic, the common mistake that people make is drafting straight from a top-300 list from a magazine or website. These rankings are generally directed towards rotisserie formats, so we need to determine the key differences between these styles.
The value of a relief pitcher in a points setup isn't as prominent since there are no categories to balance out when drafting your roster. Relievers will accumulate a certain amount of points per save or hold, but bullpen arms won't generate as many points as a starter or hitter in their respective tier. For example, Kirby Yates finished just outside the top-50 in 5x5 roto value but finished 147th in total points in Yahoo! leagues. Lack of innings pitched is the main cause for this differential since more innings equal more points. Just because relievers don't score as highly doesn't mean they should go undrafted in points formats, however. It's important to keep this in mind since their values are still relative to another, so a top-tier reliever is still worth much more than a bullpen arm in the late rounds.
Strikeout and walk rates are crucial when determining the value of a reliever and the best statistic to track this is K-BB%. The higher the number, the better since a strikeout is typically worth the same as a free pass in most setups. Another increasingly popular tactic to be aware of when filling your relief slots is using starters with RP eligibility since their IP will score more points. For the sake of simplicity, however, this article will solely analyze true bullpen options. Now that we understand these concepts a bit more, let's look at some relief arms you'll want to target or avoid in your points league.
Featured Promo: Get any full-season MLB and DFS Premium Pass for 50% off. Exclusive access to our Team Sync platform, Premium articles, daily Matchup Rating projections, 15 lineup tools, DFS cheat sheets, Research Stations, Lineup Optimizers and much more!
Sign Up Now!
Relief Pitcher H2H Points League Rankings
In case you missed it, our very own "Big Pick Nick" Mariano was named the #1 overall most accurate industry expert ranker for the 2018 season!
Tier One
Josh Hader paced all relievers in 2019 with a whopping 40.8% K-BB% while earning 37 saves on his way to taking home the NL Reliever of the Year trophy. The southpaw's 42.0% Whiff% unsurprisingly led all pitchers in this category thanks to remarkable 40.9% and 46.3% respective marks with his fastball and slider. However, when opponents did make contact, they punished the ball to a 12.6% Barrel% and 90.4 MPH Exit Velocity. These underwhelming metrics led to Hader surrendering 15 big flies last season after allowing 13 in his career prior as his HR/FB soared from a 12.3% lifetime mark to 21.4%. This number should regress in 2020, and since he has the best swing-and-miss stuff in the league, Hader will further establish himself as the top reliever in all of baseball.
Some people will argue that Kirby Yates should have taken home the NL Reliever of the Year award last season as he led baseball with 41 saves while finishing second in K-BB% (36.2%). His 41.6% K-rate and 5.4% walk rate were both career-bests after he focused on a two-pitch approach by scrapping his slider. When he relied on his fastball and splitter, he became virtually untouchable, holding opponents to a 4.1% Barrel% and 34.6% Whiff%. Yates will have trouble keeping his 1.19 ERA this low in 2020, but the right-hander will continue to rack up saves while providing an upper-echelon K-BB% number.
Aroldis Chapman had his slowest season with the fastball yet in 2019 (98.0 MPH) that led to his second-lowest K-rate of his career (36.2%). Still a terrific number, but his 10.6% walk rate helped push him nearly outside the top-20 in K-BB%. Entering his age-32 season, there's still gas in the tank for the southpaw, but his points league value is diminishing since his strikeouts keep falling.
Tier Two
Liam Hendriks took over the closing duty for the Athletics mid-way through the year and still managed to pile up 25 saves for the club. The right hander's career-high 37.4% K-rate aided his top-five finish in K-BB% (31.0%) as his added nearly two ticks of velocity to his fastball. He upped the usage on his 96.7 MPH heater as well, which made his wipeout slider even more unhittable as it sported an elite 54.2% Whiff%. Entering the 2020 campaign with the ninth-inning job for the first time in his career, Hendriks' repertoire will certify his arm as a top reliever in the AL in all formats.
Kenley Jansen is coming off his worst year after posting a career-low 3.71 ERA and a six-year low in saves (33). The veteran's velocity didn't drop a considerable amount from 2018, but his once-dominant cutter has dipped over 1.5 MPH since the 2017 campaign. Jansen surrendered eight long balls on this offering and a .232 batting average against, his worst mark on this pitch since 2014. Pair these waning stats with a 24.3 K-BB% that sat narrowly in the top-25, Jansen is no longer an elite bullpen arm, but his ninth-inning role will help keep his value afloat in points leagues with a path to saves.
Edwin Diaz presents a tremendous buy-low opportunity after getting selected as the No. 1 reliever a season ago. His 15 homers allowed highlighted his collapse with the Mets, but he never lost his ability to strike batters out. Diaz's 39.0% K-rate sat as a top-five mark and his 30.3% K-BB% finished eighth, the only question is how long his leash will be in 2020? The soon-to-be 26-year-old will get the first crack at the ninth-inning job, but the threat of Dellin Betances or Seth Lugo taking over linger if he struggles again.
The Minnesota Twins surprisingly went with their left-hander Taylor Rogers as their closer last season. He didn't disappoint after nailing down 30 saves while sporting career bests in K-rate (32.4%) and walk rate (4.0%). Rogers' 2.63 SIERA and 2.85 FIP supported his 2.61 ERA, so the 29-year-old should put up another productive season as the closer in the Twin Cities.
Tier Three
In the wake of the Emilio Pagan trade, Nick Anderson has soared up the draft boards despite one big-league season under his belt at age-29. After seeing his 2019 stats, there's no question why since he posted a 3.32 ERA, 2.35 FIP, 2.21 SIERA, and the second-best K-rate in the majors (41.7%). Anderson got even better as the season wore on with a 27.7% K-BB% in the first half and a 45.7% mark the rest of the way. He pairs his 96.0 MPH fastball with a curve that caused batters to whiff 54.2% of the time; the only concern is if he'll get the reigns to the closing job. The Rays also have Diego Castillo and Jose Alvarado in the mix and haven't shied away from a committee approach before. Anderson currently isn't a lock for the job, but if the word comes down, his stock will rise even further.
I'm bullish on Ken Giles in 2020 after he quietly put up a 1.87 ERA and the fourth-best K-rate in the league last season (39.9%). He also finished sixth in K-BB% (31.7%) and third in Whiff% (40.0%), his only knock was securing just 23 saves. Giles only blew one opportunity in 2019, and with the Blue Jays projected to win more in 2020, the right-hander has sneaky points league value if he sustains his superb K-BB%.
Tier Four
There was a lot to like and a lot to dislike in Brandon Workman's 16-save season. The good was his 1.88 ERA, 36.4% K-rate, and one barrelled ball in 135 events (0.7% Barrel%). The bad was his 3.78 SIERA, 3.33 xFIP, and troublesome 15.7% walk rate. Fate should have it that his numbers fall somewhere in the middle in 2020, but the upside is salivating if he harnesses his control. Workman appears to have a firm grip on the ninth-inning job since Matt Barnes struggled in the role last season and makes an intriguing middle-round relief option.
Craig Kimbrel will look to have a bounce-back season after posting an atrocious 6.53 ERA in his 20.2 innings with the Cubs last season. His midseason signing likely played a factor in his demise, but he's no spring chicken entering his age-32 season. He'll keep a stranglehold on the closing job, which boosts his value even if his strikeout total doesn't live up to his 41.1% career mark.
Hansel Robles had a productive first full season as the Angels closer, converting 23 of 27 saves in 2019. The right-hander added a changeup to his arsenal last season that generated a 36.0% Whiff% and a measly .175 BAA. Robles' effectiveness with his new repertoire helped improve his K-BB% in the second half by over 8% to 24.6%, while his ERA fell from 2.74 to 2.10. He doesn't have the upside of a top-tier arm, but he should see more save opportunities on an improving Angels team in 2020, making him a viable relief option.
Archie Bradley's year-end 3.52 ERA looks a little bleak, but once he started closing games for the Diamondbacks at the end of July, he was one of the better relievers in baseball. He locked down 18 of 19 opportunities while holding his ERA at 2.10 in this span, although he dropped his K-BB% nearly 3% to a meager 13.5%. Bradley's points ceiling isn't as high since he doesn't have the strikeout ability like most relievers, and it the D'backs have always preferred him in a setup role, so I wouldn't pay full price for him in 2020.
Tier Five
Giovanny Gallegos may have the most upside of all the relief arms in this tier. After posting an admirable 2.31 ERA and a shiny 27.6% K-BB% in his first full season, the right-hander's future looks bright at the back end of the Cardinals bullpen. Carlos Martinez will stretch out as a starter this spring, giving Gallegos a path to the ninth-inning job if he can fend off veteran Andrew Miller. Still, the 28-year-old's ability to strike batters out will keep his arm worth rostering in points formats even if he winds up in a setup role.
An elbow injury led Keone Kela to just 29.2 IP with the Pirates in 2019, where he quietly posted a 2.12 ERA as the team's setup man. The 26-year-old got off to a rocky start where he allowed six runs in his first eight appearances of the season, but was lights-out the rest of the way surrendering just one earned run over his final 23.0 IP. Kela has struggled with control during his five-year career (9.4% BB%), but the ninth-inning job is his for 2020, although the opportunities won't be as bountiful on an underwhelming Pirates team.
As members of the Giants bullpen a season ago, Will Smith was the ninth-inning option while Mark Melancon worked as the setup man. Now with the Braves in 2020, it appears their roles have flipped at least for now. Smith, the left-hander, is the more elusive arm (29.2% K-BB%) but will find the majority of his usage matching up against fellow lefties when they step to the plate. Despite posting a 17.6% K-BB% a season ago, Melancon can accrue a similar point total to Smith as the primary closer, although if he stumbles, it will be the southpaw who takes over the job.
Tier Six and Lower
Diving this low in the player pool, it's difficult to find arms who will provide a sturdy point total from accumulating saves. Players like Brandon Kintzler, Mychal Givens, and Matt Magill may wind up as long-term closers this year, but their stuff isn't drool-worthy on below-average teams. If your points league counts holds there are some players to admire in the depths of these rankings.
Ryne Stanek may have the best arsenal on the Marlins with a 97.6 MPH fastball and whiff-inducing deliveries with the slider (45.5% Whiff%) and splitter (57.3% Whiff%). His 27.2% K-rate from 2019 is laudable, but he'll have to cut down on his 11.9% walk rate if he ever wants a shot at the closing job. Luckily, he only has to ward off recently-signed Brandon Kintzler.
Tying for the league lead in holds last season was Ryan Pressly, who missed about a month of action with a knee injury. He posted an excellent 28.4% K-BB% for the Astros and has proven to be just as effective versus lefties and righties over his career. Keeping the ball on the ground over 50% of the time also takes away the chance of surrendering the ERA-inflating home run as Pressly stands as one of the best setup men in the league.
Adam Ottavino and Zach Britton combined for 57 holds with the Yankees in 2019, paving the way for Aroldis Chapman to lock the game down. Ottavino is the better strikeout arm (17.0% K-BB%), whereas Britton is the lefty specialist who pitched to the highest groundball contact among all pitchers last season (76.7%). Both men get the job done, but Ottavino is the better points league play since he racks up a higher total via the punch out.
More 2020 Fantasy Baseball Advice