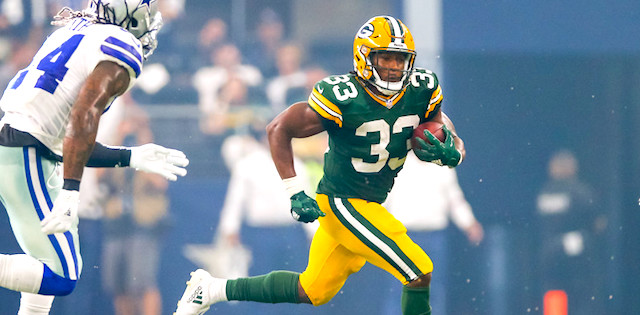 What a season, RotoBallers. Fantasy football is always a fun, interesting, and long season - filled with injuries, breakout players, and different strategies. It takes stamina and endurance to win the marathon, and we're here today to recognize those who pulled it off.
With 343 teams - across two divisions - competing to be crowned champ of the 2019 Fantasy Football RotoBaller Challenge on Fleaflicker (and to have their bank account padded a bit more), only one prevailed. Below are each of the 30 individual league winners, and the overall tournament champion too - congrats to all of them!
In case you missed it, the RotoBaller Challenge is a yearly fantasy football tournament run by yours truly - all free to enter, with lots of fun prizes.
Who Has Been Crowned Champ?
🏆🏆 And the winner is... Team Byronchenko!!! 🏆🏆
A big congrats from everyone at RotoBaller and Fleaflicker! 🍾
In addition to winning the $500 grand prize, and a full year of RotoBaller's Premium Pass ($99 value), you now get to carry the ultimate prize - you are THE champ of the Fleaflicker RotoBaller Challenge, and get to carry bragging rights throughout the entire off-season.
This was no easy feat, as 343 teams across two divisions competed for the gold, and you defeated all of them. You are a true RotoBaller!
Among the many draft picks and roster moves made, the main studs leading you to glory were Lamar Jackson, Michael Thomas, Travis Kelce, Aaron Jones, Mark Andrews, Courtland Sutton, Miles Sanders... and some waiver wire pickups along the way like Deebo Samuel. Here was the original draft roster, and the final roster, with a few waiver wire add/drops made in between:
Original Roster:
Final Roster:
Individual League Winners
While there can only be one RotoBaller Challenge champion, the competition was close and came down to the wire. Congrats to all of the individual league winners, who showed off their fantasy football skills and also won a full year of RotoBaller's Premium Pass ($99 value)!
Main Division:
| | |
| --- | --- |
| League Number | League Winner |
| RotoBaller Challenge 1 | Chumps |
| RotoBaller Challenge 2 | Midwest Blake Bortles |
| RotoBaller Challenge 3 | Big Balls Buhrandt |
| RotoBaller Challenge 6 | Team Byronchenko |
| RotoBaller Challenge 8 | Grudn Grindr |
| RotoBaller Challenge 9 | The Evil Empire |
| RotoBaller Challenge 12 | Harold Seattle |
| RotoBaller Challenge 13 | Kansas City Shuffle |
| RotoBaller Challenge 15 | GODZILLA |
| RotoBaller Challenge 16 | TimRs Team |
| RotoBaller Challenge 17 | Abdullah Oblongata |
| RotoBaller Challenge 22 | Hazlet Traveling All Stars |
| RotoBaller Challenge 23 | Gonna Fly Now |
| RotoBaller Challenge 25 | Ambers Steeds |
| RotoBaller Challenge 26 | Mustard Tigers |
| RotoBaller Challenge 27 | The Motley Crew |
| RotoBaller Challenge 28 | Worst |
| RotoBaller Challenge 30 | Christian Soldiers |
FSA Division:
| | |
| --- | --- |
| League Number | League Winner  |
| RotoBaller FSA Division Challenge #1 | Roddys Whiteboys |
| RotoBaller FSA Division Challenge #2 | FSA OG |
| RotoBaller FSA Division Challenge #3 | Wine and Breida |
| RotoBaller FSA Division Challenge #4 | Dez Caught It |
| RotoBaller FSA Division Challenge #5 | The Difference Maker |
| RotoBaller FSA Division Challenge #6 | TBA |
| RotoBaller FSA Division Challenge #7 | ACL Terrors |
| RotoBaller FSA Division Challenge #8 | Last Jedi |
| RotoBaller FSA Division Challenge #9 | Legionofzoooom |
| RotoBaller FSA Division Challenge #10 | Recife Burilzords |
| RotoBaller FSA Division Challenge #11 | TheBroken |
| RotoBaller FSA Division Challenge #12 | Zach palm |
Final Standings
Below are the final standings for the playoffs:
League
Number
League
Winner
Regular Season Avg
Week 15
Week 16
Total
RotoBaller Challenge 6
Team Byronchenko
163.96
217.6
218.79
603.09
RotoBaller Challenge 28
Worst
154.48
214.01
201.18
572.01
RotoBaller Challenge 22
Hazlet Traveling All Stars
149.67
218.79
194.51
565.21
RotoBaller Challenge 23
Gonna Fly Now
138.09
172.08
248.06
563.73
RotoBaller Challenge 27
The Motley Crew
155.03
222.15
177.32
555.61
RotoBaller Challenge 26
Mustard Tigers
152.49
220.99
179.52
554.35
RotoBaller FSA Division Challenge #9
Legionofzoooom
163.59
195.73
191.35
552.06
RotoBaller FSA Division Challenge #7
ACL Terrors
169.78
203.86
177.90
551.95
RotoBaller Challenge 13
Kansas City Shuffle
152.09
215.03
163.93
531.64
RotoBaller Challenge 16
TimRs Team
177.89
184.11
162.65
523.89
RotoBaller FSA Division Challenge #3
Wine and Breida
156.53
198.3
164.75
519.99
RotoBaller Challenge 2
Midwest Blake Bortles
151.82
198.99
167.78
519.39
RotoBaller FSA Division Challenge #11
TheBroken
147.34
195.52
170.47
514.49
RotoBaller Challenge 25
Ambers Steeds
171.88
207.2
135.17
512.41
RotoBaller Challenge 8
Grudn Grindr
153.82
184.9
164.94
504.22
RotoBaller Challenge 15
GODZILLA
151.46
208.27
143.88
503.23
RotoBaller Challenge 1
Chumps
150.12
183.29
160.69
494.63
RotoBaller FSA Division Challenge #8
Last Jedi
140.31
177.39
171.38
490.63
RotoBaller Challenge 9
The Evil Empire
142.81
207.58
138.96
489.16
RotoBaller FSA Division Challenge #10
Recife Burilzords
138.30
189.92
159.62
488.91
RotoBaller FSA Division Challenge #6
TBA
142.41
197.97
139.08
479.29
RotoBaller FSA Division Challenge #2
FSA OG
135.91
177.47
163.04
477.78
RotoBaller Challenge 30
Christian Soldiers
161.55
153.51
153.08
467.72
RotoBaller FSA Division Challenge #1
Roddys Whiteboys
147.27
151.6
165.94
465.74
RotoBaller Challenge 12
Harold Seattle
136.44
183.39
139.90
459.90
RotoBaller FSA Division Challenge #5
The Difference Maker
138.61
153.54
161.09
454.36
RotoBaller FSA Division Challenge #12
Zach palm
149.26
173.66
130.93
452.93
RotoBaller Challenge 17
Abdullah Oblongata
164.93
165.44
122.64
450.90
RotoBaller Challenge 3
Big Balls Buhrandt
143.66
153.86
145.40
443.01
RotoBaller FSA Division Challenge #4
Dez Caught It
138.21
171.53
130.32
439.67