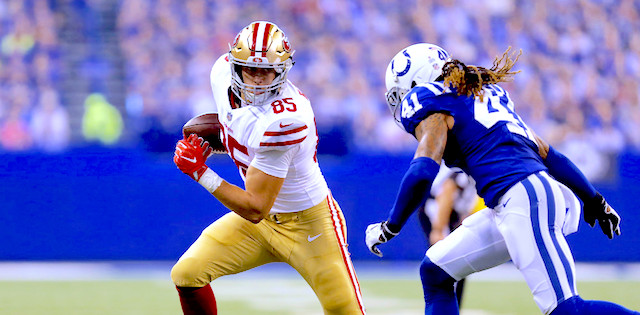 We wind down our look at the early 2019 fantasy football PPR rankings with the tight end position.
Our top rankers (Nick Mariano, Dom Petrillo, and myself) got together to release a pre-draft look at each position for re-draft leagues. We're not including the 2019 rookie class just yet, seeing as how we have no idea where they will be playing.
When you're done looking at tight end, check out our tiered analysis on the quarterback, running back, and wide receiver positions as well. Now, let's take a look at how the TE position is stacked.
Featured Promo: Get any full-season NFL Premium Pass for 50% off and win big in 2023. Exclusive access to our Premium articles, 15 lineup tools, new Team Sync platform, Lineup Optimizer, Premium DFS tools and cheat sheets, and much more!
Sign Up Now!
PPR Redraft Tight End Rankings (February 2019)
Tier 1
Henceforth, the term "Big Three" shall refer to the top tier of tight ends in fantasy football. If ever there were a clear division at a position, it's right here. Kelce, Ertz, and Kittle are in a league of their own when it comes to fantasy production, especially given how quickly it thins out down the road. It was previously unheard of to have three tight ends come away with 1,000-yard seasons. Not only that, they all fell within the top-16 in receiving yardage when you include all positions. For this reason, Kelce will be a second-rounder, while Ertz and Kittle will likely be third-rounders in most PPR drafts. If you want an elite tight end, you'll have to strike early. It just might be worth it though.
Tier 2
Here's where the real intrigue lies. If you don't want to use an early pick at TE or simply miss out, you will want to pounce on your favorite second-tier player. I won't begin to address Gronk because we still don't know if he's even playing in 2019. Needless to say, if he does come back for one more season, he carries a great deal of risk. He missed three games last year, making 13 absences over the last three years. When he did play, he averaged just 52.5 yards per game, the second-lowest of his career. Even worse, he scored just three times! The only time he made fewer trips to the end zone was in 2016 when he suited up for eight games. But we're not going to talk about Gronk... If you own him, sell for whatever you can get at this point.
A trio of third-year tight ends is at the forefront as contenders for the TE throne. A year ago, it looked as if Evan Engram was the one to own. He posted 64 catches for 722 yards as a rookie, which is impressive at a position where rookies rarely become big receiving threats. Over the past 15 years, the only other TE to surpass 600 yards in his first season was John Carlson of Seattle. It also marked the third-most receptions ever for a rookie tight end.
Then OBJ returned. Predictably, with Odell Beckham Jr. on the field, Engram received far less attention. The inclusion of safety net Saquon Barkley also ate into Engram's targets and left him with an 11.6% target share, good for fourth on the team. That's a far cry from 2017 when he led the Giants with an 18.9% target share. Engram is still a first-round talent and just 24 years old, but those looking to win now may prefer Njoku or Howard, at least until a replacement is found for Eli Manning.
Both Howard and Njoku were also first-round picks two years ago and each player finds himself with a new head coach on an explosive offense. Which one you prefer is a matter of how you view the team context. This ranker is personally higher on Njoku because Baker Mayfield has already shown himself to be more of a franchise QB in 13 games than Jameis Winston has in four seasons.
Hunter Henry is the biggest question mark of all. He missed all of the 2018 regular season after an ACL tear but found a way to get on the field for the team's playoff loss to New England. We know he'll be ready to go for 2019. We don't know how he will be utilized now that Mike Williams stepped up to become a reliable target in addition to Keenan Allen. We also have no idea how much longer Philip Rivers will play. He was sharp as ever last season but the fact that he's 37 can't be ignored. Henry is our seventh-ranked TE at the moment but you could easily make a case for him at the fifth spot ahead of Gronk or Engram.
Tier 3
No Country for Old Men? Tell that to Greg Olsen and Delanie Walker who, despite serious injuries that threatened to end their illustrious careers, have each declared a return to the field for 2019. Olsen has received multiple television offers to enter the broadcast booth, so don't be surprised if he becomes the next Jason Witten (but better). This makes him nothing more than a stopgap in dynasty, as owners will want to also own either his successor, Ian Thomas, or another young tight end with potential to breakout.
Walker is a year ahead of Olsen at 34 but will keep chugging as long as he can. Jonnu Smith didn't do much with the golden opportunity he was given to be the starter before succumbing to injury himself late in the season. Walker is a great value pick for win-now franchises and could be acquired on the cheap.
Trey Burton crept into the top-10 discussion last year when he was signed by Chicago. He got off to a nice start, catching five touchdowns and averaging five targets per game in the first half of the season. A variety of factors contributed to his precipitous drop in value, including a Trubisky injury, return by Adam Shaheen, and more conservative play-calling by the Bears. He scored just once in the last eight games and averaged 22 fewer yards per game. He is a decent asset but doesn't figure to ever be more than a high-end TE2.
Chris Herndon IV produced similar numbers to Burton, despite playing on a team with serious issues last year. He is just 23 and can grow together with fellow second-year player Sam Darnold. He should still be considered a project though, not due to age alone. Adam Gase offenses haven't been TE-friendly since the days he was OC in Denver and that was more about Peyton Manning than anything Gase did. Herndon is a player that could be undervalued since he doesn't bring the same level of draft stock as players like Mike Gesicki or Hayden Hurst.
Tier 4
What to do with Jordan Reed? He's gone from promising stud to a past-his-prime, injury-prone player. Even in a season where he managed to stay off the injured list up until Week 13, he didn't produce the numbers we expected. Then he predictably got hurt again and now we have no idea who will be the quarterback for Washington next year. The best advice regarding Reed is simply to pass the headache on to another owner, but good luck finding one who will give you more than third-round rookie pick in return.
Tyler Eifert may seem like the same player as Reed but it's not quite the same situation. While Reed has constantly been bothered by recurring foot and toe issues, Eifert recovered from a back injury just to suffer a freak (and gruesome) ankle injury. It's possible he is ready to go for training camp and puts in a full season of work for a team still bereft of quality pass-catchers at tight end. He's only 28 and shouldn't be written off just yet.
There is a world in which Vance McDonald is the second-leading target for Pittsburgh. With AB on the way out and James Washington still a question mark to take on the WR2 role, if the Steelers don't find a free agent receiver then McDonald could see a lot more action. That's assuming he obeys his Dad.
Tier 5
Imagine if Dallas Goedert was drafted by a team that didn't already have an All-Pro tight end? He was lightly used, seeing just 44 targets on the year, while Ertz was setting NFL records. His value is obviously capped as long as Ertz is on the field but in dynasty leagues, owners have the luxury of being patient.
The aforementioned Mike Gesicki and Hayden Hurst figured to be the best pure pass-catchers from last year's rookie class. Instead, they were the biggest disappointments. Hurst can blame a preseason injury that left him behind schedule and learning on the job once he joined the team in Week 5. Mark Andrews kept the starting job and will continue to compete with him, making both risky assets.
Gesicki can blame a wreck of an offense and the fact he only saw 402 offensive snaps all year. That's less than Nick O'Leary. That's less than Greg Olsen, who played in nine games. It was also less than 67 other tight ends. Opportunity just wasn't there for Gesicki, so buy low now, stash him on your bench, and hope the Dolphins can make something of themselves in another year or two.
Tier 6 & 7
Charles Clay signing in Arizona kills off any hope we had for RSJ to become a thing. Arizona has never used its tight end much in the first place, but it's safe to say that Seals-Jones and Clay can both be ignored. Same goes for Jermaine Gresham, obviously.
Ian Thomas will jump up the rankings if/when Greg Olsen retires. As it stands, the window is closing to strike a deal to acquire him at a good value. Thomas got off to a slow start but then ended the season with 25 catches for 246 yards in the last five games. For a rookie TE, that's pretty reassuring.
A sleeper to watch out for, once again, is Jake Butt. He's played a total of three games in two years since being drafted in the fifth round by Denver. If he can manage to stay on the field, he joins a QB in Joe Flacco who is known to have an affinity for throwing to tight ends. After drafting Butt in 2017 and Troy Fumagalli in 2018, it's unlikely the Broncos will spend another draft pick here. Take a chance that he finally develops into an NFL starter.
More Fantasy Football Analysis
Check out all of RotoBaller's fantasy football rankings. Staff rankings are updated regularly for all positions and include standard formats, PPR scoring, tiered rankings and dynasty leagues.