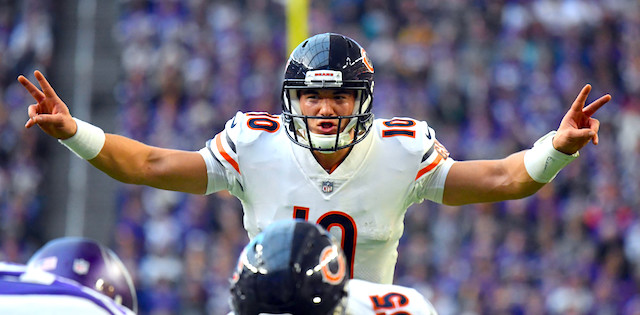 As soon as Maroon 5 ended its lame halftime show, millions of fantasy football players started thinking about the 2019 NFL season. For some of us, it happened even sooner.
At this time last year, Kansas City's Patrick Mahomes was thought of as an early breakout nominee for the 2018 campaign. Not only did he turn out to be a breakout star and fantasy stud, Mahomes went on to be most valuable player in fantasy football. For those in dynasty and keeper leagues who penciled Mahomes in for a breakout year, they now have a quarterback to build their fantasy squad around for the next several seasons. For those in year-to-year leagues, Mahomes probably made them some serious money and led them to fantasy championships.
Here is a look at the early breakout candidates for fantasy football for the 2019 campaign!
Featured Promo: Get any full-season NFL and DFS Premium Pass for 50% off. Exclusive access to our Team Sync platform, Premium articles, Matchup Rating projections, 15 lineup tools, DFS cheat sheets, Research Stations, Lineup Optimizers and much more!
Go Premium, Win More!
Mitchell Trubisky, Chicago Bears
2018 Stats:  3.223 passing yards, 24 TD passes, 12 INT
2018 should have been Trubisky's breakout season, and while his 3,223 passing yards and 24 touchdown tosses were a humongous step up from what he did during his rookie year, some fantasy players and pundits were probably disappointed. Sorry, Mitch! You were solid, but you did not have the numbers or fantasy value Mahomes or Deshaun Watson, two quarterbacks both taken after you in the 2017 NFL draft, had when all was said and done.
Trubisky took his game to another level in 2018, but he is poised to bump it up two more levels in 2019. With another year of seasoning under his belt and more time grasping Matt Nagy's offense, Trubisky will undoubtedly be better. Top target Allen Robinson, who people probably also expected more from this past season (55-754-4), will be a 1,000-yard receiver again another year removed from ACL surgery. Promising youngster Anthony Miller should double his reception and yardage totals in his second season and be a breakout star at his own position.
The needle is pointing upward for Trubisky and the Bears offense. Look for him to throw for 4,000 yards and 30 touchdowns in 2019, not to mention the extra-added bonus of 450 rushing yards and four more scores thanks to his scrambling skills.
2018 Stats:  2,074 passing yards, 10 TD passes, 12 INT
Buffalo's passing offense was abysmal at worst and dismal at best in 2018, ranking 31st in the NFL only because Arizona and its own rookie signal caller could not pass their way out of a paper bag. Allen can shoulder some of the blame, but his right shoulder should not take all of the blame. Who was he supposed to throw to? Kelvin Benjamin, who was released mid-season? Charles Clay, who had the worst year of his eight-year career? Zay Jones? Andre Holmes? Jason Croom? This is why Allen's 2,074 paltry passing yards in 12 games and his 10-to-12 touchdown-to-interception ratio should not have come as a surprise to any fantasy player.
Since Allen could not trust his receivers, he tucked the ball under his throwing arm and dashed his way to a team-high 631 rushing yards and eight touchdowns, which helped transform him into a fantasy force down the stretch, especially the final week of the regular season when he threw for 224 yards and three touchdowns and rushed for 95 yards and two more TDs.
Entering the 2019 season, if Allen can duplicate his rushing numbers while lifting his passing numbers to even just an average level, he will become a fantastic fantasy option. Adding greyhound John Brown (42-715-5 in 2018) and slot receiver Cole Beasley (65-672-3) helps the laughable receiving corps, so if Allen can stay healthy despite running the ball 10 times a game, the fantasy sky will be extremely high for him.
2018 Stats:  2,865 passing yards, 17 TD passes, 15 INT
I know new New York Jets head coach Adam Gase was not able to turn Ryan Tannehill into Dan Marino in Miami, but he will have a whole lot more to work with in New York with Darnold. Darnold showed why the Jets selected him with the third pick overall in last year's NFL draft with his performance during the final month of the season. In four December starts, Darnold threw for 931 yards and six touchdowns while only throwing one interception. He also contributed another 77 yards rushing thanks to his under-appreciated running ability.
The Jets had more salary cap space this offseason than President Trump has space in his fan club. Darnold will not be stuck with the same receiving corps he had in 2018 as the Jets upgraded his options by signing running back/2018 vacationer Le'Veon Bell and receiver Jamison Crowder to go along with speedster Robby Anderson, possession receiver Quincy Enunwa and promising tight end Chris Herndon IV.
Bell is one of the top-five best pass catchers out of the backfield in the NFL and will keep defenses from keying on Darnold and the passing attack with his game-breaking running. Crowder should be the perfect complement to the other wideouts on the roster since he works the middle of the field.  Darnold's offensive line has been beefed up as well after the Jets acquired above-average guard Kelechi Osemele, and the line was decent in pass protection last season anyway (37 sacks allowed). God forbid the Jets use their third pick overall in the upcoming draft on the offensive side of the ball, too!
The Jets front office seems to be supplying Darnold with the perfect personnel, while Gase should supply the correct coaching. It all adds up to Darnold being a darling in dynasty or standard leagues in 2019 and beyond.
More Fantasy Football Analysis