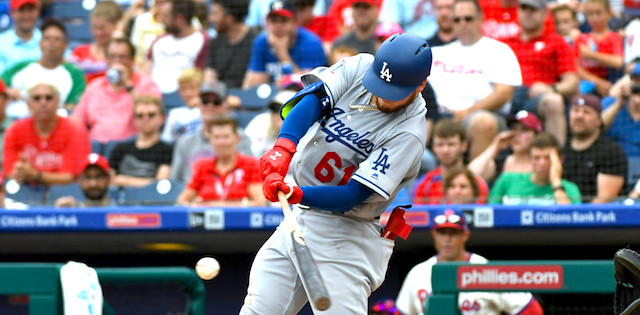 Hello everyone, and welcome to my weekly Top-30 Fantasy Rankings for Impact Rookies! In this series, I will be going over the top prospects in baseball and discussing which ones figure to have an impact for the rest of this fantasy baseball season.
Several of the top trade chips have already been moved so far this month. Manny Machado, Brad Hand, Francisco Mejia, Jeurys Familia and Adam Cimber have all already been shifted around to different teams.
Plenty more moves are going to be made, and while the focus is always on the big-league players, plenty of prospects will be shifted around who can help fantasy owners this season. Always keep a watchful eye on those players moved around because you never know when one of the players will be moved to a more friendly situation.
Editor's Note: Get any full-season MLB Premium Pass for 50% off, with exclusive access to our season-long articles, 15 in-season lineup tools and over 200 days of expert DFS research/tools.
Sign Up Now!
Top MLB Prospects - Fantasy Baseball Power Rankings
To be clear, this list is not the top 30 prospects in baseball. This is a list of the top 30 prospects who are likely going to rise to the major leagues and provide fantasy baseball value this season. The qualifications are simple: a player must not be on an active roster, they must have a clear path to the majors, and while they may have played in seasons prior to 2018, they must still have rookie eligibility. If a player is moved to the active roster of their team, they will be removed from this power rankings list and replaced.
1. Austin Meadows (OF, PIT, AAA)
Stats: 160 PA, .281/.325/.397, 2 HR, 9 SB, 5.6% BB%, 13.8% K%
ETA: Early August
Meadows had an impressive showing when he was first promoted to the majors this season, but a lack of consistent playing time eventually relegated him to the bench before he was sent down to the minors. He's proven he's ready for the majors if there's playing time for him. The Pittsburgh Pirates have started to play better as of late and could decide not to sell at the deadline, but holding onto Corey Dickerson wouldn't make much sense unless the team decides to buy. A move of Dickerson would free up a spot for Meadows, who offers power, speed and a decent hitting tool. He could be a promising fantasy player for owners looking for a solid outfielder.
2. Austin Riley (3B, ATL, AAA)
Stats: 295 PA, .309/.380/.534, 11 HR, 1 SB, 9.2% BB%, 28.5% K%
ETA: Early August
The Atlanta Braves are in the thick of a playoff battle with the Philadelphia Phillies, and what the team lacks right now is a right-handed source of power. The solution appears simple: promote Riley. He missed a little bit of time at the end of June, but since his return to Triple-A on July 12, he's slashing .326/.412/.419 over those 11 games. While the power hasn't totally been back, that is the one part of his game that seems the most likely to carry over with him to the majors. He could struggle to hit for a decent average given some strikeout problems, but he would be a consistent power hitter for owners in search of home runs.
3. Christin Stewart (OF, DET, AAA)
Stats: 365 PA, .254/.337/.486, 18 HR, 0 SB, 10.7% BB%, 19.5% K%
ETA: Early August
The Detroit Tigers aren't close to competing and the rebuild for them is likely only just beginning. Stewart is not a top prospect in the system like a Vladimir Guerrero Jr., but he should be a reliable source of home runs in that lineup for years to come. This season will probably be the first taste of the majors he receives, and he should be able to produce reliable power numbers for fantasy owners even in a shorter amount of time. His batting average could dwindle a bit, but the power should only play up when he reaches the big leagues.
4. Alex Verdugo (OF, LAD, AAA)
Stats: 283 PA, .349/.396/.506, 8 HR, 4 SB, 7.4% BB%, 13.4% K%
ETA: Early August

*** UPDATE: Verdugo was promoted by the Dodgers on Monday, and was featured in the starting lineup Wednesday batting fifth. He's a solid pickup for owners in 12+ team leagues with daily moves, as he may not get regular starts. ***
Verdugo was not traded in the deal for Manny Machado, and at this point, it doesn't look super likely he will be traded. The Los Angeles Dodgers appear not to want to deal him. However, he doesn't have a clear path to playing time in Los Angeles, so it's unclear if he will find regular at-bats this season. He's about as MLB-ready as anyone else in the minors and should probably be in the majors, but fantasy owners will just have to wait for now. He has enough to offer to be a helpful piece, but he needs to find the playing time first.
5. Tyler O'Neill (OF, STL, AAA)
Stats: 236 PA, .303/.369/.683, 23 HR, 3 SB, 9.3% BB%, 23.3% K%
ETA: Early August
The St. Louis Cardinals have called O'Neill up when they need someone to fill in with an injury, but they have not kept him up for much longer than that. He posted respectable numbers in the majors, though the strikeouts tanked his overall numbers. O'Neill has real power that has benefitted fantasy owners in the past, and the adjustments he has made since he returned to Triple-A are promising in that he is taking more walks and has continued to hit for power during his stint in Memphis. O'Neill should be back in the majors before too long and certainly will be able to help fantasy owners if he is given another shot to play in the big leagues.
6. Peter Alonso (1B, NYM, AAA)
Stats: 408 PA, .275/.402/.547, 24 HR, 0 SB, 15.0% BB%, 21.6% K%
ETA: Mid-August
Alonso's batting average is still below .200 at Triple-A so far, but his slugging percentage is nearly .500 and he is still walking nearly 15 percent of the time. The power and patience with Alonso is legit. He just needs to improve his swing a little bit at Triple-A to cut down on the strikeouts. Many have tried to compare him to Rhys Hoskins last season, and that sort of impact can't necessarily be ruled out — though not expected. If Alonso can find some consistency at the dish in Triple-A, he should be able to reach the big leagues before the year is over.
7. Kolby Allard (SP, ATL, AAA)
Stats: 109.1 IP, 2.80 ERA, 3.41 FIP, 19.6% K%, 7.4% BB%, 4.8% HR/FB
ETA: Early August
Allard is not the most exciting pitcher in the world. He doesn't miss a lot of bats and his stuff is not as electric as guys like Michael Kopech or Alex Reyes. However, Allard finds a way to get the job done and has been viewed by some scouts as a possible future No. 3 starting pitcher in spite of fastball that sometimes sits in the upper-80s. He has found plenty of success in 2018 and could be a future candidate to start in the majors this season, especially with Mike Soroka's injury and Luiz Gohara's struggles. Allard won't carry a rotation, but he could certainly provide valuable innings to owners looking for pitching depth.
8. Cedric Mullins (OF, BAL, AAA)
Stats: 433 PA, .300/.357/.486, 10 HR, 17 SB, 7.6% BB%, 12.9% K%
ETA: Early August
The Baltimore Orioles' sale has just begun, and it probably will run through the trade deadline. Zach Britton seems likely to go, as does Adam Jones. If Jones is traded, Mullins has made a strong case to be his replacement in center field. Mullins is hitting for a little bit of power, has maintained a decent batting average after his promotion to Triple-A and still has plenty of speed to offer. He's a balanced hitter who fits a leadoff hitter profile and could benefit fantasy owners even if he plays in one of the weakest lineups in baseball. He seems to be one of the most likely players on this list to be promoted.
9. Matt Thaiss (1B, LAA, AAA)
Stats: 231 PA, .287/.329/.505, 8 HR, 4 SB, 5.6% BB%, 17.7% K%
ETA: September
Thaiss has found his power stroke this season and has been able to slug more without sacrificing his batting average. He is showing himself off to be a well-rounded hitter who could be more of an impact bat in the majors than many others originally thought he could be. He's made a meteoric rise this season from Double-A to Triple-A now, and could be ready to reach the majors this year as well. With Shohei Ohtani continuing to occupy the designated hitter spot and Albert Pujols on at first base, there's not a clear path to playing time for him right now. However, he could platoon with Pujols or spell Ohtani if the two-way phenom starts working on pitching again. Keep an eye on Thaiss because he could help fantasy owners in search of a solid bat should he get promoted.
10. Francisco Mejia (C/3B/OF, SD, AAA)
Stats: 336 PA, .279/.328/.426, 7 HR, 0 SB, 5.4% BB%, 17.3% K%
ETA: Early August
As expected, Mejia was traded by Cleveland in a deal to add some quality arms to the Indians' bullpen. In San Diego, Mejia does not face quite as much of a roadblock at catcher, with Austin Hedges providing only a challenge from a defensive standpoint and is a liability offensively. If Mejia can show in Triple-A that he can hold his own behind the dish, he could be able to unseat Hedges as the regular catcher before the season is over. And with Mejia's offensive skills, he should be able to provide fantasy owners with plenty of value.
11. Kevin Newman (2B/SS, PIT, AAA)
Stats: 389 PA, .291/.344/.384, 3 HR, 22 SB, 6.9% BB%, 11.1% K%
ETA: Early August
Newman is another Pirate who could benefit from a sale of its current players. While there might not be much of a market for Jordy Mercer, Pittsburgh might still try to move him for cheap just in an effort to give the next wave of young talent a chance to play in the majors. Though Newman has hit for no power, he has made consistent contact and has shown himself to be a threat on the basepaths. His future defensive home his likely shortstop, though he could also resort to second base if need be. Newman would not be a top-10 contributor at shortstop for fantasy owners, but he could help out teams looking for depth at the two middle infield positions.
12. Enyel De Los Santos (SP, PHI, AAA)
Stats: 95.1 IP, 1.89 ERA, 4.03 FIP, 22.7% K%, 8.1% BB%, 9.8% HR/FB
ETA: Early August
De Los Santos was demoted to Triple-A Friday, but he should not be down there for too long. It appears this was just a move to give the Phillies an extra roster spot for the time being while they didn't need De Los Santos. The numbers in his brief stint in the majors weren't spectacular, but he has dazzled at Triple-A this season, which should help him get a little bit of a pass for just two outings. Expect him back in Philadelphia before the summer is up.
13. Danny Jansen (C, TOR, AAA)
Stats: 297 PA, .275/.402/.479, 10 HR, 5 SB, 13.5% BB%, 13.1% K%
ETA: Early August
Jansen has been an exceptional hitter at the plate this season and has probably done enough to earn a promotion to the majors. He still isn't great defensively, but he could stand to benefit from learning under Russell Martin as the transition for the next catcher in Toronto begins. Jansen should be the regular catcher next season even with Martin's contract still burning a hole in the payroll, so giving him a chance to play in the majors in 2018 would be both beneficial to Jansen and to the Blue Jays. He also certainly has enough in the bat to aid fantasy owners down the stretch.
14. Forrest Whitley (SP, HOU, AA)
Stats: 21.0 IP, 4.29 ERA, 3.20 FIP, 34.1% K%, 9.1% BB%, 10.0% HR/FB
ETA: September
Whitley is still dealing with an oblique injury, but he could return to the mound later this season. He seems like someone who could plausibly eat up some innings for Houston in September after they've put away the division and look to the postseason. Whitley's suspension makes him ineligible for the postseason and it also kept his innings count down. While Houston might not want to start his service clock just yet, there is value to letting him face some big-league hitters a year before he could be counted on to face them on a more regular basis. If he is promoted, he has ace stuff and control that could help fantasy owners immensely.
15. Luiz Gohara (SP, ATL, AAA)
Stats: 37.0 IP, 5.59 ERA, 4.93 FIP, 20.6% K%, 8.8% BB%, 14.0% HR/FB
ETA: Mid-August
Gohara has struggled mightily through this season and it forced Atlanta to send him down to the minors. He has not found much more success there, and it was the reason he ultimately was not called up to start Tuesday's game. He has top-of-the-rotation upside with real swing-and-miss stuff that should be able to help fantasy owners out if he can find some consistency. Gohara just needs to start turning himself around to prove he can handle the big leagues.
16. Ryan McMahon (1B, COL, AAA)
Stats: 221 PA, .284/.335/.529, 10 HR, 1 SB, 6.3% BB%, 26.7% K%
ETA: Late August
McMahon's slash line and power numbers appear to be on the rise, but there is a little bit of deception there. He hasn't raised his walk rate much and the strikeouts remain too high. While he is doing plenty with the contact he's making, he could still be someone who might struggle in the majors if promoted again. Still, with his power and the fact he calls Coors Field home, McMahon remains someone to monitor. He could be a cheap source of power for fantasy owners needing home runs should he find his way back to a regular role in the majors.
17. Ryan Mountcastle (3B/OF, BAL, AA)
Stats: 271 PA, .312/.358/.526, 11 HR, 0 SB, 6.3% BB%, 16.6% K%
ETA: September
It's perhaps a bit bold to put Mountcastle this high, but he has been putting on a show of late in Double-A. And while he doesn't have the range for shortstop and might not have the arm long-term for third base, he has experience at both positions. Baltimore will need to call up someone to fill the void left by Machado. And while Mountcastle might never be the next Manny, he has plenty to offer from an offensive standpoint and could bring some excitement to a team totally lacking that. If he does get promoted to the majors, the bat would play well in plenty of shallow leagues.
18. Kevin Kramer (2B/SS, PIT, AAA)
Stats: 375 PA, .300/.358/.490, 11 HR, 10 SB, 7.5% BB%, 24.5% K%
ETA: Early August
Should the Pirates go on a complete fire sale, Kramer is another one of their youngsters who could benefit from the sale. He appears close to being major-league ready and could start at second base for the club if Josh Harrison is moved. He isn't explosive in any one area, but does a little bit of everything well and his power could play up in the power-friendly majors. Kramer could be a decent middle-infield piece for fantasy owners searching for some depth if he is promoted.
19. Eloy Jimenez (OF, CWS, AAA)
Stats: 80 PA, .351/.400/.622, 5 HR, 0 SB, 6.3% BB%, 8.8% K%
ETA: September
Jimenez has just made Triple-A pitchers look silly so far, dominating the level just as easily if not easier than he dominated Double-A. It's easy to envision him already playing in the majors, but the Chicago White Sox are not in any position to want to rush their young talent to the big leagues. Still, they could benefit by giving Jimenez a brief taste of the majors by calling him up in September before having him take over a starting role in 2019. Even a month of Jimenez could pay dividends for fantasy owners in the playoffs.
20. Vladimir Guerrero Jr. (3B/OF, TOR, AA)
Stats: 248 PA, .406/.453/.664, 12 HR, 3 SB, 8.1% BB%, 9.3% K%
ETA: September
Despite rumors he would be promoted to Triple-A as soon as he regained his health, Guerrero returned to Double-A after he was activated from the DL. The New Hampshire Fisher Cats were so excited about his return they temporarily re-branded their Twitter account to become the New Hampshire Fisher Vlads with the bio reading, "You don't know what you've got till it's gone." Guerrero is almost certainly the best hitter still in the minors and the most MLB-ready one. He might not get a promotion until September (if at all), but with his explosive bat, he needs to at least be monitored in all formats.
21. Dakota Hudson (SP, STL, AAA)
Stats: 110.2 IP, 2.36 ERA, 3.54 FIP, 18.6% K%, 7.9% BB%, 1.3% HR/FB
ETA: Early August
22. Michael Kopech (SP, CWS, AAA)
Stats: 94.1 IP, 4.29 ERA, 3.57 FIP, 31.3% K%, 13.9% BB%, 7.5% HR/FB
ETA: September
23. Luis Urias (2B/SS, SD, AAA)
Stats: 404 PA, .278/.392/.417, 7 HR, 2 SB, 14.6% BB%, 20.3% K%
ETA: September
24. Griffin Canning (SP, LAA, AA)
Stats: 80.2 IP, 3.46 ERA, 3.22 FIP, 27.1% K%, 10.4% BB%, 5.0% HR/FB
ETA: September
25. Nick Gordon (2B/SS, MIN, AAA)
Stats: 412 PA, .281/.316/.422, 7 HR, 11 SB, 4.1% BB%, 16.5% K%
ETA: September
26. Drew Dosch (3B, BAL, AAA)
Stats: 281 PA, .282/.345/.425, 5 HR, 1 SB, 8.2% BB%, 25.6% K%
ETA: Late July
27. Justus Sheffield (SP, NYY, AAA)
Stats: 90.2 IP, 2.38 ERA, 2.89 FIP, 26.8% K%, 10.6% BB%, 4.5% HR/FB
ETA: September
28. Victor Robles (OF, WAS, A-)
Stats: 50 PA, .308/.460/.333, 0 HR, 6 SB, 18.0% BB%, 12.0% K%
ETA: September
29. Myles Straw (OF, HOU, AAA)
Stats: 440 PA, .314/.402/.380, 1 HR, 51 SB, 12.0% BB%, 16.6% K%
ETA: Early August
30. Carson Kelly (C, STL, AAA)
Stats: 223 PA, .276/.354/.418, 5 HR, 0 SB, 10.3% BB%, 12.1% K%
ETA: September
MLB Rookie Rankings
1. Ronald Acuna (OF, ATL)
2. Juan Soto (OF, WAS)
3. Gleyber Torres (2B/SS/3B, NYY)
4. Shohei Ohtani (DH, LAA)
5. Walker Buehler (SP, LAD)
6. Miguel Andujar (3B, NYY)
7. Jack Flaherty (SP, STL)
8. Josh Hader (RP, MIL)
9. Colin Moran (1B, PIT)
10. Kyle Tucker (OF, HOU)
11. Willie Calhoun (OF, TEX)
12. Dustin Fowler (OF, OAK)
13. Fernando Romero (SP, MIN)
14. Jake Bauers (1B/OF, TB)
15. Willy Adames (2B/SS, TB)
16. Ryan Yarbrough (SP, TB)
17. Brian Anderson (3B/OF, MIA)
18. Christian Villanueva (3B, SD)
19. Jesse Winker (OF, CIN)
20. Harrison Bader (OF, STL)
More MLB Prospects Analysis