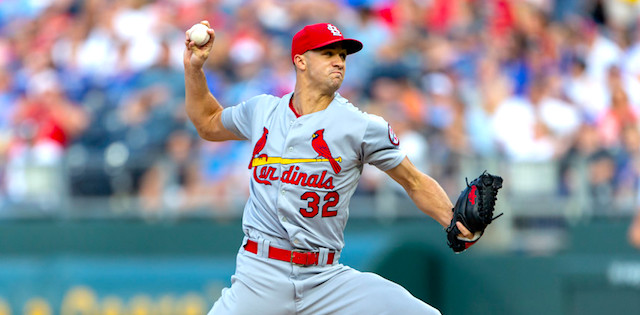 Never a lauded prospect as he made his way through the St. Louis Cardinals' system, starting pitcher Jack Flaherty nevertheless made a splash in 2018, taking advantage of the playing time afforded to him by injuries to rotation mainstay Adam Wainwright.
Part of a loaded 2018 rookie class in the National League, which included supposed generational talents Ronald Acuña and Juan Soto as well as ascending ace Walker Buehler, it was easy to overlook Flaherty with his paltry record of only eight wins and nine losses. But as the offseason passed, fantasy analysts and players alike started to notice the performance that the Cardinals rookie had put up. Namely, striking out 182 batters in only 151 innings. This attention led to Flaherty becoming a pre-draft darling for fantasy owners - his name littering the lists of breakouts and sleepers - climbing draft boards until his ADP hovered in the mid-'60s.
But so far, 2019 has brought little of the success promised by the performance of the previous year. Will the second half begin to bring back some of the results that owners were banking on when they drafted him in ahead of players like Zack Greinke and Jose Berrios? Or instead of breaking out, will Flaherty only continue to bust?
Editor's Note: Get our 2020 MLB Premium Pass for 50% off, with exclusive access to our draft kit, premium rankings, player projections and outlooks, our top sleepers, dynasty and prospect rankings, 20 preseason and in-season lineup tools, and over 200 days of expert DFS research and tools.
Sign Up Now!
Why Did Jack Climb?
Even though he finished fifth in the 2018 NL Rookie of the Year voting, Flaherty was mostly an afterthought to the aforementioned Acuña, Soto, and Buehler.  But as the offseason went on,  the fantasy world woke up to just how much of a tremendous season the 22-year old rookie had put together. While only earning eight wins in his 151 innings, the strikeout ability was what really jumped off the page and ultimately led to Flaherty's climb up draft boards:
182 K - 10.85 K/9 - 29.6% K-rate
For comparison's sake, Flaherty's K/9 and K% both placed him at No. 10 among starting pitchers with 150 or more innings - putting him on the same level as Blake Snell, Patrick Corbin, and Charlie Morton. But it wasn't just the gaudy strikeout numbers that drove Flaherty's popularity, as his underlying statistics seemed to support the breakout, with batters posting a .199 BA against him that was right in line with a .205 xBA, as well as a .281 wOBA that was virtually identical to their .279 xwOBA.
Factor in Flaherty putting up these numbers as only a 22-year old and it's easy to see why fantasy players of all formats moved him so far up their rankings.
Falling Down the Beanstalk
But with 2019 came the cold reality of regression that often awaits second-year players, as the league will adjust to players that now have a book on them; leaving it to the players to return serve and adjust back. But after entering the year seen as an ace-in-waiting, Flaherty has instead spent the first half of this season sputtering. The strikeouts were still there - though at a lower rate than the year before - as Flaherty has managed to punch out 107 batters over his 97 frames.  But his 4.64 ERA is over a run higher than the year before, with an xFIP that has also risen by almost a full run.
Flaherty has also only managed four wins in his 18 starts from the first half, being backed by a Cardinals offense that has only given him  4.72 runs of support per game - a mark good for 69th among pitchers who have had at least ten starts in 2019. And it isn't just Flaherty whom the Cardinals have failed to support, as they've quietly been one of the league's worst offenses since the beginning of May. They are posting team totals since then that are in the bottom three of the league in SLG, OPS, ISO, wOBA, and wRC+.
Playing on an increasingly offensively-challenged team, can Flaherty still bounce back to return some of the high costs that were paid for him on draft day? Or is now the time to cut your losses and trade him to an owner who still remembers the promises that Flaherty's name conjured in the spring?
Finding More Magic
While only four wins and an ERA close to five isn't ideal, particularly given his draft cost, there are plenty of reasons to believe that Flaherty still has time to turn his season around. For one, while lower than last year, his strikeout numbers are still above average, with a 26.4% K-rate and 9.93 K/9 that are both in the top-20 of qualified pitchers. And while his 1.86 HR/9 is a far cry from the 1.19 mark he posted last year, there is hope for some positive-regression, as his 20.0% HR/FB is five points higher than where it sat in 2018 and is currently fifth-highest among qualified starters in 2019.
But if Flaherty wants to fully unlock the potential of the ace waiting underneath, then a reexamination of his pitch mix may be needed, as significant changes were made to what had previously found success in 2018. Flaherty upped his overall four-seam fastball usage from 40% to 48.4% in 2019. This increased usage has come at the expense of his slider and two-seam fastball - with the slider's usage dropping from 29.9% to 26.9%, while the sinker has gone from 15.9% to 10.9% - and the results have been less than stellar. While both pitches have retained very similar strikeout numbers from the year before, they have also both seen 1.5% increases in their barrel-rates against, as well as significant increases in SLG and wOBA.
However, it's Flaherty's curveball, in particular to left-handed batters, which needs the most doctoring, as its performance has suffered considerably since being a dominant pitch for him in 2018. While his overall usage of the pitch stayed virtually the same, Flaherty upped his usage to lefties from 17.1% in 2018 to 21.3% in 2019. This was understandable given that in 2018 the pitch had a 53.1% K-rate against left-handers, along with a 0.0% barrel-rate. But the increased usage has not brought increased success, with the K-rate of Flaherty's curve dropping all the way to 15%, and now with a 10.2% barrel-rate. Getting his curveball back to form would go a long way towards getting Flaherty back on the track of an ascending Ace.
Even as 2019 has so far been a disappointment for owners who drafted him as a rotation anchor, Flaherty will continue to be a fantasy asset as long as he continues posting top-20 strikeout numbers. But wins may be hard come by as the Cardinals continue their sink in mediocrity, and a 1.23 WHIP and 4.64 ERA isn't helping anyone's ratios. But if Flaherty can get his breaking pitches back to their 2018 levels, then Jack may still have time to become a giant in the second half.
More 2019 Fantasy Baseball Advice