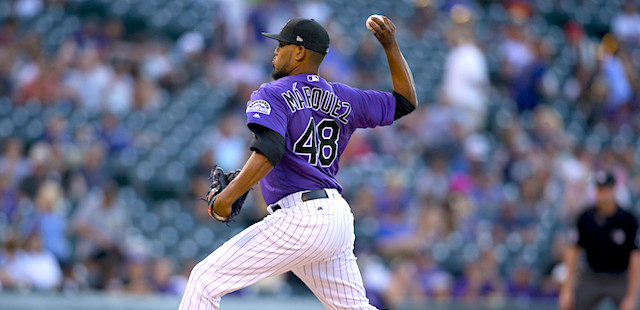 To quote a certain legendary regional manager, "My heart soars with the eagle's nest." You know why? Because Trevor Cahill dominated and he's owned in over 30% of leagues again, which means I don't have to beg everyone to pick him up. Everything else here is secondary to that. We've got some veterans going on tears, some younger arms making noise and fresh prospects ready for their close-up. Let's get it!
If you want to chat more about additional arms/bats/whatever, you can find me on Twitter @NMariano53 and ask any follow-up questions.
We're using Yahoo ownership levels and cutting things off around 30% this week. Here are my starting pitcher waiver-wire targets for Week 19.
Editor's Note: Get any full-season MLB Premium Pass for 50% off, with exclusive access to our season-long articles, 15 in-season lineup tools and over 200 days of expert DFS research/tools.
Sign Up Now!
Starting Pitcher Waiver Wire Targets
German Marquez (COL - SP): 26% owned
I won't blame anyone for wanting to avoid Marquez's start today (Wednesday) since it's at Coors, where he's posted a 6.63 ERA versus a beautiful 3.09 ERA on the road. But do consider that Pittsburgh is one of eight teams with a collective wOBA under .300 in the last two weeks, won't you? Or how he's won his last two home starts with QS's against Arizona and Oakland. His last six outings have yielded four wins, five QS, a 2.45 xFIP and a 2.73 SIERA with a 57.1% groundball rate and 29.6% strikeout clip. I know Coors can counter even the greatest of numbers, but do consider breaking the mold for Marquez.
Joe Musgrove (PIT - SP/RP): 26% owned
Are we just locking in seven innings of one- or two-run ball with two strikeouts for Musgrove now? He's done that in three straight outings versus tough match-ups (@CLE and @COL) as well as good ones (vs. NYM). It's hard to get upset at three clear-cut quality starts, but six strikeouts over 21 innings is a dangerous level of "production" that puts a strain on your other pitchers to generate whiffs. Even though I don't buy Musgrove as a long-term asset at this rate, it's hard to pivot away from him with his next start coming at spacious AT&T Park on Aug. 11. Even just four strikeouts over seven innings would elevate his viability, so keep those fingers crossed.
Mike Fiers (OAK - SP): 22% owned
Fiers was done dirty by a second-inning liner that drilled his shin and ended his run of five straight quality starts. Point to the lower K counts all you like because what I'm adding him for is ratio relief that has landed in one of the best ballparks a homer-prone pitcher can call his own. Sorting specifically by homers on the FantasyPros park factor tool, Comerica Park stands at 13th while Oakland is 26th, and Oakland's defense is a true top-10 unit per Fangraphs' defensive leaderboard. I won't be surprised by a rogue blow-up here and there, especially on the road, but Fiers should continue to be solid down the stretch.
Derek Holland (SF - SP): 17% owned
I want to believe you've all already begun to take Holland and his 2.73 ERA, 3.46 FIP and 3.24 xFIP with a 67-to-18 strikeout-to-walk ratio over his last 56 innings seriously, but maybe you're still jaded by a few dreadful seasons. I get it, but you need to live in the now. Two months of stellar pitching is enough to forget the past, especially when it comes in step with a marked change in approach -- moving on the pitching rubber to the first-base side. Sure, part of the deal is that San Fran doesn't let him go deep into games, but I'll take 85-90% of his potential given the strong peripherals and pitcher-friendly home ballpark.
Tyler Glasnow (TB - SP/RP): 16% owned
The Rays have to be ecstatic. Glasnow's second start for Tampa Bay yielded nine strikeouts over four innings of one-run ball, allowing just two baserunners before being lifted. His two "openings" for Tampa combine for a line of 7 IP, 2 ER, 4 H, 1 BB, 14 K. Sure, facing the Orioles is as easy as the AL East is going to get for a Tampa pitcher, but Glasnow's got the upside to dominate even the best of lineups when he can command his stuff. Perhaps Tampa has unlocked his potential here, or he just needed a change of scene. I don't like banking on what I can't quantify, but what I can quantify looks freakin' sweet. He should face the Blue Jays in Toronto next.
Michael Kopech (CWS - SP): 11% owned
I have nothing new to say here. Kopech had been dominating when we wrote about him last week and his latest turn on Aug. 5 was another solid one. He struck out nine while walking none and giving up two runs on eight hits with two wild pitches across seven innings. Everyone's ready for Eloy Jimenez and Michael Kopech to get some run in the bigs, and with the way each of them is performing, I would make sure they're stashed now for any September call-up (if it takes that long).
Ryan Borucki (TOR - SP): 8% owned
Borucki cruised through eight strong innings against the Mariners to notch his first Major League victory on Saturday. This gives him six quality starts in seven career outings, though his next opponent (Boston) was the one non-quality start. The modest punchout tally (30 strikeouts in 43 IP) and being stuck in the AL East are going to cap his upside in '18, but he's earned the right to be a streamer in 12-teamers.
Robert Stephenson (CIN - SP/RP): 2% owned
Stephenson is set for one of the cushiest 2018 MLB debuts ever: a road date with the Mets. All Big Rob has done is go 11-6 with a 2.87 ERA and 135 strikeouts in 113 frames at Triple-A this season, so I'd say the promotion is well deserved. Many had been wondering when his next chance was going to be, and there's no reason he doesn't finish out '18 in the rotation as long as he avoids disaster here.
Touki Toussaint (ATL - SP): 1% owned
Those unfamiliar with the embarrassingly-rich stable of young Braves arms are learning a lot in 2018. There are rumblings of Toussaint getting a spot start with Max Fried hitting the 10-day DL, and even the most distant rumblings mean you need to pay attention with a talent like Touki. The 22-year-old tore through Double-A with a 2.93 ERA/1.19 WHIP and 107 strikeouts in 86 IP before a promotion to Triple-A, where he's posted a 2.01 ERA/1.18 WHIP with 32 whiffs in 31 ⅓ IP. His swinging-strike rate has sat around 13% in the upper minors and should carry over to the swing-happy bigs, where he could post a 25% strikeout rate out of the gate.
Brett Kennedy (SD - SP): 1% owned
Opportunity merits discussion, as the Padres are calling up Kennedy to make his MLB debut on Wednesday against the Brewers in Milwaukee. That's not a great matchup at all, but the 24-year-old does have a sparkling 10-0 record with a 2.72 ERA and 1.12 WHIP across 16 Triple-A starts so I get why people are buzzing. The low walk rates around 6-7% are notable, but the 10.2% swinging-strike rate and subsequent ~22% strikeout rate in the Minors will probably take a hit with the jump in competition because his stuff really isn't overpowering. Temper expectations and don't be surprised if his plus command isn't enough to navigate the bigs.
Jacob Nix (SD - SP): N/A
Yup, Nix isn't currently in the player database on Yahoo but beat reporter AJ Cassaveli asserts San Diego is calling their No. 14 prospect up for a likely turn against the Phillies. Nix has posted a combined 1.84 ERA over 10 starts (nine in Double-A, one in Triple-A), but his strikeout rates are even lower than Kennedy's. He has 44 strikeouts in 58 2/3 IP on the farm this season with a swinging-strike rate below 9%, though he makes up for that with a walk rate just a shade above 4% and his fastball can touch 97 mph. I like him more than Kennedy, but sadly, I'm not sure he'll be available to scoop before his any debut is made.
More Waiver Wire Pickups and Streamers