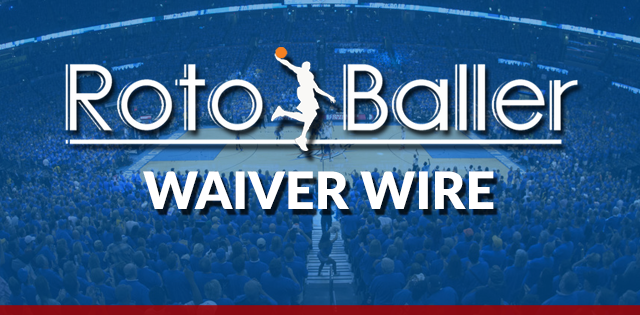 Wishing everyone a happy holidays! This season has been entertaining with many different story lines, and we're excited for what the rest of the season has to offer. This is a reminder that fantasy basketball is a marathon, not a sprint. We are just about halfway into the fantasy season, where managers should have a sense of what they need to do for the remainder of the season to stay competitive. If you're holding onto the more than a couple of handful of players with an IR spot, it may be time to cut bait. Players like Norman Powell (shoulder), Marc Gasol (groin), Otto Porter (foot) all comes to mind.
It's mindful to take all factors into consideration. Players may be off to slow starts, and it may take a week or two to see consistency. Also be mindful players who are off to flaming hot starts may eventually cool off, or eventually fade out. As a reminder for most leagues, it's crucial to plan ahead. Waiver wire adds, scheduling and player injuries are all things to consider. Make an effort to improve your team by maximizing your weekly adds and utilizing streamer spots via the waiver wire. In some cases, preach some patience in the early part of the season if a player isn't busting out of the gates. Be wary of weekly streaming options and stay ahead of your opponents. Our staff at RotoBaller has great insight and daily columns on how to improve your squad and tips to make your team successful, so be sure to check them out!
In this weekly piece, I'll go over some specialists in the peripheral areas where you can target on the waiver wire. These guys are not be must-own players by all means, but these are "specialists" in which you should target if you want a boost in assisting to win your statistical head-to-head match ups for example. Let's take a look at some of the guys in Week 10 that are likely on your waiver wire.
Editor's Note: Our friends at Monkey Knife Fight have the best, most fun, fastest growing DFS props game! It's super simple to play and to win real money. Just choose your NBA, NHL or PGA game, and make your picks! Get a 100% instant deposit bonus up to $50 using promo code: BALLER. That's $50 for free - don't miss out!
Play Now!
Week 10 Standard Leagues - Waiver Wire Specialists
*Securing your categorical needs at this point is important, especially if you're playing in head-to-head leagues*
I write my columns based on H2H 9-category standard size leagues.
Steals
Elfrid Payton, PG - New York Knicks
Although the New York Knicks share a three headed timeshare of Elfrid Payton, Dennis Smith Jr., and Frank Nitilinka, Payton has emerged as the best fantasy point guard to own for the time being. Over the month of December, Payton is averaging 6.2 assists per game with 1.4 steals, including six steals over the past two contests. Assists and steals are super hard to come by on the waiver wire, so he's definitely worth an add to see if he can continue to provide solid value.
De'Anthony Melton, PG - Memphis Grizzlies
Melton has quietly been craving out top-110 value over the past week, and it's thanks to his solid contribution in assists and steals. He's ahead of Tyus Jones in the rotation, and it helps that Melton can play together with JA Morant as well. Although the low minutes are annoying, he's worth a stream this week with the Grizzlies playing four times.
Lonzo Ball, PG - New Orleans Pelicans
It's not surprising to see Lonzo Ball appearing on some waiver wires this season, because he's been flat out terrible. His percentages (38% from the field, 44% from the charity stripe) are hurting most owners and the reduced bench role is making owners panic. However, his shooting does have room for progression and he's always been a strong steals guy. Ball racked up five steals in Friday's loss against the Warriors, in which he added 14 points with two 3-pointers. There's still a large chuck of the season left to be played and I'm still convinced he'll turn the corner as we edge towards the second half of the season and fantasy playoffs.
Donte Divincenzo, SG - Milwaukee Bucks

Eric Bledsoe (leg) is out for another week or so and Divincenzo will continue to see minutes the the mid 20s. He's filling up the stat sheet with a little bit of everything and he's looking like one of the best sophomores thus far. He's been flirting with top-50 value in nine-cat leagues over the past week and top-70 over the last two. He's going to be a strong player as long as Bledsoe is out. The Bucks play three times this week, including on Christmas and a b2b set on Friday and Saturday. You'd be wise to at least use Divincenzo as a streaming option.
Blocks
Chris Boucher, PF/C - Toronto Raptors
The Raptors are decimated with injuries and Boucher will be forced into a bigger role for the next couple of weeks. It helps that the Raptors also play four times this week, including a Christmas showdown against the Boston Celtics. Boucher blew up with 21 points, seven rebounds to go along with four blocks (!) and two steals on Sunday night in a win over the Mavericks. He's going to be a hot pickup after tonight's performance and he's certainly worth a flier to see if this can continue.
Jaxson Hayes, PF/C - New Orleans Pelicans
The Pelicans are splitting center minutes between Hayes and Derrick Favors, so Hayes will continue to log meaningful minutes until they get Zion Williamson (knee) back on the court. Hayes has averaged 1.3 blocks in the month of December and continues to look better on the court as the season goes on, so it's worth keeping an eye on especially with the injury-prone Derrick Favors missing games here and there. He's a solid add for the Pelicans upcoming four-game week.
Jerami Grant, SF/PF - Denver Nuggets
Paul Millsap (knee contusion) could miss some time, especially given how he's 34 years of age. He'll likely be replaced by Jerami Grant in the starting lineup and Grant can provide 12-team value if he's able to get more than 25 minutes per game. Although it's hard to trust any Nuggets player outside of Nikola Jokic and Jamal Murray, the Nuggets also plays four times this week so it's certainly worth keeping an eye on.
Daniel Theis, PF/C - Boston Celtics
Theis is merely a blocks specialist in most leagues but he does that consistent enough to be worth adding in most leagues, especially when the Celtics play four times this week. Theis is arguably the best center to own in Boston and it helps that Robert Williams (hip) will be out of the lineup for the next three weeks.  Look for Theis to give solid big man stats, having averaged 1.8 blocks per game in the month of December.
More Fantasy Basketball Analysis
By popular demand, RotoBaller has aggregated all of our fantasy basketball NBA waiver wire pickups into a running list of NBA waiver options, so bookmark the page and check back often for updates.