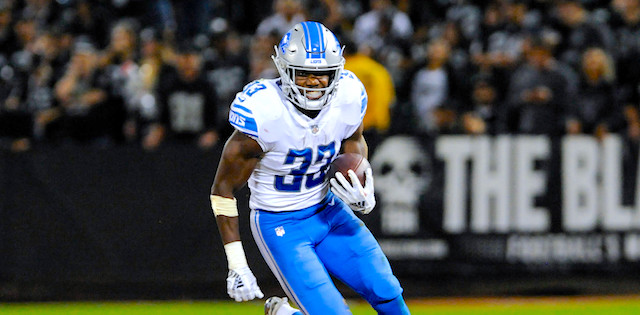 Welcome to the first #TrendingNow of the 2018 season! If you haven't had a chance to read this piece in the past, then let me take a second to introduce it.
Each week throughout the pre-season and regular season I'll look at several players who are either #TrendingUp or #TrendingDown. This is focused primarily on dynasty leagues, so even though I'll be dropping plenty of redraft content, #TrendingNow will keep you up to date on the long-term plan of dynasty franchises.
So even though I don't want to read much into the pre-season, football is back, and we need to dig deep. It's more than just performances on the field. It's camp battles, injuries and other news that could help to shape a player's value over this season. There are many storylines worth noting, and while I won't cover every single one in this article, be sure I'll keep an eye on them over the next few weeks.
Editor's Note: All you early birds can get a full-season NFL Premium Pass for 50% off. Our Draft Kit, In-Season tools and over 150 days of Premium DFS.
Sign Up Now!
#TrendingUp
Kerryon Johnson (DET, RB)
I had my reservations about Kerryon Johnson when he was first drafted by the Lions. Johnson was a back that could pound the ball between the tackles, so I was concerned how he would produce outside as the Lions wanted him to become that dynamic runner. Even though I don't see the Raiders putting a strong defense on the field this season, Johnson looked like a dynamic runner.
Johnson had a huge run taken away but still managed 34 yards on seven carries while adding another 33 yards on four catches. I want to fall in love with Johnson, but LeGarrette Blount and Theo Riddick should still get plenty of touches and Ameer Abdullah is still around. I also hate the Lions defense in a division with a lot of weapons. The Lions may not have many games with a positive game script. Like I said, we don't want to read too much into Week 1 of the pre-season, but if Johnson as too many more weeks like this, we are looking at a guy with RB2 potential in 2018 and even more moving forward.
Marquez Valdes-Scantling (GB, WR)
Let's stay in the NFC North for our second player and talk about the WR3 battle in Green Bay. Geronimo Allison had been the leading candidate this off-season, but the Packers decided to add three receivers in the draft with Equanimeous St. Brown, Marquez Valdes-Scantling, and J'mon Moore. This is going to be a battle that lasts throughout the preseason and into the first few weeks of the regular season.
The good news is that Valdes-Scantling seemed to win round one this past week, catching five balls for 101 yards and a touchdown.  Allison started the game, but Valdes-Scantling was in on the second drive and took advantage of all his opportunities. Valdes-Scantling saw 26.4 percent of his plays go for 25-plus yards while at USF, so the guy can make huge plays. Valdes-Scantling is also returning kickoffs, which means the Packers could trust him and integrate him even more into the offense.
More than likely Allison will start the season as the WR3 in Green Bay, but with Randall Cobb's injury concerns this pre-season, Valdes-Scantling could continue to get a lot of work over the next few weeks. If he can get some game action with Aaron Rodgers and gain his trust, Valdes-Scantling could be a guy to buy low on right now.
#TrendingDown
Devante Parker (MIA, WR)
Maybe this one is too obvious or maybe you are just tired of hearing about DeVante Parker. The fact is, the Parker truthers are alive and well out there, unwilling to move on from the upside that we used to salivate over. Sadly, that potential is still in there, but Parker seems unwilling or unable to harness it. So, if you haven't given up yet, please do so now.
Not only has Parker been inconsistent and underwhelming in training camp, but he now has a broken finger that could sideline him into the regular season. I've been saying this for weeks now, Kenny Stills is the WR1 in Miami and Parker can't do anything about that. Now he will have to miss time, including crucial snaps in the regular season. Parker needs a change of scenery and if he can't produce in 2018, then that change will probably come quickly. Even if the change of scenery does happen, he needs a whole lot of confidence. It may be too late.
Devin Funchess (CAR, WR)
The WR1 in Carolina last season may end up being forgotten by the time Week 1 gets here. Devin Funchess had a breakout season with 63 catches for 840 yards and eight touchdowns in 2017, but it's doubtful the targets will be there. A major question was Cam Newton and if he would be able to feed everyone outside of Greg Olsen and Christian McCaffrey?
D.J. Moore showed why he was the most talented wide receiver in the draft this past weekend. Moore started the game and ended up with four receptions for 75 yards. We know Moore could make an impact, but let's keep an eye on Curtis Samuel now as well. 43 yards on four catches was a good start to the pre-season for Samuel, and that type of impact will continue to show in the regular season. If Moore becomes the receiver he is capable of on the outside, then McCaffrey, Olsen, and Samuel will receive plenty of targets and could leave Funchess without much left over. If you can still get Samuels cheap, do it. If you can still sell Funchess, do it. He won't have much value as the regular season progresses.
More Fantasy Football Analysis