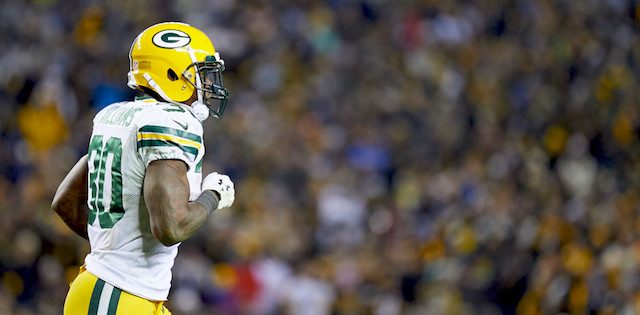 Now that bye weeks have begun, albeit with just two teams, streaming becomes a more viable and almost necessary strategy. Knowing who to add and when to start them could be the ultimate difference-maker in a weekly matchup. Making the right streaming decisions throughout the season could easily be the difference in winning a championship.
Each week, I will create a team of streamers for you to choose from. They will be broken down based on ownership levels and league size. I will make specific recommendations for 14, 12, and 10-team leagues to give you the most guidance possible when selecting a streamer. 14-team streamers will be players with ownership levels around 15%, 12-teamers will be around 30%, and 10-teamers will be around the 45% mark. Keep in mind that just because a player is listed as a streamer for a particular league size, it does not mean you can't use them in a different league size. For instance, if a 12-team league streamer is available in your 14-team league, by all means, use them accordingly.
Let's take a look at Week 4's best streaming options with some highlighted players to keep an especially close eye on.
Editor's Note: Get any rest-of-season NFL Premium Pass for 50% off. Our exclusive DFS Tools, Lineup Optimizer and Premium DFS Research through the Super Bowl.
Sign Up Now!
Stream Team for 14-Team Leagues
QB: Case Keenum, Washington Redskins - 15% Owned
RB: Jamaal Williams, Green Bay Packers - 14% Owned
RB: Giovani Bernard, Cincinnati Bengals - 17% Owned
WR: Cole Beasley, Buffalo Bills - 10% Owned
WR: Devante Parker, Miami Dolphins - 9% Owned
TE: Tyler Eifert, Cincinnati Bengals - 14% Owned
Despite the Redskins' ineptitude, Case Keenum has been off to a terrific statistical start in 2019, completing nearly 70% of his passing for 933 yards and seven touchdowns. Although there are some calls for Dwayne Haskins to play, he doesn't seem to be in the team's plans just yet. Keenum could continue to trend upward as he goes against a horrific Giants secondary in Week 4.
The Giants have given up 1,038 passing yards through three weeks, which is worst in the league. The Giants have also given up eight passing touchdowns, which is fourth-worst in the league, and have also given up the fourth-most fantasy points to the quarterback position. Look for Keenum to continue rolling this week and feel free to stream him wherever available.
Streaming at the running back position is extremely difficult in a 14-team league. Rarely are there choices that provide value in the form of touches. This week, Jamaal Williams may provide that value. While he does not get the greatest matchup vs. an Eagles Defense that has only given up 3.15 yards per carry to the running back position, he should see volume as the team looks to limit Aaron Jones' touches. Williams received 12 carries last week against the Broncos and head coach Matt LaFleur has discussed his interest in getting him more involved in the run game. With the score projected to be close throughout, Williams could have an impact in the game when given the ball.
Tight end is another wasteland for not only 14-team leagues, but pretty much all leagues this season. Touchdown-dependent Tyler Eifert finally gets a matchup that could help him produce in the red-zone. He will face the Steelers on Monday night, who have given up two touchdowns to the tight end position through the first three weeks. Andy Dalton has continued to look for Eifert near the goal line, and this week should be no different. If you are desperate for a flier at tight end, you could do worse than Eifert.
Stream Team for 12-Team Leagues
QB: Andy Dalton, Cincinnati Bengals - 31% Owned
RB: Rex Burkhead, New England Patriots - 35% Owned
RB: Justin Jackson, Los Angeles Chargers - 31% Owned
WR: Phillip Dorsett, New England Patriots - 47% Owned
WR: Randall Cobb, Dallas Cowboys - 26% Owned
TE: Vernon Davis, Washington Redskins - 22% Owned
Justin Jackson finds himself listed in this article for the second week in a row. He continues to produce on limited carries as he is averaging 7.8 yards per carry. This week, he goes up against a Dolphins Defense that is allowing 5.29 yards per carry to the running back position and has allowed four rushing touchdowns. The Chargers are a massive 16-point favorite, so you could easily see the Chargers rest starters like Austin Ekeler late in the game allowing Jackson to rack up the carries and yards.
Phillip Dorsett immediately saw his usage increase last week with the departure of Antonio Brown. He received a season-high seven targets, hauling in six receptions for 53 yards and a touchdown. This week, he gets what appears to be a tough matchup vs. the Bills Defense, however, they have allowed 50 receptions to the wide receiver position, which is second-worst in the league behind only the Carolina Panthers.
Dorsett could easily find himself heavily involved in the passing game again in Week 4 as Brady looks for him on the underneath routes. He becomes especially viable if Julian Edelman misses this week due to a chest injury.
Randall Cobb is another player that finds himself mentioned in back-to-back weeks in this column, and for good reason. Last week, Cobb would have had a solid performance had his 74-yard touchdown not been called back due to holding. This week he gets another superb matchup vs. the Saints and again finds himself as the number two wide receiver with Michael Gallup out.
The Saints have given up the second-most receiving yards to wide receivers, allowing 742 yards. They have also given up the fifth-most touchdowns by allowing five. This game has the fifth-highest total on the board and is expected to be close, therefore Dallas likely will not have to abandon the pass to run clock late in the game.
Stream Team for 10-Team Leagues
QB: Daniel Jones, New York Giants - 52% Owned
RB: Ronald Jones II, Tampa Bay Buccaneers - 35% Owned
RB: Rashaad Penny, Seattle Seahawks - 60% Owned
WR: Mecole Hardman, Kansas City Chiefs - 57% Owned
WR: Courtland Sutton, Denver Broncos - 51% Owned
TE: Trey Burton, Chicago Bears - 40% Owned
Let the Daniel Jones hype begin if it hasn't already. Last week, Jones had his coming out party to the tune of 336 passing yards, 33 rushing yards, and four total touchdowns. You could not have asked for a better debut from Jones.
He now gets a delicious matchup vs. the Redskins Defense. The Redskins enter Week 4 having allowed the second-most passing touchdowns and fourth-most rushing yards to quarterbacks. This is a prime spot for Jones to use his dual-threat ability to light the Redskins up. The hype will almost certainly only continue to grow after this week.
I was not a Ronald Jones II guy to begin this season, and honestly, I still do not like him long-term. This week, however, he has a matchup he can exploit. The Bucs have continued to give him carries as noted by his 31 carries through three games in which he has averaged 5.29 yards per carry.
This week, he faces a Rams Defense that is allowing 4.54 yards per carry and has allowed three rushing touchdowns to runnings backs. The Rams have also given up 16 receptions for 147 yards to running backs, which is where Jones could find more work as the Bucs will likely be trailing in the game. Look for Jones to get carries early in which he is able to turn into positive results, and then look for him to add in some receptions late in the game when trailing to have an overall solid performance.
As I mentioned earlier, tight end is a very difficult position for streaming, which is why I try to highlight a couple in these articles to give readers an understanding of my recommendations. Trey Burton has been largely non-existent in his first two games of 2019, hauling in only six receptions on a total of seven targets. He has not been able to turn any of these receptions into big gains or touchdowns, but that could change this week vs. the Vikings.
The Vikings are currently allowing the sixth-most receiving yards and second-most receptions to tight ends with 212 and 23, respectively. This week could be a bounceback week for Burton, and given the lack of options at the tight end position, this is as good as it gets in a 10-team league.
More Week 4 Lineup Prep