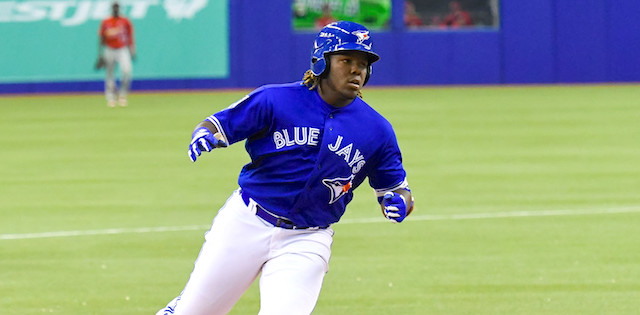 Here at RotoBaller, we've been producing fantasy baseball analysis all offseason. As part of that, our awesome MLB team has written up detailed 2019 fantasy baseball outlooks for 400+ players. These player outlooks include RotoBaller's analysis on how we expect player to perform in 2019, where to target them in 2019 drafts, and supporting stats to back up the analysis. Typically, we only include these outlooks for premium subscribers, but we have a special treat for you today.
Over the next few weeks we'll be releasing some player outlooks for each position. Normally only available to Premium subscribers, the outlooks below are meant to give you a taste of the in-depth analysis you receive with our industry-leading 2019 Draft Guide. Our editors have hand-picked these specific players for your enjoyment.
Today we are getting the party started with looking at five fantasy baseball prospects and MLB rookies who we expect to make an impact. Make sure to subscribe to read all 400+ of our 2019 player outlooks, available exclusively in our 2019 Draft Guide.
Editor's Note: Get any full-season MLB Premium Pass for 50% off, with exclusive access to our season-long articles, 15 in-season lineup tools and over 200 days of expert DFS research/tools.
Sign Up Now!
Toronto Blue Jays third base prospect Vladimir Guerrero Jr. is the most exciting young player yet to make his big-league debut. He's ranked number one overall on MLB.com's prospect list heading into the 2019 season for a reason. Still only 19, Vlad has the raw power to make an immediate impact for Toronto whenever he's called up, which is likely to be early next season.
He quickly proved that minor league pitching was no match for him in four levels on the farm last season, hitting a combined .381/.437/.636 (1.073 OPS) with 20 home runs, 78 RBI and 67 runs in 95 games. A strained patellar tendon in his left knee last summer might've cost him a September call-up, but he's obviously not far off in 2019. Guerrero has effortless raw power to all fields and consistently makes loud and hard contact as he barrels baseballs up. Unlike his free-swinging father, Vlad Jr. has much better plate discipline at a young age, which bodes well for his future. He walked 11.7 percent of the time at Triple-A and struck out just 7.8 percent of the time.
Guerrero easily has 30-homer power at the next level and could become a perennial All-Star in one of the best hitting environments in baseball. If he's not already owned in keeper/dynasty formats, he'll be a surefire first-round pick in those leagues. Even without taking a single MLB at-bat, he's considered a top-15 fantasy third baseman by RotoBaller.
Victor Robles - OF, Washington Nationals
Washington Nationals outfielder Victor Robles is an exciting young player who Nationals fans hope will take the place of Bryce Harper. In a short spell in the big leagues, Robles has a .277/.337/.506 slash line over 93 plate appearances in 2017 and 2018. In 2018, in just 66 plate appearances in 21 games, Robles had seven extra-base hits and stole three bases in five attempts. This does nothing to slow his hype from the minors, where he had 19 stolen bases and 13 extra-base hits in 52 games, and shows that he has the potential to be a breakout star in 2019.
One of the top prospects in baseball, Robles has already stolen 129 bases in the minors and had an .875 OPS in 114 games in 2017. While he has not shown much in terms of home runs, he had 37 doubles and eight triples in the minors in 2017 and looks like a player that will easily top 50 extra base hits in the majors. His patience at the plate is something that needed development coming into 2018, but then he walked 26 times and struck out just 32 times in 226 plate appearances in the minors. When looking at his batted ball data, his 24.4% line drive rate in his short spell in the majors is a great sign, as Robles consistently posted rates in the teens in the minors. A 26.7% ground-ball rate is good, but it also may not hurt Robles to hit balls on the ground as well, using his elite speed to earn base hits.
As of now, it looks like Robles will man center field for the Nationals to open the season and his speed will be useful either at the top or bottom of the lineup. The most important thing to look at in regards to Robles is his plate discipline and if his progress made in Triple-A last season translates to the majors. If that is the case, there is a good shot that Robles steals 30 or more bases on top of his solid XBH and runs scored tallies. Look at him as a fringe top-100 player and as an OF2.
Nick Senzel - 3B/2B/OF, Cincinnati Reds
Cincinnati Reds infielder Nick Senzel came into last season as the club's top prospect and was expected to make a midseason splash, both on the field and in fantasy leagues. Amidst the numbers of things that went wrong for the Reds, Senzel's battle with vertigo was just the beginning.
After missing an extended period of time, Senzel also managed to fracture the finger on his throwing hand and capped it off with surgery to remove bone spurs from his elbow. If he can put all that behind him, there is great talent waiting to emerge. Senzel hasn't tasted the majors yet, but his minor league numbers show he can hit, with a .310 average in 171 Triple-A at-bats following up a .340 average at Double-A the year before.
Senzel will need to increase his fly ball rate in order to unleash his raw power, but that should come with experience. As long as he is healthy heading into Spring Training, Senzel is easily worth a flier since he can be taken past the first 15 rounds in most re-draft leagues.
Mets first base prospect Peter Alonso was one of the top hitters in the minor leagues this year. As a 23-year-old, he mashed 36 HR to go along with 92 R, 119 RBI and a .285/.395/.579 slash line between Double- and Triple-A.
His stat lines in the upper minors resemble those of another right-handed, power-hitting first baseman: Rhys Hoskins, who has quickly turned into one of Major League Baseball's premier sluggers. Alonso isn't likely to replicate what Hoskins managed his rookie season, but he should provide plenty of value in Flushing this season.
The Mets are almost definitely going to manipulate Alonso's service time, so it's unlikely we'll see the Mets' second-ranked prospect until at least mid-April-- and perhaps not until late May, after the Super Two cutoff. Still, Alonso's offensive tools should allow him to adjust to big league pitching and make him a viable fantasy option rather quickly. Beyond keeper and dynasty leagues -- in which he is a must-own -- Alonso is a worthy stash in deeper redraft leagues, particularly those with a corner infield roster spot.
Currently, the fifth and final SP spot in the Braves rotation is still up for grabs. On their official depth chart, that spot belongs to 22-year-old Touki Toussaint, but Mike Soroka is firmly in the mix. The 6' 5" Canadian is ranked as the #1 prospect in the Braves organization by MLB.com and had relative success in five starts for the big-league club last season.
The 21-year-old finished 2-1 with a 3.51 ERA and 1.44 WHIP, before being shut down for the season due to shoulder soreness on June 27. He has nothing more to prove in Triple-A, boasting a 10.33 K/9 before he was called up. For owners who draft early, be mindful about job security for these Braves pitchers. They have another impressive young arm in former seventh overall pick Max Fried they need to try and find starts for.
It's unlikely that the Braves will start the season with a six-man rotation, but if they do, or Soroka wins the spot, he could be a valuable fantasy contributor on an impressive Braves roster. If he doesn't make the cut he could still be a late-round stash in deep leagues or someone to flag and monitor on the waiver wire.
More Fantasy Baseball Analysis