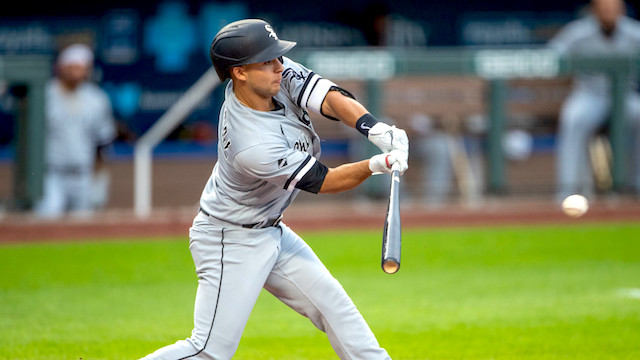 Finding a quality second baseman in fantasy baseball is no easy task. In 2019, 16 second basemen posted a 100 wRC+ or better. However, only six managed at least a 120 wRC+ (one of whom got caught for illegal substances). The numbers were fairly similar in the pandemic-shortened 2020 season.
The position has seen some promising players arrive in recent years with Brandon Lowe, Cavan Biggio, and Jake Cronenworth. A lot of second basemen also have the added value of playing other positions, like D.J. LeMahieu and the trio mentioned previously so there is no guarantee that they will all remain eligible at the position in the long term. Power has become a common skill among second basemen with five players surpassing double-digit home runs in the abbreviated 2020 season and another eight players projecting to hit 20+ home runs in a full season.
Today, we're looking at the Top 10 second base prospects for dynasty baseball and power is definitely a common theme among the next wave of players. You'll also find a little more speed than we've seen in recent years from the position, along with some strong hitting skills and great eyes at the plate. Previously, we looked at the top dynasty prospects for Catchers and First Basemen.
Featured Promo: Want a free RotoBaller Premium Pass? Check out these sports betting promo offers from the top sportsbooks! All new sign-ups get a free bonus offer on their first deposit, and a free year of RotoBaller's Premium Pass for all sports ($450 value)!
Sign Up Now!
Tier 1
1. Nick Gonzales, Pirates (Top 250 Rank: 28)
Key Fantasy Skill(s): Average, OBP, Power
Roadblock: Adam Frazier/Kevin Newman (Threat Level: MEDIUM)
ETA: 2022
Need to Know: Gonzales caught my eye prior to the 2020 amateur draft and I had him ranked as the sixth-best talent. His college numbers look like they came out of a video game (12 home runs in 16 games in 2020) and he was playing at the college equivalent of Coors Field. However, he looked outstanding at neutral sites including the Cape Cod League where he posted a 1.081 OPS with wood bats. He has a lightning-quick swing and the ball jumps off his bat. He could move up this ranking quickly in 2021 and has massive upside for the rebuilding Pirates.
2. Vidal Brujan, Rays (Top 250 Rank: 41)
Key Fantasy Skill(s): Speed, Average
Roadblock: Brandon Lowe/Mike Brosseau (Threat Level: HIGH)
ETA: 2021
Need to Know: Speed is becoming harder to come by in fantasy baseball so Brujan could eventually become a valuable contributor to your team for that reason alone. He has the wheels to steal 40+ bases a season if he's so motivated. Although he's not a big player by any means, Brujan has a quick bat and strong arms, which could lead to at least gap pop and possibly 12-15 home runs with some adjustments. He doesn't have a clear path to a gig in 2021 but the Rays like to move players around so he could still find the at-bats to solidify a permanent role moving forward.
3. Nick Madrigal, White Sox (Top 250 Rank: 57)
Key Fantasy Skill(s): Average, Speed
Roadblock: Tim Beckham (NRI) (Threat Level: Low)
ETA: 2021
Need to Know: Madrigal was off to a promising start to the 2020 season in his MLB debut before hurting his shoulder. He had offseason surgery but it hopefully won't become a long-term issue like it has for Brendan Rodgers. The goods news is that Madrigal is a different player and succeeds by making an incredible amount of contact while using his speed to beat out base hits and to steal bases. With a potent offense in Chicago, his on-base skills should help him score a lot of runs.
4. Brendan Rodgers, Rockies (Top 250 Rank: 58)
Key Fantasy Skill(s): Power, Average
Roadblock: Ryan McMahon, Garrett Hampson (Threat Level: LOW)
ETA: 2021
Need to Know: The 2021 season is no doubt a big one for Rodgers who is likely running out of chances in Colorado — although the loss of Nolan Arenado weakens the infield depth. If his shoulder is healthy, the young infielder has a chance to hit for average and provide above-average pop. Rodgers arguably has a higher ceiling than other infielders such as Garrett Hampson and Ryan McMahon.
5. Michael Busch, Dodgers (Top 250 Rank: 70)
Key Fantasy Skill(s): Average, Power
Roadblock: Gavin Lux, Max Muncy (Threat Level: HIGH)
ETA: 2023
Need to Know: Busch is an offensive-minded second baseman who spent more time at other positions in college. He should be playable at the keystone and he has the makings of a plus hitter. If he can add consistent over-the-fence pop, he could become an above-average regular for the Dodgers. A quick start to the 2021 season could get Busch to the majors in a hurry — possibly ahead of our 2023 expected ETA. His rise could also put more pressure on Gavin Lux to find his hitting stroke again.
Tier 2
6. Xavier Edwards, Rays (Top 250 Rank: 71)
Key Fantasy Skill(s): Speed, Average
Roadblock: Brandon Lowe/Mike Brosseau/Vidal Brujan (Threat Level: HIGH)
ETA: 2022
Need to Know: The Rays organization loves to move players around and Edwards has the athleticism to play anywhere up the middle of the diamond and beyond. At the plate, he makes a ton of contact but lacks anything but occasional gap pop. He gets on base at a good clip and has the speed to steal 30-40 bases.
7. Jeter Downs, Red Sox (Top 250 Rank: 86)
Key Fantasy Skill(s): Average, OBP
Roadblock: Enrique Hernandez/Michael Chavis (Threat Level: MEDIUM)
ETA: 2021
Need to Know: Downs isn't going to move Xander Bogaerts off shortstop and he's best suited for second base where there is depth but it's much more surmountable. He projects to hit for a strong average and the bat speed should help him get to at least 15-homer pop. The speed is just average but he's a good base runner and capable of nabbing 12-15 bases. If he can maintain the over-the-fence pop he showed in 2019, Downs could be an above-average player at second base.
8. Jeremiah Jackson, Angels (Top 250 Rank: 98)
Key Fantasy Skill(s): Power
Roadblock: David Fletcher (Threat Level:) LOW
ETA: 2022
Need to Know: David Fletcher has done a nice job at second base for the Angels but Jackson's power gives him a big upside if he can find a way to make more consistent contact. He hasn't run much but Jackson has solid speed and could nab upwards of 10-12 speeds if so motivated. There is a pretty high "bust" risk with Jackson but he was a player that caught my eye leading up to the 2018 draft so I maintain hope he'll put it all together.
9. Aaron Bracho, Cleveland (Top 250 Rank: 141)
Key Fantasy Skill(s): Average, OBP
Roadblock: Cesar Hernandez/Andrew Gimenez/Amed Rosario (Threat Level: MEDIUM)
ETA: 2023
Need to Know: Bracho has yet to get much higher than rookie ball due to injuries and the pandemic delays but he looks like a strong hitter with a patient approach. He has also shown surprising pop for his size and could eventually produce 15-20 home runs. Cleveland has amassed some depth ahead of Bracho but he's still at least two years away and a lot can happen during that timeframe.
10. Justin Foscue, Rangers (Top 250 Rank: 189)
Key Fantasy Skill(s): Average
Roadblock: Rougned Odor/Nick Solak/Anderson Tejeda (Threat Level: MEDIUM)
ETA: 2023
Need to Know: In some ways, Foscue is similar to Jeter Downs as an offensive-minded second baseman with a power threat but he's not as athletic and doesn't have much base-running ability. He could eventually develop into a hitter capable of producing a .270-.280 average with 15-20 homers.
Just Missed
One name to watch:
Former Angels' second-rounder Jahmai Jones was recently dealt to the Baltimore Orioles and the change of scenery might just reinvigorate his career. He hit well in the low minors but then lost consistency as he reached high-A and double-A. He appears to have tried to hit more balls in the air and use more of the whole field more but something didn't click. He's athletic and reportedly has good makeup so I have faith he'll carve out at least a part-time role in the majors with his ability to also play the outfield.
Download Our Free News & Alerts Mobile App
Like what you see? Download our updated fantasy baseball app for
iPhone
and
Android
with 24x7 player news, injury alerts, sleepers, prospects & more. All free!
More Fantasy Baseball Prospects and Dynasty