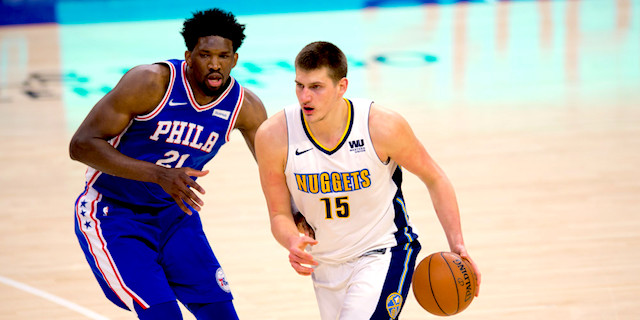 The center position in the NBA holds a unique and pivotal role on the basketball court. Centers are typically known for their imposing height, strength, and defensive prowess. Traditionally positioned near the basket, they play a crucial role in both offense and defense, serving as rim protectors and dominant forces in the paint.
However, as the NBA continues to evolve, some players like Nikola Jokic have broken that mold and created more "Point Center" molds that can handle and shoot the ball. This variety in players' playstyles has made the center position one of the premier positions to watch, fans love the overall competition at the position. Teams also have usually built their teams around big men because of how transcendent they can become for a franchise.
In this article, I'll undertake the formidable task of ranking the ten greatest NBA centers of all time, considering their dominance on both ends of the court, impact on team success, individual accolades, and lasting legacy.
10. Robert Parish
Stats: 14 PTS, 9.1 REB, 1.5 BPG
Accolades: 4x NBA champion, 9x NBA all-star, 2x All-NBA( 1x Second Team, 1x Third Team)
At 7'1 Robert Parish was well respected for his hustle. Robert was known for how hard he ran the floor and pushed the pace consistently on many dynasty Celtic teams. Parish was also known for his stifling defense, he averaged over 1 block a game during his long NBA career. Now back to his hustle, Parish holds the record for the most offensive and defensive rebounds in the playoffs all-time. This hustle fueled multiple Celtic teams into deep playoff runs.
Even though Parish was not much of a stellar offensive player his hustle and defense on the other end is more than enough to have him included on any top centers list. Parish had an incredibly long NBA career and he was obviously well-respected as he was honored with an NBA Top 75 selection.
9. Nikola Jokic
Stats: 20.2 PTS, 10.5 REB, 6.6 AST
Accolades: 5x All-Star, 2015 All-Rookie, 2x MVP, 5x All-NBA (3x First Team, 2x Second Team)
After another deep playoff run and two MVPs, Jokic is finally getting the respect he deserves. Jokic is a generational center with very guard-like skills, his mix of skill and IQ has seen him blossom from a rising star to one of the best in the league. He has one of the best touches in NBA history, a handle to consistently break down defenses, and some of the best passing talents any big man has ever had. He also has a very consistent jump shot from the mid-range and three to keep defenses guessing. His IQ has allowed him to manipulate defenses and power a very high-powered offense through any NBA team.
Jokic consistently dominating the regular season and playoffs has him in a very elite company. Currently, many people have started to anoint him as the best player in the world, I haven't given him that title just yet but he is very close. As he gears up for his first NBA finals, Jokic has a chance to cement his legacy forever on the biggest stage.
8. Moses Malone
Stats: 20.6 PTS, 12.2 REB, 1.3 BPG
Accolades: NBA champion, NBA finals MVP, 3x MVP, 12x NBA All-Star, 8x All-NBA (4x First Team, 4x Second Team), 2x All-Defensive Team (1x First Tean, 1x Second Team)
Known for his all-around dominance, Malone was one of the best centers of his era. Malone was a relentless offensive rebounder for his career, he averaged an unbelievable 5,1 per game for his career. He had a very consistent mid-range jumper that propelled him into one of the best scorers in the league. He would use his jumper when defenses would sag off of him because of the fear of his unreal athleticism. Malone was also known for his powerful dunks when he finished around the rim, he was one of the first players to break the rim when dunking.
Moses Malone was an anchor on both sides of the ball for 21 years and dominated. Malone ranks high in multiple major statistical categories because of his relentless hustle and heart. His play inspired many players to emulate his playstyle because of his effort and success.  His impact on basketball is still felt today and is another reason why he is a top-10 center.
7. Patrick Ewing
Stats: 21.0 PTS, 9.8 REBS, 2.4 BLK
Accolades: 11x All-Star, 1985 ROY, 7x All-NBA (1x First Team, 6x Second Team), 3x All-Defensive Team (3x Second Team)
Known for his dominant paint protection and unstoppable post moves, Patrick Ewing was looked at as one of the most naturally talented players in NBA history. Ewing catered to his soft touch and unblockable mid-range on the offensive end to consistently score at a high rate. He led many talented teams and even though he didn't get it done or sometimes shrunk at the biggest moments he was still a Hall of Fame player.
Ewing because of his versatility could play the 4 or the 5 very interchangeably. He was a great rim protector as well, he had multiple seasons of averaging 2 blocks per game. His athleticism and cat-like reflexes allowed him to constantly anchor tough Knick defenses.  Ewing will always be remembered as one of the best Knick players to ever play in the NBA because of his ultra dominance on both ends of the floor.
6. David Robinson
Stats: 21.1 PTS, 10.6 REB, 1.4 BLK
Accolades: 2x NBA champion, 1993 scoring champ, 1x MVP, 1x DPOY, 1x ROY, 10x All-Star, 10x All-NBA (4x First Team, 2x Second Team, 4x Third Team), 8x All-Defensive Team (4x First Team, 4x Second Team)
Robinson was one of the best scoring bigs the league has ever seen. He could handle the ball like a guard at 6'11, shoot the ball consistently from the mid-range, and was a great post player. Robinson had great footwork in his face-up post-game that would make defenders look silly. He was too quick in transition and too powerful in the halfcourt, he was truly an athletic specimen. Robinson was a great defender on the other end as well, he could protect the rim very well with athleticism and reaction time. Robinson averaged a ridiculous 3.0 blocks for his career.
Robinson could also jump out on the perimeter and defend quicker players because he had such good footwork. He always showed up in the playoffs and rose in the biggest moments. His offensive and defensive versatility allowed the Spurs to compete for years until the start of their true dynasty.
5. Bill Russell
Stats: 15.1 PTS, 22.5 REB, 4.3 AST
Accolades: 11x NBA champion, 5x NBA MVP, 12x NBA All-Star, 11x All-NBA (3x First Team, 8x Second Team), 1x All-Defensive Team
Russell was one of the most selfless players in NBA history. He consistently sacrificed his stats for the betterment of his team's success. He was one of the first players to revolutionize defensive schemes to stop other teams. He also dominated on the defensive end as well, he anchored multiple Celtic defenses. He did it with his amazing rim protection, tenacious rebounding, and witty schemes. Russell's impact was the driving force in the Celtic dynasty, anytime he was healthy on the court it contributed directly to winning consistently.
Russell was also a great passer for his time as well, although he was not on Jokic's level he was very good. He used his amazing defense to grab boards and consistently throw outlet passes to get the Celtics easy baskets. The outlet passes that Russell threw fueled an unstoppable transition offense during that time. Russell will always be remembered for his revolutionary play and amazing work off the court.
4. Wilt Chamberlain
Stats: 30.1 PTS, 22.9 REB, 4.4 AST
Accolades: 13x All-Star, 2x NBA champion 4x NBA MVP, 10x All-NBA (7x First Team, 3x Second Team), 2x All- Defsensive Team (2x First Team), NBA ROY, 7x NBA scoring champion, 11x reboudning champion
Known as the human stat machine to most NBA fans, Wilt was a transcendent player. Wilt holds 72 NBA statistical records, one of those being the most points in a game at 100. Wilt truly could score whenever he pleased, he had a good fadeaway jumper to shoot over defenders and a stifling vertical jump to finish over players with. He could not be stopped on offense or defense, and he also possessed rare speed for a man his size should have. Wilt eventually developed into a very adequate passer which helped him finally win multiple championships in his career.
looking at Wilt from a purely statistical standpoint there will never be another man to dominate like him. The way he could effortlessly put up unfathomable stats is second to none. Sure, his godly stats had something to do with his era but there is no denying his greatness and the effect he had on the game of basketball.
3. Shaquille O'Neal
Stats: 23.7 PTS, 10.9 REB, 2.3 BLK
Accolades: 4x NBA champion, 3x Finals MVP, 1x MVP, 15x NBA All-Star, 14x All-NBA (8x First Team, 2x Second Team, 4x Third Team), 3x All- Defensive Team( 3x Second Team), NBA ROY, 2x NBA scoring champion
Now personally to me, Shaq is the most dominant modern-day player in NBA history. At 7'1 300 plus pounds and quick like the wind, he is unstoppable. Shaq is one of the only people who can't be defended one on one by almost anybody. He forced teams to add multiple big men to their teams because not one person could handle Shaq's physical play all game. He had incredible post moves and footwork, he could swivel and power through defenders consistently. Shaq also was a premier shot blocker he averaged over 2 blocks per game during his 20-year career.
Shaq was one of the driving forces in the Lakers dynasty in the 2000s, He consistently killed teams in the playoffs and was a true matchup nightmare. The Lakers were one game away from history by sweeping their way through the whole entire 2001 playoffs. People struggle to find another all-around dominant force than Shaq, his mix of skill, strength, and size makes him unguardable.
2. Hakeem Olajuwon
Stats: 21.8 PTS, 11.1 REB, 3.1 BLK
Accolades: 2x NBA champion, 2x NBA Finals MVP, 12x NBA All-Star, 12x All-NBA (6x First Team, 3x Second Team, 3x Third Team), 2x NBA DPOY, 9x NBA All-Defensive Team( 5x First Team, 4x First Team), 3x NBA blocks leader 
Hakeem the dream Olajuwon had the best post-game in NBA history in my opinion. His footwork was second to none, he used it to kill players with the dream shake. His soccer background helped him glide elegantly around the court. Hakeem also had a very good jump shot that he could get off at any time and anywhere on the court. His defense was also some of the best the league has ever seen, he was a notorious rim protector and big guy who consistently got steals which was rare. Hakeem is rated so high in people's books because his low post-game was something to be marveled at because of how he could consistently score whenever it was needed and then go anchor the defense on the other end immediately
Hakeem ranks top 15 in points, rebounds, steals, and blocks which is absurd. A big man that is able to have that versatility is something that I don't think can be replicated. He was one of the only players in NBA history that truly had no weaknesses, he could do anything he pleased on the court. His resume is as good as they come and no one can question his legacy.
1. Kareem Abdul-Jabbar
Stats: 24.6 PTS, 11.2 REB, 2.6 BLK
Accolades: 6x NBA champion, 2x NBA finals MVP, 6x MVP, 19x NBA All-Star, 15x All-NBA (10x First Team, 5x Second Team), 11x All-Defensive Team( 5x First Team, 6x Second Team), NBA ROY, 2x scoring champion, 4x blocks leader 
Regarded by some people as the best college player and NBA player in the history of basketball, Kareem was an amazing player. Kareem was a pioneer of the hook shot, a shot that was unstoppable and transformed the game. Most centers used force and strength but Kareem used finesse and agility to absolutely dominate players. He was a gifted scorer against all defenses, he averaged over 20 points per game for 17 years. His scoring prowess helped him become the second-leading scorer in NBA history. Kareem just like many other players on this list also took pride in defense, he averaged over 2 blocks per game for his career. Kareem could also pass the ball out of the post very well, he could see over defenses to see oncoming cutters.
Kareem was truly a dominant force from high school to the last game of his NBA career. He was an unbelievable offensive talent at his size and could score with the best in NBA history. Kareem was also a very important piece to the showtime Lakers era and helped win a good number of championships. His dominant play will always be praised for years for how consistently he was great and he proved that he deserved to be on any all-time list.
That's the end of the list. Just for some clarification, players were ranked based on dominance, accolades, and winning. Even though winning did play a part in the rankings it did not hold as much weight as accolades and dominance.  Let me know your thoughts on the article and any changes you would make!
Download Our Free News & Alerts Mobile App
Like what you see? Download our updated fantasy basketball mobile app for iPhone and Android with 24x7 player news, injury alerts, lineup notifications & DFS articles. All free!


NBA DFS News and Injury Alerts
More DFS Lineup Picks and Analysis