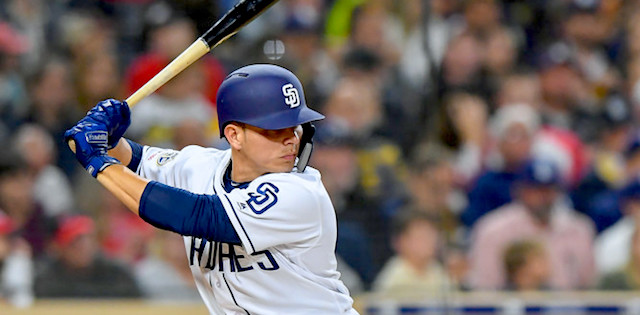 At the unofficial halfway point of the season, we've got a chance to really dig in and find those second half superstars. Finding the next Luis Castillo can be the difference between a championship and an early exit from the playoffs, so it's important to keep building your watch list. Be ready to pounce before anyone else and you could be wearing the belt come October. For this particular Waiver Wire Watch List, we're going to focus on some prospects who have a great shot at not only getting called up, but making a legitimate fantasy impact once they do.
Throughout the season, you want to get the jump on your competition and sniff out the breakout players before they break out. That's what this list is all about--using some in-depth research and advanced analytics to find the players who aren't quite there yet but are on their way. Some of these may suit your needs for an immediate pick-up depending on your team's situation.
This is not necessarily a list of players you should add right away - it is a list of players to keep a very close eye on in most leagues as we further into July, and to consider picking up in deeper formats. In some cases, we will even caution you not to pick up a widely-added player, and steer you away from the fool's gold. Use it to build your own watch list.
Editor's Note: Get any full-season MLB Premium Pass for 50% off. Exclusive access to our Draft Kit, premium rankings, projections, player outlooks, top sleepers, dynasty and prospect rankings, 15 in-season lineup tools, and over 200 days of expert DFS research.
Sign Up Now!
Pitching Prospects to Watch in 12+ Team Leagues
A.J. Puk (SP, OAK)
This 24-year-old behemoth (6'7", 238 lbs) has been compared to one player more than any other--Randy Johnson. His sweeping lefty fastball in the high-90s has made him one of the more prolific strikeout artists in the minors, with an average K% over 30.
Puk was on the fast track to the big leagues as of 2018, but as is the case with many prospects, he was derailed by Tommy John surgery in April of that year. He's finally recovered and is currently pitching in AA in a relief role as he works his way back. Ideally, Puk would get stretched out enough to make an impact as a starter, but that seems unlikely to happen in 2019. With that said, he could be a valuable high-leverage reliever down the stretch for the A's, and it wouldn't be out of the question for him to get a spot-start or two in September in an effort to get him some major league experience. His call-up for 2019 isn't certain, but he's moving up the short list with every healthy outing. He should be on all dynasty radars and absolutely on your watch list even in season-long.
Dustin May (SP, LAD)
The Dodgers' top pitching prospect was promoted to AAA in late June, and given the bevy of injuries that their rotation has dealt with this season it's very possible he makes meaningful starts for the NL West leaders in 2019. May doesn't carry the elite strikeout potential that a prospect like Puk does, but he does miss plenty of bats with a hot sinker and a pair of effective off-speed pitches.
May's hype is predicated on the fact that he's fairly polished for a pitching prospect, and even more so when you consider that he's just 21 years old. Between all levels of the minors, he's typically posted a walk rate between 4.0 and 8.0, and has kept his SIERA under 4.00 more often than not. Don't be surprised to see May up in the Dodgers rotation for some spot starts or even an extended stay if they need the help to close out the season. Again, he should be rostered in all dynasty formats and firmly entrenched on your watch list in season-long.
Jesus Luzardo (SP, OAK)
I saved Luzardo for last because it seemed it was only a matter of time before he was called up to help the Athletics underwhelming starting rotation. He's pitched a grand total of 19.1 innings in the minors this year as he's dealt with a shoulder strain since March, and unfortunately he was diagnosed with a strained lat just last week. He's been shut down for at least a few weeks, putting his earliest return date in August.
Luzardo is the complete package as a pitching prospect. He's posted an average strikeout rate over 27.0, a walk rate that has never exceeded 9.1 at any level of the minors, and keeps hitters wildly off-balance with a potent combination of a high-90s fastball and a diving mid-80s changeup. He should be near the top of your watch list, as he can be a true impact arm should he reach the majors this year.
Position Prospects to Watch in 12+ Team Leagues
Bo Bichette (SS, TOR)
Bichette is one of the top hitting prospects in baseball, and he's proving it in 2019. He missed a healthy chunk of time with a hand injury this year, but in the 38 games he's played with AAA Buffalo he's posting an even .900 OPS.
While I would love to see Bichette work on his patience a little bit (8.4% walk rate in 2019), his .380 OBP is plenty good enough for him to take advantage on the basepaths. Across 131 games in AA last year, he swiped 32 bags while scoring 95 runs, and he certainly looks like the guy who will be setting the table for Vlad Guerrero, Jr. for the foreseeable future. I would consider Bichette a near-lock to see time with the Jays this year, and he can make an immediate fantasy impact when he does.
Urias started the season with San Diego after establishing himself as an elite hitting prospect over the last few seasons in the minors. Unfortunately, he was demoted after just 11 games after hitting an unacceptable .083 in that time span. That seemed to knock a few cobwebs loose, as he's been utterly, utterly dominant in AAA since then. As of this writing, Urias has an OPS of an even 1.000 across 328 plate appearances with a stunning 17 homers (he's never hit more than eight in a season before) and seven stole bases.
Urias has nothing left to prove in the minors, and with Ian Kinsler playing downright poorly all year there is nothing truly blocking his path. Urias will be a staple in the Padres organization for years to come, and he's the closest on this list to getting called up. If you've got the space I would consider adding him now, but certainly put him on your watch list coming out of the break.
Isan Diaz (2B, MIA)
Diaz is an under-the-radar power prospect that (understandably) doesn't get a ton of attention due to the small market organization and his relative inconsistency. In 2019, Diaz has been giving the Marlins every reason to call him up, posting the best season by far since his second year of rookie ball. The 23-year-old already has 20 homers in just 83 games, and he's doing it while keeping his strikeout rate at its lowest since rookie ball. He's raised his batting average 85 points since his limited time in AAA last year, and he's walking more too.
It's the Marlins--there is nothing and nobody keeping Diaz down. It's only a matter of time before he gets called up this year, and with near-elite power potential he's an obvious watch list candidate.
More Waiver Wire Pickups and Streamers