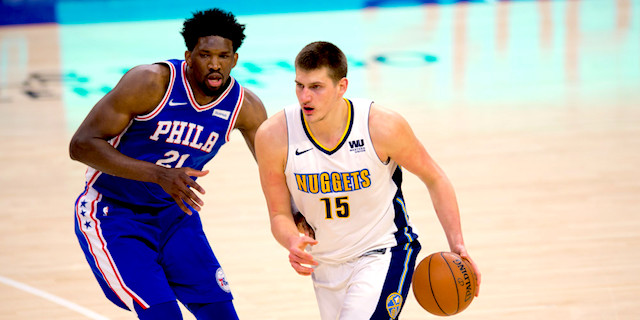 Most of the questions I've gotten since the season has started (and I've gotten a lot of questions) have been along the lines of "should I pick up ______?" or "should I trade _______ for _____?"
I've given mostly the same response--that you can't really make those decisions without context and 3 games is really a pitiful sample size to take any kind of drastic action on. Sure there are trends and new situations that are very encouraging signs but in general, those are not the types of questions you should be asking during week 1 of the season.
The beginning of the season is the best time to talk about the decision-making process, on how to ask the right questions to win in the long run rather than catch a hot streak from a week 1 pickup. These are the questions you should be asking, and trying to answer as the season goes on.
Editor's Note: Get any full-season NBA and DFS Premium Pass for 50% off. Our exclusive DFS tools, Lineup Optimizer and daily Premium DFS Research.
Sign Up Now!
What stats does my team need?
If you drafted a punt build, you already asked yourself this question all the way throughout your draft, and that's great. But even as the season wears on, you should be asking yourself this question every single week all the way throughout the season, because the answer to this question will change due to re-calibrated projections as well as on a weekly basis depending on the opponent in front of you.
Sometimes it's Right to "Trade Down"
Without context, the answer to the "should I make this trade" question can not be answered correctly, and the right answer in a vacuum can oftentimes be wrong. A lot of factors need to be considered when it comes to evaluating a trade - your current team make-up, your league's make-up, your league's settings, playoff schedules, positional needs and scarcity, differing opinions and projections etc. You can boil all of these things down to the question above: "what stats does my team need?".
So far in this young season, I've already made two trades that would be a clear no from a value perspective in a vacuum, as well as turned down a couple trades that would be a clear yes, but the reason why I made those moves comes down to the simple fact that overall, the decision leaves me with a better team.
One deal I outlined in a previous article, dealing Jrue Holiday for LaMarcus Aldridge, despite the fact that I have Jrue at a top-20 projection. The team is a punt 3s team that is lacking in efficiency numbers because I missed out on some important mid-round targets due to reaches. I expected to get one of Ayton, Vucevic or Kanter but had all three of them sniped right before I was able to get them, and it left my team weaker in the %s and points, while I was still overloaded in steals and assists in no small part due to the strengths of my first 2 picks, Nikola Jokic and John Wall. Trading down made sense here, and my team is much stronger overall.
The other trade looks even worse on paper, and most people would scoff at it in a vacuum, but it addressed key weaknesses in a 16-team league and leaves me with a better outlook overall. I traded Ricky Rubio and Stanley Johnson for Buddy Hield and Allen Crabbe, essentially a 1-for-2 with Johnson as just drop filler. I almost never deal 1 for 2, as I assign a very high value to a free roster spot, and if someone were to ask me if they should make this trade without any context, my reaction would be an instant no. But the team in question is a punt FG% team that had glaring holes in 3s and points, while being well overloaded in steals and assists. Hield and Crabbe help to fill those holes, and even post-trade, I still project as the strongest steals team in the league and a top 3 assists team, which meant that Rubio, even with a top-50 to top-40 valuation, was expendable in this context.
In the early season, context is everything when it comes to trading, and with the small sample size issue, trades should be made based on what your team needs and not a blind look at value and buying low/selling high. The same thing can be said about waiver wire pickups, and the decision for making an add should come after you've asked yourself the same question: "what stats does my team need?"
What do I need to do to win this week?
Matchups are fluid. That's something that seems to be forgotten by a large majority of the community, and it's something that becomes increasingly more important the more competitive your league is. What it boils down to is that in each given week, you'll need a different baseline of production to maximize your categories won, and figuring that out and understanding what that is over each of your 20-22 match-ups across the season could mean the difference between locking up a first-round bye or sitting out the playoffs while your league-mates play for a title.
Adjust and Conquer
During each given matchup, each of the categories your league plays with falls into one of 3 camps: Categories you project to win comfortably, Categories you project to lose comfortably and Contested Categories. In more competitive leagues where the lions share of teams in the league will have some kind of punt strategy in place, it's really important to recognize which stat falls under which one of these 3 buckets, and plan accordingly.
For example, if you're punting FT% and your opponent is punting assists, you will most likely be able to skimp on assists and load further up on bigs in your utility spots to fight for rebounds and FG% which are likely to be contested categories. This may mean benching a 4-game week for someone like Trae Young for a 4-game waiver stream like Cody Zeller simply because a lot of Young's production will be wasted in this matchup in categories you'll win anyways, while Zeller will help push you over the top in the contested ones. If anyone were to ask you, who do I start, Trae Young or Cody Zeller, you would almost certainly say Young, and in a vacuum, that is absolutely true, but there will be cases where that will not be right and recognizing how to answer that question correctly 20 times over the course of a season (multiplied by however many leagues you are in) will definitely help you pile up wins a lot more consistently.
That's also why I like to grab players with polarized stat-spreads at the end of drafts and off waivers, where their overall value is muted due to one or 2 very bad stats while having excellent marks in others, over guys who are just mediocre across the board. I ended up with a lot of players like Trae Young (high 3s and assists with bad FG%), Montrezl Harrell (high FG% and defensive stats, low FT, 3 and assists) etc. These guys allow me to change the entire make-up of my team and produce 6-3 or 7-2 weeks against a gauntlet of different teams and strategies. It also helps a lot in weeks where your star players have bad schedules (2-game weeks, tough 3-game weeks), allowing you to hit certain categories hard and perform damage control in order to salvage a 5-4 or even 4-5 week where others might have taken a significantly bigger L.
Adjustments are such a key part of real basketball, and it's easy to forget that in fantasy, they are just as important. Every week, take a look at your matchups and ask yourself "what do I need to do to win this week?" Sometimes the answer may not be what you think.
Who are my Biggest Competitors?
One of the tried and true cliches in poker is "if you can't spot the fish at the table, then you're the fish". That little nugget of wisdom applies to fantasy basketball as well, and the further along you get in the season, the more you should be thinking about how you are going to win against the other top teams in the league.
Shark Watching
Usually a week or two into the season, I have a reasonable idea which teams will be the stronger teams and which will be the weaker ones. The draft is maybe 60% of building a good team. While valuation and expectations can change drastically with key waiver pickups and trades, you can adjust those expectations as the season moves on, and it's reasonable to have somewhat of an idea who is a threat and how your team stacks up against them even this early in the year.
Once you figure out who the sharks are, it's pretty easy to recognize what build the expected top teams are in and how your team matches up with them. In the regular season, its all fine and dandy to crush the weaker teams and take small wins or minimize losses against stronger ones - that's a recipe for solidly making the playoffs and taking your chances there, but it's never a bad idea to make moves to position yourself better against the teams that you will likely be facing when the weeks start to matter more.
This means making moves that may look like laterals or downgrades on the surface, but specifically help you in contested categories against the teams you might face off against in the playoffs. Most people know to look at playoff schedule when making forward-looking trades, but even players without a crazy 4-4-4 schedule can still be useful targets if they are helping you get over the top in categories that would be very close. When it doesn't matter if you win 5-4 or 7-2, stat polarization becomes more important than ever, and the opportunity to get guys on your roster who can provide that in the playoffs is something to always look out for over the course of a season.
Always be asking yourself "who are my biggest competitors?" and come up with a plan to beat them. If you don't know who the fish are by the middle of the season, chances are it's you.