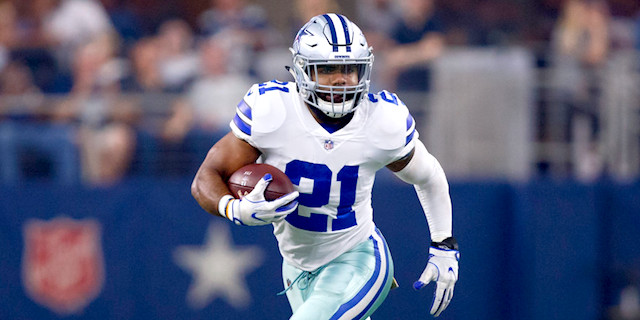 These are the questions that have been driving you crazy lately. Fantasy football is so challenging, because there are so many elements of unpredictability involved. We want to try to be correct about those matters that seem to have no solid answers.
The ups and downs, shocks and surprises always keep us coming back for more. Because when we get it right, it feels oh-so satisfying.
Some situations are much harder to assess than others. So I supply answers to some of the hottest questions of the preseason so far.
Featured Promo: Get any full-season NFL and DFS Premium Pass for 50% off. Exclusive access to our Team Sync platform, Premium articles, Matchup Rating projections, 15 lineup tools, DFS cheat sheets, Research Stations, Lineup Optimizers and much more!
Go Premium, Win More!
Where should I draft Todd Gurley this season?
In this comprehensive review of Gurley's medical situation in the Fantasy Injury Exam Room, Inside Injuries confirmed that the Rams RB was going to continue to battle ongoing knee problems. Gurley may still have the talents to deliver some impressive performances, but there will be inconsistency and possibly more missed playing time. I have Gurley ranked 29th overall in PPR formats and 13th at RB. He is no longer a fantasy RB1 and I would not think about drafting him until the third round.
Are you worried about a RBBC in Kansas City?
I've said it before. Coach speak is just a step away from outright lying. Andy Reid said he may use an RB by committee, but that has a different definition to an NFL coach than a fantasy owner. Reid likely means we can see three RBs touch the ball at some point during games. He never said all three would get equal work. I would still draft Damien Williams as a back-end RB1/high-end RB2.
Are you dropping Antonio Brown in your ranks?
I said all along I did not expect this fiasco to drag on long. This was not a typical NFL holdout and Brown wasn't able to stay away to get his way. It was not about money. For all the off-field drama he creates, he is still a superstar. He remains my No. 8 WR in PPR. I am not letting the drama make me believe he is not going to be on the field at any point.
There is no doubt Mayfield had an impressive rookie year and the addition of Odell Beckham Jr. boosts his appeal. But we have not seen Mayfield quite play at a top-level consistently yet, and those drafting him fourth or fifth at QB may be overshooting it a bit. Mayfield's first year as a starter was nowhere near the Mahomes neighborhood, and he has to earn elite status, not just have it handed to him. Underrated passers like Matt Ryan have already played at levels Mayfield has yet to attain. He's not a top-five fantasy QB to me yet.
The latest FFPC ADPs reflect that drafters believe Elliott has a better chance than Gordon of reporting soon. Elliott has an FFPC ADP of 5 at RB, while Gordon has an ADP of 14. Gordon is less durable and not quite as highly as productive as Elliott. But no one knows for sure when either one will come back to camp. So I have dropped Elliott to eighth at RB and Gordon to 12th. I believe you should be just as hesitant on one as the other, because none of us have a true idea when either guy will show up to team headquarters. Stop the guesswork and be cautious about both.
Where should I be drafting Patrick Mahomes? It is so tempting to take him in the first three rounds!
Now that Tyreek Hill will not be suspended, Mahomes has the opportunity to soar far above the competition at his position again. But you don't have to roster the best player at any position to win your league. Many people won with Mahomes last year because he was drafted as a value play. That will not be the case this year. QB is too deep and you only have to start one player. RB and WR thin out quickly over the first five rounds and you can still get a very good QB between the 7th and 10th I suggest steering clear of Mahomes, but if you are insistent on him, I wouldn't even begin to think about it until the fourth round.
Is this the year Derrick Henry becomes a quality RB2 in fantasy?
Henry showed glimpses of promise late in 2017 and in the January 2018 playoffs. Then he flamed out to open the 2018 regular season and Fantasy players lost faith in him. He re-emerged as a monstrous producer over the final four games. He teased us yet again. Are you going to fall for it? I am not so quick to get fooled again. He is my 21st ranked RB, which means I am skeptical, but hopeful. I may be more wary than some others. He's not Top 20 for me at RB.
Who is going to be the second-best pass-catcher in New England?
It's not going to be a WR. Whenever times got tough for Tom Brady, he turned to James White as one of his most trusty targets. White played at a PPR level for a good chunk of the season and finished 10th in points per game at RB (17.3). He is underrated and I have him ranked just behind Henry as an RB2. That could change at any second, too. Hmmm. ….
Many analysts praise Carson because the Seahawks run the ball so frequently and he is their lead RB coming off a career season. But injuries tend to be an issue for Carson, and there could be more of a timeshare than some expect. If Carson misses a chunk of time, Penny could have some breakout performances. Of course, you draft Carson first. But Penny is going to be a significant threat to his weekly playing time and looms as an upside play in waiting. It would also be smart for the Seahawks to utilize Penny often so Carson is exposed to less injury possibilities.
Is this the year Corey Davis finally lives up to his potential?
Much of Davis' inconsistencies have been blamed on Marcus Mariota. But there is not too much hope that Mariota can have an outstanding season in 2019, and backup Ryan Tannehill has proven to be mediocre overall. Davis could help his case by scoring more often this season. But he has been an underachiever himself, and should not be drafted as anything more than a WR4.
*Wait Scott! You forgot burning questions on injury-related players such as Andrew Luck, Cam Newton, and many others!
No, I did not. I covered many of these in recent editions of the Fantasy Injury Exam Room. Just check out all the latest articles in the series to get my takes on many other players who have created a lot of Fantasy anxiety this preseason. I provide the proper outlooks to settle you down before Draft Day.
More Fantasy Football Analysis