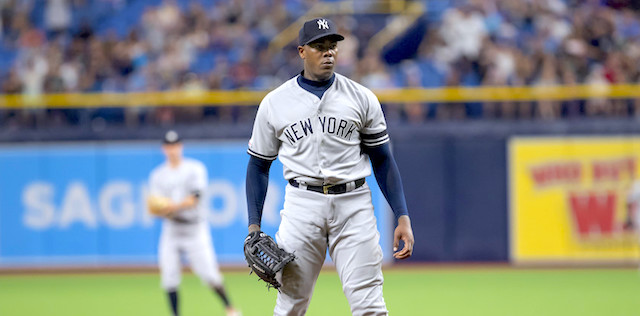 Welcome back to The Cut List. This is our weekly article looking at players who fantasy managers might be considering cutting from their teams and struggling players who need a closer look. We'll look at players who are worthy of a drop, players who are worth monitoring for replacing, and someone on the hot seat who is worth holding on to... for now.
The Cut List has reached edition 21 this season so is now legally allowed to drink. This is appropriate as by this stage of the season, most fantasy managers have been driven to drink. But now's the time for clear heads and pure thoughts as we hurtle into fantasy playoffs and the final weeks of the season. The last thing we need now is to panic drop someone for a shiny object on waivers that will ultimately disappoint us. We also don't want to miss out on someone by bag-holding a player who is offering very little.
I'm a strong advocate for not making knee-jerk reactions. A bad week or two shouldn't be a reason to push the panic button and dump someone. As we near the end of the season, we need to consider making moves with specific targets in mind. If there's ever someone you want me to take a look at, drop their name on Reddit or reach out to me on Twitter (@Baseball_Jimbo), and maybe you'll see them included next week. All stats and rostered rates (taken from Yahoo!) reflect when this piece was written.
Featured Promo: Get any full-season Props Premium Pass for 50% off. Win big with our two new Props Optimizer tools -- one for PrizePicks Props, and one for Sportsbook Betting Props. Find optimal prop bets and get our recommended picks daily!
Go Premium, Win More!
Worth Dropping and Replacing?
Aroldis Chapman – RP, New York Yankees – 75% rostered
Two weeks ago, I included Clay Holmes in the 'Hold For Now' section. The reason being, despite his struggles, I wasn't convinced the Yankees were set on removing him from the closer role and replacing him with Chapman as the closer.
Since then, Holmes hit the IL but I am more confident than before that Chapman is not the guy the Yankees want closing out tight games. After a poor run of form, the Yankees won three games in three days to end last week and begin this week. All three games were won by two runs. Chapman did not pitch in any of them.
Last Sunday, Lou Trivino got the final seven outs, despite the fact Chapman had only pitched once in the previous three days. On Monday, Jonathan Loaisiga recorded the final four outs to pick up the save, and on Tuesday, Wandy Peralta was called upon to get the final out with the bases loaded to pick up the save.
Aaron Boone's comments on Wednesday weren't exactly a ringing endorsement for the reliever either. The Yankees manager basically said he can see Chapman being used in higher leverage spots at some point, but he's not in a position now to do so. "On a given night, we're going to have to," Boone said. Maybe I'm reading too much into it but saying "have to" like he'll have no choice isn't ideal.
That trend continued into the Yankees' West Coast trip with Friday night's game against the Athletics, seeing Loaisiga and Peralta called upon to get the final five outs with the Yankees up 3-1. Although the A's scored a run, the Yankees won 3-2 and there was still no sign of Chapman.
Given Chapman's numbers this year, it's understandable why Aaron Boone doesn't trust him to see out tight games. Chapman has a 2-3 W-L record, 4.70 ERA, 1.43 WHIP, 35 Ks, and nine saves (30.2 IP). What's remarkable is Chapman doesn't have a blown save on the year.
But he does have a 16.2% BB%, the highest it's been for over a decade. And Chapman's 25.7% K% is a career-low, over 15% down on his career mark coming into the season (41.1%). But it's been the walks that have been brutal for Chapman this year.
Following a six-week IL stint, there was hope that Chapman's return on July 2nd would see him return to his old self. It did not. Since then, Chapman has had a 17.1% BB%, walking 12 batters in 16.2 IP. The reason being is a complete lack of control of his fastball, as evidenced by the below pitch chart showing all fastballs thrown since his return from the IL.
There was a spell when Chapman looked like he could win back the closer role. Between July 26th to August 13th, Chapman had nine outings (9.1 IP), without allowing a run and giving up just three hits and one walk. He did not pick up a save in that run and his subsequent two outings have seen Chapman retire three of the nine batters he's faced, walking four and giving up three earned runs.
Of course, Chapman then got put on the 15-day IL Saturday with an infection in his leg after getting a tattoo, which perfectly sums up his season. He last pitched on August 19th so can return next weekend, but as of this moment, the severity of the issue and a timeline for his return are unknown.
Verdict: Even before yesterday's news, I was fine with dropping Chapman. The fact the Yankees used five different relievers in their four tight wins and Chapman wasn't one of them tells me all I need to know. If he comes back this season, will Chapman pick up another save this year? Probably. Am I rostering him anymore this year to find out? Nope.
Seranthony Dominguez – RP, Philadelphia Phillies – 53% rostered
When the Phillies traded for David Robertson at the deadline, there was an expectation that he would take on the closer role and the Phillies' 'committee' would go back to set up roles. That's not strictly been true as of the nine saves Phillies pitchers have recorded this month, Robertson has four and Dominguez has three.
The other saves went to Andrew Bellatti on Monday and Brad Hand on Friday, with Dominguez having been placed on the IL and Robertson unable to pitch after going 2.2 IP the previous two days on Monday. On Friday, Robertson was called upon to face the 1-2-3 hitters in the eighth inning before Hand's save, which was also in part due to the rightie/leftie matchups.
What was noticeable with two of Dominguez's three saves this month is Robertson pitched the eighth inning and picked up a hold in both. On one occasion, Robertson faced the 4-5-6 batters, leaving the final third of the order to Dominguez. The second time, he faced the 2-3-4 hitters with Dominguez coming in for the ninth.
So you could argue that on two of the three occasions, Dominguez has been called upon to pick up a save were times Robertson was given the tougher task (similar to Friday with Hand closing). That seems to be how the Phillies are using their bullpen.
But the reality is that Dominguez has been very good this year with a 6-4 W-L record, 1.64 ERA, 0.91 WHIP, 54 Ks, and nine saves (44.0 IP). Statcast profiles aren't the be-all-and-end-all but Dominguez's is quite telling.
The 32.0% K% is excellent which is important given how hard Dominguez gets hit when batters do make contact. So given all of this, why am I including Dominguez here?
Well, Dominguez was placed on the IL earlier this week, although it was retroactive to August 18th, meaning he is eligible to return next weekend. His official injury is triceps tendonitis, and thankfully, an MRI showed no structural damage which would have ended his season.
Given he didn't pitch at all in 2020 and then totaled 21.1 IP across four levels last year, the 44.0 IP this year is a sizeable increase in his workload. The Phillies don't have the luxury of being extra cautious with Dominguez but rushing him back could be foolhardy.
But Dominguez has stated he feels better and should start throwing early next week, meaning a return when the first eligible is possible. We'll need to monitor the news closely to see if he comes through any throwing program unscathed.
Verdict: Dominguez might return just in time for the fantasy playoffs. If you don't have a spare IL spot or if you aren't in need of saves (or holds), I have no problem dropping Dominguez, especially when we have no idea of a timetable for his return. If you are in desperate need of saves, Dominguez may still be able to chip in with a handful in September.
Josiah Gray – SP, Washington Nationals – 37% rostered
This might be a familiar story in the coming weeks for many young or dinged-up pitchers on teams not competing for a postseason spot. Gray had his start this week skipped in a bid to manage his workload.
Given the 130.0 IP Gray compiled across three levels in 2019 is the most he's had in a year after not pitching in 2020 and then totaling 86.1 IP last year, it's hardly a surprise. On the year, Gray has a 7-8 W-L record, 4.67 ERA, 1.31 WHIP, and 140 Ks (123.1 IP).
The ERA is elevated but his strikeout numbers are good (26.3% K%) and his .213 xBA is in the 82nd percentile. Gray's problem has been keeping the ball in the park and his .414 xSLG is in the 29th percentile.
This year, 64 pitchers have at least 120.0 IP. Of those 64, Gray's 32 home runs allowed is the most (second being Jose Berrios with 27), while his 19.0% HR/FB% is also the highest (second is German Marquez with a 17.7% HR/FB%). It's not ideal that Gray is a flyball pitcher with a 50.8% FB%, again the most of the 64 pitchers.
Gray's 9.9% BB%, which ranks in the 23rd percentile, is a bigger problem than it might be for other pitchers as there's an increased chance that the home runs he allows won't just be solo shots. Given Gray has allowed at least one home run in 19 of his 23 starts and in each of his last 10 starts, it's imperative he keeps the bases as empty as possible.
Verdict: I'd be surprised if Gray is still pitching in the final two weeks of the season and he's probably only set to make four or five more starts at best, Gray would be hard to roster in shallower leagues anyway. Given his struggles, Gray becomes a drop in almost any redraft league and is only really a streaming option if you're desperate for strikeouts and can take a hit to your ERA.
Hold For Now
Frankie Montas – SP, New York Yankees – 91% rostered
The Yankees raised some eyebrows with the trades at the deadline. Trading away Jordan Montgomery was likely seen as possible given they brought in Montas but while Montgomery has been thriving in St Louise, Montas has had something of a tough start to his life in the Bronx.
Montas' season numbers aren't too bad, with a 4-10 W-L record, 3.84 ERA, 1.21 WHIP, and 123 Ks (124.1 IP). His ERA was 3.18 before joining the Yankees but 16 earned runs in 19.2 IP (four starts) since the trade has seen his ERA balloon somewhat and led to fantasy managers questioning whether he's worth holding on to.
Despite his 7.32 ERA with the Yankees, he has a 4.71 xFIP, 4.67 SIERA, and .333 BABIP so although not great, he has been a tad unlucky. The main problem has been a lack of strikeouts with a 15.2% K% in his four starts, while he has a 25.8% K% with the Athletics.
There are mitigating circumstances that although not quantifiable, are still noteworthy. Following the trade, Montas missed time due to the death of his mother-in-law, and having to deal with that along with the upheaval of moving across the country will have had an impact on his performance.
Encouragingly, Montas looked better last time out against the Mets on Tuesday, allowing two earned runs on six hits and one walk while striking out six in 5.2 IP. It was an up-and-down performance for Montas, allowing multiple baserunners in the first two innings before striking out five straight hitters in the third and fourth and then giving up two hits in the fifth and sixth (both times leading to a run).
The most notable thing with Montas has been his pitch usage as it has changed quite dramatically since moving to New York. Below shows his pitch usage month-to-month and we can see in August how Montas' arsenal has been utilized differently.
Despite Montas' splitter having the best-expected stats of his fice pitches this year (.191 xBA, .290 xSLG, and .231 xwOBA), the Yankees have had him throw it less, with an increase in his Sinker and four-seam fastball. This is a similar story for the entire Yankees rotation, but that's another article entirely.
With my tin foil hat on, I do wonder if this is a deliberate plot by the Yankees to have their starters throw their best stuff less often and save it for the playoffs so batters have seen it less and it throws out some scouting reports. Considering everything the Yankees have been doing since July revolves around the postseason, I wouldn't be surprised if this is the case.
And while that isn't ideal for Montas' fantasy managers, it's not like he's abandoned his splitter and while his sinker has been statistically his worst pitch this year, the four-seamer has been solid. Montas should still find success even if his pitch usage remains as it has been throughout August.
I'm still holding Montas and prepared to write off the last month given what he's had to go through and deal with, with Tuesday helping to allay some of my concerns. Hopefully, he can pick up some wins now as the Yankees offense has woken from their slumber and he should be able to tally solid ratios and strikeouts over the final few weeks.
Luis Garcia – SP, Houston Astros – 85% rostered
The Astros rotation leads the American League in ERA (3.09), largely led by Justin Verlander and Garcia has been arguably the worst starter on the Astros roster. That's despite having an 11-8 W-L record, 4.14 ERA, 1.18 WHIP, and 132 Ks (128.1 IP).
So when the Astros announced they will be going back to a five-man rotation soon, following the return of Lance McCullers Jr. from injury, it stood to reason that Garcia might be the odd-man out and move to the bullpen. However, he still made his start Thursday and we are yet to discover just how the Astros rotation will look moving forward.
Javier pitched out of the bullpen on Friday following McCullers Jr.'s start and gave up two runs in three innings. That looked to be the key indicator as to how this will play out but the Astros stated they intend for Javier to get back into the starting rotation soon.
Given McCullers Jr.'s injury history, having someone piggyback off his starts to go multiple innings should keep his workload in check and help protect a bullpen that's lost Ryan Pressly to the IL this week. But until we get a clear indication of how things pan out long-term, I'm not making a move based solely on a possibility in this case.
It does seem odd to do this with Javier for one turn through the order and then move him back into the rotation so they might just stick with it. But this is all pure speculation as we've got nothing concrete to go off of.
If I had to guess who the Astros would look to protect from a high workload, it would be Valdez. He has been excellent this year, but his 156.0 IP is comfortably the most he's had in a season, already surpassing last year's 141.2 IP and the 140.0 IP in 2018 (across three levels).
But they will want to ensure he remains fully stretched out for the playoffs so the Astros will probably just move whomever they won't start in the postseason into a bullpen role now so they at least can get used to it and it should help them come the postseason.
But even if Garcia does end up partnering McCullers Jr. or anyone else, if he's coming out of the bullpen, he will still have a good chance of pitching up wins. Garcia's August struggles (5.28 ERA this month) might make him the prime candidate to have his role changed, but until we know for sure, I'm not going to make any significant move.
Lourdes Gurriel Jr. – 1B/OF, Toronto Blue Jays – 80% rostered
Gurriel Jr. has seen a pretty dramatic reduction in his power but thankfully for his fantasy managers, that's not led to a drop-off in his production. He still ranks as the 52nd outfielder on Yahoo! and 163rd overall so has certainly been rosterable this year.
On the year, Gurriel Jr. is hitting .295/.346/.401 with five homers, 50 RBI, 50 runs, and three stolen bases (112 games). His position in the lineup has varied throughout the season and after starting the season hitting fourth or fifth, he moved down to the six, seven, and eight spot but has recently been hitting third or leading off. That move up the batting order has come despite Gurriel Jr. hitting just .235/.278/.306 in August.
A look at the table below shows us Gurriel Jr.'s Statcast numbers each year in the Majors.
| | | | | | | |
| --- | --- | --- | --- | --- | --- | --- |
| Year | Batted balls | HR | Barrel% | Exit velocity | Launch angle | HardHit% |
| 2018 | 193 | 11 | 7.8% | 91.1 MPH | 11.1 | 45.6% |
| 2019 | 232 | 20 | 11.2% | 90.4 MPH | 14.4 | 45.3% |
| 2020 | 162 | 11 | 11.7% | 90.8 MPH | 10.5 | 49.4% |
| 2021 | 405 | 21 | 9.6% | 89.7 MPH | 10.5 | 43.0% |
| 2022 | 348 | 5 | 4.0% | 90.5 MPH | 11.1 | 45.7% |
| Career | 1338 | 68 | 8.4% | 90.4 MPH | 11.4 | 45.3% |
The only discernable difference is a significant drop in his Barrel%. After being a 20+ homer hitter over the last three seasons, the fact that Gurriel Jr. is set to not even reach double-digits in 2022 is a pretty big regression in the power department. Maybe this is the poster child for deadened balls?
Gurriel Jr. has cut down on the strikeouts, with his 16.4% K% being a career-low and ranking in the 80th percentile. That's come with only a ~2.0% drop in his Swing% so it does appear as though Gurriel Jr. is just recognizing pitches better and focusing more on regularly putting the ball in play.
Gurriel Jr.'s ADP this offseason was ~140 (37th outfielder), so it's not like he's massively underperformed expectations this year. He's just traded some power for average but is set to top last year's career-high 62 runs scored and is still chipping in with RBI. As long as he continues hitting first or third, Gurriel Jr. should maintain fantasy value for the rest of the season.
On the Hot Seat
Brandon Lowe – 2B/OF, Tampa Bay Rays – 79% rostered
After finishing the 2021 season as a top-50 player following his 39 home run season, it was understandable why Lowe had an ADP of ~75 and was being taken as a top-10 second baseman. A back issue has limited Lowe to just 60 games this year and he's not really resembled last year's version of himself.
On the year, Lowe is hitting .234/.319/.405 with eight homers, 25 RBI, 31 runs, and one stolen base. In 2020's shortened season, Lowe hit .269/.362/.554 with 14 homers, 37 RBI, 36 runs, and three steals (56 games). So he's some way short of that on a similar number of games basis.
And most recently, Lowe has found himself in a platoon. This week, the Rays have faced a starting left-handed pitcher (LHP) three times and on all occasions, Lowe started on the bench. He started and hit second against the RHP the Rays faced. If we look at Lowe's splits this year, it's difficult to explain why.
| | | | | | | | | |
| --- | --- | --- | --- | --- | --- | --- | --- | --- |
| Split | PA | AVG | OBP | SLG | K% | BB% | wOBA | wRC+ |
| Vs LHP 2021 | 188 | .198 | .261 | .401 | 34.0% | 7.4% | .284 | 83 |
| Vs RHP 2021 | 427 | .270 | .375 | .581 | 24.1% | 12.6% | .399 | 161 |
| Vs LHP 2022 | 47 | .267 | .277 | .533 | 27.7% | 2.1% | .340 | 129 |
| Vs RHP 2022 | 204 | .226 | .328 | .373 | 21.6% | 11.8% | .314 | 111 |
I've included last year's numbers as if the decision is based on what he did in 2021, then fair enough. But in this year's small sample, Lowe has actually been better against LHP than he has against RHP. And he's been better than league average against both.
What makes the decision to sit him against LHP even more galling is twice this week, Yu Chang has faced a leftie starter in Lowe's place. The same Yu Chang who is hitting .185/.239/.246 against LHP this year (71 plate appearances).
The Rays are one of the smartest organizations around and I'm not going to pretend I know more than them. And maybe Lowe has some lingering back issue so sitting him against lefties is part of maintenance for him. From a performance perspective, it makes little sense other than from a defensive standpoint.
But Chang's bat compared to Lowe's is such a downgrade, it's difficult to see where starting him over Lowe makes their team better. The fact Lowe still hits in the premium spot of the lineup when he starts says the Rays still believe in his bat. Just not against lefties.
On Friday, Lowe got the start and hit second in the lineup. Unfortunately, he got hit on the elbow by a Michael Wacha fastball in the third inning. He remained in the game and ran the bases, then played defense in the bottom of the inning but only lasted two outs before being replaced by Chang.
The Rays are calling it an elbow contusion right now and hopefully, Lowe will only miss a couple of games. Obviously, any lengthy absence changes things and would in all likelihood, make Lowe droppable in all redraft leagues. But we'll have to wait and see for sure.
It's a tough pill to swallow given Lowe had to work his way back from the back issue that cost him two months of the season and it doesn't take a spinal surgeon to tell you that back issues can have such a detrimental impact on your performance.
It's entirely reasonable to believe that there is some lingering back problem that has sapped some of Lowe's power and is affecting him at the plate. A look at his rolling wOBA highlights Lowe's recent struggles and also makes you wonder if the back problem is flaring up again (he's hitting just .193/.313/.263 in August).
His season numbers aren't too bad if we extrapolate them over 162 games. In that case, Lowe would have 22 homers, 68 RBI, 84 runs, and three stolen bases. That's still not providing value on his ADP unless his batting average magically climbed up to ~.300 but it's still not a bad season.
The recent struggles and platoon role has left fantasy managers questioning whether or not they should continue rostering Lowe. Normally when someone lands on the stronger side of a platoon, I preach quality over quantity. But Lowe's recent struggles have left him lacking quality and quantity.
In shallow leagues which only allow weekly roster moves, I'm totally accepting of dropping Lowe. For the most part, unless he is being hampered by back issues (which if it's that significant, should land him on the IL again), I still believe in Lowe and his power so am holding and expect better days ahead.
But, with just five weeks of the regular season left, the leash is shorter than ever so if we're sat here next week with Lowe starting three games between now and then while going 2-for-15, I think it may be time to cut ties with Lowe for 2022 and move on to someone else.
Obviously, we're awaiting news about the elbow now and if Lowe does go on the IL, for some fantasy leagues he may only return with one or two weeks left, even if the absence is the minimum length. If that's the case, he's a drop in all redraft leagues. Hopefully, we get some clarity by Sunday evening.
Reddit Requests
Here are some names from the readers following last weekend's post on Reddit. If there is anyone who you want to include here on next week's Cut List, drop their names on the Reddit thread and there's a good chance they will feature.
C.J. Cron – 1B, Colorado Rockies – 94% rostered
After a red-hot start to the season, Cron has seen his numbers decline as the season progresses and as you might expect, he has also had pretty significant home and road splits. Below shows Cron's numbers each month this season.
| | | | | | | | | | |
| --- | --- | --- | --- | --- | --- | --- | --- | --- | --- |
| Month | PA | HR | RBI | R | AVG | OBP | SLG | wOBA | wRC+ |
| April | 87 | 7 | 19 | 12 | .288 | .333 | .638 | .404 | 148 |
| May | 119 | 6 | 18 | 18 | .321 | .373 | .532 | .389 | 138 |
| June | 120 | 4 | 19 | 15 | .271 | .333 | .458 | .342 | 106 |
| July | 94 | 5 | 15 | 13 | .221 | .277 | .453 | .314 | 87 |
| August | 94 | 2 | 13 | 7 | .250 | .298 | .398 | .296 | 75 |
Overall, Cron has 24 homers, 84 RBI, 65 runs and no steals while hitting .272/.326/.494 (121 games). That's good enough to rank eighth among first basemen on Yahoo! over the course of the season, although over the last 30 days, Cron only ranks 46th at the position.
Now, onto the home and road splits.
| | | | | | | | | | |
| --- | --- | --- | --- | --- | --- | --- | --- | --- | --- |
| Split | PA | HR | RBI | R | AVG | OBP | SLG | wOBA | wRC+ |
| Home | 267 | 18 | 63 | 47 | .306 | .350 | .596 | .397 | 130 |
| Road | 247 | 6 | 21 | 18 | .236 | .300 | .382 | .299 | 90 |
On the road, Cron has been a below-league-average hitter. While being a Rockies hitter is used as a slight by some, for fantasy purposes, playing 50% of games at the most hitter-friendly ballpark is a good thing. The problem is that Colorado only has 13 home games left and 20 road games this season.
If you have a suitable alternative rostered and can sub out Cron when the Rockies are on the road and only play him at home, that makes perfect sense. If you don't have that luxury and would need to replace Cron for the final five weeks of the season, if there's someone on waivers that can help you, dropping Cron also makes sense.
Carlos Correa – SS, Minnesota Twins – 93% rostered
Two weeks ago, I was asked to cover Jeremy Pena as a possible drop. Naturally, I compared his numbers with those of Correa given that's who he took over from as the Astros' everyday shortstop. And Correa didn't come out very favorably so it's no surprise I've been asked to look into Correa now.
On the season, Correa has 15 homers, 43 RBI, 52 runs, and no stolen bases while hitting .274/.353/.436 (101 games). Not terrible but certainly not worthy of where he was drafted this preseason (ADP ~98). And he currently ranks as the 27th overall shortstop on Yahoo!
The main reason for his low fantasy ranking is the lack of counting stats. With no steals since 2019 and only middling power, Correa's fantasy value relies on his batting average and tallying runs and RBI. His rank for each of the five main hitting categories among shortstops is shown below.
| | | | | |
| --- | --- | --- | --- | --- |
| HR | RBI | R | SB | AVG* |
| Tied-13th | Tied-28th | Tied-21st | Tied-94th | Tied-16th |
* Batting average is among those with at least 250 at-bats.
Correa's home run on Friday (just his second in August) gives hope he can kick on and finish the season strongly. But fantasy managers will want to see more over the next few games to really believe that's a possibility and not just a pipe dream.
While the lack of stolen bases is obviously a negative on Correa's fantasy value, everything else is still solid, albeit unspectacular. And he's not been helped by the Twins, whose offense ranks 15th in runs scored (548). For context, the Astros rank eighth (581).
That's despite Correa starting every game at second or third in the Twins lineup. He has missed three weeks due to two separate IL stints so, over a full complement of games, we should expect his RBI and run totals to be higher.
But even if we extrapolate Correa's numbers across 162 games, he still only finishes with 24 homers, 69 RBI, 83 runs and no steals. That's still likely not enough to be anything other than a middle-infielder in shallower leagues.
With all that being said, Correa is still hitting in the prime spots of the Twins lineup and while not putting up the big numbers, it's unlikely there will be a better option on waivers at the middle infield positions. So I'm not dropping him unless I have a desperate need for stolen bases in shallower leagues and the rest of my roster can cope with losing Correa.
I will finish by using Correa to prove a point I make regularly. While Statcast profiles are fine as a starting point to see how someone is performing, they shouldn't be used as the be-all-and-end-all. If you look at Correa's without knowing whose it was, you'd be forgiven for thinking it's a top-50 overall hitter and not the guy ranked 121st in fantasy.
Trent Grisham – OF, San Diego Padres – 39% rostered
After starting the season as the Padres' leadoff hitter for most of April, it's fair to say expectations from fantasy managers went through the roof. As we sit here at the end of August, it's also fair to say it's been a disappointing season for Grisham. Something I'm sure he'd agree with.
In 122 games, Grisham has 15 homers, 47 RBI, 50 runs, and five stolen bases while hitting .193/.296/.357. The 15 home runs tie the career-high he set last year, and after tallying 62 RBI and 61 runs in 2021, he's not far off of matching those. But it's the putrid batting average that has really dragged down Grisham's fantasy value.
He currently ranks 84th among outfielders on Yahoo!, a far cry from his ADP (~144) in which he was taken as the 39th outfielder. His underlying numbers don't offer much hope that he can turn things around in the final few weeks with his 11.6% BB% about the only redeeming feature.
He's in danger of becoming a lite version of a "three true outcomes" hitter. Lots of walks, lots of strikeouts, and home runs when he makes contact. The problem with that is he doesn't hit enough home runs to warrant consideration as a power hitter.
The sprint speed is great but hasn't translated into stolen bases and the defense is such that it'll keep Grisham in the lineup. But the expected stats are well below league average and his lack of production at the plate has led to him dropping into the bottom third of the lineup.
In redraft leagues, I'm only keeping Grisham in the very deepest of leagues, preferably with daily roster moves, especially now he's fallen into a platoon with Jose Azocar. The Reddit requestor did ask about Grisham in dynasty leagues, so here are my feelings on that.
Grisham is still only 25-years-old and has flashed a bit of everything in his MLB career so far. He's now hit 40 homers in his last 314 games dating back to 2020 so has 20 home run power over a full season. He also had 23 steals in 191 games between 2020 - 2021 so isn't far from being a 20/20 player.
The Padres' offense is scary good on paper and they continue to invest in getting better now so he should still be able to score and drive in runs. Assuming he actually hits. And in dynasty leagues where you can keep any number of players, Grisham's 20/20 potential upside is worth rostering.
I wouldn't count on him doing that but you also don't want to miss out on him if he does achieve it. I don't expect him to hit under .200 again and a .240 average seems reasonable (given he had a career .242 average coming into 2022).
This year has left a bitter taste but this could well be the floor so holding him in dynasty seems reasonable. We don't know if we've seen his ceiling yet but given how low his floor is, Grisham does seem to have a wide range of potential outcomes for fantasy.
If he repeats 2022 next year, there's every chance the Padres look to move on from Grisham or he loses even more playing time which would make him expendable. He could get the chance to win back the everyday center field job in Spring and even if he gets traded before that, a change of scenery might do him good. For now, I'm keeping him on my dynasty rosters.
Download Our Free News & Alerts Mobile App
Like what you see? Download our updated fantasy baseball app for
iPhone
and
Android
with 24x7 player news, injury alerts, sleepers, prospects & more. All free!
More Fantasy Baseball Advice