Welcome back to The Cut List. This is our weekly article looking at players who fantasy managers might be considering cutting from their teams and struggling players who need a closer look. We'll look at players who are worthy of a drop, players who are worth monitoring for replacing, and someone on the hot seat who is worth holding on to... for now.
The official second half of the season has begun and the race for fantasy championships is reaching the final bend. The All-Star break was a great time to reflect on what you need to make a big push for fantasy glory and you should have a plan for what you have to do in the second half. Whether that's taking bigger risks, or playing things safe, it will invariably involve picking up players from waivers and therefore dropping guys on your rosters.
I'm a strong advocate for not making knee-jerk reactions. A bad week or two shouldn't be a reason to push the panic button and dump someone. As the season progresses, there will be stronger cases to drop underperforming players. If there's ever someone you want me to take a look at, drop their name on Reddit or reach out to me on Twitter (@Baseball_Jimbo), and maybe you'll see them included next week. All stats and rostered rates (taken from Yahoo!) reflect when this piece was written.
Featured Promo: Get any full-season MLB and DFS Premium Pass for 50% off. Exclusive access to our Team Sync platform, Premium articles, daily Matchup Rating projections, 15 lineup tools, DFS cheat sheets, Research Stations, Lineup Optimizers and much more!
Sign Up Now!
Worth Dropping and Replacing?
Jazz Chisholm Jr. - 2B/SS, Miami Marlins - 97% rostered
A late addition to The Cut List this week. Friday we received news that Chisholm Jr. is set to miss six weeks due to a stress fracture in his back. He was placed on the 10-day IL so at least avoided the 60-day IL that would effectively end his season.
Chisholm Jr. was hitting .254/.325/.535 with 14 homers, 45 RBI, 39 runs and 12 stolen bases. Well on his way to a 20/20 season. This injury means we likely won't be seeing Chisholm Jr. until September and any setback during his recovery could end his season.
Verdict - I've said it before and I'll say it again; if you have a spare IL spot and can stash Chisholm Jr. for now, then do so. But he may only be back for a three-week spell at the end of the season (at best) so any impact he will have on your teams will be minimal. If you need his roster spot for someone more likely to contribute to your team, dropping him is fine. In dynasty, he's still an obvious hold. 
Chris Sale – SP, Boston Red Sox – 85% rostered
In case you missed it, Sale suffered a fractured little finger last Sunday, after an Aaron Hicks comebacker struck his hand. If you haven't seen the play or the extent of the injury, play the below video. But only if you're not squeamish.

It was a huge blow for Sale, in just his second start after spending the first half of the season on the IL with a rib fracture. He underwent successful surgery earlier this week but a timeline for his return hasn't been publicized.
Generally, this sort of injury would have a 4-6 week return time but the full extent of the damage and subsequent surgery isn't known so this is somewhat speculation based on similar injuries. For now, that's all we can work with.
If that 4-6 week lead time is accurate, a late August return is the best case scenario as Sale will need a couple of rehab starts, we would expect. Even if we pencil in September 01st as a return, that doesn't leave much time before the end of the season.
And in fantasy leagues that end early or where playoffs commence in September, Sale isn't going to help you much, if at all. There's also a chance that the six-week return is optimistic given how gruesome the break looked and it being on Sale's pitching hand. Time will tell.
Verdict - At the risk of flogging a dead horse; if you have a spare IL spot and can stash Sale for now, then do so. But if you have a player more likely to return soon and help your team, I have no problem dropping Sale, especially in shallower leagues.
Giovanny Gallegos – RP, St. Louis Cardinals – 77% rostered
I was surprised by Gallegos being rostered in 77% of leagues still, considering he hasn't been the sole closer for the Cardinals since late May. His save on July 12th was only his second since May 21st, after registering eight saves in the opening six weeks of the season.
On the season, Gallegos has a 2-4 W-L record, 3.62 ERA, 1.15 WHIP, 10 saves and 48 Ks (37.1 IP). In July, Gallegos is sporting an 0-2 W-L record, 6.14 ERA, 1.50 WHIP and 11 Ks (7.1 IP). If anything, he's moving further down the pecking order for saves.
Since June 01st, Cardinals pitchers have collectively tallied 12 saves. Ryan Helsey has six, Gallegos two and the remaining four shared between Nick Wittgren, Packy Naughton, Zack Thompson and Genesis Cabrera. Some of it is situational but Helsey outsaving Gallegos 6-2 is most telling.
And Helsey has fully justified his role with a 0.67 ERA and 41.4% K% (40.1 IP). Helsey has been used in higher leverage situations before the ninth inning or against the heart of the opponent's lineup in the eighth, but he's still clearly the preferred option to see out games.
Verdict - Gallegos does still have an impressive 31.6% K% and his 7.2% BB% is solid. But unless you're in a league counting holds, a deep league or have big enough benches that you can afford to stash some closer handcuffs, Gallegos isn't really worthwhile rostering. 
Jack Flaherty – SP, St Louis Cardinals – 51% rostered
Flaherty was transferred to the 60-day IL two weeks ago, meaning he can't return from his shoulder injury until late August. Given he had only made three appearances (8.0 IP) this season and this is his second IL stint of the year with shoulder issues, it's fair to wonder if we see Flaherty pitch again in 2022.
An oblique injury and shoulder problems limited Flaherty to 78.1 IP last year and he managed only 40.1 IP in the shortened 2020 season. This is all after his 2019 breakout in which Flaherty put up a 2.75 ERA in 196.1 IP.
Since that 2019 season, Flaherty has not only struggled with health but also with results. Unsurprising given he's been unable to stay on the field for a prolonged period. He's got a 3.91 ERA over the last three years with a 26.2% K% and 9.6% BB%. All worse than his career numbers.
The Cardinals look set to be in a battle for the NL Central so I don't foresee Flaherty being shut down for the year unless he experiences a setback and is medically unable to return. Even if he only operates from the bullpen, Flaherty should be a useful addition to the Cardinals' pitching staff for a playoff run.
Verdict - While I don't see the Cardinals shutting Flaherty down unless they absolutely have to, I'm still not convinced we see him again in 2022 and especially not stretched out enough to be a useful fantasy option. I don't think many fantasy managers will have the luxury of being able to stash Flaherty in the hope they get a few outings from him in September. I'm fine dropping Flaherty in redraft leagues.
Hold For Now
Jeff McNeil – 2B/OF, New York Mets – 74% rostered
It's been an up-and-down season for McNeil who currently has four homers, 35 RBI, 39 runs and two stolen bases while hitting .297/.361/.413. If we're being honest with ourselves, that's about what we should expect from McNeil. If you didn't already know what type of hitter McNeil was, a look at his hit spray chart should tell you.
It's easy to look back at his 2019 season, in which McNeil hit 23 homers (133 games). But he came into this season with 14 homers in his other 235 MLB games, so 2019 certainly seems to be an outlier and an anomaly.
The big positive for McNeil is his batting average getting back up to around .300, after hitting just .251 last year. That was the first time McNeil failed to hit .300 in a season and it's the batting average that gives McNeil most of his fantasy value.
The frustrating thing for fantasy managers is McNeil's position in the Mets' batting order. He's had at least one plate appearance at each spot (except fourth) in the lineup and despite hitting .297 and having a 13.1% K% (91st percentile), McNeil has only batted leadoff on four occasions.
The majority of McNeil's plate appearances have come hitting fifth (130) while his second most common spot is eighth (72 plate appearances). Unfortunately, McNeil has struggled considerably in July, hitting .176/.276/.216 so hitting eighth might become more common than fifth.
For now, McNeil should provide batting average help to your teams, especially if you're rostering someone like Kyle Schwarber or Christian Walker. They can provide the power but the batting average drain gets offset by McNeil who can also chip in with runs and RBI.
In shallower leagues, there could be better options than McNeil available to you and if you're fine for batting average and need help elsewhere, he's a drop candidate. But in general, McNeil is someone I'm happy to roster in fantasy in all but shallow leagues.
Josiah Gray – SP, Washington Nationals – 52% rostered
The Nationals' young starter is having a solid first full season in the Majors. Following his trade from the Dodgers (as part of the Trea Turner deal), Gray struggled last year, making 12 starts with a 2-2 W-L record, 5.31 ERA, 1.34 WHIP and 63 Ks (62.2 IP).
This year, Gray has made 17 starts and has a 7-6 W-L record, 4.40 ERA, 1.27 WHIP and 106 Ks (92.0 IP). Although he's sporting a 9.9% BB% (27th percentile), that's an improvement on last year (10.7% BB%), while he's also improved his strikeout rate to 27.0% K% (75th percentile), up from 24.8% K% last year.
The key to Gray's improvement seems to be in his increased slider usage. Below is a table that shows how his fastball and slider have both performed last year and this year.
| | | | | | |
| --- | --- | --- | --- | --- | --- |
| Pitch | Usage | AVG | SLG | wOBA | Whiff% |
| Fastball 2021 | 51.6% | .282 | .620 | .414 | 17.8% |
| Slider 2021 | 20.0% | .192 | .385 | .258 | 45.0% |
| Fastball 2022 | 42.2% | .271 | .609 | .419 | 16.5% |
| Slider 2022 | 28.5% | .179 | .313 | .231 | 45.2% |
Gray's changeup (3.3% in 2021 and 2022) and curveball (25.1% in 2021 and 25.4% in 2022) usage haven't altered so it's clearly a deliberate ploy to throw more sliders at the expense of his fastball. And looking at his numbers, it makes perfect sense to do so and is having the desired results.
Gray's underlying numbers support his improvement, with a 4.31 xERA, 4.17 xFIP and 3.89 SIERA and I don't see any reason why Gray can't maintain the gains he's made this year. If the Nats do tear down their team, wins may be harder to come by and an ERA ~4.00 is about what we can realistically expect for the rest of this season.
But he's a good source of strikeouts and won't harm your WHIP while his ERA won't be too detrimental to your ratios either. He's not someone I'm looking to roster in shallow leagues unless you're in serious need of Ks but he's a solid streaming option and in deeper or dynasty leagues, I'd be keen on keeping him on my teams.
Luke Voit – 1B, San Diego Padres – 33% rostered
Voit had a slow start to his Padres career, going homerless in his first 13 games of the season before hitting the IL. He returned with a bang, with two home runs in his second game off of the IL and currently sits with a .224/.310/.412 slash line and 12 homers, 40 RBI, 35 runs and one stolen base (74 games).
After looking like he was getting back to near his best in June, this month has been a struggle. Voit is hitting just .200/.269/.383 with three homers, seven RBI, six runs and no steals (16 games). A small sample size of course, so I'm not looking into it too much.
But Voit's struggles in July have seen him being dropped to waivers more and more. Despite already playing the second most number of games in the Majors during his career (118 in 2019 being the most), Voit is on track for career worsts in multiple categories.
His 32.8% K%, .224 AVG, .413 SLG and .414 wOBA are all career worsts. While his expected stats are also career lows; .217 xBA, .436 xSLG and .321 xwOBA. You may be wondering why I haven't included Voit as a worth-dropping candidate.
In truth, Voit can be dropped in shallower leagues and even some mid-sized ones. But despite his struggles, Voit has a career-high 16.7% Barrel% and his 11.3% BB% is in the 81st percentile. If he can make more contact on a regular basis (60.2% Contact%), Voit should have a solid second half.
Voit is only the 42nd-ranked first baseman on Yahoo!, but given his slow start and missed time, hasn't performed too badly, leaving him as a decent option as a corner infielder in deeper leagues.
But he's also a potential source of excellent power and homered in back-to-back games before the All-Star break, probably ruing the timing of the midseason festivities. If you are in need of home runs in shallower leagues, Voit is someone I'd be keeping around, as long as he stays healthy.
On the Hot Seat
Noah Syndergaard – SP, Los Angeles Angels – 70% rostered
When the Angels signed Syndergaard to a one-year deal this offseason, it looked like it could be an incredibly shrewd investment. The former All-Star had a chance to prove he can still pitch to a high standard following Tommy John Surgery and earn a big contract this offseason when he turns 30 years old.
While Syndergaard has been solid, he's probably not pitched himself into a big payday at the end of the year. After 14 starts, he has a 5-7 W-L record, 4.00 ERA, 1.20 WHIP and 58 Ks (74.1 IP). The main thing for Syndergaard was proving his health but he still needs to remain effective heading into free agency.
As you would expect following his 2020 Tommy John Surgery, he's been a different pitcher this year. Below is a comparison of some of his numbers pre-2020 and since the injury.
| | | | | | | |
| --- | --- | --- | --- | --- | --- | --- |
| Time | ERA | WHIP | AVG | K% | BB% | FB velocity |
| 2015 – 2019 | 3.31 | 1.16 | .241 | 26.4% | 5.6% | 98.1 MPH |
| 2021 – 2022 | 4.13 | 1.21 | .242 | 18.8% | 6.3% | 94.5 MPH |
Obviously, the standout from this is the drop-off in his fastball velocity, averaging 3.6 MPH less than it did in the five seasons prior to his return. That's to be expected. But Syndergaard has evolved this year and to compensate for the drop in his fastball velocity, he is mixing his arsenal more evenly.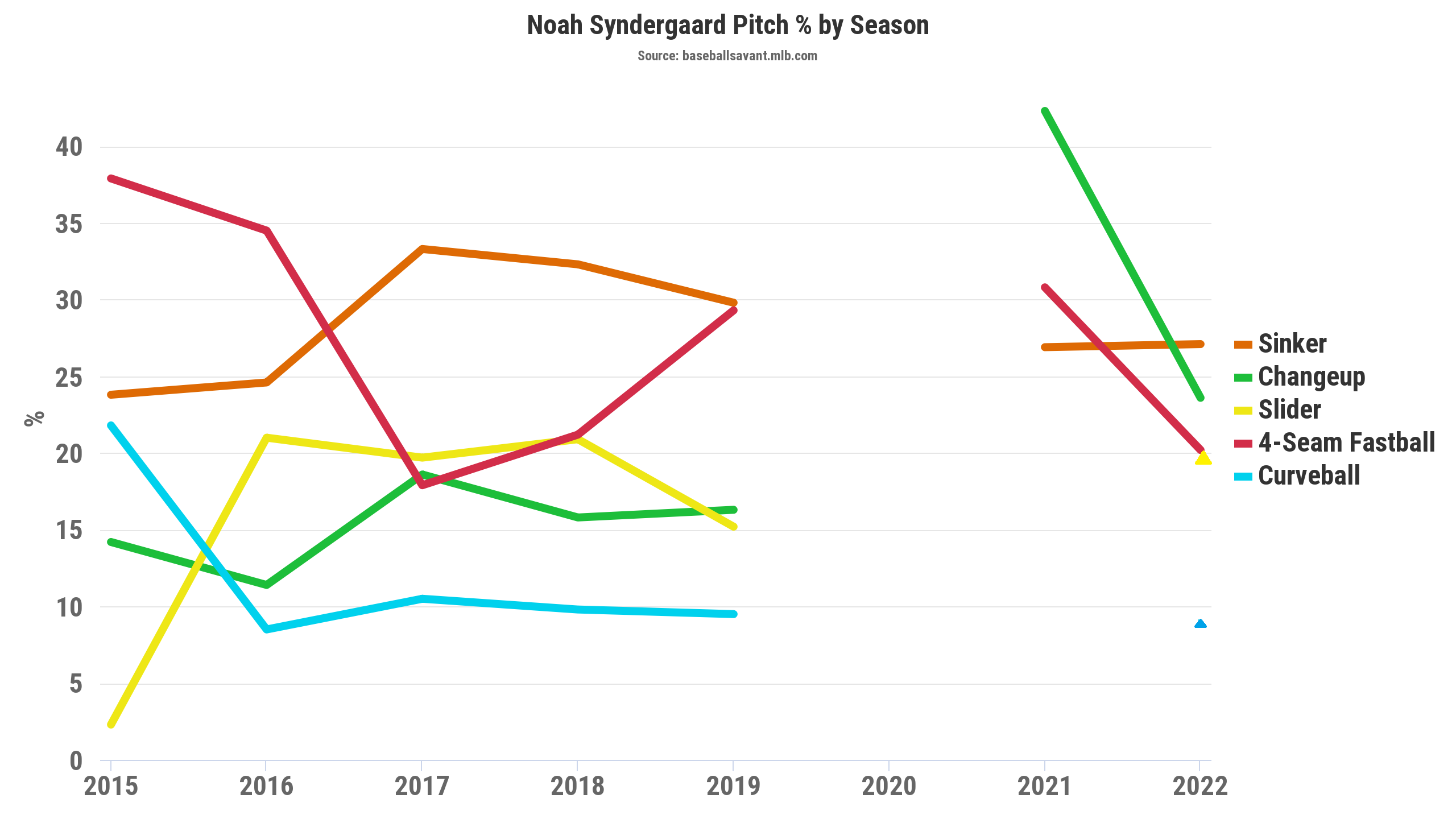 You can see from this graphic, Syndergaard has always mixed his pitches quite evenly but this year, he's thrown his sinker, changeup, slider and four-seam fastball all between 20.0% and 27.1% of the time. We can also see from the below how effective each of Syndergaard's pitches has been this season.
| | | | | | | | | |
| --- | --- | --- | --- | --- | --- | --- | --- | --- |
| Pitch | Usage | BA | xBA | SLG | xSLG | wOBA | xwOBA | Whiff% |
| Sinker | 27.1% | .167 | .246 | .200 | .355 | .216 | .322 | 11.4% |
| Changeup | 23.6% | .320 | .289 | .440 | .435 | .347 | .347 | 29.8% |
| Slider | 20.2% | .200 | .215 | .444 | .356 | .282 | .255 | 26.2% |
| Fastball | 20.2% | .311 | .258 | .607 | .523 | .413 | .367 | 20.0% |
| Curveball | 9.0% | .143 | .182 | .214 | .232 | .153 | .181 | 52.8% |
In simplistic terms, we should expect Syndergaard to get better results if he threw his sinker and slider more and cut down on his changeup and fastball usage. If we look at the below chart which shows Syndergaard's pitch usage per start this season, we will see a recent change in his pitch usage.
We can see a significant drop in his fastball usage and a noticeable increase in throwing his curveball. If we look at his last four starts, Syndergaard has a 5.01 ERA, but a 3.76 xFIP and 3.81 SIERA with a 23.5% K%. The results haven't been there in terms of ERA, but things are trending in the right direction.
So where does that leave us as fantasy managers? Well, it's obvious Syndergaard isn't the top-10 starting pitcher he was pre-2019. And he's not even a must roster option in shallower leagues. But he's still managing to be a serviceable starter and appears to be evolving with his arsenal as the season progresses.
There is a world in which Syndergaard gets traded, given he is a free agent at the end of the year and the Angels look like continuing their trend of avoiding the playoffs despite having generational talent on their roster.
But for now, Syndergaard remains in Los Angeles and could find himself reaching double-digit wins. If he continues altering his pitch usage to better effect, it's reasonable to expect his ERA to drop below 4.00 and improve his strikeout numbers. So for now, I'm holding Syndergaard in all but shallow leagues and seeing where this next stage in his career takes us.
Reddit Requests
Here are some names from the readers following last weekend's post on Reddit. If there is anyone who you want to include here on next week's Cut List, drop their names on the Reddit thread and there's a good chance they will feature.
Michael Kopech – SP/RP, Chicago White Sox – 88% rostered
Kopech is thriving in his role as a starter for the White Sox. The former top prospect has started 17 games with a 3-6 W-L record, 3.36 ERA, 1.18 WHIP and 74 Ks (83.0 IP). As good as Kopech has been, I have some concerns that it may not last.
Firstly, the positives. And the most impressive part of Kopech finally as a starter is how effective his arsenal has been, with his fastball performing well, backed up by his slider and curveball. Below shows the numbers for his pitchers this year.
| | | | | | | | | |
| --- | --- | --- | --- | --- | --- | --- | --- | --- |
| Pitch | Usage | BA | xBA | SLG | xSLG | wOBA | xwOBA | Whiff% |
| Fastball | 62.0% | .194 | .205 | .371 | .389 | .309 | .321 | 25.7% |
| Slider | 25.5% | .191 | .213 | .319 | .373 | .256 | .286 | 17.6% |
| Curveball | 11.7% | .143 | .214 | .179 | .373 | .210 | .307 | 24.6% |
| Changeup | 0.9% | .250 | .169 | .250 | .206 | .221 | .155 | 0.0% |
Despite this, Kopech has a 3.86 xERA, 5.03 xFIP, 4.88 SIERA and .215 BABIP. A large part of why he's been successful is keeping the ball in the park. Despite a 9.4% Barrel% (21st percentile), Kopech has an 8.4% HR/FB, which ranks tied-19th among the 87 pitchers with at least 80.0 IP this year.
My other concern with Kopech is his workload. At the moment, it's being managed, but after totaling 69.1 IP last year (mainly in relief), it might not come as a surprise that Kopech has struggled a bit of late. Kopech's last six starts (31.1 IP) have seen him put up a 5.74 ERA.
After already having a high walk rate (11.9% BB%) in his first 11 starts, Kopech has walked 18 batters in his last six starts (12.9% BB%) and his 12.3% BB% on the year is in the ninth percentile. He's also seen his strikeout rate drop to 16.4% through his last six outings.
Are his recent struggles a sign of fatigue? Given he didn't pitch in 2019 or 2020 following Tommy John Surgery, it could be. And will the White Sox tread even more carefully with Kopech in the final two months of the season? Possibly, but who knows what Tony La Russa will do.
I wouldn't be looking at dropping Kopech and the All-Star break may have given him a chance to work on some things and get a breather. But I'm also not sure I'll finish the season with Kopech on my roster so exploring a trade while his value is still decent may be the best play. In dynasty leagues, I'm still holding.
Nick Pivetta – SP, Boston Red Sox – 61% rostered
Pivetta makes The Cut List after three straight dreadful outings to end the first half, giving up 20 earned runs in 13.1 IP. That's left Pivetta with an 8-7 W-L record, 4.50 ERA, 1.26 WHIP and 104 Ks (108. IP).
Pivetta is on track for a career-high number of innings (164.0 IP in 2018) and his last two starts both came against the Yankees, so it's not clear-cut whether this is just him slowing down a bit and needing a breather or just the best offense in baseball managing to get to him.
What it does seem like, is regression to the norm. The reason I say that is Pivetta has a 4.37 xERA, 4.25 xFIP and 4.12 SIERA. Prior to his latest three starts, Pivetta had a 3.23 ERA while sporting a 4.06 xFIP and 3.99 SIERA. So he was outperforming expectations and has experienced a bit of an overcorrection.
Pivetta came into the season with a career 5.06 ERA and last year's 4.53 ERA was his best in the Majors. So you could argue that he's still having a career year, especially in fantasy where he's one win away from tying his best in a season (nine last year).
All-in-all, Pivetta's total body of work in 2022 is about what we should have expected. He did have a 3.81 xERA, 4.28 xFIP and 4.15 SIERA so maybe we could have anticipated somewhat slightly better numbers this year. But expecting a sub-4.00 ERA this year was probably more in hope than any sound reasoning.
Pivetta has also seen a decline in strikeouts, with a 23.0% K% being a career-low. His 8.8% Barrel% is in the 29th percentile and 47.4% HardHit% is in the fifth percentile, so a drop in strikeouts while allowing hard contact will be even more damaging.
In shallower leagues, Pivetta can be dropped and used as a streamer, but I wouldn't be looking to start him until he can show his latest struggles were just a blip. In deep leagues, I'd still keep Pivetta rostered, but again, won't be starting him for a couple of turns. If he gets blown up in those, I'd also be seeking a replacement in deeper leagues.
Riley Greene – OF, Detroit Tigers – 47% rostered
The Tigers haven't shied away from bringing up their top prospects this year. Spencer Torkelson started the year in the Majors, but has recently been sent to Triple-A after considerable struggles. But for Greene, it's been 'so far so good' since his mid-June promotion.
Greene is hitting .252/.344/.364 with two homers, 12 RBI, 18 runs and one stolen base (30 games). That's a 162-game pace of 11 homers, 65 RBI, 97 runs and five steals. Nothing to be overly excited about, but let's remember that Greene is 21 years old and this is his rookie season.
In 124 Minor League games last year (across Triple-A and Double-A), Greene hit 24 homers, stole 16 bases and hit .301/.387/.534. It's easy to understand why so many people are excited to see what Greene is capable of in the second half of this year.
While Greene's power potential hasn't quite been on display yet, his plate discipline certainly has. After putting up a 10.4% BB% in his Minor League career, Greene has a 11.0% BB% so far in the Majors.
Greene only had 82 batted balls, but nine have been barrels (11.0% Barrel%) and if he can continue to show good patience at the plate and make solid contact, Greene could hit double-digit homers in the second half. I'm holding Greene right now and expect to see more moments like this one.
Download Our Free News & Alerts Mobile App
Like what you see? Download our updated fantasy baseball app for
iPhone
and
Android
with 24x7 player news, injury alerts, sleepers, prospects & more. All free!
More Fantasy Baseball Advice