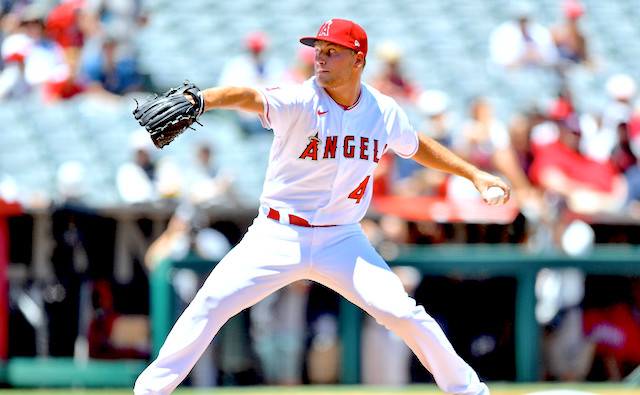 The second half is fully underway, and the toughest weeks are ahead. Some pitchers are improving, and some rookies are showing that they can stick - so we have some opportunity to bolster our rotations here in late July.
As we have been all season, we'll be looking for starting pitchers with strong K-BB ratios, favoring guys that can keep the ball on the ground.
Let's get to it - here are your starting pitcher fantasy baseball waiver wire pickups recommendations for Week 16 of the fantasy season (July 25 - July 31).
Editor's Note: Our incredible team of writers received 13 award nominations by the Fantasy Sports Writers Association including Baseball Writer of the Year, Football Writers of the Year, Golf Writer of the Year and many more! Be sure to follow their analysis, rankings and advice all year long, and win big with RotoBaller!
Read More!
Waiver Wire Pickups for Shallow Leagues
Pitcher pickup recommendations for leagues of any size
Alex Wood, San Francisco Giants (55% Rostered)
Since June 1st, the lefty has put up a strong 24.1%-4.3% K-BB%, that 19.8% differential ranks him in the top 30 over that time frame, and yet he's only rostered in half of leagues. He has struck out 25 batters over his last four starts, although it's been a pretty light schedule for him and his teammates.
He is really checking all of the boxes recently, with a 31.4% CSW%, a 12.2% SwStr%, and a 51% GB% over his last six starts. We know that Wood can be a reliable (if not overly exciting) fantasy starter for you, and it seems that he's healthy and throwing the ball well right now - he should rostered and started in most leagues.
Braxton Garrett, Miami Marlins (13% Rostered)
Garrett has taken advantage of two matchups with the super soft Pirates lineup recently, but man the underlying metrics are hard to ignore. Over his four starts, he has a 27.5% K%, a 5.5% BB%, and a 49.2% GB%. That's exactly what we want to see from a guy, although we would feel better if half of that data sample weren't games against the Pirates.
He is a slider-first pitcher, but it's a dandy with a 23.3% SwStr% and a 34.6% CSW%. The four-seamer holds its own as well with an 8.2% SwStr% and 30.6% CSW%. The fun doesn't even end there as his sinker has a 36.5% CSW% and a 54.5% GB% - so that's where the ground balls are coming from.
He doesn't throw very hard (averages less than 92mph with both fastball variations). The really good numbers did come directly after he elevated his sinker usage a tad, so that's a pretty nice thing to see. Garrett is someone to add right now and then keep a close eye on.
Ross Stripling, Toronto Blue Jays (41% Rostered)
Stripling has been back and forth between the rotation and the bullpen this season, but he's firmly in the rotation right now with some injuries happening for Toronto, and he's taken advantage of the opportunity. He has made eight starts since re-entering the rotation and has put up a 2.13 ERA with a 0.92 WHIP over that span. The 19.9% K% is short of spectacular but it has come with an elite 3.6% BB%.
He hasn't been fantastic for fantasy purposes as he has had a pretty limited pitch count. He's thrown six innings just three times in these last eight but is coming off his best start of the year when he threw seven innings against the Phillies, allowing just two unearned runs.
Over his last two starts, he has thrown 12 innings with 12 strikeouts and just one walk - so he's looking sharp. I think Stripling will remain in the rotation, and he can certainly help your ratios right now.
Max Meyer, Miami Marlins (40% Rostered)

UPDATE: Max Meyer left his start on Saturday with elbow discomfort. He is considered day-to-day and will undergo further evaluation
It wasn't a good Major League debut for Meyer as he gave up five earned runs in 5.1 innings against the tough Phillies lineup - giving up two homers and striking out five. Encouragingly, he walked just one and the 29.1% CSW% was a decent mark. We will have to see a few more starts from him to have an idea about whether or not he can handle Major League hitters, but what he did in the minors was quite convincing.
In 2021, he put up a 2.27 ERA with a 1.19 WHIP, a 27% K% and a 9% BB% in 111 innings. This season he put up a nice 28% K% with an 8% BB%, a 3.72 ERA, and a 1.00 WHIP in 58 minor league innings, missing some time due to injury recently.
It's a wait-and-see approach if you can afford to take that approach, but the upside is certainly higher than the rest of the names we'll talk about here given his prospect pedigree.
Alex Cobb, San Francisco Giants (34% Rostered)

Just when I had finally given up on Cobb, he goes out and throws 7.1 beautiful innings against the Brewers. He has back-to-back quality starts now and is healthy and throwing his stuff well.
The early season high K% may have been a mirage, as the K% is down to a mark of 22.8%, and that number is just 15.7% over his last six starts. So he's probably not a high strikeout pitcher, but the guy just does not give up home runs.
His GB% of 63% is third-best in the league, and he's given up just a 3.4% Brl% and five homers all season long. I think he's a guy that can really help your team's ERA while earning plenty of wins and quality starts moving forward, although it may come at the cost of your strikeouts and WHIP.
George Kirby, Seattle Mariners (33% Rostered)
He should be due back to the Majors next week, but it's possible it could take until August. Regardless, the news from the M's made it clear that they intend for him to be back in the Majors and they were using the All-Star Break to manage his workload a bit.
I'm interested in Kirby when he's back in the Majors. Only Jameson Taillon and Aaron Nola have put up lower walk rates this year than Kirby, and he's done it even with a league-average strikoug rate at 23%.
Those are the makings of a successful Major Leaguer, and the sky is the limit with this kid given how good his stuff is. If you have a free bench (or "NA" on Yahoo) spot, and Kirby is available, I would add him right now.
Waiver Wire Pickups for Deeper Leagues
Reid Detmers, Los Angeles Angels (14% Rostered)
The lefty had a rough beginning to his Major League season, but has returned with two strong outings in July. First, he threw six shutout innings against the Orioles, striking out seven. He followed that up with six innings, two runs, six strikeouts, but three walks against the tough Astros lineup. He has come back with increased usage and velocity on his slider, and so far that's worked out.
| | | | |
| --- | --- | --- | --- |
| Time Frame | GS | CSW% | SwStr% |
| Apr-June | 12 | 26.3% | 9.7% |
| July | 2 | 28.0% | 12.4% |
I'm hesitant to pull the trigger on Detmers since I care more about the dozen bad starts than the two good ones more recently, but he's a talented kid and could really be something if he can make some improvements.
Mitch White, Los Angeles Dodgers (9% Rostered)
White has been serviceable for the Dodgers since being forced into the rotation. He recently had a disastrous start against the tough Cardinals lineup when he gave up six runs on ten hits, but for the year his 3.78 ERA and 1.22 WHIP could be much worse.
He's not a high strikeout rate, so don't pick him up if that matters to you - but he's a guy that can get through some innings and earn some wins with that juggernaut offense backing him up.
Chad Kuhl, Colorado Rockies (16% Rostered)
Kuhl hasn't been great this season, but such is life when you're pitching in Coors Field. The reason for optimism is that he's a guy that is likely to get moved in the trade deadline, which could set up him with an improved situation around him.
He may be worth a stash right now to see what happens - but note that if he sticks with Colorado you should probably just drop him back to the waiver wire.
Other Waiver Wire Options
Alrighty, hope you enjoyed the piece and I hope some of these starting pitcher picks change your life forever and ever, for the better. So long!
Download Our Free News & Alerts Mobile App
Like what you see? Download our updated fantasy baseball app for iPhone and Android with 24x7 player news, injury alerts, sleepers, prospects & more. All free!


More Fantasy Baseball Waiver Wire Advice