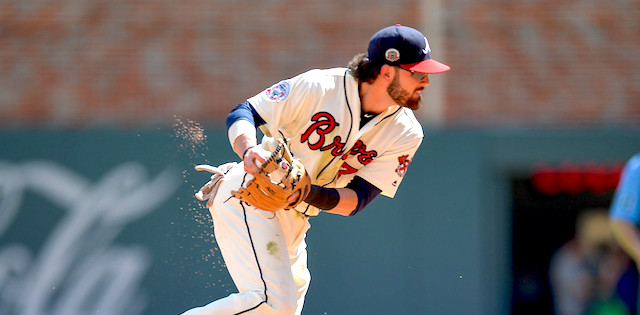 It is well known that the shortstop position heading into 2020 is really deep. Despite the positional depth, shortstops could dry up quickly if you wait too long to draft one, given roster constraints in many leagues require a starting middle infielder and a utility player.
Owners willing to roll the dice until the middle-to-late rounds to fill the shortstop position could be well served by a number of sleeper options. This would allow them to address positional scarcity in other areas.
Today we look at five shortstop sleepers you should target late in drafts. Any of these players could potentially put up top-ten, and in some cases, top-five production given their projected playing time for 2020. Each player should far exceed his value at his current ADP and is a great option as a starting shortstop, starting middle infielder, or starting utility player on fantasy rosters.
Featured Promo: Get any full-season MLB and DFS Premium Pass for 50% off. Exclusive access to our Team Sync platform, Premium articles, daily Matchup Rating projections, 15 lineup tools, DFS cheat sheets, Research Stations, Lineup Optimizers and much more!
Go Premium, Win More!
ADP: 257
A career minor leaguer, Miami Marlins shortstop Jon Berti finally got a shot as a regular in 2019. In 2019, Berti posted a .273 average and a.348 on-base percentage to go with six home runs and 17 steals in just 287 plate appearances. Berti's sprint speed of 29.8 feet/second in 2019, which ranked 13th in MLB, legitimized his impressive stolen base output in his limited playing time.
While Berti's barrel rate of 3.8% in 2019 was unimpressive, he did manage a 92.1 exit velocity on FB/LD and a hard-hit rate of 37.5% which was just under the league average. As a result, Berti offers significant stolen base potential with numbers that won't do damage to you in other categories. With a .348 OBP and the possibility of hitting leadoff, he could post significant run totals if he gets the at-bats in the Marlins lineup.
In 2019, Berti played multiple positions, specifically, shortstop, third base and the outfield. Heading into 2020, Miami will likely utilize the 30-year-old similarly, although he could find regular duty at second base, particularly if Isan Diaz struggles to start the season. This is important because, as stated, Berti's fantasy value will be predicated upon his playing time and his stolen base output and run totals.
Although Berti batted just .138 with no steals (on zero attempts) in 29 at-bats before spring training was suspended, he remains a potential steal (no pun intended) at his current ADP. Berti's position flexibility, elite speed, and the possibility of consistent at-bats in the leadoff spot could return more than 30 steals for a fraction of the draft price.
ADP: 300
Washington Nationals third baseman Carter Kieboom, who qualifies at shortstop on most fantasy baseball platforms, had an unimpressive short stint in the majors in 2019. In 11 games in 2019, Kieboom hit just .128 with two home runs, two RBI and 16 strikeouts (over 29 at-bats). Despite a poor, albeit small, sample-sized 2019 performance, Kieboom will enter 2020 as the starting Nationals third baseman, assuring him of consistent playing time.
Kieboom has tremendous upside based upon his pedigree and history. He was a first-round draft pick for the Nationals in 2016 and has posted consistent numbers throughout the minors. Kieboom demonstrated his natural feel for hitting to all fields, producing a career .292 average and .378 on-base percentage in the minors. More specifically, he produced excellent numbers in Triple-A, hitting 16 home runs, 79 RBI, with a .303 average and a lofty .409 OBP in 494 plate appearances.
Given the opportunity to play every day in 2020, Kieboom should post a solid average to go with 20-25 home runs. This value will far exceed his current ADP of 300. In OBP leagues, his fantasy value will even be greater, justifying a late-round selection based on this potential.
ADP: 246
Atlanta Braves shortstop Dansby Swanson was in the midst of a breakout season in 2019 before he suffered a heel injury in July which cost him five weeks. In the first half of 2019, Swanson posted a .270 average with 17 home runs, 58 RBI, and seven steals. Due to his injury, his final 2019 totals would not amount to much more. With just 142 additional at-bats after the All-Star break, Swanson finished 2019 with a .251 average, 17 homers, 65 RBI and 10 steals. As a result of his total 2019 numbers and poor second half, his ADP of 246 far undervalues Swanson's potential for 2020.
When analyzing Swanson, owners should take into consideration the impact his heel injury had on his overall totals and primarily reference his first-half output. In 2019, despite his post-All-Star break figures, Swanson still set a career-high in home runs and RBI to go with a career-best barrel rate of 10.1%. In addition, Swanson posted an average exit velocity of 89.8 mph which was greater than that of Fernando Tatis Jr., a player who is being taken about 200 picks earlier in most mixed-league drafts. Moreover, Swanson posted an exit velocity on FB/LD of 93.1 mph which was greater than Nolan Arenado and equal to Justin Turner. So, he's clearly in good company.
Swanson has had an extended offseason to recover from his heel injury. Considering his 2019 metrics, first-half numbers, and elite sprint speed in the 88th percentile of MLB, Swanson certainly has the potential for a 20-20 season in 2020. There is no question that Swanson is a potential sleeper in a potent Braves lineup who could return top-100 value this year.
ADP: 147
Following an injury-shortened season in 2018 which limited him to just 101 at-bats, Los Angeles Dodgers shortstop Corey Seager posted a .272 average with 19 home runs, 44 doubles, and 87 RBI in 2019. While these totals didn't replicate his 2016 breakout season, it did reflect that he is effectively working his way back from Tommy John and hip surgeries that had previously sidelined him.
Heading into 2020, many forget that Seager is turning just 26 years old in late April and, while he may no longer be considered an elite tier shortstop, the potential to provide elite numbers at his current ADP is there. For instance, his 44 doubles in 2019 tied for first in the National League. In addition, in 2019 Seager posted an impressive 93.2 mph exit velocity on FB/LD which equaled that of Vladimir Guerrero Jr. He also produced an overall launch angle of 14.1 degrees which was well above league average and represented a huge increase from all of his prior seasons. As such, if his metrics continue to improve in 2020, many of those doubles could go out of the yard, increasing HR and RBI totals in line with his 2016 numbers.
In 2020, Seager should be able to replicate his 2019 totals with slight improvements in counting stats, including 20-25 home runs and 85 RBI. That said, the potential for more exists if, as stated, his metrics continue to improve. It would not be a stretch for Seager to reach 25-30 home runs with 90-100 RBI if he can stay healthy and continue his upward trajectory coming off the multiple injuries. At an ADP of 147, he can potentially return top-five shortstop value for those owners willing to wait on shortstop in mixed-league drafts.
ADP: 158
Similar to Jon Berti discussed earlier, Scott Kingery was used all over the diamond by the Philadelphia Phillies in 2019. He played second base, shortstop, third base, and all three outfield positions. Entering 2020, Kingery projects as the starting third baseman for the Phillies, with Maikel Franco now in Kansas City and Didi Gregorius coming over from the Yankees to play shortstop. Kingery will still qualify as shortstop on many fantasy baseball platforms by virtue of his having played 18 games at the position last season.
In 2019, Kingery posted a solid .258/.315/.474 slash line with 19 home runs and 15 stolen bases in 500 plate appearances. Looking at his 2019 metrics, Kingery is capable of improving on his 2019 totals, namely, a 20-20 season (assuming a full slate of games are played). In 2019, Kingery produced an impressive 93.5 mph exit velocity on FB/LD, equal to that of Anthony Rendon and Ketel Marte. In addition, he posted an overall launch angle of 17.5 degrees, equal to the launch angles posted by Cody Bellinger and Gleber Torres. Finally, he averaged an elite sprint speed of 29.1 feet/second which was good enough for the 93rd percentile in all of MLB.
Although average contact rate and plate discipline metrics signal that Kingery's batting average will likely remain near .250, he offers a legitimate 20-20 potential with greater upside in the Phillies potent lineup. At his current ADP of 158, Kingery offers the tremendous value of a player going closer to the 99th overall pick, per RotoBaller's Expected Draft Values.
More 2020 Fantasy Baseball Advice