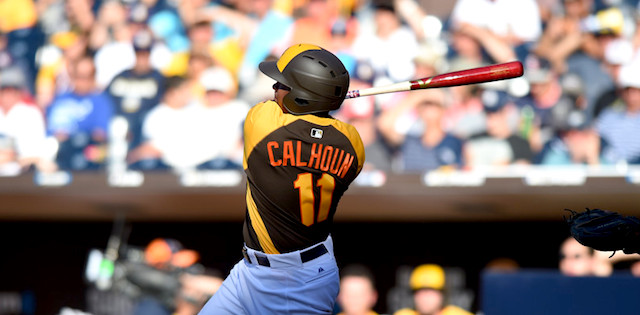 Baseball prospects and rookies get covered extensively around baseball, whether we're referring to just fantasy baseball or the sport in general. What we don't do overly well, is cover the players that fall between the cracks. What I mean by that is the players that play long enough to lose their rookie eligibility but not quite extensively enough to garner hype and really show what they're capable of doing.
The Dodgers' Max Muncy, a breakout star in 2018, is a perfect example of this gap. He had a decent pedigree as a prospect with some decent numbers in the minors and a fairly quick ascent through the minors into the Majors. But then he hit a roadblock in limited action at the MLB level while playing all over the field for Oakland. He lost his rookie eligibility over a two-season stretch from 2015-16 and was then purged off the A's 40-man roster and found himself at Triple-A with the Dodgers organization for all of 2017. During that time, while no one was really paying attention, he got good again. And then he got called up again in 2018 and didn't waste the new opportunity.
Today's exercise is a look at five players who have fallen between the cracks — too many at-bats to be considered prospects or rookies but they have yet to establish themselves as big leaguers. And, more importantly, they might just be able to help your fantasy team in 2019… if everything breaks just right. Just like it did for Max Muncy last year.   
Editor's Note: Get our 2020 MLB Premium Pass for 50% off, with exclusive access to our draft kit, premium rankings, player projections and outlooks, our top sleepers, dynasty and prospect rankings, 20 preseason and in-season lineup tools, and over 200 days of expert DFS research and tools.
Sign Up Now!
Calhoun hasn't yet slipped out of the public's consciousness and still has some of his residual hype attached but he'll open the year in Triple-A after a modest spring training performance. And while he's not exactly the same type of hitter that Muncy is, Calhoun has a chance to be an impact hitter for average and hit for power.
And the beauty of fantasy baseball is that we really don't have to worry too much about the fact he can't play defense, really anywhere, as long as we have an open "Utility" slot waiting. With Ronald Guzman unproven at first base, and Shin-Soo Choo now 36, there are cracks in the roster that could crumble enough to allow Calhoun another shot at The Show.
Allen is one of my favorite sleepers in 2019. He also plays for a Cleveland team that's expected to do well in the standings and the club has pretty weak depth in the outfield. With that said, the recent signing of Carlos Gonzalez muddies things a bit (and let's not forget the injured Bradley Zimmer, who almost qualifies for this list, too).
Allen does some things that are important and give him an extra edge for sticking with Cleveland while others like Jordan Luplow and Tyler Naquin might get the heave-ho. The fleet-of-foot outfielder can play all three outfield positions and is a natural center-fielder. He also has the potential to wreak havoc on the base paths and 40-50 stolen bases wouldn't be out of the realm of possibility with 140-150 games played; after all, he stole 21 bases last year but had only 68 hits in limited action.
The season that Garver had in 2018 is being seriously under-appreciated for a few reasons. Firstly, he doesn't project to have the lion's share of at-bats in 2019 because veteran Jason Castro is back from injury. Secondly, Willians Astudillo pretty much stole all the attention in 2018 with his MLB debut. Thirdly, well, Minnesota is just not a media hotspot like New York. Or Chicago. Or L.A… Or… well, you get the idea.
Despite all these obstacles, I'm here to remind you that Garver hit well as a rookie. Among all big league catchers with at least 300 at-bats, the 28-year-old catcher was 10th in weight runs created plus (wRC+) putting him offensively ahead of the likes of Salvador Perez, Willson Contreras, Gary Sanchez, and others that were likely drafted well ahead of him. If he gets a chance to play a reasonable amount, he could be a very good, very cheap option in the catcher's slot… and a must-have in leagues with two catcher slots.   
The key piece in the ill-fated Josh Donaldson deal with Toronto, Barreto has already made two abbreviated attempts to stick in Oakland. Unfortunately, his approach has de-evolved at the highest level of play and he's become more of a hacker. Always a free-swinger, his BB-K rate has turned into a frightening sight at Triple-A and in the Majors but if he can get back to what made him successful between 2013 and 2016 then he has a chance to be a nice little player.
He has the ability to sting the ball despite his modest size and he's become more of a fly-ball hitter with a propensity for pulling the ball. Barreto may have given up hitting for average but he has 20-20 potential.  A solid spring has earned the young hitter a spot on the A's team so now it's up to him to earn enough playing time to be relevant. The first step to doing that will be to carry over his approach from the spring into the regular season, with the injury to first baseman Matt Olson cracking open the door to opportunity.
Injuries have been Chargois' mortal enemy since he signed out of a prestigious college program in 2012. He threw 16 innings of pro ball that year and then didn't see the mound again until 2015. Along the path to today, he also missed almost all of 2017. Chargois won't open the year in the Majors but his fastball-slider combo has a chance to be overpowering once he discovers the command/control that has eluded him thanks to the lost development time.
Along with the raw ability to generate whiff rates in the 10-12 strikeouts per nine innings range, Chargois also induces ground-balls at an elite level, which helps keep the ball in the yard. Mix all of these ingredients up and you have the makings of a high-leverage reliever capable of racking up saves and/or holds.
More Fantasy Baseball Analysis