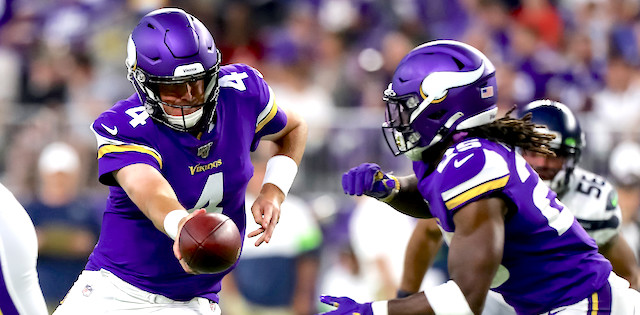 Some of you have been rewarded for your meticulous roster planning by receiving excellent production from your running backs. Unfortunately, many of you have been equally prepared when making your roster decisions, but have been undermined when your players encountered injuries, operated with inconsistent patterns of usage, or delivered discouraging performances.
If that applies to you, then those unwanted outcomes have forced you to examine your waiver wire. In addition to those production-inhibiting issues, there are other factors that might fuel your desire to locate alternative options. That includes bye weeks, as some of you will be impacted by the absence of backs from four different teams in Week 6 (Indianapolis, Oakland, Chicago, and Buffalo). That will leave a collection of backs that are unavailable for your lineups - Marlon Mack, Josh Jacobs, David Montgomery, Tarik Cohen, and Frank Gore.
Regardless of your reasons for examining waiver wire options, this article will help you locate the best running backs to target. These recommendations will appear in three tiers - beginning with the most enticing and progressing to runners that are available if you are contending with desperation. You will also find a group of backs that can be considered as droppable in order for you to secure your replacements.
Editor's Note: Get any rest-of-season NFL Premium Pass for 50% off. Our exclusive DFS Tools, Lineup Optimizer and Premium DFS Research through the Super Bowl.
Sign Up Now!
Frontrunners - Week 6 Waiver Wire Running Backs
These backs should be your top priorities among the runners that are available on most waiver wires. Some will be more beneficial in PPR formats than standard. All players have 60% or less ownership in typical fantasy leagues. 
Alexander Mattison, Minnesota Vikings - 23% owned
Mattison has been a mainstay among recommended roster additions in this column, due to a combination of enticing factors. He has the size, strength, and aggressiveness to thrive as a runner, can function capably as a receiver and performs on a team that deploys its feature back as the centerpiece for the offense. Mattison remains an outstanding handcuff for Dalvin Cook owners, who have benefitted greatly from his output as Minnesota's RB1. Cook is averaging 18.4 rushing attempts per game, as only one team runs with greater frequency than Minnesota (52.7%). He has also been targeted 24 times within a Viking attack that does not make consistent use of receiving options beyond Adam Thielen, Stefon Diggs, and their primary back. If Mattison is suddenly elevated into the lead back role for any reason, he will accumulate sizeable numbers. Cook owners can protect themselves from a potential roster crisis by securing Mattison, while other owners can seize a prospective RB1 if Cook is sidelined.
Jonathan Hilliman, N.Y. Giants - 0% owned
Hilliman was elevated from the practice squad on September 26th after it became clear that Saquon Barkley's high ankle sprain would affix him to the sideline. The rookie was also included among last week's roster recommendations, after ascending into the RB2 role behind Wayne Gallman. Hilliman carried 10 times in Week 4, but that did not persuade potential owners to add him. However, there is now additional motivation to secure Hilliman, as his opportunities are about to expand even further. Gallman suffered a concussion in Week 5, which propelled Hilliman to a team-high nine carries against the Vikings. Now, the status of both Gallman and Barkley is uncertain as the Giants operate on a short week. That could propel Hilliman into lead back responsibilities when his team is confronted by New England on Thursday night. The health of Gallman and Barkley will be monitored closely throughout the week. But Hilliman's potential to attain a significant workload makes him a viable roster addition.
Gus Edwards, Baltimore Ravens - 7% owned
Justice Hill could still ultimately emerge as a factor for fantasy owners before the season has concluded. But Edwards has been functioning as the primary backup to Mark Ingram through five matchups. Hill has only been entrusted with 16 touches, with seven of those occurring in Week 1. He has not exceeded two carries since Baltimore's season opener, and the usage as a receiver that had been projected has not transpired (3 receptions). Edwards has carried 38 times and would confiscate the majority of touches if Ingram were forced to the sideline. This can equate to a substantial workload, as the Ravens lead the league in total rushing attempts (180) and rushing yard (961) entering Week 6. Their backfield has collected 71% of the opportunities, and Edwards will become an integral component for his owners if he ascends into lead back responsibilities.
In The Running - Week 6 Waiver Wire Running Backs
These backs remain widely available on the waiver wire but are not necessarily must-adds.
Chase Edmonds, Arizona Cardinals - 2% owned
Any David Johnson owners who have not secured Edmonds on their rosters have already encountered one uncomfortable experience during Arizona's Week 2 matchup. That developed when Johnson's wrist issue sidelined him during the first half. and temporarily vaulted Edmonds into lead back responsibilities. It also presented a reminder that his route to a significant workload is immediate if Johnson is sidelined for any reason. Edmonds could also capture an ongoing role as a complementary back, after capitalizing on his most extensive workload of the season in Week 5 (11 touches). Edmonds generated 86 total yards, averaged 8.5 yards-per-carry, and bolted 37 yards for his first career touchdown. That should improve his chances of attaining a percentage of touches on a weekly basis. Johnson owners can avoid the catastrophic situation that would occur is he is absent by securing Edmonds for their rosters. All other owners can seize a potential flex option that remains available in 98% of all leagues.
Rashaad Penny, Seattle Seahawks - 54% owned
After Chris Carson fumbled in each of Seattle's first three matchups, questions arose regarding his status as the Seahawks' primary back. But he has solidified his standing after rumbling for 222 yards on 49 attempts during his last two contests. That may not entice potential owners to target Penny, whose prospective opportunity to confiscate a significant workload has temporarily evaporated. However, Penny remains the unquestioned backup within a Seattle offense that is running the ball on 47.7% of its offensive plays. A percentage of these carries should be designated for Penny, while the second-year back also retains a clear path to substantial touch totals if Carson is unable to play. Blend those factors with the potential for Pete Carroll to alter the backfield composition during any given matchup, and you are presented with justification for adding Penny to your roster.
Dark Horses - Week 6 Waiver Wire Running Backs 
This group consists of running backs that can be added if you are willing to wait for the possibility of a larger role during the year, or consider your situation to be desperate due to injuries or byes.
Ryquell Armstead, Jacksonville Jaguars - 2% owned
Armstead has elevated onto a similar terrain as Mattison, Edwards, and Penny because he retains a simple path to an enormous workload for a ground-oriented offense. Leonard Fournette has averaged 23 touches-per-game, including a 45% share of red zone touches. He has also performed on 94% of the Jaguars' offensive snaps, which is a percentage that is exceeded by just two other backs. While this does not provide sizable touch totals for Armstead, the rookie's usage would expand significantly if Fournette is sidelined at any point. Armstead has averaged 5.4 yards-per-carry with his 10 rushing attempts and generated 42 yards on eight carries during his most extensive usage of the season (Week 4). He does not present a standalone value. But any type of absence by Fournette would launch Armstead into lead back status within an offense that supplies its primary rusher with a substantial role. That should compel savvy owners to consider him worthy of a roster stash.
Malcolm Brown, Los Angeles Rams - 28% owned
Todd Gurley's average of 15.6 touches per-game will not match the level of involvement that his owners would prefer. But it has been sufficient to create a decline in Brown's usage. 17 of Brown's 26 carries were collected in Weeks 1 and 2, which includes the season-low one rushing attempt in Week 5 at Seattle. But even though his infinitesimal workload has compelled the majority of his former owners to jettison him to their waiver wires, there is an enormous rationale for Gurley owners to maintain him on their rosters. This will reduce the fallout from any sudden health setback that might emerge with the Rams' premiere back. Any other owners can also consider Brown as a stash option, which can reward you if Gurley's touch total declines due to injury or a managed workload. Darrell Henderson has accumulated a grand total of one-touch during the season, as Brown remains solidified as the Rams' RB2.
Rex Burkhead, New England Patriots - 28% owned
Maintaining any level of confidence in your ability to forecast usage of New England running backs has historically been difficult. At the onset of Week 1, it had appeared that Sony Michel could operate with a substantial workload, and assemble a favorable number of rushing touchdowns. But that situation devolved into uncertainty when Burkhead led Patriot backs in touches (17), and total yards (69) in Week 3. His troublesome foot hampered him in Week 4 and forced him to miss New England's Week 5 matchup completely. Michel assembled 154 yards on 33 carries during that two-game sequence and even collected his first three receptions of the season. But the composition of responsibilities within the backfield could be altered by Belichick during any given contest. Once Burkhead has regained his health, he could easily reclaim a sizable role. That supplies owners with a feasible roster addition who can function in the flex.
Also-Rans - Time To Say Goodbye
These backs can be dropped in order to secure an RB with greater potential to bolster your scoring during the year.
Adrian Peterson, Washington Redskins - 47% owned
Even at age 34, Peterson's responsibilities as Washington's primary rusher has presented owners with the theoretical opportunity for respectable production. But the expanded role that he received after Derrius Guice's knee injury has not translated into numbers that anyone can rely on. Peterson has managed just 108 yards on 40 attempts (2.7 yards-per-carry) and has failed to exceed 37 yards during the four games that he has performed in. He is not a candidate to offset modest rushing output with production as a receiver (3 receptions/4 yards) as he relinquishes pass-catching responsibilities to Chris Thompson. The massive collection of deficiencies that permeate Washington's roster will also create the likelihood of negative game scripts that eliminate his involvement on a frequent basis. There are too many factors that will impede Peterson from generating numbers that can be beneficial to your lineup. That should motivate you to find a more productive option.
Duke Johnson, Houston Texans - 72% owned
As Carlos Hyde continues to garner the majority of touches on a weekly basis, it has become increasingly difficult to justify keeping Johnson on your rosters. It initially appeared that Johnson had resurfaced in an environment that would supply him with a sizable workload when he was traded from Cleveland. But the constraints that are consistently placed on his usage remain puzzling. Johnson finished at RB11 in 2017, while his prowess as a receiver enabled him to average 80 targets, 63 receptions, and 580 yards from 2015- 2017. But those numbers are insignificant now. Hyde has averaged 14.8 carries, including a season-high 21 in Week 5. Johnson's 8.2 touch-per-game does not compare favorably and does not appear destined to improve. Even though he is capable of delivering sizable yardage on any given play, it has not inspired Bill O'Brien to modify the value-inhibiting workload that Johnson has received.
Peyton Barber, Tampa Bay Buccaneers - 52% owned
If you are retaining Barber on your roster, it will be beneficial to reexamine your decision. The fourth-year back has consistently delivered unexceptional numbers throughout his career, which is underscored by his 3.8 yard-per-carry average. His role has also been dwindling, as Barber carried 36 times in Weeks 2 and 3, but only accumulated 17 rushing attempts during Tampa Bay's last two matchups. He also averaged just 3.05 yards-per-carry during that span, while providing little evidence that he should remain on the field. His two rushing touchdowns during the Buccaneers' last two contests should not persuade you that he is worthy of retention on your roster, as he has only scored 12 times since entering the league in 2016. Even if Bruce Arians continues to deploy Barber in a committee with the more talented Ronald Jones, you cannot rely on Barber in your lineups - even as a flex option. There are other backs that supply greater upside.
More Waiver Wire Pickups and Advice