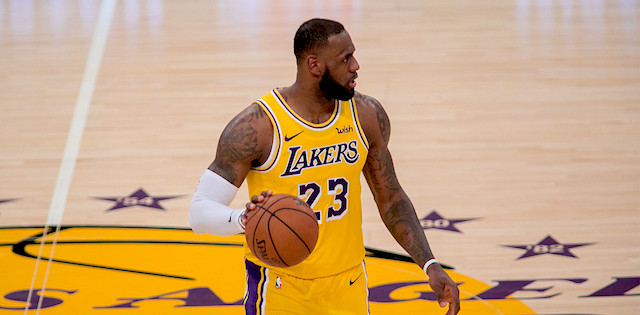 Welcome to the RotoBaller NBA Recap. In this feature, we will highlight three fantasy basketball takeaways from last night's slate of NBA games. It was a busy night of NBA action, with 11 games on the docket.
While not necessarily one of the most important fantasy-related takeaways of the night, we did witness the end of something magical: the final meeting between LeBron James and Dwyane Wade, who'll be retiring at season's end. Barring some weirdness in the playoffs -- which would include the Heat turning things around to make the playoffs in the first place -- we won't see the former teammates on the floor together again in an NBA game. James won the final meeting, as the Lakers prevailed 108-105. James had 28 points, 12 assists, and nine rebounds. Wade finished with 15 points, 10 assists, and five boards.
Let's take a look at the recap for NBA games on Monday, December 10th.
Editor's Note: Get any full-season NBA and DFS Premium Pass for 50% off. Our exclusive Preseason Draft Kit, 10 In-Season Lineup/DFS tools, and daily Premium DFS Research.
Sign Up Now!
The Nuggets Go Big, Nikola Jokic Comes Up Big
The Gary Harris injury, combined with the Will Barton and Isaiah Thomas injuries, were always going to put the Nuggets in a bad position. Jamal Murray is a good point guard, and Monte Morris is probably a good point guard, and the team has Nikola Jokic, but what would the starting lineup look like in-between?
We found out on Monday, with the Nuggets starting a very large lineup: Mason Plumlee / Nikola Jokic / Juan Hernangomez / Torrey Craig / Jamal Murray. So Craig, who played around six percent of his minutes last year at the four, is the two-guard in this lineup, and Hernangomez, Jokic, and Plumlee give you three bigs. It's a weird one.
It's also a chance for Jokic to shine without many other scoring options for the Nuggets to turn to. On Monday, he finished with 27 points on 9-for-14 shooting to go along with 12 rebounds, six assists, and a pair of steals. It's seemed like there have been a lot of times in the past where Jokic was hesitant to take on a big scoring load, and instead was content to facilitate things for Denver thanks to his top-tier passing ability. But right now, the Nuggets really only have two guys who can take over and score -- Jokic and Murray -- and we should see a lot of nights with Jokic leading the team in shot attempts moving forward. (Unless the newly signed Nick Young steps in and immediately Nick Youngs.)
The Sixers beat the Pistons on Monday and have won the season series against Detroit after the teams played four games in the season's opening stretch. You can give credit to a lot of parts for the win, but with Jimmy Butler exiting after nine minutes of action with a groin injury, Furkan Korkmaz deserves some attention.
Korkmaz, who has been in and out of Philadelphia's rotation this season, isn't part of the team's future plans as they've already declined his option for next season, but he's a good shooter who can provide them with helpful minutes when possible.
Monday, Korkmaz played 26 minutes for the 76ers, finishing with 18 points on 7-for-12 shooting. He was 4-for-7 from deep and added seven rebounds as well. If Butler is back for the Sixers next game, Korkmaz will likely return to being a 10-ish minutes guy without much upside, but if Butler is forced to miss some time with the groin issue, Korkmaz becomes a valuable waiver wire guy on a 76ers team without a very deep bench. Either Korkmaz or Landry Shamet would move into the starting rotation, leaving the other to be the key scoring option off the bench. Neither is going to replace what Butler brings, but Korkmaz has played well this season when he's been given a chance.
Injuries, Injuries, Injuries
It was not a great night for health in the NBA. Here's a quick rundown:
Jimmy Butler suffered the aforementioned groin injury. I've already talked about some options if he misses time, so scroll up a little and re-read them.
Nikola Mirotic hurt his ankle and is expected to miss some time. Mirotic was already playing off the bench after being supplanted by Julius Randle in the starting lineup, but the injury is still a big blow to a team whose bench isn't inspiring much confidence. Randle will play even more, and maybe Cheick Diallo winds up fantasy relevant for a little while?
Tristan Thompson sprained his foot. The Cavaliers will likely go smaller with Larry Nance Jr. at the five until he returns? Jaron Blossomgame gets more minutes at the four in that situation? Ante Zizic stops getting those DNP-CDs? The latter two options wouldn't have much fantasy relevance in that situation, though I could maybe talk myself into Blossomgame in a deep league.
More Fantasy Basketball Analysis