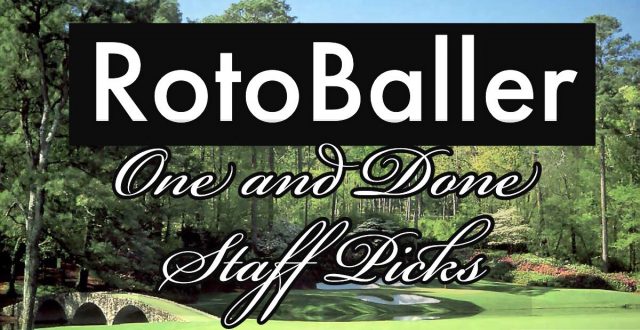 Here at RotoBaller, we are always searching for ways to give our readers the best fantasy sports content possible. With that goal in mind, we are very proud to announce the addition of a weekly PGA "One and Done" column. In this feature, our golf staff of Joe Nicely, Spencer Aguiar and Gianni Magliocco will provide their weekly golf picks every Wednesday. The purpose of this article is to present you with alternative options to consider and hopefully make your selection a much easier process weekly. With that plan in mind, let's get started!
Wow! We had some fireworks last week folks, as two of our three staffers nailed Phil Mickelson's win at the AT&T Pebble Beach Pro-Am! Both Spencer and Gianni gambled on Lefty's boom-or-bust nature and it paid off in the form of a MASSIVE $1,368,000 winner's check. The win gives both Spencer and Gianni a huge bump in our standings, with Gianni holding on to his $400k-plus lead over Spencer. That leaves little ol' me bringing up the rear. My AT&T choice, Chez Reavie, was inside the top-15 for most of the week, but a disastrous Sunday sent him tumbling into a tie for 38th and a measly $31,160 paycheck. Anytime we have two of our panelist with the same pick, it creates an 'odd man out' scenario for one of us. If Spencer and Gianni would've missed on Mickelson it would have been a huge leg up for me, but the opposite result happened, which now puts me at a sizeable disadvantage in our OAD standings.
We've got a really exciting tournament on tap this week. The Genesis Open has a very strong field that includes 20 of the top 30 players in the current FedEx Cup standings. It's played on a timeless course at Riviera Country Club. We have defending champion and three-time winner of this tournament Bubba Watson back to defend. There's also some guy named Tiger in the field. It will be Woods' second start of 2019. He's joined by some heavy hitters like Dustin Johnson, Jon Rahm, and Rory McIlroy. There's no shortage of players for us to choose from this week. Gianni and Spencer are definitely in great shape and can afford to be conservative if they so choose, while I'm feeling the heat of being a distant third in the standings and might be forced to get aggressive.
For an in-depth breakdown of the top DraftKings and Fanduel plays, check out Joe Nicely's weekly Horse For The Course that highlights the best fits for the week's course.
And you can also find out who the smart money is on by checking out Spencer Aguiar's PGA DFS: Vegas Report every week.
Editor's Note: Our friends at Fantasy National have built some incredible DFS Golf lineup tools including a Lineup Optimizer, Stat Engine, Ownership Projections and Course Breakdowns. They are by far the best daily fantasy Golf tools in the industry. Seriously. You can read all about them here and see screenshots. 
2019 Genesis Open - Riviera Country Club
7,322 Yards - Par 71 - Greens: Poa
Praise the golf gods, we are finally done with events that employ rotating courses. We get all four rounds at a masterpiece this week. Riviera is a timeless course that was considered an instant classic when it opened in the 1920's. It has long been a favorite of both Hollywood's elite and professional golfers. Riviera's signature hole is the short Par-4 10th. At just 315 yards, the 10th presents an exciting risk/reward opportunity for players. Drive the green and a great chance at eagle awaits, but miss it and bogey or worse instantly comes into play. Players will once again be rolling the ball on poa greens. The Par-5's are all reachable and exploitable.
One and Done Selections
Joe Nicely - Xander Schauffele
After last week's personal disaster of both Gianni and Spencer having the AT&T winner, I'm definitely feeling the heat of being way behind in this thing. This seems like an obvious Bubba spot. He's such a course-specific player and this is one of the select few tracks that you can confidently deploy him. However, the combination of Bubba likely being a chalk pick (Gianni, Spencer, and I don't know each other's picks beforehand) and my need to make up ground, have me looking in a different direction this week.
In a field full of stars, I'm going with a player that I think can be golf's next big one. Since we're in L.A. this week, I'll use some Hollywood terminology. Xander Schauffele might not be on golf's 'A List' yet, but he's definitely a player with his star on the rise. He turned a lot of heads with a Sunday 62 (one of the finest rounds of golf I've ever seen) to win the Sentry Tournament of Champions back in January. Some might not have realized it at the time, but that was actually the X-Man's second win of the season (he took down the WGC-HSBC Champions event in October). He's remained rock-solid in just two starts since the Sentry win, scoring a T25 at the Farmers Open and a T10 at the Waste Management Phoenix Open.
Schauffele doesn't have a ton of Riviera experience, but he recorded a T9 in his tournament debut last year, which I feel bodes extremely well for his outlook in this event. The 25-year-old is firing on all cylinders right now. His game doesn't have a noticeable weakness and he ranks first in the Genesis field in total strokes gained over his last 24 rounds. While I may regret not going with one of the more established stars in the field, I think Xander has a legitimate shot to fly under-the-radar this week and put his name on the marquee of this star-studded event by winning the tournament. -Joe Nicely
Yearly Earnings - $389,838

Yearly Cuts Made - 5/5
Spencer Aguiar - Hideki Matsuyama
Not often do you hit the winner of an event for $1.368 million, yet fail to make up any ground on the leader in a three-person OAD contest. Unfortunately, that is precisely the spot that I find myself in with Gianni also connecting on Phil Mickelson last week. If I were in Joe's position, I might deviate slightly from my preferred route in an attempt to make up some ground against two competitors, but as things currently stand for myself, I feel like it is too early and I'm too close to stray off track.
I expect Bubba Watson to be a popular selection for those that are trying to avoid burning one of the top players in the world this week. However, I like the idea of pivoting to Hideki Matsuyama instead. The Japanese sensation is projected to be one of the most popular choices on DFS sites, but I don't think it is going to correlate directly into OAD contests. Don't get me wrong, Matsuyama is going to be a popular choice this week, but the 26-year-old was just recently selected 880 times out of 3,189 total picks in the big 'One and Done' contest held over at Gup's Corner for the Waste Management Open.
The 28th-ranked player in the world has been a steady customer at Riviera Country Club, providing three top-25 finishes in four attempts and appears to be a hot putter away from getting back into the winner's circle. Matsuyama gained a staggering 6.8 strokes on his approach shots compared to the field the last time he teed it up and only needs to be average on the greens if that sort of production continues. Poa is a grass that is known to alleviate some of the disparity in skill level on the putting surface and it is the only grass type that the five-time PGA Tour winner has gained strokes putting on. In a week that I'm having trouble pinpointing a standout prospect, Matsuyama gives me an option with upside and allows me to avoid using a premier name in the process. -Spencer Aguiar
Yearly Earnings - $1,756,517
Yearly Cuts Made - 4/5
Gianni Magliocco - Dustin Johnson
I've had this earmarked for a while, and I'm taking Dustin Johnson to do the business once again at the Genesis Open. As well as being a former champion of the event, Johnson's overall record is outstanding at Riviera. The American has four top-five finishes at the tournament in his last five appearances and his current form is excellent too.
Johnson won the inaugural Saudi International a couple of weeks ago, and while I'm slightly concerned that he could be a little tired from his recent exertions, Riviera is a course that is just tailor-made for his game. The 34-year-old leads the strokes gained total statistic at this week's course for his performances over the last five years, which is mightily impressive when you consider Bubba Watson has won the tournament three times in that period. The majority of holes suit Johnson's eye perfectly, and with length being such an important factor around here, D.J. holds all the aces.
While many will keep Johnson for the U.S. Open at Pebble Beach or another major considering the extra prize money on offer, I'm comfortable taking him on what I consider to be the course most suited to his game. -Gianni Magliocco
Yearly Earnings - $2,102,768
Yearly Cuts Made - 5/5
Running Totals
Joe Nicely

Spencer Aguiar

Gianni Magliocco

Sony Open

Gary Woodland 

$11,520

Justin Thomas

$99,200

Kevin Kisner

$12,864

Desert Classic

Jon Rahm

$212,400

Jon Rahm

$212,400

Patrick Cantlay

$159,300

Farmers Insurance

Marc Leishman

$21,158

Patrick Cantlay

$0

Charles Howell III

$79,804

Waste Management

Hideki Matsuyama

$113,600

Webb Simpson

$76,917

Justin Thomas

$482,800

Pebble Beach

Chez Reavie

$31,160

Phil Mickelson

$1,368,000

Phil Mickelson

$1,368,00
Golf DFS News and Player Outlooks
Premium DFS Golf Tools and Lineup Optimizer
Our friends at Fantasy National have created some game-changing DFS Golf tools, and you can read all about them here. They are hands-down the best daily fantasy Golf tools in the industry.
Premium DFS Golf Tools and Lineup Optimizer
Our friends at Fantasy National have created some game-changing DFS Golf tools, and you can 
read all about them here
. They are hands-down the best daily fantasy Golf tools in the industry.
Sign Up Now!