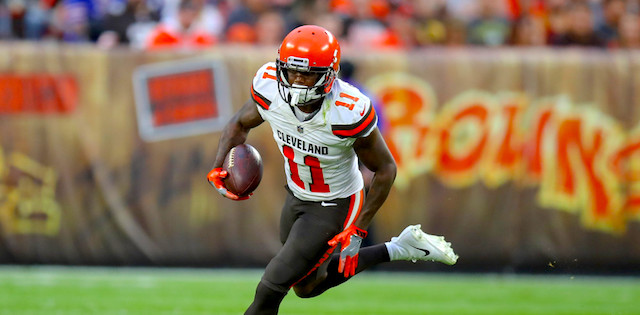 Many of you have become increasingly involved with modifying your rosters in Dynasty leagues, while others have already succumbed to the temptation of highly addictive Best Ball drafts. Even if your attention has been focused solely on planning your strategy for redraft leagues, the team at RotoBaller is fully aware of your efforts. That is why we have been compiling statistics, analysis, and thoroughly researched recommendations as part of our unrelenting efforts toward helping you win your leagues in 2019.
This process includes our recaps of the production that was registered by rookie wide receivers in 2018, along with breakdowns on how that impacts their dynasty outlooks. Calvin Ridley led the first-year receivers in scoring (WR22), while D.J. Moore (WR39), and Courtland Sutton (WR49) joined Ridley inside the top 50. It was the second consecutive year in which three newcomers have accomplished that level of production (Cooper Kupp-WR24/JuJu Smith Schuster WR30/Keelan Cole WR47). However, that total remains far behind the class of 2014, when a whopping nine rookie receivers finished among the top 50 - Odell Beckham Jr. (WR9), Mike Evans (WR12), Kelvin Benjamin (WR14),  Sammy Watkins (WR24),  Jordon Matthews (WR27), Jarvis Landry (WR31), Allen Hurns (WR45), Brandin Cooks (WR49), and John Brown (WR50).
This review will focus on Antonio Callaway, who finished at WR62 in 2018, while finishing second among first-year receivers in both total snaps (766), and snap count percentage (70.2%). The number of opportunities that were earmarked for Callaway fluctuated throughout the season, as Cleveland transitioned into the Baker Mayfield era, then transformed the offense even further by elevating Freddie Kitchens to offensive coordinator midway through the year.
Editor's Note: Get any rest-of-season NFL Premium Pass for 50% off. Our exclusive DFS Tools, Lineup Optimizer and Premium DFS Research through the Super Bowl.
Sign Up Now!
Profile
Team: Cleveland Browns
College: Florida
Height/Weight: 5'11", 200 pounds
2018 NFL Draft: Round 4, Pick 5
Inconsistent Target Totals = Erratic Production 
Callaway's first professional season contained a mixture of promising performances that were blended with weeks in which his usage and output ranged from discouraging to virtually non-existent. He only played on 17% of the Browns' offensive snaps in Week 1 and failed to secure his only target during his NFL debut. However, he eventually started 11 games and performed on 75% of the Browns' offensive snaps from Weeks 2-17. There were a total of five different contents in which he failed to exceed two targets. But those games were interspersed with seven matchups in which he was targeted at least six times.
Callaway actually led first-year receivers in targets after Week 6 (39), but his unpredictable role during the remaining weeks contributed significantly to his eventual finish of fourth among rookies in that category. The inconsistent nature of his usage did not correspond to Baker Mayfield's emergence under center, as 63 of Callaway's targets were attained in Weeks 4-17 after Mayfield became Cleveland's starting signal caller. Callaway's 4.84 target-per-game average with Mayfield spearheading the offense also mirrored his overall 4.93 per-game average over 16 games.
However, that average dropped to 4.25 after Kitchens became the architect of Cleveland's offense prior to Week 9. Callaway's erratic usage during the latter portion of the season was exemplified by the wildly fluctuating results from Weeks 14-17, as he was targeted seven times in two different games during that sequence, but only once in each of the other two contests.
Callaway's output was also largely divergent throughout the season, as he eclipsed 50 yards in six games, and generated 79+ yards three times, while those performances intermingled with seven matchups in which he failed to exceed 22 yards. However, his 2.7 receptions-per-game average perfectly matched his average with Mayfield guiding the passing attack, as did his 37 YPG average.
It is noteworthy that even though his reception per-game average was also similar once Kitchens was concocting the game strategy (2.75), Callaway's YPG average actually rose to 44 during that sequence. That occurred primarily because three of his four highest yardage totals of the season were assembled during that span - (Week 12/62 yards, Week 13/84 yards, Week 17/79 yards).
Amid the fluctuating output during the year, he still finished fourth among all rookies with 43 receptions, fifth in yardage (586) and was third with five touchdowns. Those receiving touchdowns also led the Browns, while his yardage total placed him third behind Jarvis Landry and David Njoku, and his reception total was fourth highest on the team.
Callaway does need to become more proficient in several critical areas, as he was credited with six drops as a rookie. He also finished in a concerning tie for 71st with a catch rate of just 54% according to Football Outsiders.
In-Season Changes Ignite The Offense
During his 185 snaps in 2018, Tyrod Taylor managed just two touchdowns, and 118 YPG while completing only 49.4 percent of his passes. But after a concussion sidelined the ineffective eight-year veteran in Week 3, Mayfield capitalized on his chance to bypass the mystifying collection of hurdles that were placed in his path by Hue Jackson. Mayfield transformed what had been a struggling offense into a respectable unit, particularly after Jackson and Todd Haley were jettisoned in late October.   
That elevated Kitchens into his new role, which empowered the newly anointed coordinator to implement a cluster of improvements that maximized Mayfield's chances to flourish. This included a commitment to quicker passes that neutralized the opposing pass rush, and this revamped strategic approach propelled Mayfield to a 19:8 TD to INT ratio from Weeks 9-17. That was instrumental in helping him establish a new rookie record for touchdown passes (27).
Cleveland also overcame the forgettable deficiencies early in the season by averaging 395 yards-per-game after Week 9, as the Browns eventually finished 13th in total offense (368.8 YPG). This also represented a massive improvement from 2017, when Cleveland ranked just 24th in that category (308.9 YPG).
The addition of former Tampa Bay offensive coordinator Todd Monken to Kitchen's offensive staff provides the Browns with yet another coach whose background is immersed in heavy passing schemes. This should further benefit Mayfield and the Cleveland aerial attack.
An Abundance Of Weaponry
The ascension of Mayfield and Kitchens has provided stability and legitimate reason for optimism. Not only is Mayfield fully capable of excelling while spearheading the Browns' attack, but he will have a collection of dynamic weapons at his disposal. This certainly includes Callaway, but the second-year receiver will be contending with competition for targets.
Landry led the Browns in targets (149), receptions (81), and yardage (976). But his overall numbers are deceptive, as they conceal the sizable decline in his usage and output as the season progressed. He was second overall in targets and targets-per-game average after Week 8 (94/11.8), but his average plunged to 6.9 per-game during the eight games in which Kitchens was calling plays. His reception-per-game average also plummeted from 6.2 from Weeks 1-8 to 4.0 in Weeks 9-17, and his YPG average dropped from 66 to 56 during that sequence of matchups. With Mayfield dispersing his throws based upon which options are open, Landry's weekly target totals and production should be consistent with the diminished numbers that existed later in the year. This provides the potential to benefit Callaway.
Breshad Perriman is worthy of discussion after a seemingly nondescript 340 yards included an average of 58 YPG from Weeks 14-17. The former first-round pick joined the Browns in October and was only targeted 4+ times in three contests. However, two of those matchups occurred in Weeks 16/17, and Perriman would siphon some opportunities from Callaway if the unrestricted free agent is re-signed. That also applies to restricted free agent Rashard Higgins, who finished just behind Callaway in targets (53), receptions (39), and receiving yards (572).
There is unquestioned talent at the running back position, even though the addition of Kareem Hunt has cast a layer of uncertainty over what could have been an exceptional situation for Chubb owners. But there is no concern regarding Cleveland's ability to accrue rushing yards whether that is due to Chubb and Hunt assembling yardage, or if it is the result of Chubb overwhelming opposing defenders while Hunt is unable to perform. Duke Johnson's value should largely be predicated on Hunt's status, as Johnson's touch total will be almost completely constrained whenever Hunt begins sharing touches with Chubb.
Njoku finished second on the Browns in targets (88), receptions (56), and receiving yards (639) in 2018, and will also usurp a reasonable percentage of opportunities again this season. His 5.5 targets per-game average with Mayfield as the starter matched his average during 16 games, although that dropped to 4.6 after Kitchens became the architect of Cleveland's attack.
Callaway's Outlook
It is plausible to expect a steady upward trajectory in the career paths of several other second-year receivers. But there is less certainty in Callaway's ability to achieve the same progression toward top tier status. However, he does possess the physical tools to eventually become Cleveland's WR1, even if it is premature to expect his growth process to accelerate that extensively in 2019,
His target total should increase this season, even as Landry, Njoku, and the backfield weaponry collect opportunities of their own. Whether that translates to a sizable increase in yardage and receptions partially depends on Callaway's ability to build upon his existing strengths. He already has the explosiveness to gain separation downfield. If he is able to increase his reliability through a reduction in drops and improvement in his overall efficiency, then Mayfield will be inclined to locate him with greater frequency.
It is also critical that he avoid further off-field issues since he remains in Stage One of the NFL's substance abuse program. Marijuana charges from a 2018 incident were recently dropped, even though it is conceivable that he could receive some punishment from the league.
Still, the 22-year old Callaway presents owners with sufficient rationale to keep him on their rosters, even if the Browns add another receiver during free agency or the NFL Draft. He has enough talent to dramatically elevate his current value if he will make a sustained effort toward becoming one of the league's most proficient receivers.
More Dynasty League Strategy