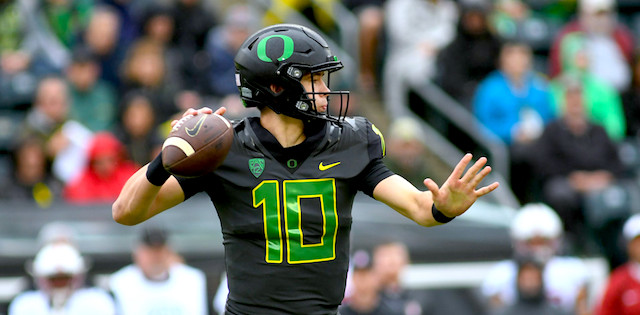 Welcome back RotoBallers! Below you will find our staff's updated 2020 fantasy football rookie quarterback rankings. These rankings are being released after the 2020 NFL Draft, but things will of course change as we get closer to the NFL season. You might have already seen the first iteration of our updated fantasy football rookie rankings, released the morning after the draft. Now, it's time to break down each position in detail.
The RotoBaller crew has been busy fine-tuning all fantasy football rankings in the hours immediately following the conclusion of the 2020 NFL Draft. The first task was to focus on the recently-selected prospects in order to prepare dynasty owners for upcoming rookie drafts. Analysts Brandon Murchison, Phil Clark, and Pierre Camus have put together their early consensus wide receiver rookie rankings for our loyal readers to use to their advantage.
Quarterbacks are tricky as they are not truly valuable outside of Superflex and 2-QB leagues due to their inherent replaceability for typical fantasy leagues. The 2020 Draft had its fair share drafted, but if you're looking for anything resembling a safe floor, I'd suggest looking elsewhere. Each and every QB drafted this year has his warts but luckily, a massive upside to go along with them. As always, we take a forward-looking approach with our evaluations. These are subject to change as things unfold over the offseason, but for now, here is a look at our quarterback rankings for the 2020 rookie draft class.
Featured Promo: Battle it out on Bettle with your season-long lineups! Join the free RotoBaller weekly contests on Bettle -- just important your season-long lineups and enter! Winners get a free year of RotoBaller Premium access for all sports ($450 value) plus another free $50 in Bettle credits!
Join Now!
NFL QB Rookie Rankings for Fantasy Football (Post-Draft)
Be sure to also check out our fantasy football rankings and analysis for the 2020 rookie running backs, rookie wide receivers, rookie tight ends, and our top 130 rookies list.
Tier 1 - QB Rookie Rankings
Joe Burrow is the unequivocal QB1 in this class. There are no ifs, ands, or buts about it. The Bengals did not think twice about drafting him and neither should you (if your draft position allows it). Burrow's historic Heisman campaign at LSU last season is only marred by the fact that he was not as successful the season before. The addition of Joe Brady and shift from a pro-style to a spread offense unlocked Burrow's game along with his teammates at LSU.
Burrow set the college passing touchdown record with 60 (and just six interceptions) while his completion percentage jumped nearly 20 percent from 57.8% to 76.3% between his redshirt junior and senior year. While he did a ton of talent/help around him in the form of NFL-level players such as Justin Jefferson, Ja'Marr Chase, Terrace Marshall, Clyde Edwards-Helaire, Saahdiq Charles, Damien Lewis, and Lloyd Cushenberry III, Burrow's ability to extend plays behind the LOS along with his natural touch on throws should allow him to translate well to the league.
He will be joining a Bengals team that is not without some talent of its own. In the second round of the 2020 Draft, Cincinnati added a premium prospect in Tee Higgins who was a top WR recruit out of high school and shined over the past two years at Clemson with 16 total touchdowns more than 2000 receiving yards. Higgins will be added to a solid receiving corps that featured Tyler Boyd, Auden Tate, and a former first-round pick, John Ross (who showed flashes in 2019). Not to mention, Burrow will potentially be throwing to A.J. Green if he does not get traded and have the luxury of handing the ball off to a premier running back, Joe Mixon if he does not hold out. The offensive line is improved as well since they are getting back a healthy Jonah Williams, their first-round pick in 2019 Burrow should be drafted in the top-3 of Superflex/2QB  leagues and towards the end of the first in typical dynasty rookie drafts.
Unpopular opinion #1 - Tua Tagovailoia is a luxury pick, not a building block.
While I do believe that Tua Tagovailoa is an incredibly talented quarterback, it is ridiculous to ignore the recent injury history. Tua is coming off of a hip injury that was discussed as potentially career-ending due to the severity. Luckily, he had great doctors on his side who repaired the broken ligament, and now, he is reportedly 100% healthy and recovered. While I am no doctor (despite being a RotoSurgeon), I am of the belief that Tua, even when cleared to play in September, is still at high risk of re-injury. The hits in the NFL come from significantly larger, and stronger individuals in college.
Despite the league doing everything in its power to mitigate the damage done to their star assets, it is nearly impossible to guarantee that they will not take a few hard licks during the coarse of a season. What happens when Tua is deemed a runner on a play and gets cracked from the side repeatedly throughout a year? Part of his appeal is his mobility, teams will have to determine whether it is worth taking away a dimension of his game in favor of his health. Alabama essentially did that in 2019 and we saw the offense take a step back from the incredible heights it reached the year before.
I have not even brought up the fact that Tagovailoa has had surgery to repair both ankles within the past two years. While this surgery was midseason to get him back on the field sooner, it is still very worrying to pile on to him. The term "injury-prone" is thrown around a lot and typically frowned upon from medical experts, however, when a player is showing you time-and-time again that his body cannot stay together while playing this game at a high-level, it might be appropriate in certain cases to stick them with that label.
Tua is a risky first-round pick in multi-QB leagues and should only be drafted by teams who can afford that risk. The upside is insane if he does manage to stay healthy, I just do not like those odds with a premium pick.
Tier 2 - QB Rookie Rankings
Justin Herbert might be an underwhelming QB prospect but boy, is he athletic.
Herbert is the prototypical tall, white QB that NFL front offices (like Denver) drool over because of the "tools". The fact of the matter is, while Herbert did have some success in Oregon, he was helped out a ton by a scheme that asked him to make a ton easy throws like screens and other open throws to the flat or just past the LOS that boosted his completion percentage and surface stats. Herbert completed just around 60% of passes that were not screen throws last season and did not show consistency in the intermediate part of the field, where an NFL QB should be asked to throw significantly more than in college.
To be fair, Herbert did not have close to the pass-catching talent that Hurts, Burrow, and Tua had in their respective offenses but that does not absolve him.
Herbert shouldn't be fully characterized as "inaccurate," however he does struggle in some aspects of the game that you would desire from a QB prospect and missing open receivers in the middle of the field a big worry. Accuracy is hard to teach, very few QB prospects truly become more accurate as they enter the league. Fortunately, there is no denying that he has a big arm and his athleticism will allow him to create with his legs when the right pass is not there.
If he can consistently make big plays downfield and not turn the ball over often, he should be a successful NFL quarterback despite probably not ever entering that upper-echelon of passers. A good comp for him is some mix of Ryan Tannehill and Josh Allen. Herbert should be in the league for a long time and be given every opportunity to succeed if health is not an issue. He's a fine upside pick in rookie drafts for his potential rushing production alone.
Tier 3 - QB Rookie Rankings
Jordan Love is an intriguing case. The Packers traded up from pick 30 to 26 in the first round to acquire the volatile QB who many deem as a bust from the jump. Love was favorably viewed after posting a 32 TD, 6 INT, 9.4 AY/A season while completing 64% of his passes in 2018 but absolutely fell off statistically in 2019. He threw nearly as many touchdowns and interceptions 20:17 lowered his completion percentage and his AY/A dipped to a 2017-like 6.4.
This raises eyebrows as to whether 2018 was just an aberration or if the loss of five out of his top-six primary receiving weapons (Darwin Thompson, Jalen Greene, Aaren Vaughns, Ron'Quavion Tarver, Dax Raymond), head coach and offensive coordinator played a major part in his regression. I'm tempted to believe the latter and that Love is not just some toolsy fluke.
Love is unfairly comped to Patrick Mahomes by some draft touts and it is wholly unfair to him to set some crazy standard like that. What Love does well is similar to what Mahomes does well in pocket-escapability and big-time throws but they are not on the same level. He is able to make throws on the move and sling dimes while at it.
Love is worth the upside, particularly in a plus-landing spot like Green Bay but is not worth taking too early in rookie drafts given that he is probably three or four years away from starting (much like the incumbent starter for the Packers).
Unpopular opinion #2 - Jalen Hurts is a gadget QB, not a future face of a franchise.
Jalen Hurts is Taysom Hill, if Taysom Hill was good at being Taysom Hill. Point being, he is so athletic that he belongs in the league but he just is not an accurate enough passer to cut it as a full-time QB. I am sure that in a spot-start situation, he could be a QB1 in fantasy due to his potential rushing production but that is not the ideal scenario for an NFL team to win unless in transitions its entire offense to a Ravens'-like mold on the fly.
What I see the Eagles doing with Hurts is operating him in short-yardage/goal-line situations to alleviate the hits that Carson Wentz will take. Hurts is not the "heir apparent" by any means. Wentz is only 27 and both of their contracts will run along the same timeline They'll utilize Hurts' size, athleticism, and durability on sneaks and QB runs that could option into passes to mix things up and give Wentz a break.
Hurts is deemed as this pick with massive upside, and it is possible he lives up to it if he was ever given the opportunity to start for a season, however, it would be unwise for any NFL team to make that decision if their goal was to win games.
Tier 4 and Lower - QB Rookie Rankings
This is really where we scrape the bottom of the barrel.
Jacob Eason and Jake Fromm were both potential Day 2 selection during the draft but saw their stock fall to Day 3. Eason landed in the more advantageous, long-term spot in Indianapolis while Fromm fell to the Bills in Round 6. Fromm is the antithesis of incumbent starter, Josh Allen, and has less of a challenge to eventually start if Allen goes down. Eason would have to challenge Jacoby Brissett for the QB2 role with the Colts and would likely lose that battle.
Fromm is much more game-ready than Eason due to his natural touch and awareness, however, Eason's upside is much larger due to his size and arm strength. Also, Philip Rivers is probably not the QB of the future with the Colts, opening up the door for Eason to have a slim chance of taking over in a year or two. Josh Allen is still extremely young and with his progression from year one to year two, it is doubtful that the Bills move on for at least a few years sans an absolute meltdown in performance.
Cole McDonald has a fun name and fun game but it is hard to see him taking over as a starter at the NFL level due to his unusual delivery and erratic game. He is athletic, stands at 6'4" 220lbs, and is quite capable of hitting some deep shots downfield. He has some of the best highlights in college. Unfortunately, a highlight reel won't win you games in the league.
Cole McDonald is a fun project for the Titans and is worth that late-round flier in multi-QB leagues given that he is capable of using his legs (750 rushing yards and 11 TDs last two years). He could easily become the Titans' QB by beating out former Toledo and AAF QB Logan Woodside and maybe start a few games this season if Tannehill goes down.
Nate Stanley landed in Minnesota where he would probably never be asked to throw given how little their scheme asks of QBs along with his inability to do much besides stand in the pocket.
Anthony Gordon is a low-key winner after signing with the Seahawks. While there is no chance in hell that he starts in place of a healthy Russell Wilson anytime soon, the QB2 job there is basically his already because there are only two QBs in that room. Gordon showed flashes in Mike Leach's spread offense last season and looked like someone who could be drafted not only off of his tape but because of Gardner Minshew's success translating to the league. Gordon might struggle when asked to operate a pro-style scheme but at least for fantasy purposes, he could get a few spot starts if he sticks around.
More NFL Draft and Fantasy Football Rookies
Check out all of RotoBaller's fantasy football rankings. Staff rankings are updated regularly for all positions and include standard formats, PPR scoring, tiered rankings and dynasty leagues.