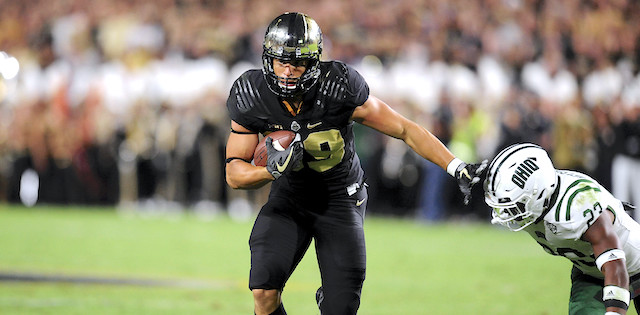 Welcome back RotoBallers! Below you will find our staff's updated 2020 fantasy football rookie tight end rankings. These rankings are being released after the 2020 NFL Draft, but things will of course change as we get closer to the NFL season. Those of you who are regular RotoBaller readers have likely already seen our updated overall fantasy football rookie rankings, released the morning after the draft. Now it's time to break those down in detail, going position by position with some tiered rankings analysis.
The RotoBaller crew has been busy fine-tuning all fantasy football rankings in the hours immediately following the conclusion of the 2020 NFL Draft. The first task was to focus on the recently-selected prospects in order to prepare dynasty owners for upcoming rookie drafts. Analysts Brandon Murchison, Phil Clark, and Pierre Camus have put together their early consensus tight end rookie rankings (with overall rookie rankings listed) for our loyal readers to use to their advantage.
The tight end position is arguably the least-reliable position for immediate contributions considering the nuances that many rookies need to learn - run blocking, pass blocking, route trees, motion concepts, etc. Since 1996 only three rookie tight ends have scored over 100 points and only five have finished in the top-10 at the position during that season. In addition, the 2020 NFL Draft class was deep at many positions but tight end was certainly not one of them, so while we explore the rookie tight end class, it's important to keep in mind that most of these players will have little success during their first season and only a small handful of them are likely to become fantasy-viable in general. That's why it's so crucial that you select the right one in upcoming drafts.
Featured Promo: Our friends at RIVAL Fantasy have created fun and unique DFS games including over/under contests and Fantasy Bingo. Use promo code BALLER to get a free year of RotoBaller Premium access ($199 value), and a $50 risk-free deposit.
Play Now!
NFL TE Rookie Rankings for Fantasy Football (Post-Draft)
Be sure to also check out our fantasy football rankings and analysis for the 2020 rookie running backs, rookie wide receivers, rookie quarterbacks, and our top 130 rookies list.
Tier 1 - TE Rookie Rankings
Tier 4 for All Rookie Positions/Ranks
Cole Kmet was the first tight end off the board and joins a ridiculously large tight end group in Chicago that is currently at ten after undrafted free agent signings. Obviously, the room will not end up that crowded, but the Bears did just throw $9 million guaranteed at Jimmy Graham on a two-year deal, which suggests they view him as a starting option.
Graham hasn't been effective in years, so Kmet could easily beat him out, but the rookie is not a strong enough blocker to currently start in the Bears offense, which asks their tight end to go in motion and block out in space a fair bit. If Kmet does improve there and gets on the field more, he could become fantasy relevant by the end of the season or in 2021 since the tight end is a crucial part of the Bears system and the Notre Dame product is a good in-line threat.
His hands are solid, but not great, and he's not going to do much damage after the catch so his upside will always be dependent on seeing a large enough target share and getting red zone looks, but there aren't many sure-fire hits at the tight end position anyway.
Devin Asiasi becomes an intriguing name because of where he landed. We all know the Patriots have loved to use their tight end in the past, but with Tom Brady gone and Bill Belichick likely not far behind him, the Patriots offense could look vastly different in a year or two. Asiasi is a bit of a raw prospect with only one year of production in college and work still to do on filling out his frame and getting stronger as a blocker.
However, he has upside as a receiving target, with good hands and solid quickness for the position. The Patriots are notoriously hesitant to allow rookies on the field, so Asiasi will need to show himself to be a consistently strong blocker at the NFL level before he sees any action, but his overall athleticism and solid hands give him more potential upside than Kmet, just with a much lower floor.
Tier 2 - TE Rookie Rankings
Tier 5 for All Rookie Positions/Ranks
Adam Trautman may be my favorite tight end in this class from a long-term fantasy perspective. He's a bit raw since he came into college as a quarterback, but he has ideal size for the position and tremendous athleticism. He was a basketball player, so he can keep defenders on his back and go up and high point a pass, but he also has the versatility to line up in different formations.
He's learning the technical aspects of blocking, but he has shown an aptitude and a desire for it, which is encouraging. He also landed in an ideal long-term spot. He won't contribute much as a rookie given his necessary growth and the presence of Jared Cook, but Cook is 33 and signed for only one more year, so Trautman could emerge in 2021 as a top-10 fantasy tight end in the Saints high-powered offense.
Harrison Bryant is a gifted receiver who ended up in a poor spot. The Browns just signed Austin Hooper to be the highest-paid tight end in football and still have David Njoku on the roster - a former first-round pick with elite athleticism who they couldn't find a way to get production out of when he was healthy. Bryant's future will entirely depend on how he is deployed because he is not strong enough or a good enough blocker to be a traditional tight end.
He will need to go in motion or line up out wide and operate mainly as a receiver. That's problematic on a roster that already has Odell Beckham Jr., Jarvis Landry, and Austin Hooper. Until one or more of those players leaves town, it's hard to see Bryant having much fantasy value, but with trade rumors circling around OBJ, you could take a stab at the rookie and hope he becomes a Gerald Everett-type in the Browns offense.
Albert Okwuegbunam also landed in a bad spot for consistent fantasy value. Yes, he gets to play with his former college teammate Drew Lock, but he's also playing behind last year's first-round pick Noah Fant. The two are similar as "speed" players at the position, but Fant has much better quickness which allows him to get open underneath more often than Okquegbunam showed in college. The rookie's ceiling appears to be as a back-up tight end who could hit a splash play or two with his good straight-line speed.
Brycen Hopkins is another player who landed in a poor spot for immediate production. A solid receiving option with elite route running ability and the hands to be an effective downfield threat, Hopkins joins a tight end room that already has two similar players in Gerald Everett and Tyler Higbee.
Despite not being exceptionally big, Hopkins is a willing and able blocker in space, so he fits in perfectly with the Rams offensive scheme; he just won't have much playing time early on to demonstrate that. Higbee is under contract until 2023, but Everett will come off the books after this season, so there is a chance for Hopkins to carve out a large share of the tight end role if the Rams decide not to bring Everett back. It's a roll of the dice, but the upside is there for him to be just behind Trautman in terms of ultimate fantasy success in his current system.
Tier 3 - TE Rookie Rankings
Tier 6 for All Rookie Positions/Ranks
Dalton Keene was the other tight end the Patriots took in the draft. An extremely versatile athlete, Keene managed to show out despite few opportunities at Virginia Tech. He proved to be a strong blocker with good hands that was able to break tackles and fight for jump balls.
As an alleged exceptional worker, Keene has the chance to be the type of player that is far more successful as a professional than a collegiate athlete, and he's in the system to do it. Based on his flashes of playmaking ability and his grinder mentality, I'd pick Keene over Asiasi as my long-term bet in New England, but it just might take a few years.
Tier 4 and Later - TE Rookie Rankings
Tier 7 for All Rookie Positions/Ranks
Thaddeus Moss is another one of the players in the aforementioned Bears tight end room after latching on as one of the higher-profile undrafted free agents. Randy Moss' son is not a dynamic athlete, which is likely why he slipped in the draft, but he is a physical and capable blocker, which will keep him on the field in the NFL, particularly in the red zone. Since Moss also has a wide catch radius and solid hands, his ability as a blocker could allow him to become a touchdown-dependent threat in the NFL, much in the same way Kyle Rudolph has.
Colby Parkinson landed in possibly the best spot after being drafted by the Seahawks. Pete Carrol's offense loves to use the tight end and so does Russell Wilson, which is why an unknown player like Will Dissly was able to rise to fantasy prominence this past season. However, Dissly has now suffered season-ending leg injuries in back-to-back seasons which left Jacob Hollister as the top option in Seattle.
Parkinson is a massive 6'7" and has shown the ability to make strong catches with his hands, which gives him an incredible catch radius. He's a willing blocker, so he doesn't need to be removed from the field in run situations, and his size obviously gives him huge touchdown potential. He works best in a tandem with a small more athletic player like Hollister, so Parkinson has the upside in this offense to be snagged late in dynasty drafts.
Sean McKeon picked a good spot for himself by signing an undrafted free agent contract with the Cowboys, who brought Jason Witten out of retirement because they were so disappointed with their tight end performance. McKeon is similar in that he's not an elite athlete but has exception hands and the ability to make difficult contested catches. He's an effective blocker but not exceptionally big or strong, so he won't be an every-down player; however, he could easily fill the role that Witten had for years in Dallas as a smart player who gets the most of his limited athletic ability.
Hunter Bryant is more of a move tight end who will contribute as a wide receiver rather than an in-line blocker. He has great ability after the catch and solid quickness, which will enable him to lineup flexed out wide in the slot. Bryant will likely not emerge as a starter at tight end given his size limitations and the presence of T.J. Hockenson, but Detroit doesn't exactly have a stable underneath option in their passing game, so it might come down to a battle between Bryant and fellow rookie Quentin Cepheus to see who fills that role. Bryant's ceiling is likely capped in that situation, but he has enough athleticism to become an intriguing stash in deeper leagues as a potential big slot receiving option.
More NFL Draft and Fantasy Football Rookies
Check out all of RotoBaller's fantasy football rankings. Staff rankings are updated regularly for all positions and include standard formats, PPR scoring, tiered rankings and dynasty leagues.