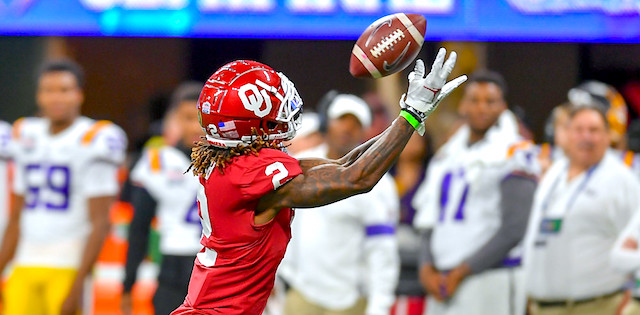 Welcome back RotoBallers! Below you will find our staff's updated 2020 fantasy football rookie wide receiver rankings. These rankings are being released after the 2020 NFL Draft, but things will of course change as we get closer to the NFL season. It's been well-documented that the 2020 wide receiver class is one of the best to come our way in quite some time. The NFL draft didn't disappoint, with six receivers getting drafted in the first round, and two more receivers getting drafted with the first two picks of the second round.
Those of you who are regular RotoBaller readers have likely already seen our updated overall fantasy football rookie rankings, released the morning after the draft. Now it's time to break those down in detail, going position by position with some tiered rankings analysis. The RotoBaller crew has been busy fine-tuning all fantasy football rankings in the hours immediately following the conclusion of the 2020 NFL Draft. The first task was to focus on the recently-selected prospects in order to prepare dynasty owners for upcoming rookie drafts. Analysts Brandon Murchison, Phil Clark, and Pierre Camus have put together their early consensus wide receiver rookie rankings for our loyal readers to use to their advantage.
The big surprise in the first round came when CeeDee Lamb slipped all the way to the Dallas Cowboys, who now have one of the best wide receiver corps in the NFL. On the other hand, Denzel Mims and Jalen Reagor were drafted to the NY Jets and Philadelphia Eagles, two teams that desperately needed help at wide receiver which means they should both contribute immediately. Some of these highly touted wide receivers were drafted into great landing spots which elevates their fantasy value. Brandon Aiyuk operates great in space and was drafted to the ideal team, the San Francisco 49ers, who love to get the ball to their wide receivers in space. Tee Higgins was drafted to the Cincinnati Bengals in the second round, is likely to start immediately and should eventually replace AJ Green who will be 32 when the season starts as the Bengals X receiver. On top of all that, Higgins will be playing with Joe Burrow for the better part of his career which is a huge plus. Now, I will evaluate some of the top receivers and their 2020 outlook, broken down by tier.
Editor's Note: Our incredible team of writers received 13 award nominations by the Fantasy Sports Writers Association including Baseball Writer of the Year, Football Writers of the Year, Golf Writer of the Year and many more! Be sure to follow their analysis, rankings and advice all year long, and win big with RotoBaller!
Read More!
NFL WR Rookie Rankings for Fantasy Football (Post-Draft)
Be sure to also check out our fantasy football rankings and analysis for the 2020 rookie running backs, rookie tight ends, rookie quarterbacks, and our top 130 rookies list.
Tier 1 - WR Rookie Rankings
Jerry Jeudy was the clear No. 1 wide receiver prospect heading into the 2020 NFL Draft. A few days prior to the draft, stories began circulating which cast doubt about Jeudy's surgically repaired knee and it's possible that news caused him to slip down to the Broncos at 15th-overall. While Jeudy is one of the most complete wide receiver prospects to enter the league over the last few years, demonstrating smooth and near-perfect route running, his landing spot has some question marks as Drew Lock will be entering his first year as a starting quarterback in the NFL.
In limited action in 2019, Drew Lock was rather conservative, throwing for just 6.5 yards-per-attempt and an average depth-of-target of just 7.1 yards. While playing conservatively, Lock did take care of the football last year, throwing for seven touchdowns and just three interceptions. Lock's downfield passing numbers were similar to Derek Carr's in 2019, so 2020 will be a big year for him because he has a chance to grow from last year's performance.
Pat Shurmur is the new offensive coordinator in Denver and has a great track record with quarterbacks, which means he should be able to get the best out of Lock, which is also good news for Jeudy. Regardless of quarterback play, Jeudy is the No. 1 wide receiver in the 2020 rookie class and should be the first wide receiver drafted in upcoming rookie drafts because he should have success in the league for the next decade.
Tier 2 - WR Rookie Rankings
Jalen Reagor was drafted into the best landing spot out of all the wide receivers in the 2020 draft class. DeSean Jackson missed almost all of the 2019 season due to injury and as a result, the Eagles lacked speed at wide receiver which contributed to Carson Wentz throwing for just 6.7 yards-per-attempt, his lowest mark since he was a rookie. Reagor runs great routes, can separate, and he brings speed to the table, something the Eagles didn't have in 2019.
Reagor's speed is going to help the Eagles who already have one of the best young quarterbacks in the league (Carson Wentz), a budding star at running back (Miles Sanders) and arguably the best duo of tight ends in the league (Zach Ertz and Dallas Goedert). While Reagor is the third-ranked receiver in dynasty formats, you can argue that he should be the first receiver drafted off the board in re-draft leagues given his landing spot.
Henry Ruggs III was the first wide receiver selected in the 2020 NFL draft and the Raiders took him for a reason, they really need some speed on offense. In 2019 Derek Carr threw for 7.9 yards-per-attempt which was the highest mark of his career, but he only threw the ball an average of 6.9 yards downfield per attempt which was a very low mark.
At first glance, Ruggs appears to be miscast in Oakland given the fact that Carr doesn't really push the ball down the field a lot, but Ruggs brings a dimension of speed to the Raiders that they haven't had for quite some time. Given Ruggs' speed, Jon Gruden should be able to scheme deep-shots to him and get him the ball in space so he can catch and run. Josh Jacobs is a rising star in this league and commands respect from opposing defenses, which means that the Raiders are sure to use play-action to get Ruggs the ball deep.
Tier 3 - WR Rookie Rankings
Michael Pittman Jr. is the wide receiver to target in this third tier. Pittman has the height, speed, and ability to separate that will make him a star in this league. On top of that, his father was a running back in the NFL and won a Super Bowl with the Buccaneers, which means he has the pedigree to be a professional football player.
Although new Colts quarterback Philip Rivers has lost some of his arm strength over the years, in 2019 two wide receivers, Mike Williams and Keenan Allen, went over 1,000 yards receiving with him throwing them the ball. Rivers will have one of the best offensive lines in the league blocking for him which is good because he's not very mobile, so he will have time to get the ball down the field.
Pittman shouldn't draw extra attention because the Colts drafted a stud running back in Jonathan Taylor and they still have TY Hilton who will line up opposite Pittman. All signs point to Pittman having a big 2020 season and solid career in Indianapolis.
Tier 4 - WR Rookie Rankings
Tyler Johnson was a stud wide receiver for the University of Minnesota, and while he isn't exactly a burner, he can play, catching 13 touchdowns and 1,318 receiving yards in 2019. Johnson was drafted to Tampa Bay, who already has a crowded receivers corps with Chris Godwin and Mike Evans, but as we saw in 2019, injuries can happen.
In 2019, the Buccaneers ran 11-personnel on 51% of their plays, so Johnson does have an opportunity to get on the field as a rookie. This offense is going to be explosive in 2020 with Tom Brady leading it and Johnson has a legitimate chance to excel immediately, especially since the opposition will be paying attention to the likes of Mike Evans, Chris Godwin and Rob Gronkowski when he's on the field.
More NFL Draft and Fantasy Football Rookies
Check out all of RotoBaller's fantasy football rankings. Staff rankings are updated regularly for all positions and include standard formats, PPR scoring, tiered rankings and dynasty leagues.