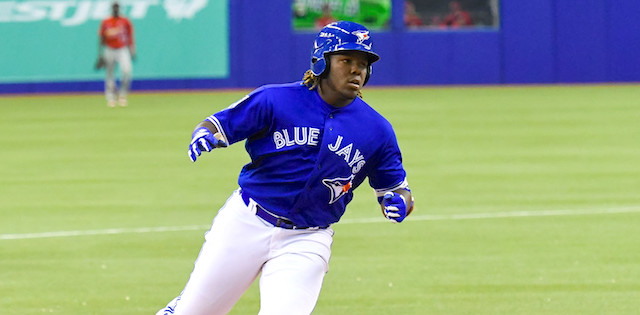 With the MLB regular season winding down, we begin to close in on the final stretch of your fantasy baseball championship run. We've collected some of the brightest baseball minds here at RotoBaller to deliver you our rest-of-season rankings analysis to help you secure your league title. Now that fantasy football is nearly in full swing, take advantage of distracted managers in your league by staying active on the waiver wire and staying on top of trending hitters.
Today we'll look at the brave souls who handle the hot corner. Third base has been known for its power producers over the last handful of years, and 2019 is no different. Four of the top six RBI leaders are third baseman, but if you're looking for speed, you're not going to find it at this position. With several breakout players, rookie call-ups, and the inevitable injury bug keeping some stars sidelined, it's a vastly different looking arrangement of talent than what we saw even at midseason.
Third base may have the deepest talent pool in the infield, but there's a vast difference from the top-tier players to those in the middle tiers and beyond. There's a lot of data to sift through so let's dive into the analysis.
Featured Promo: Want a free RotoBaller Premium Pass? Check out these sports betting promo offers from the top sportsbooks! All new sign-ups get a free bonus offer on their first deposit, and a free year of RotoBaller's Premium Pass for all sports ($450 value)!
Sign Up Now!
Updated 3B Ranks - 5x5 Mixed Leagues (September)
In case you missed it, our very own "Big Pick Nick" Mariano was recently named the #1 overall most accurate industry expert ranker for the 2018 season. You can see his secret sauce below!
Rankings Analysis - Top Tiers
Tier One
It's a closely ranked group of players at the top of these rankings with all four of these bats sporting similar roto numbers. Nolan Arenado is the consensus number one here, but as far as second-best, I'm more bullish on Alex Bregman than our other experts. He's as consistent as they come and also offers positional eligibility at shortstop as an added bonus. He's already slugged a career-high 32 homers, and his 101 runs and 90 RBI will easily eclipse his previous bests of 105 and 103 respectively, with 30 games left in the campaign.
Rafael Devers has made the jump to elite status with his remarkable play this season. His 103 RBI lead the AL, plus his 78 extra-base hits lead all of baseball, and he's yet to turn 23 years old. Devers' most significant area of improvement from his rookie year has been his ability to cut down on his strikeouts from a 24.7% K-rate in 2018 to 16.0% this season. His knack to put the ball in play paired with his fifth-best 92.7 MPH Exit Velocity has made him one of the toughest outs in the majors.
Tier Two
After a brief stint with the Phillies in 2018, Carlos Santana has returned to Cleveland and is enjoying his best offensive season at age-33. Always known as a darling in points league, Santana has contributed more than a good K/BB ratio in 2019 by slashing a career-best .292/.414/.544 with 30 big flies so far in 2019. The switch-hitter continues to bat well on both sides of the plate, and is blowing his previous Statcast bests out of the water with a 45.4% Hard Hit%. 91.9 MPH Exit Velocity, and a 10.5% Barrel% this year. With Jose Ramirez out for the regular season, Santana's numbers may not flourish as much, but he's a safe bet to keep it going through September.
Tier Three
Eugenio Suarez has woken up his bat since a dreadful June where he hit a putrid .185 in 24 games. He's collected 20 long balls since then and currently sits tied with Mike Trout for the most homers in this span. With fewer men getting on base ahead of him this year, I'm not as high on the 28-year-old as he currently sits with 22 fewer RBI from 2018 despite having three more home runs already. Suarez' K-rate has also seen a gradual increase every month with a 31.3% mark so far in the second half. He'll remain an asset in the HR column, but he lacks in other categories compared to other players at the position.
Josh Donaldson's one-year prove-it deal with the Braves has paid off for both sides this season. He seems to get better every month as he sits with a crisp .288 average since the All-Star Game with 14 dingers and an impressive 15.8% walk rate. The best news of all its that he's at full health after a couple of down years and is contributing in abundance as the cleanup hitter in Atlanta. If the top three batters in that lineup weren't so capable at getting themselves home, Donaldson's 76 RBI would be a much richer number.
Rankings Analysis - Middle Tiers
Tier Four
After a breakout campaign a year ago, Max Muncy has silenced his critics from the preseason with an even more productive 2019. He's already surpassed his run and RBI totals from 2018 with 89 R and 87 RBI in nine fewer games, and sits two homers shy of last year's mark with 33. The left-handed slugger is surprisingly hitting southpaws better than right-handers this year with a .264 BA despite a 25% increase in defensive shifts against him. Muncy has been a bit sluggish so far in the second half, but he'll remain racking up stats as the primary two-hole hitter.
Vladimir Guerrero Jr.'s second-half improvements have made me more convinced that he'll become an MVP in this league someday. Defying the myth of the "Home Run Derby Slump," Guerrero Jr. has done the exact opposite since the break turning a .249 batting average before the break to a .329 mark post-break. He's nearly doubled his home run total in this span with seven, while dialing back his strikeouts from an already outstanding 18.6% K-rate to an elite 14.3%. Not to mention his line drive-rate and Hard Hit% has also seen a gradual increase from month to month, making the 20-year-old a more threatening player in the batter's box with every AB he accumulates.
Tier Five
It's hard to argue against Gio Urshela after what he's done filling in at the hot corner for the Yankees this season, but I'm still a bit resistant. He's come out of literally nowhere to become a top-15 player at the position despite never before playing as an everyday starter over his previous four years in the league. Urshela has hit an unfathomable .331 with 18 homers in 112 games for the Bronx Bombers after entering the year as a .225 career hitter with eight HR in 167 games played. What stands out the most is that he's never once finished a minor league season hitting higher than .290, which came way back in Single-A in 2010. It's hard to believe Urshela's play has continued at this torrid pace, and you have to think regression will come knocking before the season ends.
Owners of Ryan McMahon need to sit his left-handed bat whenever he plays away from the hitter-friendly confines of Coors Field. He's slashing an abysmal .223/.323/.340 on the road with an equally as ugly 31.3% K-rate compared to a .304/.369/.577 slash line and 25.7% K-rate at home. That's basically 2018 Matt Carpenter at Coors and 2019 Matt Carpenter everywhere else. It's never a good idea to rely on a player with such diverse splits, but luckily the Rockies have only six road games lined up over their next 20 contests so you can delay his inevitable roster snip for now.
Tier Six
J.D. Davis is having an underrated season for the Mets in 2019. Since becoming an everyday player near the end of July, he's hit an outstanding .337 with seven homers and 19 RBI batting right behind the meat and potatoes in the New York batting order. His 164 wRC+ in this timeframe would rank as the best number among all qualified third baseman, and it's a crime he wasn't handed the reigns as a starter much sooner. Davis' 48.2% Hard Hit% sits in the league's top 7%, and his 91.7 MPH Exit Velocity is following close behind in the league's top 8%. If you haven't bought in yet, now is the time.
Despite a healthy season, Will Myers' stat line has looked like that of an injured player. He's hit a miserable .223 with 14 homers, 49 runs, and 39 RBI in 126 games this season while his playing time continues to decrease. The Padres have recently been putting catcher Francisco Mejia in left field, muddying the outfield waters even more despite the departure of Franmil Reyes at the deadline. Myers is sitting on a career-low 35.3% K-rate, which is also the worst mark among hitters with at least 350 plate appearances. The 28-year-old has become droppable in all formats.
Rankings Analysis - Lower Tiers
Tiers Seven And Eight
Kyle Seager is looking more like himself than at any point over the last two seasons. He averaged 27 HR, 79 R, 89 RBI, and a .265 BA from 2014-17 and if we extrapolate his injury-shortened 2019, we get 36/87/102/.250. These numbers may be a bit inflated from a red-hot August that's seen him hit .333 with eight round-trippers, but his promotion to the cleanup spot will keep giving him opportunities to rack up stats. It appears like Seager is fully healed from a hand injury that kept him out the first two months of the season.
A player who might see his ownership fly through the roof shortly is Tommy Edman of the Cardinals. He's taking over starts at both third and second base while batting in the two-hole versus lefties. He's punished these hurlers so far with a .321 BA, and is no slouch against righties either with a .265 BA. As a switch-hitter, he's getting in the lineup every day and has already racked up five homers and nine steals in his first 218 PA as a big leaguer. Edman can help out in all five roto categories with an emphasis in the BA, R, and SB columns.
More Fantasy Baseball Rankings Analysis