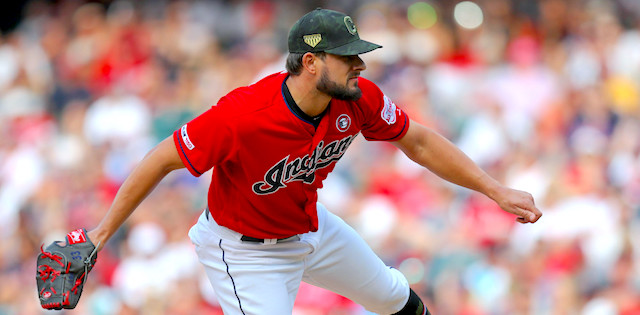 Projecting relievers is notoriously tricky, and that's especially true after an irregular 2020 season. As is prone to happen in small samples of performance, otherwise strong relievers sometimes have down seasons that are not entirely in their control.
Still, some relievers are more likely to bust than others, and fantasy managers would do well to avoid those relievers on draft day. That doesn't mean that these pitchers should be avoided at all costs -- at low enough ADPs, even the riskiest player can be tolerated -- but the pitchers listed below are exceptionally risky given their draft prices.
"Bust" can be a fairly subjective term, so here are a few ground rules before getting into the list: a pitcher would be a bust if they perform at a level that could plausibly be replaced by a player with an ADP around or above 100 picks later than their own, and a pitcher must have an ADP more expensive than 250 to be considered a true bust for fantasy purposes. With that in mind, below are three relief pitchers with relatively high chances of being busts in 2021.
Featured Promo: Get any full-season MLB and DFS Premium Pass for 50% off. Exclusive access to our Team Sync platform, Premium articles, daily Matchup Rating projections, 15 lineup tools, DFS cheat sheets, Research Stations, Lineup Optimizers and much more!
Sign Up Now!
Brad Hand, Washington Nationals
ADP: 135.17
Hand enjoyed an excellent 2020 season that saw him lead the league in saves while posting a sparkling 1.37 FIP, but some under-the-hood concerns make the 30-year-old a bust candidate for 2021. Most concerningly, Hand's fastball velocity fell for the second consecutive season, taking the pitch's swinging-strike rate down with it.
Before 2020, Hand's fastball hadn't posted a swinging-strike rate below 9% since 2015, a season before his breakout as an elite reliever. And Hand's diminished fastball performance contributed to his lackluster 10.5% overall swinging-strike rate, making his 33.7% strikeout rate unusually reliant on called strikes and likely to regress significantly in 2021.
Without a functional four-seam fastball (and barring any significant pitch-arsenal changes), Hand will effectively be a one-pitch pitcher (slider) with a couple of mediocre but not ideal secondary offerings. In that scenario, Hand would likely post an ERA around 4.00 without a steady hold on the closer role in Washington. That's a lot of risk for a reliever with a top-150 ADP, and fantasy managers should be wary of drafting Hand that early as a result.
Dustin May, Los Angeles Dodgers
ADP: 162.65
May placed fifth in NL Rookie of the Year voting following 56 productive innings with a 2.57 ERA, but the 23-year-old isn't even guaranteed a spot on the Dodgers' Opening Day roster in 2021. After signing Trevor Bauer this offseason, the Dodgers boast a loaded pitching staff that includes a talented and crowded bullpen.
With three minor-league options left, the Dodgers may elect to start May off in the minor leagues this season. That would put a significant dent in his fantasy value on its own, but May's major league innings aren't likely to be particularly valuable either. Likely to pitch mostly as a long reliever or opener in the major leagues given the state of the Los Angeles rotation, May will likely be a non-contributor for most fantasy categories (except for in leagues that value holds). That makes May one of the more obvious bust candidates at reliever for 2021, and fantasy managers should avoid him in drafts as a result.
ADP: 102.96
Karinchak is one of the league's most exciting pitchers, but his high walk rate makes him a bust candidate for the 2021 season. After walking 5.5 batters per nine innings over his minor league career, Karinchak posted an ugly 14.7% walk rate in the major leagues last season that was supported by a low 38% zone rate and a mediocre 31.4% chase rate. 
Only one pitcher (Aroldis Chapman in 2018) collected more than 20 saves with a walk rate higher than 14% since the start of 2015, and no other reliever in that sample picked up more than 16. To be fair, most relievers don't also post a 17% swinging-strike rate as Karinchak did in 2020 (and could plausibly do again in 2021), but those numbers underscore the risk involved in investing an early-round pick on a walk-happy closer.
Pitching for a depleted Indians team doesn't help matters. Cleveland is projected to be decent in 2021 with Pecota expecting roughly a .500 season, but more wins would likely be a boon for Karinchak's fantasy value (Chapman's Yankees had 100 wins in 2018, for reference). Save opportunities and wins don't correlate particularly strongly, and there have been some notable low-win, high-save-opportunity teams in recent history (like the 2019 Tigers, who won 47 games but provided their relievers with 67 save opportunities), but a stronger Indians team would likely only help Karinchak.
Overall, Karinchak is a high-risk, high-reward option for fantasy managers in 2021. Given his relatively expensive 107 ADP, that risk level makes Karinchak a bust candidate in 2021. 
Download Our Free News & Alerts Mobile App
Like what you see? Download our updated fantasy baseball app for iPhone and Android with 24x7 player news, injury alerts, sleepers, prospects & more. All free!


More Fantasy Baseball Busts and Avoids