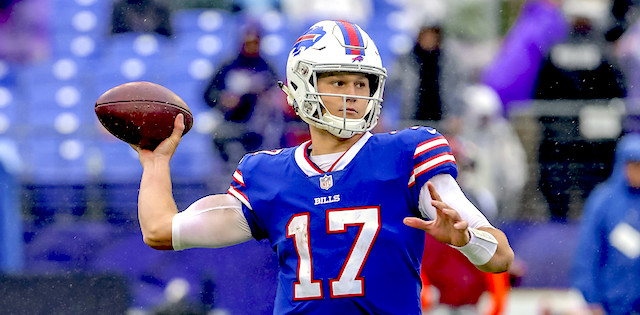 I've always believed that it is easier to lose a fantasy championship than to win it on draft day. It makes sense, as sure-fire players are expected to reward their owners with a lower risk-factor than the other way around and thus they're always drafter earlier. If they put up a season-long dud, though, you'll be left in the dust. Drafting the unexpected league-winning player is always a hard task and something more random than not, so consider yourself lucky if you found yourself in that position.
No matter what, though, there are always players that fall into one of those two categories at the end of the year and provided much more -- or less -- ROI than they were expected to before the season kicked off. Using a combination of ADP values from MyFantasyLeague.com, which uses different leagues to factor their average positions, I will examine the biggest gainers and fallers of 2019 at each position during this series of articles.
It's time to assess how the season went at the quarterback position, where one guy had a season for the ages after dropping out of the first eight rounds in most drafts, while others who were considered sure-fire bets didn't perform up to the expectations. Here are your ADP winners and losers at QB in 2019.
Editor's Note: Get any rest-of-season NFL Premium Pass for 50% off. Our exclusive DFS Tools, Lineup Optimizer and Premium DFS Research through the Super Bowl.
Sign Up Now!
QB ADP Winners
Lamar Jackson, Baltimore Ravens (ADP QB16, finished QB1)
Nobody, and I mean nobody, will convince me that they saw this coming. It was probably written there and at plain sight, but nobody could see the forest for the trees. What happens when you mix a running back and a quarterback into a single player? You get a league winner. Enter Lamar Jackson. With an ADP of QB16 and 111 overall, Jackson went completely under the radar and was just a flier for those passing on quarterbacks early, opting to punt on the position early and take their chances later. Talk about a winning move. Jackson wasn't just the best QB but also the second-best player of the year all positions considered with a total tally of 417.7 fantasy points and an average of 27.8 FP/G; that is, over six fantasy points per game more than QB2 Deshaun Watson!
Dak Prescott, Dallas Cowboys (ADP QB15, finished QB2)
For the second year in a row, Prescott beat the odds and after being drafted as a QB2-performer with an ADP of QB15 he broke into the top-three at the position to the tune of 21.2 fantasy points per game only bested by Jackson and Watson. The Cowboys underachieved in the real-life NFL but Prescott was a weekly fantasy darling and finished the season with almost 5K yards (4,902) and 30 TDs while adding 277 yards on the ground to go with three more touchdowns. It must be frustrating for those passing on them, but Jackson and Prescott were going off the boards as back-to-back QB selections and they also finished the year as the best one-two punch at the position.
Josh Allen, Buffalo Bills (ADP QB21, finished QB6)
Honorable mention to those banking on Josh Allen this season. He was a risky bet indeed and his ADP couldn't make it clearer: Fantasy owners were drafting Allen as a low-end QB2 in 12-team leagues, only three spots ahead of the QB3 pack of players at the position. The result by January's start was completely different, as Allen's turned out to be the poor's man Lamar in 2019. Allen's passing numbers (341 completions, 4,110 yards, 20 TDs) were virtually the same as Jackson's except for the touchdowns, and the former did also rush for more than 500 yards (510) on the year to beat Jackson on the scoring category on the ground with nine TDs (Jackson scored seven). Both Lamar and Josh proved that rushing is a weapon to be considered when drafting a quarterback and that will probably be the No. 1 trend in 2020 drafts with regards to the QB position.
QB ADP Losers
Baker Mayfield, Cleveland Browns (ADP QB4, finished QB20)
The hype surrounding the Cleveland Browns during the 2019 summer was surreal. The addition of Odell Beckham Jr. and a supposed step up by Mayfield made both players early draftees with high upsides. That was far from the ultimate, actual reality, though. Mayfield finished the year performing as a low-end QB2 and his average 14.6 FP/G were bested by as many as 25 other quarterbacks. Mayfield completed less than 60% of his passes, fell under the 4,000-yard mark (3,827) and had a TD:INT ratio of 22:21, virtually a 1-for-1 on the year. By season's end, his owners were at such a low point that they could even thank him for at least keeping his fantasy value up by rushing means with his three touchdowns on the ground.
Patrick Mahomes, Kansas City Chiefs (ADP QB1, finished QB7)
You might not consider this pick a fair one, but I'm of the opinion it is. Saying Mahomes' drop from QB1 to QB7 made his owners "losers" on the season may look like a stretch, but let me get to a finer level of detail: Mahomes' overall ADP was 14.9, which means he was drafted at the start of the second round on average. The QB7 by ADP (Russell Wilson) was drafted at the 74.9 spot on average, thus belonging to the sixth round. Now the drop from QB1 to QB7 feels more substantial, right? Mahomes still finished the year with a total of 287 fantasy points and averaged north of 20 FP/G (20.5) good for seventh-best at the position weekly, but that wasn't even remotely close to the price his owners paid for him while passing on much better players at other positions such as RB or WR.
Aaron Rodgers, Green Bay Packers (ADP QB3, finished QB9)
In a somewhat similar situation to that of Mahomes, Rodgers didn't reward his owners with as many fantasy goodies as they expected when they made him their third-round pick on average. Although Rodgers was able to finish inside the top-12 players at the position his average FP/G of just 17.4 was fairly low for someone getting off the board as early as the QB was. Rodgers broke the 4K-yard mark by a hair (4,002) and had a great outcome of 26 TDs against only 4 INTs, but his rushing was virtually non-existent and that kept him from reaching higher heights in 2019.
More Fantasy Football Analysis