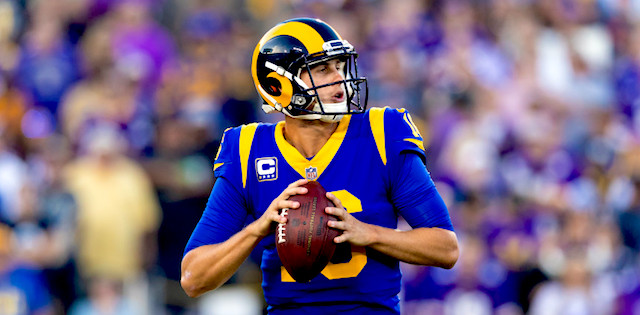 Week 16 is here, and fantasy championships are on the line. Some teams head into the fantasy finals as big favorites but others are scrapping to pull off a big win as underdogs. Real teams start at quarterback, and the position is pretty important for fantasy as well.
Quarterbacks have changed the game for fantasy football this year with guys like Lamar Jackson and Josh Allen taking full advantage of their running ability to stress defenses. It gives you more viable options on a week-to-week basis.
Right now, these are the weeks that we've spent months preparing and competing for. There's no room for an error, and it's not time to get cute. We have to set our best lineups to win because we aren't coming back next week if we don't.
Editor's Note: Get any rest-of-season NFL Premium Pass for 50% off. Our exclusive DFS Tools, Lineup Optimizer and Premium DFS Research through the Super Bowl.
Sign Up Now!
Look Away Before It Gets Ugly
Jared Goff @ San Francisco 49ers
You're telling me that Los Angeles Rams quarterback Jared Goff has to go on the road in a do-or-die game against one of the best teams in the conference. I don't like his odds. His offensive line has struggled to generate time for their quarterback despite only giving up 21 sacks this season. In the previous matchup between these two teams, Goff was taken down four times. So, one-fifth of his sacks came in one game, and that was at home.
One issue for the San Francisco 49ers Defense is that they're dealing with several injuries to their pass rush. However, they're still trotting out one of the most fearsome fronts in football from Nick Bosa to Arik Armstead and everyone in between. They have 47 sacks on the year, and, with two games remaining, they would have finished as a top-10 team in sacks last season. This group gets after the quarterback, and, in their fight for playoff seeding, they'll be wanting to make a statement on Saturday night.
Sam Darnold vs Pittsburgh Steelers
This Pittsburgh Steelers team is not the best in football, but, with the collection of players that they've been trotting out, they're playing far better than anyone would have expected. It's been largely on the back of their defense. They've gotten an NFL best 49 sacks thus far, and they'll likely be adding to that total in Week 16. They control their playoff destiny if they're able to win in each of the final two weeks. Week 17 isn't guaranteed against a hot Baltimore Ravens team, but they can make life a lot easier with a win this week.
New York Jets quarterback Sam Darnold has been hit a lot this year, as the team has given up 48 sacks on the season. He's also been extremely inconsistent. After seeing ghosts against the New England Patriots, he had a hot few games, but they've also lost to two winless teams (at the time) in the Miami Dolphins and Cincinnati Bengals. They're eliminated from playoff contention, and they have nothing to play for other than draft positioning. Additionally, the dynamic between him and head coach Adam Gase will be interesting to watch after their sideline blowup last week.
Daniel Jones @ Washington Redskins
First things first, why are the New York Giants playing Daniel Jones (ankle) despite his high ankle sprain? You just spent a first-round pick on the guy, and you're bringing him back literally two weeks after an injury that typically takes multiple weeks to recover from. This offensive line has allowed 38 sacks this season, and his mobility will likely be limited by the injury. New York just lost tight end Evan Engram (foot) for the remainder of the season, and these final two weeks will not be an amazing swan song.
The Washington Redskins have shown life in recent weeks with quarterback Dwayne Haskins under center, and their defense has also shown some improvement. They're fifth in the NFL with 42 sacks, and they want to see what they have in this rookie with the year nearly over. This is an audition for their next head coach whether that is Urban Meyer or someone else. In a battle of two terrible teams in lost seasons, I think Washington gets after Jones early and often.
That's More Like It
Gardner Minshew @ Atlanta Falcons
I would like Jaguars quarterback Gardner Minshew a lot more if this were a home game, but, I still like him this week. No longer under the reign of the almighty Tom Coughlin, this Jaguars team is going to come out and make a statement, and a lot of that is going to be by running the ball and throwing against an overmatched Falcons Defense. The Jaguars are in the top half of the NFL in sacks allowed. Additionally, both of his starting wide receivers are expected to be healthy for this dome contest with D.J. Chark apparently over an ankle injury that cost him the previous game.
The Falcons are led by a defensive-minded head coach, but they've been a lot more bark than bite for a few years. This season, they have just 24 sacks through 14 games. The strength of their pass rush is on the inside with stud defensive tackle Grady Jarrett, but the strength of the Jaguars offensive line is on the interior. The matchups aren't in their favor, and, in a sneaky shootout, the odds favor the Jaguars in this one.
Kyler Murray @ Seattle Seahawks
Arizona Cardinals quarterback Kyler Murray has performed about as well as one could have hoped entering the year. He has used his running ability to keep his fantasy floor high, and, despite playing behind a struggling offensive line, he gets the ball out to his receivers. The team is averaging about 22 points per game, and they're going to be forced to score a lot against one of the NFL's top-10 offenses.
Thankfully for Murray and Arizona, the Seahawks don't have the fierce pass rush that they had earlier in the decade. They have just 24 sacks this season, and they're giving up over 24 points per game. This defense allows points, and the offense is often tasked with bailing them out. Murray will find his opportunities to score despite his offensive line's struggles.
Drew Lock vs Detroit Lions
Fading the Detroit Lions Defense has been a good strategy for most of the year. They don't have any form of a pass rush, and their secondary, outside of veteran cornerback Darius Slay, can't cover anyone. Drew Lock came back to earth last week against a sneaky good Kansas City Chiefs Defense, but he has the matchup to rebound this week. His offensive line has only allowed three sacks in the three games he has played, and the Lions aren't the type of group that could drastically increase that total.
The Lions have 27 sacks this season with 14.0 of those sacks coming from two players in the forms of Trey Flowers and Devon Kennard. Outside of those two, the next-highest player on the team has just two. If Denver can slow down those two, it's going to be next to impossible for Detroit to generate any pressure. Lock isn't an ideal play, but he's far from the worst on this week's slate.
More Weekly Lineup Prep