One of the biggest questions that the 2020 season has caused for 2021 is concerning starting pitcher inning totals. The league leader in regular-season innings last year, as you've probably heard, was Lance Lynn with 84 innings. The average total for pitchers who made 10 or more starts was just 60 innings. In years prior to 2020, the fantasy world would always talk about the 200 inning pitcher, and how it was a dying breed. There might be 10 guys who could get to 200 innings, but really 180 was the new target.
The general consensus out there now seems to be that all of that is way out the window for 2021. With no pitcher reaching triple-digit innings even including the postseason, the expectation seems to be that a "full season" of innings will be closer to 160 in 2021. ATC doesn't project a single pitcher to reach the 200-inning threshold. Steamer projects just three pitchers to exceed 200 innings this year (Trevor Bauer, Jacob deGrom, Gerrit Cole), and only seven other names to reach 190 (Shane Bieber, Kyle Hendricks, German Marquez, Lance Lynn, Zack Greinke, Aaron Nola, Patrick Corbin). For starting pitchers with ADPs better than 300, the average innings projection is 159 innings.
What I'm here to do is give some data along with some opinions on how I think we should approach starting pitching this year with these questions about inning totals in mind.
Editor's Note: Our incredible team of writers received 13 award nominations by the Fantasy Sports Writers Association including Baseball Writer of the Year, Football Writers of the Year, Golf Writer of the Year and many more! Be sure to follow their analysis, rankings and advice all year long, and win big with RotoBaller!
Read More!
How Many Innings Can You Add?
In my personal archives, I have all minor league and Major League season stat lines for the last five seasons saved. I used these two datasets to examine the biggest year-over-year gains in innings pitched. I was curious to find out how rare it is for a pitcher to throw X more innings (at all levels combined) than he did the previous year.
Here are the counts of how many pitchers added on X innings (with the X being in the table header) from the previous year.
| | | | | | |
| --- | --- | --- | --- | --- | --- |
| | +25 IP | +50 IP | +75 IP | +100 IP | +125 IP |
| 2016 | 99 | 98 | 51 | 20 | 8 |
| 2017 | 43 | 43 | 16 | 8 | 4 |
| 2018 | 50 | 49 | 18 | 8 | 2 |
| 2019 | 42 | 42 | 18 | 10 | 1 |
So, the theory that teams have been restricting their starters' inning counts has a lot of merit.
Here the biggest innings gainers over the last five years, just for reference:
If we look at just 2019:
There is obviously a lot that goes into this. The easiest way to gain 100 innings is to not have thrown hardly any the previous year, and that's the case for most of these names. But the other common thread running through these names is that none of them were super consequential names to their team's front office. By that I mean, either these are pretty unimpactful pitchers (non-elite relievers), or they were veteran pitchers that did not have long-term careers in mind.
To get 200 innings from a starter, no matter who it is you're going to be asking for a gain of well over 100 innings pitched in 2021. Recent history suggests that teams really do not like letting their pitchers do that.
Nobody really knows what the pitchers did between March and July last year after teams were sent home. I would say it's pretty unlikely that pitchers were getting in dozens of high-intensity innings to keep their arms built up, but it's not out of the realm of possibility that lots of pitchers actually did throw a ton while the season wasn't going on, which would be keeping their arms much more built-up than what we expect just by looking at their in-game innings.
One way to possibly test this theory would be to see if starting pitcher innings increased as the season went on. If pitchers had been keeping their arms stretched out through June and July, you reasonably would've expected to see their innings per start stay relatively static throughout the season. Here's what that actually looked like last year: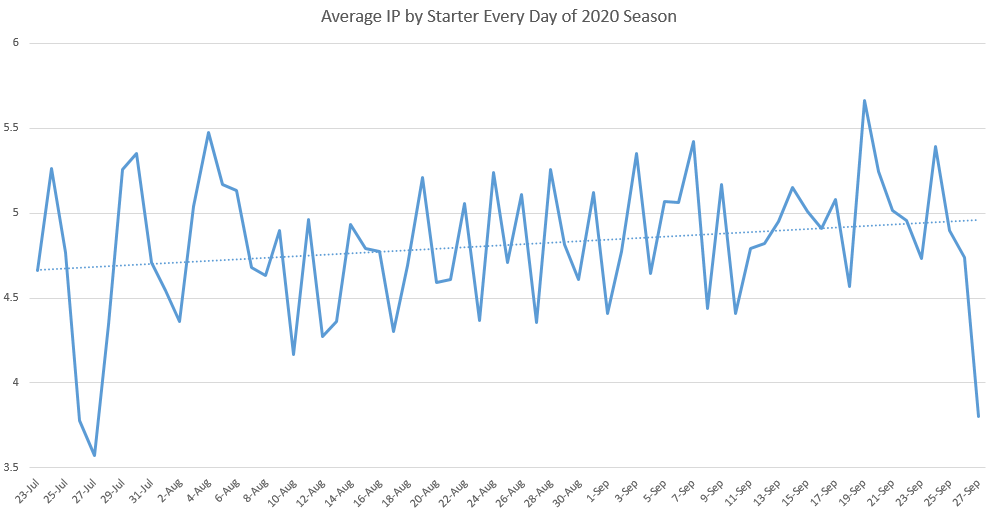 So yes, the trend was upwards, suggesting that starters were not ready for full innings loads right out of the gate last year.
Compare this to 2019:
You actually see a downward trend over the full 2019 season. It's certainly not apples-to-apples to compare a two+ month season to a six+ month season, so let's just look at the first three months of 2019:
I used the same bounds on the y-axis for all of these charts for fair comparison's sake, so that explains why you see the line much higher up on the chart there.
It was a flat trend when we look at the first three months there. This is decent evidence that pitchers as a whole were not stretched out when the season began in late July, making it less likely that these guys were simulating innings to put a full season's work on their throwing arms while they waited for the season to begin.
However!
This is a very important note in my eyes. Typically, when you see a starting pitcher only throw 80 innings in a year, there was an injury involved, which would mean that the pitcher could not throw the ball for most of the season. That's not the case with hardly anybody last year, these guys were almost all fully capable of throwing while games weren't going on, which certainly makes it easier to come back and add on a ton of innings in 2021. While I don't believe these starters were out there every fifth day at home throwing 100+ full effort pitches, there is no doubt that almost all of them were throwing in some capacity between March and July, which does make a difference.
Are Certain Teams More Likely To Let Starters Throw More Innings?
This is a tough question to answer. Just because a team is consistently near the top of the league in starter innings, that does not necessarily suggest anything about their philosophy - maybe they just have really good, efficient starters. Doing my best to answer this question, I looked at data from 2017-2020 (four seasons worth, so that covers a wide range of different starters that made appearances for different teams), and saw where each team ranked in SP inning totals each year. Here are the top ten:
The Indians have certainly had some aces over the last four years (Shane Bieber, Mike Clevinger, Corey Kluber, Carlos Carrasco), but they have also seen a lot of missed time from that group. The fact that the Indians have been in the top three in this category for each of the last four years makes it pretty clear this is philosophical to me. It's safe to give Indians pitchers a bump in projected innings pitched if you haven't already.
As for the Nationals and Astros, I think that is more likely a result of the presence of Max Scherzer, Stephen Strasburg, Patrick Corbin, Gerrit Cole, and Justin Verlander more than anything else. The Diamondbacks are a sneakier team to land in the top five, Greinke was their only true consistent ace over this time frame.
As for the bottom teams:
Besides the Rays here, these teams have all had really tough times finding starting pitching. The Rays numbers are skewed by their use the opener as well, as they've done that much more than anyone other team and my data does not account for that.
I would say the Indians are the only real team you can feel confident about projecting one way or the other in terms of SP innings for 2021, but take the above numbers how you will!
How Big of a Difference Do 20 Innings Make?
I have seen a lot of people trying to speculate over which pitchers have the best chance to be with the league leaders in innings and which ones we should probably expect less from. Lots of fantasy players want to fill their first couple SP slots with guys they feel like can lead the league in innings. That thought process has sent a guy like Walker Buehler (his career-high in Major League innings is 182.1 and he threw just 36.2 last year) down some spots in the rankings in a lot of cases. We will just keep going with this example for now.
Let's take the assumption that Buehler will top out at 160 innings this year while the other pitchers being drafted in the top 10 will reach 180. That's 20 fewer innings you're getting from Buehler, we'll call it four starts. I went back to 2019 and assembled a hypothetical pitching staff just to get us some base rates for what an average fantasy team might do in terms of innings pitched over a season.
Here's the hypothetical staff:
The total team line in this case:
1,641 innings, 110 wins,  3.96 ERA, 1.23 WHIP, 10.04 K/9.
Now let's take 20 innings away from the team's best pitcher, Max Scherzer, while assuming he posted the same ratios.
That changes the team line to:
1,621 innings, 108 wins, 3.97 ERA, 1.23 WHIP, 10.01 K/9
So yeah, 20 innings have an incredibly small impact on the team ratios in this example. And all of this is with a pretty small example roster and no streaming.
My point here is that you shouldn't downgrade a player you believe will post better ratios than another guy just because you're worried he'll make three or four fewer starts. That's overthinking it.
Conclusion
To take all of this together:
It is undeniably true that teams have been way more careful with innings counts over the last three seasons.
This is a league-wide phenomenon, if SP innings come down in similar fashions across the board, there is no statistical reason to change your draft approach.
A 70-inning season in 2020 is not comparable to a 70-inning season prior as it relates to the next season, because most of those pitchers were able to throw throughout the normal calendar season.
Regardless of reduced innings, I don't believe it should change your individual rankings. Even if the average top 100 starter innings comes down to 170 or so, your top starter only getting you 150 is not going to hurt your fantasy team's year-long stats in any significant way.
Pitchers to Target
So now I have made the case that you should not be overly concerned with the innings pitched question. I think it's foolish to downgrade a pitcher because you think he might come in 20 innings behind the league leaders. The application of this is to find the players that the field is downgrading, and draft them. Here's a handful of guys I see fitting that bill right now:
Walker Buehler (SP - LAD)
This is obviously where I was going the whole time, right? ATC projections have him down for 167 innings, 32 behind the league leader. Buehler is currently the seventh SP off the board on average and that might be a few spots too low given how good of a pitcher he is.
Blake Snell (SP - SDP)
The innings concerns with Snell aren't as much about him just not quite getting to 180 as they are about him having a more serious injury, but I'll take a guy that is one of the best ratio pitchers in the league at an ADP of 47 and roll the dice on the health.
Carlos Carrasco (SP - NYM)
The Mets' newest starter is also projected for "just" 169 innings, but the ratios are expected to be just fine with a 3.69 ERA, a 1.18 WHIP, and a strong 10.2 K/9. I'm taking the age discount here on Carrasco.
Jesus Luzardo (SP - OAK)
Over the last three seasons, Luzardo has thrown just 220 total innings at all levels. That would certainly make it tough for his arm to throw 180 in one season, but I'm really interested in the potential ratios he could bring to the table, even if it is capped at 150 innings.
Eduardo Rodriguez (SP - BOS)
E-Rod is one of the exceptions to the stuff I said above, since he literally threw zero innings last year, sitting out the season after he had difficulties fromCOVID. Chances are he was still throwing when he could, and he's coming in with an ADP of 232 right now. The projections have him for about 152 innings, but some ratios that compare very favorably to that (4.18 ERA, 1.32 WHIP, 9.4 K/9). He will almost surely fail to reach 170 innings, but he has a pretty electric arm and could really crush this draft cost even in 130 innings or so.
Charlie Morton (SP - ATL)
Obvious age concerns here, but Morton is still projecting for a 3.94 ERA, a 1.26 WHIP, and a strong 9.4 K/9. At an ADP of 126, that's pretty dang solid.
Elieser Hernandez (SP - MIA)
He has not been able to muster many innings in his career, but if he can find his way into 140 this year he could really pay off well at this draft cost of 249. The projections are extremely beatable here, with a projected 4.80 ERA, a 1.33 WHIP, and a 8.8 K/9. I don't think he'll have to do too much to crush those projections, and the questions about innings should be largely ignored in this situation.
Michael Pineda (SP - MIN)
We saw Pineda's name already in this post as one of those guys that saw a 100+ IP gain. That happened due to a suspension between 2018 and 2019. He managed just 26.2 innings last year, but if he can push that up to 140 this year he could be huge with his ADP of 232.
Download Our Free News & Alerts Mobile App
Like what you see? Download our updated fantasy baseball app for iPhone and Android with 24x7 player news, injury alerts, sleepers, prospects & more. All free!


More Fantasy Baseball Advice