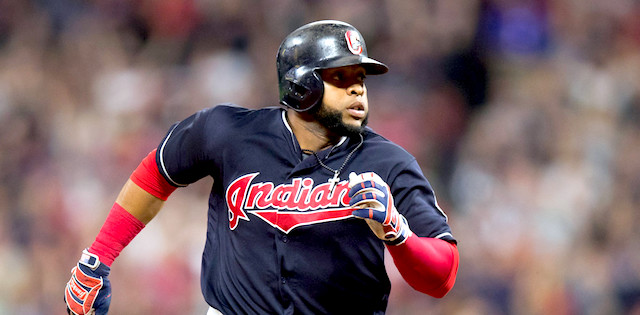 Welcome to this week's Power Hitting Risers & Fallers. All stats are full season through Monday, June 24 (unless otherwise noted). Not much in the way of introduction this week, except that you may have seen a few of these names around these parts before, so let's jump in to the weekly reminders.
EVAB (pronounced ee-vab or ev-ab) is simply exit velocity on "air balls" - meaning fly balls and line drives, as shown on Statcast. Isolated power -- ISO -- is slugging percentage minus batting average, and so xISO is xSLG minus xBA. The Statcast Search feature is used to obtain partial season Statcast numbers. The league-wide ratio of barrels to home runs is historically around 67-70%.
Read on for this week's risers and fallers.
Editor's Note: Get any full-season MLB Premium Pass for 50% off. Exclusive access to our Draft Kit, premium rankings, projections, player outlooks, top prospects, dynasty rankings, 15 in-season lineup tools, and over 200 days of expert DFS research.
Sign Up Now!
Power Risers
Machado was a faller as recently as Week 10, a trend which continued in Week 11, but he's been on a roll pretty much since then, hitting a whopping .478/.500/1.000 with six home runs in his last 10 games.
Machado still has work to do to get his 2019 Statcast numbers up to his norms, but this hot streak appears to have him well on the path of doing just that. Machado currently sits on these numbers: .458 xSLG, .196 xISO (.262 xBA), 21 barrels (6.5% per PA), 90.8 mph EV, 95.4 mph EVAB, 13.9 degree launch angle. Except for the EVAB, each of those is lower than his 2018 marks, but every one except launch angle (by a tick) is above Machado's marks before the run.
As with (almost) everyone's, Machado's hot streak involves some luck. He's slugged 1.000 on a .670 xSLG, for example. But he's also hitting the ball 93.9 mph at 13.8 degrees with six barrels in 48 plate appearances. If he keeps doing that, it will be another typical Manny Machado hitting season by year's end.
Blackmon and our next riser are tied for the most home runs in the past 14 days (June 11-24) with seven apiece. In Blackmon's case, it's given him 18 home runs in just 62 games (he missed a few games with a calf strain). Unsurprisingly, 14 of those have come at home, including five of the seven during this last two-week period. In fact, Blackmon's home-road splits this season (1.486 OPS at home, .659 on the road) are far crazier than even his career splits (1.002 at home, .738 on the road). Some good news, the Rockies have 44 games left at home and 40 on the road.
The home park is obviously a big part of Blackmon's success, but what of the Statcast? They're somewhat the same story really, as Blackmon's xSLG has exceeded his SLG from 2016-present; this year, the gap is .637 actual to .516 expected. Blackmon is posting a career best 10.8% barrels per batted ball at least. And if you want to get very granular, he has 15 home barrels this season and nine on the road, so with the same number of road barrels going forward you might expect some improvement in the home run department.
Overall, however, Blackmon this season has more justified any criticism of him as a Coors product than dispensed with it. Despite two homers on the Rockies' current road trip, the usual caveats on his production apply going forward.
The notorious HBP that Donaldson suffered at Joe Musgrove's hands on June 10 may have lit a spark in the 33-year-old third baseman, as he has hit .345/.379/.782 with seven home runs since then. In a rare twist, Donaldson has actually pretty much been this hot, as his .768 xSLG during this run attests. That doesn't mean he will slug .770 the rest of the season, of course, just that this is one of the more impressive hot streaks by Statcast that we've seen this year.
There may be more where this came from, too, as Donaldson is up to 28 barrels on the season while the hot streak has only gotten him to 15 home runs on the season. He also has an 82nd percentile xSLG on the year with just a 62nd percentile xBA, which suggests one of the best xISO's in the league if Statcast tracked that officially.
After Donaldson's injury-riddled 2018, it may have taken him a little while to get going in 2019, but now that he has, it will be interesting to see where it stops. Odds look extremely good that he will return to the 30 home run threshold, at least.
Alvarez has taken the league by storm with seven home runs in his first 12 games. Even though he's done it with just six barrels, he's pretty much doing everything right. On average he's hitting the ball 91.8 mph at 14.2 degrees, while walking 14.3% of the time against 23.2% strikeouts when not ending a PA with contact. He has a 96.9 mph EVAB and a .687 xSLG for a .383 xISO (.304 xBA).
With an .813 slugging rate, well above the xSLG, and the aforementioned six-to-seven barrel-to-HR ratio, there's been a little luck here. But it's not enough to matter. If the early returns are any indication, Alvarez is legit. There isn't much more to say about him.
Risers this week concludes with Santana, who was a faller back in Week 5. His average launch angle then was 4.7 degrees; it has now nearly doubled to 8.9 degrees. That is still short of his usual 12-15 degrees. But with five home runs the last two weeks and 14 since the beginning of May, Santana has gone from looking like someone who would be capped in the mid-teens to someone who could challenge his previous career high (34 in 2016).
Santana usually matches a low double-figures launch angle with an upper-80's exit velocity, but this year it's the EV that stands out at 92.6 mph. Nonetheless he's only hitting the ball 94.1 mph when he does hit it in the air. It hasn't mattered too much, with 23 barrels and a would-be career high 10.3% rate per batted ball to support the 17 home runs.
The May/June version of Santana, meanwhile, is averaging 91.6 mph at 11.0 degrees with 18 barrels. And so the version of Santana we've seen for almost two months is basically the old launcher with a couple extra ticks of exit velocity. It's not so surprising then that he's running the best BABIP and wRC+ of his career, and there's little reason to suspect he'll stop hitting home runs either. Maybe not seven per month, but closer than he showed in April.
Power Fallers
Let's start by talking about Guerrero again, who last hit a home run on June 5. When he was a Week 7 faller, Guerrero had a launch angle of just 1.7 degrees. He then hit five home runs in his next eight games, but it's been slow going again since.
The launch angle is still somewhat of an issue at 6.8 degrees. But Guerrero's seasonal .420 SLG is still lower than his .467 xSLG. He shouldn't necessarily be taking the world by storm yet, but he's also not as lost in the weeds as his slugging percentage might suggest. During the no-homer drought, he's been at 7.1 degrees, so he hasn't relapsed in the launch angle category, even though he's not getting it where you want someone with his power potential to be.
When Guerrero does get the ball in the air, he's hitting it 95.1 mph, which would be solid enough if he hit the ball in the air more. And so elevation continues to be Guerrero's main issue.
Myers is mired in a .219/.315/.401 2019 campaign, not quite as good as outfield mates Hunter Renfroe (.251/.312/.617) and Franmil Reyes (.245/.297/.532). Statcast sees a .228 xBA and .413 xSLG, so the 11-homer power that Myers has shown so far (with only one coming since May 27) is not the result of particularly poor luck.
Fortunately from a causal perspective, Myers has a fairly obvious problem: he has already struck out 97 times in just 271 plate appearances, a 35.8% rate which is the worst in MLB among qualified hitters and dwarfs his previous career worst of 27.7% set in 2017. As a percentage of batted balls, Myers has an 84th-ranked 11.3% barrel rate, but out of total plate appearances he falls to a 5.9%, rated 140th out of 374 (min. 50 batted ball events). He has 16 total barrels, which is about right for 11 home runs.
Unless Myers cuts down on the strikeouts, he's going to be pretty much exactly what he's already shown so far this season.
It's been a curious campaign for Realmuto since being traded from the Marlins to the Phillies this past offseason. He homered four times in March/April and another six times from May 19 to June 8. Since then, nothing.
With bounces like that, it's best to look at the full campaign. And by Statcast, Realmuto is essentially the same hitter this year that he was last year. This season, he's hitting the ball 90.3 mph at 12.3 degrees on average, compared to 88.9 mph at 14.4 degrees last season. The resulting xSLG marks are nearly identical, .478 last season and .472 this year. And yet, last season playing home games in Miami, Realmuto slugged .484; this year playing home games in Philadelphia, he's slugging .431.
Strikeouts are up a couple ticks from 19.6% to 22.1% but it's nothing alarming. It hasn't stopped his barrel rate per PA from rising a tick to 6.9% from 6.4%. He has five home runs both at home and on the road this season, and 20 barrels ought to result in more than 10 home runs when playing home games at CBP. Overall, Realmuto is the same as he was last year but at a better park, so it's best to expect a slight uptick in home production but nothing drastic.
On May 28, Avisail Garcia hit his 10th home run of the season. It left his bat at a 51 degree angle, traveling 287 feet. Of course this is the ball Randal Grichuk misplayed into an inside-the-park homer. Garcia went long the usual way again on June 4, but since then, he's hitting .278/.329/.333 without a home run. Since May 24, it's .314/.371/.419 with just the one "real" home run.
Statcast actually thought the version of Garcia through May 23 was a bit unlucky; he slugged .516 on a .577 expectation. So perhaps the inside-the-parker was just a particularly dramatic reversal of fortune. The no-homer version of Garcia from June 5 on, meanwhile, has been deserved: his xSLG, .317, is actually worse than his SLG. The overall picture is a .477 SLG on a .498 expectation.
The circus home run of May 28 mostly demonstrates how fickle home runs can be in the short term, and the no home runs since June 5 do the same. Garcia has 24 barrels on the totality of the season, and of course the May 28 home run was not one of those, but still he appears to be hitting the ball somewhat better than the results have shown. But as small-sample as the .317 xSLG since June 5 is, it's also a concern. Nonetheless, with Garcia's ability to steal a base as well as the fact that he's maintained a reasonable .278 average during the slump, it's worth seeing which power version develops from here.
Gregorius, of course, had Tommy John surgery after the 2018 season. His 2019 season began on June 7, since when he is hitting just .241/.268/.315 with one home run in 14 games. A bigger clue that his timing may be off is the two walks against 10 strikeouts, for someone who had 48 and 69 last year in 569 plate appearances. His Statcast numbers in 2019 -- one barrel and a .293 xSLG -- indicate the early struggles are deserved as well.
But Statcast didn't like Gregorius last year either. He only had 21 barrels to support his 27 home runs, and his .402 xSLG was far below the .494 SLG he posted. Gregorius outperformed Statcast even more significantly in 2017, with 25 home runs on 17 barrels for a .478-.398 SLG-xSLG. Gregorius hit 19 of his 27 home runs at Yankee Stadium last year, but in 2017 actually had more road homers than at home, 13-12. And so the lefty-friendly ballpark does not entirely explain how Gregorius could exceed his Statcast numbers both seasons.
It's hard to say what should be expected from Gregorius going forward. Even if his timing recovers, which it probably will, he could still have a bust of a season if his Statcast history catches up with him. Proceed with caution.
Last Week's Risers
| | |
| --- | --- |
| Player | Last Week Update |
| Shohei Ohtani | Slowed down but with only 10 PA, .300/.300/.400 |
| Jackie Bradley Jr. | Hit eighth Monday, also walked five times in past week for .294/.478/.647 line |
| Eloy Jimenez | .235/.333/.294, but plate discipline gains holding (3 BB, 5 SO) |
| Tommy La Stella | Still awaiting more despite .364 BA (.364/.364/.409) |
| Mike Trout | Trout Trouts at .455/.520/.773 |
Last Week's Fallers
| | |
| --- | --- |
| Player | Last Week Update |
| Matt Chapman | Back with a vengeance, .412/.524/.941, 2 HR, 2 SO, 4 BB |
| Austin Meadows | .200/.238/.350, no walks, 6 SO |
| Victor Robles | Turned just 12 PA into a .444/.583/1.333 week (2 HR, 1 SO) |
| Adam Frazier | .400/.455/.500 is an unsurprisingly modest good week |
| Raimel Tapia | .250/.294/.438 but home run number six was involved |
More 2019 Fantasy Baseball Advice