Welcome to Week 26 and our fantasy baseball waiver wire pitchers. We'll be doing this roundup of points leagues every week here at RotoBaller, with waiver wire targets and streaming pitchers being evaluated in terms of the different scoring systems of ESPN, Yahoo!, CBS, and Fantrax.
Player values can vary wildly from platform to platform, so we'll make sure to highlight where players are the best and worst fits. We know points league players get neglected and we're here to help with all of the best streams for the week.
These fantasy baseball waiver wire pickups are for the week of October 3 – October 5, looking at players below ~50% rostered for ESPN, Yahoo!, or Fantrax. Rankings are calculated using games through Saturday, October 1.
Editor's Note: Our incredible team of writers received five total writing awards and 13 award nominations by the Fantasy Sports Writers Association, tops in the industry! Congrats to all the award winners and nominees including Best MLB Series, NFL Series, NBA Writer, PGA Writer and Player Notes writer of the year. Be sure to follow their analysis, rankings and advice all year long, and win big with RotoBaller!
Read More!
Know Your Scoring System
You know what I'm going to say, right?  You must account for, as precisely as possible, how a player performs under your particular scoring system. Don't be fooled into believing you can just make rough adjustments in your head, bumping up guys with high on-base percentages and low strikeout rates. Every point, in every category, counts.
For example, ESPN and Fantrax are virtually identical in their scoring for hitters and roster size. The only difference is that stolen bases are worth one more point on Fantrax and ESPN subtracts one point per strikeout. That's the difference between Trea Turner being a top-five hitter versus a top-25 hitter.
If your league uses standard settings, then great! Turn to page 94 and you can skip ahead to the leaderboards. If you play with custom settings, it'll still be fine. Go back to page 43 and look below at the scoring systems of the four major platforms. I bet there's a chance that you'll find that your league's scoring is very similar to one of the four (well, not Yahoo!'s), even if it's not the platform you actually play on.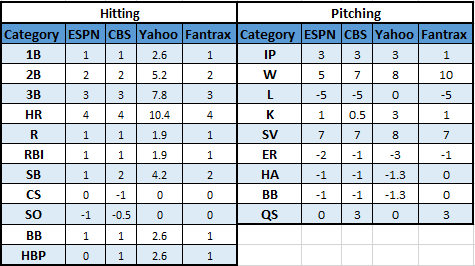 You'll likely find a suitable mirror to your own system if you look above. While every point counts, as long as they aren't seismic changes, you can get away with some "close enough" calls, i.e. If everything is the same except for HBP (or something similar), you're probably fine.
Week 26: Waiver Wire Leaderboards
All charts are updated before Sunday's games, on stats and ownerships, and clicking on a chart will open a new page with a magnified version. Players on overall leaderboards are ordered according to their current Roster% on ESPN.
*APR = Average Platform Ranking - the average platform ranking between ESPN, CBS, Yahoo, and Fantrax (standard point settings)
Overall Leaderboards
Starting Pitcher Waiver Wire - Best Choices
Bryce Elder, ATL (@ MIA) - Elder is coming off of back-to-back dominating performances against Washington, with the most recent ending with a complete game shutout and six strikeouts. He's set to face another tomato can with Miami, who rank 30th in wOBA vs RHP since August 1, 26th in xwOBA, and 19th in K%.
Bailey Ober, MIN (@ CHW) - Ober is coming off of his best start of the season, striking out 10 batters over seven-plus shutout innings, allowing just two hits, and walking one. The opponent? The White Sox. His next opponent? The White Sox.
Eric Lauer, MIL (vs ARI) - After a brief outing in his initial return to Milwaukee's rotation, Lauer smoked the Marlins in his most recent turn, striking out nine batters over five shutout innings. While not quite as bad as the fish, the Diamondbacks are significantly worse vs LHP, particularly since August 1, ranking 30th in both wOBA and xwOBA.
Mitch Keller, PIT (vs STL) - Keller has a 1.80 ERA over his past five starts and the last time he took on the Cardinals, on September 11, he shut them out for seven innings, striking out six and allowing just two hits. And depending on the standings, St. Louis's lineup could look more rested than usual.
Bailey Falter, PHI (@ HOU) - Falter has allowed 1 ER or fewer in five of his last six starts, with the lone blemish coming against an Atlanta powerhouse, who lit him up for 6 ER in 3.2 IP. But Nick shouldn't we be avoiding Houston, another offensive powerhouse? Normally, yes, but the Houston team that Falter will face on the last day of the season will likely look nothing like the lineups we come to know. With nothing to play for, expect players like Jake Meyers, David Hensley, and Mauricio Dubon to start entering the chat.
Hayden Wesneski, CHC (@ CIN) - Wesneski gets a rematch from his major league debut on September 6, facing a Reds team, that on that day, he shut out for five innings, allowing two hits and striking out eight.
Starting Pitcher Waiver Wire - Next Choices
Domingo German, NYY (@ TEX) - The ceiling is low but remains consistent, with German generally good for 5-6 IP with about a K per, allowing two or three runs and rarely managing a Win bonus. But the Rangers continue to falter against right-handers since the start of August, ranking 24th in wOBA/xwOBA, and 29th in K%.
Aaron Civale, CLE (vs KC) - In yet another rematch, Civale will go back-to-back against a Royals team that he most recently picked up a Win against, allowing 2 ER over 6 IP, while striking out five.
Rich Hill, BOS (vs TB) - The immortal one sucked out some more needed life force from the Orioles in his last start, striking out nine over six shutout innings. In his most recent start vs Tampa Bay, he allowed 5 ER over 4 IP but in two starts prior, he'd shut them out for seven innings, while striking out 11.
Michael Lorenzen, LAA (@ OAK) - Lorenzen has been just good enough lately to trick a bunch of people into making him a 2023 sleeper target and should have a good chance to continue his ruse against an Oakland offense that is 27th in wOBA, 25th in xwOBA, and 23rd in K% vs RHP since the start of August.
Starting Pitcher Waiver Wire - Desperate Choices
Braxton Garrett, MIA (vs ATL) - A matchup with Atlanta certainly isn't ideal but this stream will have a lot to do with what lineup the Braves roll out next week, as they're currently ahead of the Mets by one game in the NL East race. If Atlanta needs to win, I probably want no piece of my guy Braxton.
Marco Gonzales, SEA (vs DET) - What's not to like about a low ceiling with few strikeouts?
Nick Pivetta, BOS (vs TB) - The last time Pivetta faced the Rays, on September 7, he allowed 1 ER over 5 IP, striking out three in a losing effort. In his four starts since, Pivetta has a 6.64 ERA over 20.1 IP.
Javier Assad, CHC (@ CIN) - Assad is coming off of five shutout innings in a Win over the Phillies but is seriously inconsistent, driven in part by a 5.29 BB/9. But Cincinnati has gotten even worse vs RHP since the start of August, ranking 28th in wOBA and 29th in xwOBA.
Cole Irvin, OAK (vs LAA) - Irvin's been leaking oil for most of the second half, most recently allowing 3 ER over 4 IP in a loss to the same offensively-challenged Los Angeles Angels that he'll face in his final start of the season.
Relief Pitchers Waiver Wire
Unless you're in a very deep league and/or have a lot of dedicated RP-only slots, most of the relievers you're going to want are the ones who are closers, have a chance to close, or are elite setup guys. I do mean elite because most scoring structures are weighted in a way that relievers almost necessarily have to get saves to be valuable. Although, long relievers whose usage you can reliably predict, can be useful in leagues with daily moves. But for a majority of leagues, sticking to closers is the way to go.
With that in mind, here are the best relievers on the wire for Week 26, ordered by Yahoo roster%:
Closers (and co-Closers) on the Wire
Boston Red Sox - Matt Barnes (2 appearances, 1 Save)
Cincinnati Reds - Alexis Diaz (1 appearance, 1 Loss)/Hunter Strickland (1 appearance)
Chicago Cubs - Manuel Rodriguez (3 appearances, 2 Saves)
Miami Marlins - Dylan Floro (3 appearances, 2 Saves, 1 Loss)
Oakland Athletics - Domingo Acevedo (2 appearances, 1 Loss)
Tampa Bay Rays - Jason Adam (2 appearances, 1 Blown Save)
Texas Rangers - Jose Leclerc (2 appearances, 1 Blown Save)
Washington Nationals - Kyle Finnegan (1 appearance, 1 Win)
Minnesota Twins - Jhoan Duran (1 appearance)
Committees on the Wire
Arizona Diamondbacks - Reyes Moronta (2 appearances, 1 Win)/Joe Mantiply (o appearances)
Los Angeles Angels - Jimmy Herget (3 appearances, 3 Saves)/Ryan Tepera (3 appearances, 2 Saves, 1 Win)/Aaron Loup (2 Appearances, 1 Hold)/Jose Quijada (2 appearances, 2 Holds)
Los Angeles Dodgers - Evan Phillips (2 appearances, 1 Win)/Alex Vesia (2 appearances, 1 Win, 1 Hold)/Brusdar Graterol (2 appearances, 1 Save)/Chris Martin (2 appearances, 1 Hold)
Download Our Free News & Alerts Mobile App
Like what you see? Download our updated fantasy baseball app for iPhone and Android with 24x7 player news, injury alerts, sleepers, prospects & more. All free!


More Fantasy Baseball Waiver Wire Advice