Adam Schenk ended his round with a trio of threes to end his day with a one-shot lead over Jordan Spieth and Tommy Fleetwood, who both shot -2 in round 3. The leaderboard is in a log jam with 16 golfers four shots back of second place. It is going to be a wild day of golf in round 4 and we want to take advantage of the chaos.
The general logic for showdown has been to target golfers who played well the day before and particularly those who hit their irons well. This makes sense as you want to roster players who are playing good golf right now. We will also be using my DFS Showdown Model which is available for premium members on the website and in our discord.
You can find me on Twitter an unhealthy amount of the time @TheModelManiac, if you have any questions, compliments, or insults for me. My DFS style is very ownership-centric, and at times, this can make you feel like an unsuccessful DFS player, but when a sneaky, low-owned golfer comes through for you, it is all worth it. In this article, we are going to break down the tournament's Ballers and Crawlers and use that information to derive a player pool full of upside and leverage.
Featured Promo: Our brand NEW exclusive Props Optimizers for Prop Bets and Prizepicks DFS Props are available for 50% off for a very limited time. Use discount code PROPS and win big with RotoBaller's prop picks today.
SIGN UP NOW
Finishing Position Points vs. Ownership
Round 4 showdown adds the element of finishing position points to the mix. It provides an immense leverage opportunity for those of us brave enough to click on names with a T30 associated with them. There is a five-point difference between second place and 15th place, the points equivalent of one extra birdie in a player's round. If somebody sitting outside the top 20 entering Round 4 has an amazing day, making only one extra birdie than the guys in the top five, they essentially nullify the finishing position advantage. Did we mention that they will also come in at a quarter of the ownership?
Ownership in DFS is king. If you are part of the 2% of the field that has John Huh shooting -9, 98% of the field is missing out on those points. This is where money is made in DFS and if we ignore finishing position points for the most part, there is a decent chance that one of the top points scorers is sitting outside the top 10 entering Round 4. There will be instances where the leaders continue to play well, and that is not ideal, but how many times have we seen a 45% owned overnight leader have his nerves get the better of him and shoot over par? In this scenario, you have a major edge over half the field.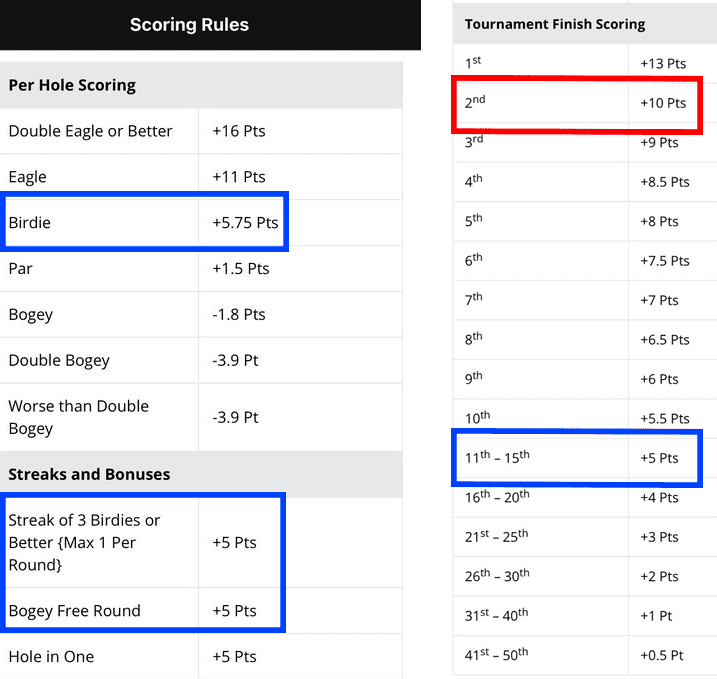 Round 4 Power Rankings
The Power Rankings for Round 4:
These are the golfers I will be looking to slot into my lineups for round 4. Click here for a full field power rankings that is part of the DFS Showdown Model on RotoBaller's website
Did you know RotoBaller has a Premium DFS PGA subscription?
Like what you read today? You can show your support for Byron by using the discount code MANIAC when purchasing a PGA Premium Pass. You get 10% off and full access to all of our Premium PGA articles, DFS tools, and Lineup Optimizer! You also get access to weekly betting picks from Spencer Aguiar, one of the top betting minds in the industry. Spencer is absolutely crushing out of the gate in 2022!
$10,000+
Justin Thomas sits in T20 six shots back. He is easily the most explosive golfer in the field, with a birdie rate that is unmatched by anybody in the field over the last year and a half. He is $11,000 which will drive a lot of people away but if he can have one of his patented rounds of excellence when out of contention. He is capable of a T5 finish if he can have a ceiling round, which we have not yet seen this week.
The defending champ is looking like he won't have a shot at a 3-peat, with Sam Burns sitting seven shots back in T25. We are going to roster these two golfers in the $10K range, as they will be playing freely without the weight of winning a tournament on their shoulders. Tommy Fleetwood and Jordan Spieth have both shown that nerves can get the best of them on a Sunday and their ownership will be pretty high tomorrow too.
$9,000+
Justin Rose is also completely out of contention in T45, but he has that old-school, never give up mentality, which means he will be looking to go low tomorrow at minimal ownership. He has one of the best R4 scoring averages and with no pressure on his game, he will be looking to make a lot of birdies. Denny McCarthy is in R35 and will be another one of our choices in this price range. He can easily have the round of the day with his putter.
Davis Riley sits in T10 and typically whittles away in R4, but after a poor round today, hopefully he can bounce back tomorrow and climb up that leaderboard. He did not do this for us in R4 last week, so we shall see what happens.
$8,000+
Alex Smalley sits in T16 and could be one of the $8k guys who can sneak up that leaderboard into the top 5 if he continues to play the caliber of golf he entered the week with. Taylor Moore will be one of the few golfers we roster starting inside the top 10. Because he is not in the $10K range, he won't be as chalky as Spieth and Fleetwood, but has been playing fantastic golf this week and has a shot to win this thing tomorrow.
Ben Griffin lost over 3 strokes on approach today, while his short game has been crisp all week long. If the irons bounce back Griffin has the putter to convert those birdie putts. Sam Ryder has gained over a stroke putting in each of the three rounds so far and in R3 finally found his ball striking. If he can carry that iron play into R4 and his putter, which has gained a stroke more than anybody else in the field, can thrust him up the leaderboard as he entered the week as the second best putter in the field.
JT Poston has been floating around the top of the leaderboard, striking his irons well and leaning on a putter which has shown signs of revival. If he can avoid losing strokes around the green, he should find himself flirting with the lead if the guys at the top have a tough time pulling away.
Maverick McNealy has not lived up to his reputation as the best putter on tour. He gained 3 strokes in R1 and has not gained on the greens since. He has the ability to gain multiple strokes on the greens and he may do just that all the way down the leaderboard with no pressure persuading his putter.
$7,000+
Matt Wallace sits in T7 and has an incredible round four scoring average. He also leads the field in strokes gained approach for the week, gaining over 1.5 strokes on the field each round so far. T7 and in the $7k range, he will be the chalk we eat at this price range as he just needs the putter to heat up to put a mean round of golf together.
Nick Taylor and David Lipsky will be two golfers sitting just outside the top-20 who can easily soar up the leaderboard if their approach play can bounce back. Will Gordon, Garrick Higgo, Erik Van Rooyen, and Patrick Rodgers all have incredible round 4 scoring potential and sit far enough down the leaderboard that they could be slate breakers at their ownership.
$6,000+
Rory Sabbatini and Cameron Percy sit in T25 and both are salary savers with immense upside if they get hot with the putter, which Sabbatini proved two rounds ago. Carl Yuan is one of the more impressive ball strikers in the field, albeit one of the more volatile golfers in the field at $6,500. Good luck tomorrow, and as always, may the odds be ever in your favor!!
Win Big With RotoBaller
Golf is back, and it's time for you to win big with RotoBaller!
Our PGA DFS Premium Package
 features several savvy analysts and proven DFS winners.
Our very own Joe Nicely recently took down a big DraftKings DFS tournament for the Travelers Championship. And as an encore, RotoBaller subscriber @tenndolly2 won $100K on FanDuel with the help of Joe and the rest of our Premium PGA team:
If you read my articles @RotoBaller or listen to @TheTurnGolfPod I've been telling y'all it was #WinningSeason when golf came back! Shoutout to the entire @RotoBallerPGA squad and all you guys that support my work for all the ❤️ pic.twitter.com/07a4ynvbSU

— Joe Nicely (@JoeNicely) June 28, 2020
Congrats @tenndolly2 ???

Thanks for being a @RotoBaller PGA DFS Premium subscriber & checking out all the amazing golf content that @JoeNicely produces every week! https://t.co/tHKZVsPbbt

— RotoBaller PGA (@RotoBallerPGA) August 10, 2020
Between all the incredible
Premium PGA DFS
content and tools we put out each week, and our Premium Slack Community where we chat with our subscribers before lineups lock, RotoBaller PGA subscribers are armed with the tools, analysis, and advice to win big.
Golf DFS News and Player Outlooks
More PGA Analysis and DFS Lineup Picks