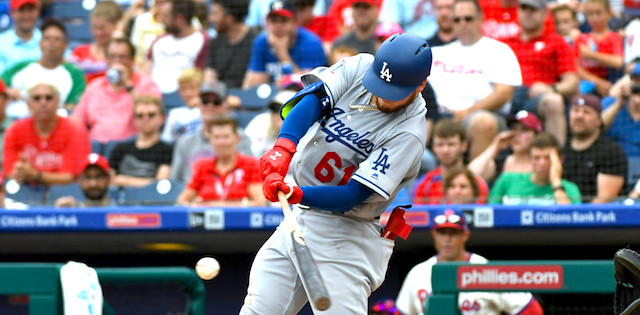 Managers can easily make decisions to affect their team positively, but often they're too hesitant, cautious, or even scared. Sometimes you have to make the hard choice to choose a player in the right circumstance to produce. These are the best players when we start streaming. We look at the matchups and other variables to put our team in the best position to succeed. That is the best we can do. There is no need to be scared about making these types of choices. No Fear, Just Fantasy.
Some outfielders would be better suited to stream for a hot bat. Others need to be replaced just because they are no longer on the field (IL). That is a situation that is affecting many owners, and there is nothing you can do except find a suitable replacement as quickly as possible or risk losing valuable counting stats. In this article, I'll discuss waiver wire targets for the outfield in week 13. This week we cover a few guys that are on a little hot streak while a couple of other players have enticing matchups.
Even in the first few weeks, ownership can change quickly. Be quick to check your leagues for their availability. Key points - this list will focus on players who are owned in less than 50% of Yahoo leagues. When you want to chat it up regarding outfielders, prospects, or dynasty leagues, message me directly on Twitter @EllisCan2.
Editor's Note: Get any full-season MLB Premium Pass for 50% off. Exclusive access to our Draft Kit, premium rankings, projections, player outlooks, top prospects, dynasty rankings, 15 in-season lineup tools, and over 200 days of expert DFS research.
Sign Up Now!
Outfield (OF) Waiver Wire Options
Alex Verdugo (OF, LAD) — 18% Owned
Verdugo has been a solid contributor over the last month but hasn't done anything extraordinary. In the last 30 days, he has three homers and nine RBI to go with one stolen base and a .292 batting average. His productivity stems from a great plate discipline resulting in 7.3% walk rate and only a 10.6% strikeout rate. He also doesn't chase pitches too often 29.1% and has great bat control with only a 5.6% swinging strike rate. The schedule this week is quite favorable. He will have a chance to rack up plenty of stats with games in Arizona and especially hitter-friendly Colorado. Left-handed hitting Verdugo also gets a full seven-game slate and will face off against six right-handed pitchers and only one lefty. He is primed to have a great week. Make sure you're positioned to take advantage.
Oscar Mercado (OF, CLE) — 48% Owned
Mercado started off his pro debut in sow fashion but has picked it up tremendously providing plenty of value for the cheap bids that acquired his services. Over the last two weeks, he's hit one homer, stole four bases, and carries a .327 batting average. If he continues to keep his strikeout rate near 20%, he will find success even if his .374BABIP regresses. Currently, his .368 OBP provides ample opportunity to steal bases. This week, Mercado hosts the Royals before traveling to the friendly confines of Camden Yards. He also gets to face off against six righties, against whom he is hitting .342 this year. While he's barely owned under the 50% mark, it's still drastically under-owned for the skills he is providing.
Jake Bauers (1B/OF, CLE) — 17% Owned
If you look at the season stats, you'll not be impressed with a .224 batting average. However, Bauers has hit three homers, seven RBI with a .283 batting average over the last couple of weeks. His recent performance combined with favorable circumstances is why you should consider him. Like Mercado above, Bauers gets bumped up lists this week due to his pitching opposition as well as venues. He'll face six righties, which is the better matchup for the left-handed hitting Bauers. He'll also get three games in Camden Yards against pitchers who love providing home run opportunities. He'll need it as his average exit velocity, by itself, (86.5mph) doesn't lend itself to automatic taters. He is a risky choice, but if you need power, he's a solid option.
Avisail Garcia (OF, TB) — 44% Owned
Garcia has tapered off with his productivity but he has a solid chance of recalibrating his course this week. Over the last two weeks, he's only had two stolen bases and a .244 batting average without a single shot over the wall. Despite these poor numbers, he's still only striking out at a 22% rate. The primary stats that might cause you to run over the course of the year is a Chase rate of 41% and a Swinging Strike rate of 18.2%. Good thing we are only concerned about this week. Garcia is worth discussing as he will face five right-handed pitchers this week. This is perfect as he's hitting .313 against them this year. That rate increases to .321 when he's at home, as it is when he hosts the Rangers this week. When he has to travel, as he will to face the Twins, he has a .304 batting average. The Rays lineup continues to provide sneaky production, which makes Garcia a solid, forgotten option in some leagues.
Kole Calhoun (OF, LAA) — 12% Owned
Calhoun continues to do what he does best, he hits a homer every now and then while providing a steady, reliable, below-average batting average. Over the last week, he has two bombs to go with a .231 batting average. On the year, he's tallied 16 homers and has the chance to reach 25 on the year, with an outside possibility of 30. Don't get too giddy, remember the batting average that comes with it. Again, his recent performance is a forgettable one. Thankfully, the Angels will be back at home —with AL rules for DH— which will allow Shohei Ohtani to get back in the lineup resulting in more opportunities for counting stats for the others, including Calhoun. He also gets five righties this week, which is the better of his splits as he's hitting .243 against them.
Kike Hernandez (1B/2B/SS/OF, LAD) — 23% Owned
It's true that Hernandez has not had the year many had hoped. His last couple of weeks have provided no respite from the frustration as he has one homer, two stolen bases, and a .175 batting average. The question then becomes why he would be on a waiver wire list if he's been so bad. The answer is simply his circumstances. Like Verdugo above, Hernandez will play four games in Coors Field and the counting stats will accrue in bunches. If you need a streamer option for a day or two, there are worse options than a guy hitting in the crisp, homer-friendly air of Colorado.
Other LAD options: Chris Taylor (2B/SS/OF, LAD) — 26% Owned (2HR, 10RBI, .311AVG last two weeks); Kyle Garlick (OF, LAD) — 0% Owned (2HR, 4 RBI, .500AVG last week)
More Waiver Wire Pickups and Streamers
Check out RotoBaller's entire fantasy baseball waiver wire pickups and sleepers list, updated daily!