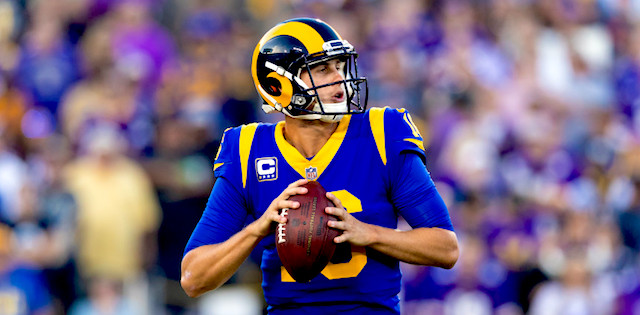 We're in Week 16 of the NFL season, and our friends at Monkey Knife Fight are offering some of the coolest, and easiest to win, NFL DFS games in the industry.
On MKF, there are no massive tournaments where you have to get ridiculously lucky just to cash. You're just playing against the house, and the dudes at MKF have fallen all over themselves to give you really attractive opportunities to make some money.
There are three games scheduled for Saturday, which includes the Texans at Buccaneers, Bills at Patriots, and Rams at 49ers. As always, there are some solid props we can look to take advantage of in these games.
Editor's Note: Here's a great special offer for all RotoBaller readers from our Monkey Knife Fight friends: New AND Existing Player Bonus. All players receive a 100% matched signup or reload bonus up to $50 with code 'RBNFL19'. Sign up and deposit, and use our prop picks to get off on a winning foot! 
Texans @ Buccaneers
Over/Under Contest
Recommended Prop Pick: Jameis Winston over 319.5 passing yards and Deshaun Watson over 287.5 passing yards.
This game comes in with the highest total on the board at 50.5, and it is for good reason. Both of these defenses have been horrible against the pass throughout the season. We should see plenty of passing in this game with both quarterbacks being able to go over their respective totals.
The Texans have allowed the fifth-most passing yards to quarterbacks with 3,739 yards or 267.1 yards allowed per game. Winston and the Bucs have struggled to run the ball this season and have been in pass-heavy mode almost the entire season. He just set a record as being the only quarterback in history to throw for 450 passing yards in two consecutive games. He has also thrown for over three hundred yards in 10 games this season and leads the league in passing yards with 4,573. One item that should not be overlooked is the possible loss of Chris Godwin this week, but even if Godwin does not play, I still like Winston to hit the total. Last week, Evans was out and it was next man up for Breshard Perriman and Scotty Miller. This week we can likely expect the same type of output from Perriman and Justin Watson as well as Cameron Brate and OJ Howard as the Texans also struggle vs. the tight end position. Getting a prop total this low versus a pass defense that has been this poor is not something to be overlooked and Winston should be able to hit the total.
The Bucs have been even worse vs. quarterbacks this season as they have allowed 3,827 passing yards or 273.4 yards per game, which ranks third-worst in the league. Watson has hit this prop total five times throughout the season but also has not faced a pass defense quite as bad as the Buccaneers. The Bucs have also given up six 300 yard passers on the season, which is another positive sign for Watson. Couple this with the fact that Watson should have his full complement of wide receivers healthy with Fuller having made his return from injury last week and Watson should be able to climb over this total. It should also be noted that the Bucs have given up the fewest rushing yards to running backs on the season, which will make the passing game that much more important to the success of this Texans' Offense.
Play the Over/Under Contest Now on Monkey Knife Fight
Bills @ Patriots
Reception Collection
Recommended Prop Pick: James White, Julian Edelman, and Cole Beasley over 15.5 receptions.
This is a recommendation that will certainly come with some risk. Picking reception collections is never an easy task, but this one makes sense on a couple of different levels, especially given the low game total of 38.5.
James White has been a reception machine for Tom Brady and the New England Patriots this season. He has caught 65 balls on 87 targets in 13 games so far this season. This averages out to five receptions on just under seven targets per game, which is right about the volume we will need to hit this prop. He managed to haul in eight of 10 targets the last time he faced Buffalo in Week 3, which is a very good sign. The Bills have also given up 73 receptions to backs on the season, which averages out to just over five per game. White should be able to find success in the passing game much like he did in Week 3 vs. Buffalo and help push us towards the prop.
Julian Edelman should also be able to provide some solid reception totals in this game. Edelman is without a doubt the number one target for Tom Brady as he has seen 140 targets and managed to haul in 92 receptions on the season. This averages out to 10 targets and just over six receptions per game. Edelman has also seen double-digit targets in eight of the Patriots past nine games in which he has managed to haul in an average of seven receptions per game. While the Bills do have a solid secondary, they have given up the 15th-most receptions (170) to wide receivers this season. Edelman should be able to get free and catch somewhere between six and 10 balls in this game.
Cole Beasley has been Julian Edleman Lite for the Buffalo Bills this season. He has been targeted 94 times and hauled in 60 receptions, which averages out to 6.7 targets and 4.3 receptions per game. In his previous four games, however, he has averaged over seven targets per game. In the Bills previous meeting vs. the Patriots in Week 3, Beasley was targeted a whopping 13 times and managed to haul in seven of those targets. This week should set up very similar as the Patriots look to take away the deep-threat of John Brown who only managed to haul in five receptions on 11 targets in their previous matchup.
Play the Reception Collection Contest Now on Monkey Knife Fight
Rams @ 49ers
Over/Under Contest
Recommended Prop Pick: Jared Goff under 274.5 passing yards and Jimmy Garoppolo under 269.5 passing yards
Nobody likes to root for an under but that is exactly what we are going to do here. The Vegas total is set at a mediocre 45 and both of these defenses know how to defend the pass.
Over the previous four games, the Rams have allowed a total of 733 passing yards to quarterbacks, which averages out to 183.23 yards per game; well below the threshold for Jimmy G this week. Add in the fact that the Rams have also given up an average of 141.25 rushing yards to running backs in the past four weeks and you have a 49er squad that will have even more incentive to run the ball than usual. Keep in mind that this is a 49er team that is second in the NFL in rushing yards per game (147) behind only the Baltimore Ravens. Jimmy G has also only hit this prop total five times this season and they all came against much lesser pass defenses, and two of them were vs. Arizona. This should be a solid spot to hit the under.
The 49ers Defense has also been stout against the pass, especially in recent weeks. In the past four weeks, the 49ers have only allowed 184 passing yards per game and they have faced the likes of Matt Ryan, Drew Brees, Lamar Jackson, and Aaron Rodgers in those four games. While it should be noted Brees did throw for 349 yards in the Superdome, none of the other three quarterbacks threw for more than 210 passing yards. While Jared Goff has been on somewhat of a heater having thrown for over 1,000 yards in his previous three games, those were against the likes of Seattle, Arizona, and Dallas. The last time he faced the 49ers in Week 6, he only managed to throw for 78 yards. Aside from the previous three games, Goff has not managed to eclipse this prop total since Week 8, which was a home game against the Bengals. The only tough pass defense he was able to hit this mark against was the Browns in Week 2, all other games were against lesser pass defenses including New Orleans, Tampa Bay, and Atlanta. The under should be the correct play in this game.
Play the Over/Under Contest Now on Monkey Knife Fight
More Weekly DFS Analysis