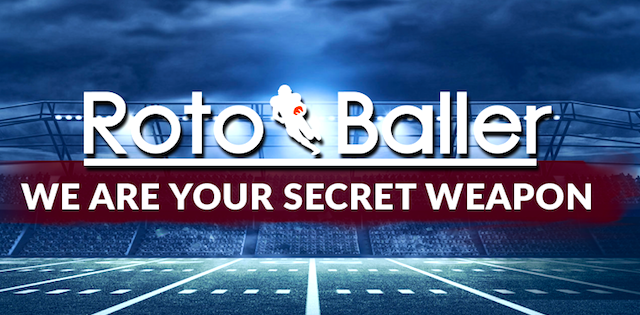 Now that we're into the final few weeks of the college football regular season, we're going to change the format of this piece. Each week we'll look at a different fantasy position and highlight some of the future fantasy stars to watch on Saturday. In order to give dynasty owners and owners in larger leagues a leg up, I won't solely focus on the likely first-round picks but also players who could be drafted later in the NFL Draft but emerge as impactful fantasy options.
We'll start things off with the quarterback position, but first, let's look at how last week's featured players performed:
This series covers players featured in nationally televised games who could likely emerge as fantasy assets after next year's draft.
Editor's Note: Get any rest-of-season NFL Premium Pass for 50% off. Our exclusive DFS Tools, Lineup Optimizer and Premium DFS Research through the Super Bowl.
Sign Up Now!
Week 10's Featured Players
A.J. Dillon, RB Boston College – Dillon crushed Syracuse for 242 yards and three touchdowns on 35 carries. I still believe his lack of explosive athletic testing will drop him to the later rounds in the draft, but I'm fairly confident Dillon could have a Jordan Howard-type of future in the NFL. He won't win you leagues, but he will be a useful asset on your roster.
Cole Kmet, TE Notre Dame – Kmet caught four passes for 28 yards and a touchdown against Virginia Tech. It wasn't an inspiring performance, and Kmet is still too inconsistent to be highly drafted come April. However, Saturday was also his fourth game in a row with a touchdown, and he's had five in his six games played this season. His size will always make him a strong red-zone option, which will keep him on fantasy radars, but if he can show more consistency as a receiver between the 20s, he might find his way into starting lineups.
Hunter Bryant, TE Washington – Bryant torched ninth-ranked Utah for 105 yards and two touchdowns on six catches. He's undersized for the current ideal NFL tight end, but he's a dynamic receiver and has the athleticism to make a real impact in the receiving game. He could be a great fantasy value in the NFL if he lands in an offense that allows their tight ends to get out in space.
Scottie Phillips, RB Ole Miss – Scottie Phillips left the game in the first quarter with an ankle injury and didn't come back. It's disappointing since the senior was looking to build off a strong showing two weeks ago. Ankle injuries can linger, so Phillips needs to get back on the field to cement himself as a late-round draft choice.
Xavier Jones, RB SMU – Xavier Jones came up short for SMU in their biggest challenge of the season. In the loss to Memphis, Jones was only able to muster 22 yards and a touchdown on 11 carries, while also adding 10 yards on four catches. The results were disappointing, but Jones was still involved in the passing game and has done enough this year to suggest that he should be in a team's running back rotation next year. He just isn't ready to leap into the startable tier yet.
Week 11 Matchup to Watch - Friday Night Games
Washington - Oregon State 10:30 PM ET
Jacob Eason, Washington – Projection: 2nd Round Pick
There was a time when Eason was projected to be the top pick in the 2020 NFL Draft. That was before Tua's emergence. However, in his first season at Washington, Eason is making good on his earlier promise. The imposing 6'6" 230-pound junior has thrown for 2,297 yards and 20 touchdowns against five interceptions. He's shown the ability to limit his mistakes, except in the Utah game; however, he has also faced lesser competition than the other top quarterbacks in the draft. He's not a player who is going to take aggressive chances with the ball, so his fantasy ceiling will always be limited. However, he can also make the necessary throws and won't cost his team many chances. If you were to surround him with dynamic weapons, like perhaps the situation in Tampa Bay, Eason would be able to get the most out of the talent around him, which would drive up his fantasy results. However, if he ended up in a situation like Miami or Washington without much talent around him, expect a severe limit to his fantasy upside.
These are the types of throws that excite you about Washington QB Jacob Eason. He has the confidence that he can fit a football through a key hole.

Reminds me a lot of Matthew Stafford. pic.twitter.com/5wEConsRPD

— Jordan Reid (@JReidNFL) November 2, 2019
Week 11 Matchup to Watch: Afternoon Games
LSU - Alabama 3:30 PM ET
Tua Tagovaila, Alabama Projection: Top 5 Pick
As it stands, Tua is currently projected to be the first quarterback off the board and the first player drafted overall. Despite likely playing this game while hobbled with an ankle injury, Tua has done enough to show teams that he can be successful at the next level despite his 6'1" frame. Most assume that, because Tua is small for the position, he is a rushing quarterback; however, Tua makes his mark with tremendous accuracy and field vision. He has only rushed for 30 yards this year after running for 190 yards and five touchdowns last year, so he isn't going to break games open on the ground. However, his athleticism gives him tremendous mobility in the pocket to avoid the rush and make plays downfield. Even if he gets leapfrogged in the quarterback rankings (more on that below) Tua will likely be given the chance at a starting gig next year and has the passing chops to become an immediate fantasy asset. Just don't think Lamar Jackson type of upside.
Joe Burrow, LSU Projection: Top 5-10 Pick
Now we get to the only other man who may hear his name called as the first quarterback off the board. Burrow has exploded onto the scene this year, throwing for 2,805 yards and 30 touchdowns to only four interceptions so far. In years past, Burrow proved to be dynamic on the ground as well, rushing for 399 yards and seven touchdowns last year. He hasn't had to run as much this year, but scouts will love knowing that he possesses that ability in his 6'4" 215-pound frame. With his more traditional NFL size, Burrow could vault up draft boards if scouts are convinced this isn't a fluke. Regardless, fantasy owners should take note of where he ends up. He only threw five interceptions last year, so Burrow won't make many mistakes and can also score points with his legs. That gives him a high fantasy floor, even if the ceiling isn't as high as his current stats would suggest.
I really love how calm and collected Joe Burrow is in the pocket. He does a good job of maneuvering around pressure and always keeps his eyes downfield. pic.twitter.com/7jYYYLyXZ1

— AJ Schulte (@AJDraftScout) November 4, 2019
Kansas State - Texas 3:30 PM ET
Sam Ehlinger, Texas Projection: Third or Fourth Round Pick
Ehlinger is the player on this list I feel is least likely to come out. He's made steady strides as a passer in his Junior year, but there is still room for growth that may benefit from another year of school when he can come out in a less loaded quarterback class. Looked at as simply a rushing quarterback early in his career, Ehlinger has the arm strength to make big plays and has seemed to become more confident with taking chances on his passes. Some of that has led to poor decisions, but he's at least shown he's more than just a rusher, as evidenced by him rushing less in the red zone and throwing more. He's only run for 361 yards and five touchdowns this season after finding the end zone 16 times last year. This is less because of a diminished ability and more a consequence of his game becoming more well-rounded. In fact, Ehlinger could have a Dak Prescott type of NFL career now that he's proven he can take what the defense gives him as a passer. He may never be an elite passer and may miss on enough plays each game to make fans angry, but he has natural playmaking ability that will make him a useful fantasy quarterback should he choose to come out. Just expect it to be more with his legs early on.
Sam Ehlinger to Brennan Eagles for the 73-yard TD — the longest TD pass of Ehlinger's career! 🔥

(📍 @WellsFargo) pic.twitter.com/4ZDkxdJcir

— ESPN (@espn) September 22, 2019
Week 11 Matchups to Watch: Night Games
Washington State - California 7:o0 PM ET
Anthony Gordon, Washington State Projection: Late Day Three Pick
After Luke Falk left Washington State and failed to make a mark in the NFL, many viewed the Cougars' system as one that inflated quarterback value. Then Gardner Minshew came out of nowhere this season to take the NFL by storm, and it's due to more than just his look and stretching routine. Mike Leach's offense has shown that it prioritizes the quick release and speed-in-space routes that NFL teams have begun using more frequently. Gordon has thrived in that system, throwing for 3,387 yards and 32 touchdowns in eight games. While Gordon doesn't have Minshew's pocket mobility and rushing acumen, he possesses a stronger arm and has NFL size - at 6'3" 210 pounds (perhaps needing to put on 10-15 more pounds) - that teams covet. He will likely be hurt by having only one year of starting experience and playing in a system that is viewed as quarterback friendly, but Gordon is a quarterback to keep an eye on in the draft. It wouldn't be surprising to see him have Minshew's type of success if he found himself with an opportunity for playing time.
Anthony Gordon under pressure -- WR drops touchdown. pic.twitter.com/H6DOvMYBbn

— Derrik Klassen (@QBKlassClips) October 29, 2019
Utah State- Fresno State 7:00 PM ET
Jordan Love, Utah State Projection: Anywhere from First to Fourth Round Pick
Love is among the most divisive prospects in the draft. At 6'4" 220 pounds, he has good size for the position, which is paired with an innate ability to avoid defenders and make plays outside of the pocket. Love has the arm strength to make all of the throws and the raw talent to push to be the top quarterback from this draft once his NFL career is done. He also tries to force too many plays and has been maddeningly inconsistent this season. With a poor supporting cast around him, Love has taken clear steps backward this year, already doubling his interception total from last year as he tries to make too many plays on his own. Some team towards the end of the first round might take a chance that they can groom his upside behind a veteran, making him a tremendous dynasty league asset, but if he's thrust into a starting role right away, I don't expect much fantasy goodness.
This is a terrific throw after a double clutch. Beats the defender there. pic.twitter.com/IpGq0vYUYI

— Ian Wharton (@NFLFilmStudy) November 3, 2019
Oklahoma- Iowa State 8:00 PM ET
Jalen Hurts, Oklahoma Projection: First Round Pick
Hurts is currently one of the leading candidates to be the third quarterback off the board. After losing his starting job at Alabama, Hurts transferred to Oklahoma and has been able to show off his dual-threat ability in Lincoln Riley's offense. He's already thrown for 2,469 yards, 300 short of his career-high, and 21 touchdowns, while also running for 801 yards and thirteen touchdowns. At 6'2" 220 pounds, he's likely big enough to absorb some hits in the open field; however, he has also shown the intelligence to not put himself in unnecessary danger. Hurts isn't the passer that Tua or Burrow is; however, he possesses more fantasy upside given his legs and propensity to take shots down the field. Remember that there were questions about Lamar Jackson as a passer when he came out of Louisville, but he had a solid foundation to suggest growth and improvement. Even now, Jackson still has some flaws as a passer, but he is an elite fantasy quarterback. Hurts has that potential as well.
Jalen Hurts lofts a perfect pass to Lee Morris for his 5th total TD on the day https://t.co/sdeEagcup8 pic.twitter.com/BuR2lun2b6

— Coach Billy Carson (@CoachCarson) October 19, 2019
More NCAA Football Analysis