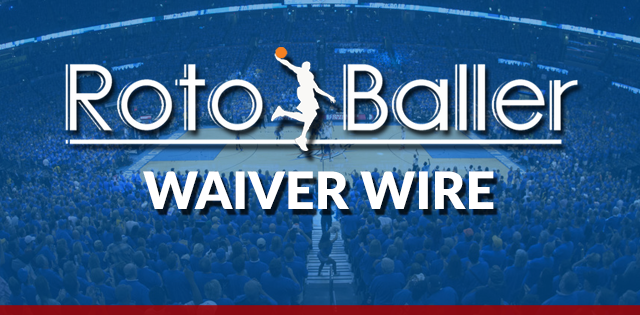 What Appears In This Article?
hide
The deeper a fantasy league, the harder it is to hit a winner with your last few picks. It is also harder to find decent help from the waiver wire if your late-round picks don't do you justice. If you picked up a few stinkers, don't lose hope just yet. I will try to help you pick up a winner.
Here are my deeper league waiver wire pickups for your fantasy basketball teams. These players should be available in most leagues and they might just help you out, whether it's a few weeks rental or a long term fix to a problem your team is having.
If a guy on your team is frustrating you with his weak performances, give some of them a go. They might just be worth it.
Deep League Waiver Wire Targets
Kyle Anderson (SF/PF, MEM) - 16% rostered
SlowMo has started two games for the Grizzlies this season, which is to say a 100% start rate. I know, I know, that means little after less than a week of games, but it's something to consider when you're looking for WW bargains in super deep leagues. Kyle has put up 7-10-2 and 20-14-1 lines in those couple of matches, which is far from a bad outcome for a low-usage player like he is in Memphis.
Anderson has nothing to do with carrying his team on offense, as that's Morant's task nightly. That being said, Kyle has been great on the boards with 10+ rebounds in each of the past two games and a couple of blocks in his last match against Atlanta. Anderson is shooting well, and it seems like his confidence might be growing as he went from 8 FGA to 15 FGA on Saturday's match. The turnovers are low with two in two games, and he mostly avoids getting fouled out of games.
One of the most important players for Dallas (Kristaps Porzingis) will be out until the end of January at the very least. While another big (Dwight Powell) has returned this season after getting injured in 2020,  the hole in the paint seems open for Dorian Finney-Smith to fill it. And he's done so to great extents so far through the first week of the season. DFS started the Mavs season-opener at the PF spot and played a very palatable 35 minutes against Phoenix, dropping 11 points on the Suns while grabbing 8 boards and dishing out 3 dimes to go with 2 steals on the day.
He didn't play to those levels in his second outing, but DFS started once again at PF and finished with a 10-2-2 line to go with 3 steals against the Lakers on Christmas. Dorian should have better nights down the road. He shot 36.4 percent from the floor in his season debut, but he's a career 42.6% player in that department (he bumped up his shooting to a better 44.4% last time out) while also averaging a 51.5 eFG%. Last year, DFS already started 68 of his total 71 games, so he will keep that role at least until both Powell and KP are available. The minutes and opportunities will be there and with that high number of chances to rack up fantasy points, odds are he provides his fantasy GMs plenty of goodies.
Culver has started the season with a set-in-stone role for the Wolves. He's played 20 minutes in back-to-back games with Minny, and although those were relatively-short runs, he still was able to command 17% and 16.1% of the offensive possessions while not committing a single turnover. That's right. All of the plays that finished on a Culver action did so on either field goal attempts or defensive fouls. That has helped Culver hit five freebies already (7 FTA through two games).
Culver has been better from the floor than at the free-throw line, though, shooting 50% and 71.4% from the floor in his two games to score 10 and 14 pops respectively. The second-unit guard has finished his two games with 10-10-2 and 14-6 lines, and although he fell short of his second dub-dub of the season in Friday's game against Utah he made up for it by hitting 3 triples on the night. There is competition at the guard positions in Minny (mostly Malik Beasley), but Culver is no less than the no. 2 or 3 bench-guy in this roster at that spot.
Patty Mills (PG, SAS) - 3% rostered
I'm a sucker for good old Patty Mills. That doesn't mean including him here is based on a pure bias from my side, though. Mills has been one of the most underrated fantasy players throughout all of his career. And once more, given his ground-level rostership, it looks like he will play that tune for another year in 2021. Mills is quite a veteran stuck in a Spurs squad that doesn't even know where it's leading to. San Antonio should enter full-rebuild mode, but they still boast the likes of LaMarcus Aldridge, DeMar DeRozan, and Patty.
Mills has played San Antonio's two games through Saturday starting from the pine and logging 19 and 29 minutes of playing time. He dropped 13 pops in his first one to go with 2&2 boards and dimes, and he finished with a much better 21 points his second time out (including 5 treys) while adding a rebound and 3 assists to that scoring outing. Mills has shot mental percentages in those two making for a great .650/.700/1.000 slash-line to kick the year off. Must-have player for depth this Mills.
Grayson Allen (SG/SF, MEM) - 1% rostered
Pretty much on the opposite side of the spectrum to Patty Mills' and my love for the latter is Grayson Allen. I have no issues telling you I hated him while he was balling for the Dukies, but my feelings have softened since then and he's now found a room in my heart. Allen has started both games for Memphis this season at the SF spot and he's gone on to play 27 and 29 minutes in those matches. His usage isn't otherworldly, finishing just 11% of the offensive possessions he's been a part of on average, but he's put up some numbers.
The most encouraging thing about Allen's average-not-good-not-great start is that he should positively regress sooner rather than later. Allen logged a 6-2-5 line in his first game (two triples, no turnovers) and a 10-4-2 line in his second (one trey, no TOs). But he did so shooting a very bad 28.6 and 33.3 percent from the floor, which doesn't align at all with his career numbers. Allen is a .425/.367/.809 career-shooter in the NBA and shot .430/.380/.834 in college just over two years ago, which tells me he should rebound and produce noisier performances before you can even realize.
More Fantasy Basketball Analysis
Download Our Free News & Alerts Mobile App
Like what you see? Download our updated fantasy basketball mobile app for
iPhone
and
Android
with 24x7 player news, injury alerts, lineup notifications & DFS articles. All free!
By popular demand, RotoBaller has aggregated all of our fantasy basketball NBA waiver wire pickups into a running list of NBA waiver options, so bookmark the page and check back often for updates.