We look toward Palm Sunday (April 2nd, 2023) as the Toyota Owners 400 comes to us from Richmond Raceway in Richmond, Virginia. This is the seventh 2023 edition of NASCAR DFS on PrizePicks. Our friends over at PrizePicks have a TON of great props we can look to take advantage of.
PrizePicks is a great DFS props site where you can choose to select plays in terms of fantasy points or single stats. The goal is to build a 2-player, 3-player, 4-player, or 5-player entry and then select whether or not you want to play for the power play or the flex play. On the power play, you will need to be correct on each of your selections to win. As for the flex play, you will have a little more wiggle room for a chance to win some money back.
Our partners at PrizePicks offer some of the best, and easiest to win, NASCAR DFS games in the industry. There are no large-field tournaments filled with sharks where you have to get lucky just to place. At PrizePicks, you're not playing against other people, you're just playing against the projections, and the guys at PrizePicks have worked hard to give you really attractive opportunities to make some money. With promo code 'BALLER' you can get a 100% match on your deposit up to $100.
PrizePicks and NASCAR focus on Fantasy Score which has a scoring system where first nets 45 points, second is worth 42, third is worth 41, and so on. Every lap led NOW equals an extra 0.25 points. Every fastest clocked lap equals an extra 0.45 points. Laps led are 0.25 points per lap and place differential is plus or minus one point. Also, stage wins are worth one point apiece.
For NASCAR, we are going to try and focus on the main board's Fantasy Score and see which players may go over or under their projected point totals. Let's see what the board offers today!
Featured Promo: Our friends at PrizePicks are hooking you up. Get a 100% instant deposit match up to $100 using promo code BALLER with your first deposit, and also a free year of RotoBaller Premium access ($99 value)! Claim your 100% instant deposit match now, and use our prop picks to get off on a winning foot! 
Fantasy Score Point Totals
Kyle Larson Less 50.5 Points.
The numbers come in hard and nasty this week as there was no qualifying (rained out). Richmond carries mixed results for the No. 5 car (10.8 over the last five races). That includes two top ten results and one top five. Hendrick historically has been pretty good at these tracks but not good enough to win.
Fast laps do not seem to be likely. The concern with our pick is that Larson is starting ninth. Was last Spring's race an outlier? Larson improved from 21st to 5th. Take the risk with the less here as negative place differential has been the theme the other five appearances.
Kyle Busch Less 41.5 Points.
The choice is not so obvious here either. Now, one good news scenario is that Kyle Busch begins second on Sunday. He has five straight top-ten results but all in the Joe Gibbs Racing Toyota. Now, with Richard Childress Racing and the Chevy will that happen again?
He did not lead a lot of laps and did not set many fastest laps either. So, while he may hang around early, will the No. 8 Chevy be around at the end? That's a great question. If Busch does not lead many laps and falls back, those dropped spots may be enough to slide to the less err under.
Brad Keselowski Less 47.5 Points.
This is the RFK Racing risk of risks. Brad Keselowski starts 24th and despite some positive history, does Keselowski get into the top 10? Now, the problem is that Keselowski has finished in the 13th-15th range the past four times at Richmond. Using some complex math, that does not get us to 47.5 points.
The Ford drives just well enough that he will gain some track position. Taking the less is a challenging choice but worth a shot on Sunday because of those late fades.
Martin Truex Jr. Less 48.5 Points.
The danger with ignoring Martin Truex Jr. is that does his car finally deliver the goods? Since the Coliseum, the Joe Gibbs Racing driver has seen bad result after bad result. 2023 has begun quite poorly for the No. 19 car. Worse, he begins 12th on Sunday and did not have a chance to qualify.
That does create a buffer to choose the under on Sunday but less margin for error. However, it is fun to add a little intrigue and go for this prop anyway despite Truex Jr. going four for his last five in top-five results (3.8 average finish).
Christopher Bell More 59.5 Points.
This could prove to work on Sunday. The idea that Christopher Bell could top 60 points is not crazy. He starts 21st, which means the Joe Gibbs Racing driver can move up the field. Bell has three top-five results in his previous five appearances at Richmond. Last Spring, he led 63 laps and was an unlucky break away from maybe winning the race. He finished sixth.
Now, the Toyotas perform well at Richmond and the other props including cars passed could be explored too. For us, we focus on points the first several weeks. Go MORE or go home.
Other Recommendations
William Byron MORE 61.5 Points
Josh Berry  MORE 44.5 Points
Denny Hamlin  MORE 51.5 Points
Tyler Reddick. MORE 36.5 Points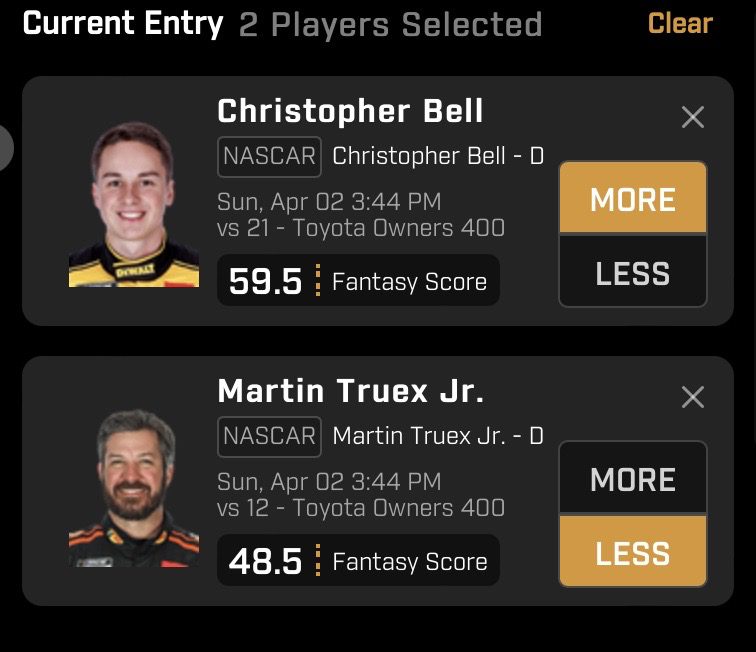 Play the NASCAR Fantasy Score Now on PrizePicks
NASCAR DFS News and Driver Outlooks
More Fantasy NASCAR Analysis