In recent articles, the focus has shifted to lesser-known players, those that might offer some value because they aren't household names.
Sometimes it's rookies, like pitchers Tyler Beede, Joe Musgrove, Taylor Clarke or Griffin Canning, all of whom are on the mound Tuesday.
There's also Julio Urias, the Dodgers lefty who has spent most of the season pitching in a relief role, and he's been effective, but he's getting a start in Colorado. Nice to get a spot start, not great to have it come at Coors Field, but Urias is intriguing.
Of course, there are more established names on the mound tonight, too. Justin Verlander, David Price, Noah Syndergaard, and even Adam Wainwright are veteran starters that have a long track record to examine.
Here are some angles to keep in mind for a full slate of MLB action on Tuesday.
Editor's Note: Our friends at Monkey Knife Fight have released the best, most fun, fastest growing DFS props game! It's super simple to play and win real money. Just choose your MLB, NBA, NHL or PGA game, and make your picks! Get a 100% instant deposit bonus up to $50 using promo code: BALLER. That's $50 for free - don't miss out!
BALTIMORE-SAN DIEGO
OVER/UNDERS
Jonathan Villar UNDER 1.5 HITS + WALKS – The Orioles second baseman is not a consistent on-base threat and his .333 OBP on the road is better than what he offers at home. He is on a streak of five straight multi-hit games but that's due for regression any day now.
SAN FRANCISCO-PHILADELPHIA
OVER/UNDERS
Tyler Beede OVER 4.5 STRIKEOUTS – Although he's been more effective at home, the Giants rookie is averaging 4.7 strikeouts per road start and has 19 strikeouts in his past three starts overall.
ATLANTA-WASHINGTON
OVER/UNDERS
Ronald Acuna Jr. OVER 1.5 TOTAL BASES – The Braves' rising star second-year outfielder is slugging .516 on the road and Nats starter Erick Fedde has been reasonably successful, posting a 3.40 ERA in eight starts, but he's not missing bats, striking out a total of six batters through his past four starts.
N.Y. YANKEES-ARIZONA
RAPID FIRE
Taylor Clarke +1.5 strikeouts vs. J.A. Happ – It's funny, Clarke has a 6.35 ERA and 1.50 WHIP at home in his first major league season, averaging just 3.4 strikeouts per home start, and yet getting 1.5 strikeouts as the underdog makes him a favorable play against Happ, who is averaging just 4.3 strikeouts per road start this season.
HOUSTON-CLEVELAND
OVER/UNDERS
Justin Verlander OVER 7.5 STRIKEOUTS – Facing a quality Indians lineup on the road isn't easy, but Verlander is averaging 7.8 strikeouts per road start and has recorded at least eight strikeouts in seven of 12 road starts this season.
MINNESOTA-MIAMI
OVER/UNDERS
Jake Odorizzi UNDER 5.5 STRIKEOUTS – There is a definite home/road split with Odorizzi and while his rate of 8.4 K/9 on the road is decent enough, he tends not to get deep into road starts, so he has averaged 4.3 strikeouts per road start.
TAMPA BAY-BOSTON
RAPID FIRE
Charlie Morton +0.5 strikeouts vs. David Price – The play here is geared towards neither pitcher necessarily getting deep into the game. Price averages 5 1/3 innings per home start, recording 6.8 strikeouts, while Morton goes about 5 2/3 innings per road start, averaging 6.4 strikeouts. Getting the extra half with Morton as the underdog seems the prudent play.
PITTSBURGH-CINCINNATI
OVER/UNDERS
Joe Musgrove OVER 4.5 STRIKEOUTS – Musgrove is averaging 4.5 strikeouts per road start and the Reds are an average team when it comes to strikeout rate, so where's the edge? Well, Musgrove has been tilting towards better strikeout numbers as the season has progressed, up to 9.5 K/9 in July after putting up 7.1 K/9 through the end of May.
SEATTLE-TEXAS
OVER/UNDERS
Mike Leake UNDER 4.5 STRIKEOUTS – As crafty as the veteran right-hander has been, he's more effective at home and is averaging 4.4 strikeouts per road start. He does get the benefit of facing a Rangers team that is below average in terms of strikeout rate but Leake has recorded five or more strikeouts in just four of 11 road starts this season.
N.Y. METS-CHICAGO WHITE SOX
OVER/UNDERS
Noah Syndergaard UNDER 7.5 STRIKEOUTS – Thor could be making his last start for the Mets, if rumors are to be believed, and he hasn't been dominant this season. On the road, he has averaged 6.3 strikeouts per road start and has recorded at least eight strikeouts in three of nine starts away from CitiField.
CHICAGO CUBS-ST. LOUIS
OVER/UNDERS
Adam Wainwright OVER 5.5 STRIKEOUTS – While the veteran starter is no longer the consistent force that he was earlier in his career, he's recorded at least six strikeouts in six of nine home starts. The Rockies and Padres are the only two National League teams with a higher road strikeout rate than the Cubs' 24.6%.
TORONTO-KANSAS CITY
OVER/UNDERS
Lourdes Gurriel Jr. OVER 1.5 TOTAL BASES – The Blue Jays outfielder has a .557 slugging percentage on the road but it's even better, .755 slugging percentage, against left-handed starters.
L.A. DODGERS-COLORADO
OVER/UNDERS
Julio Urias OVER 4.5 STRIKEOUTS – The Dodgers are giving Urias his first start since June 20, and his second start since April 18. In his two road starts this season, he struck out two Rockies in a short start early in April and struck out nine in Milwaukee in that April 18 start. He can whiff five if he goes five innings.
MILWAUKEE-OAKLAND
RAPID FIRE
Christian Yelich -0.5 total bases vs. Travis Shaw – Yelich is a superstar, slugging .831 at home this season, while Shaw had a stint in the minors and has struggled in Milwaukee, slugging just .224 at home.
DETROIT-L.A. ANGELS
OVER/UNDERS
Griffin Canning UNDER 6.5 STRIKEOUTS – As good as Canning has been in moments as a rookie, and he did strike out seven Tigers in early May, but he has recorded six or fewer strikeouts in each of his past six starts.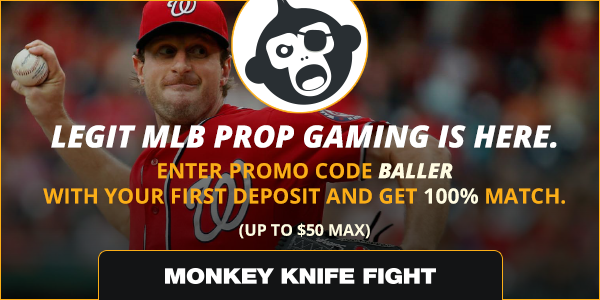 More 2019 Fantasy Baseball Advice