At this point in the Major League Baseball season there are some legitimate surprises, players whose production is above and beyond what might have been expected coming into the year.
Maybe it won't last, but in the here and now of playing props, those hot starts have to be taken into account.
Consider a couple of tonight's starting pitchers that aren't necessarily big names but are getting results.
Miami's Caleb Smith made progress in 16 starts last season, striking out 10.2 batters per nine innings. He's taken it to another level this year, though, with 12.0 strikeouts per nine, while his overall numbers (2.25 ERA, 0.92 WHIP) are much more dominant than he had shown in previous seasons.
Oakland's Chris Bassitt is 30-years-old and has never pitched more than 86 innings in a MLB season, but he has a 1.93 ERA and 0.92 WHIP through five starts this season.
Here are some more angles to consider before making your Tuesday MLB picks on Monkey Knife Fight.
Editor's Note: Our friends at Monkey Knife Fight have released the best, most fun, fastest growing DFS props game! It's super simple to play and win real money. Just choose your MLB, NBA, NHL or PGA game, and make your picks! Get a 100% instant deposit bonus up to $50 using promo code: BALLER. That's $50 for free - don't miss out!
OAKLAND-CLEVELAND
OVER/UNDERS
Chris Bassitt OVER 5.5 STRIKEOUTS – The A's starter has a sizzling 38 strikeouts in 32 2/3 innings (10.5 K/9) and has recorded at least six in each of his five starts this season so it would seem easy to take the over against an Indians team that is middle of the road in strikeout rate (24.2%).
N.Y. YANKEES-BALTIMORE
RAPID FIRE
David Hess +3.5 strikeouts vs. Domingo German – As much as Hess has struggled, on his way to his 5.58 ERA, but has struck out 15 in 14 1/3 innings over his past three starts, including six against the Yankees last week. If he manages to go even five innings, getting that extra 3.5 strikeouts tilts this prop in his favor.
PHILADELPHIA-CHICAGO CUBS
OVER/UNDERS
Kris Bryant OVER 1.5 TOTAL BASES – The Cubs slugger has a .545 slugging percentage and averages 2.07 total bases per game. A home game against the Phillies offers little reason to think he's going to slide under the bar in this game.
COLORADO-PITTSBURGH
OVER/UNDERS
Josh Bell OVER 1.5 HITS + WALKS – In the midst of a breakout season, the Pirates first baseman has a .404 on-base percentage and averages 1.70 hits plus walks per game. He has recorded multiple hits plus walks in 26 of 44 games.
BOSTON-TORONTO
OVER/UNDERS
Mookie Betts OVER 1.5 HITS + WALKS – I've been banging on the Betts drum for a while because after a slow start to the season he is back performing at an All-Star level. For example, in his past 27 games, Betts has a .465 on-base percentage, averaging 2.19 hits plus walks per game.
MIAMI-DETROIT
OVER/UNDERS
Caleb Smith OVER 7.5 STRIKEOUTS – In each of his past five starts, the Marlins lefty has struck out at least eight batters and while it might not get noticed because he's with the going-nowhere Marlins, but Smith has a 2.25 ERA and 0.92 WHIP in eight starts this year. As an added bonus, the Tigers strike out on 26.2% of plate appearances, the second-highest rate in the Majors.
WASHINGTON-N.Y. METS
RAPID FIRE
Anthony Rendon -0.5 runs + RBI vs. Wilson Ramos – The Nationals third baseman struggled a bit coming back from injury, but he's back in business lately, posting 18 combined runs plus RBI in his past six games. Ramos is fine but averaging just under 1.0 runs plus RBI per game.
L.A. DODGERS-TAMPA BAY
OVER/UNDERS
Clayton Kershaw UNDER 6.5 STRIKEOUTS – The Dodgers ace has been effective enough (3.40 ERA, 0.96 WHIP) in six starts, but he's struck out 15 in the past three games, each of which would count as an under against this number.
CINCINNATI-MILWAUKEE
OVER/UNDERS
Christian Yelich OVER 1.5 TOTAL BASES – The question is when MKF is going to have to swing to 2.5 total bases on Yelich because he's averaging 2.61 per game and a home game against Sonny Gray and the Reds doesn't seem like reason to think he's going to be held to one or fewer total bases.
SEATTLE-TEXAS
OVER/UNDERS
Daniel Vogelbach OVER 1.5 HITS + WALKS – The Mariners slugger has a .400 on-base percentage and gets a match-up against Rangers starting pitcher Lance Lynn, who has a 1.43 WHIP – that offers room for Vogelbach to get on base a couple of times.
CHICAGO WHITE SOX-HOUSTON
OVER/UNDERS
Justin Verlander UNDER 8.5 STRIKEOUTS – While the White Sox are a high strikeout rate (25.7%) team, Verlander has recorded nine or more strikeouts in just three of 10 starts. It's easy enough to envision a start for Verlander that goes successfully but doesn't necessarily require him to strikeout a dozen White Sox.
KANSAS CITY-ST. LOUIS
OVER/UNDERS
Homer Bailey UNDER 4.5 STRIKEOUTS – Although he had some strikeout success early in the season, the Royals starter has gone five straight games with four strikeouts or fewer.
ATLANTA-SAN FRANCISCO
RAPID FIRE
Freddie Freeman +0.5 total bases vs. Ronald Acuna Jr. – Acuna is a terrific young player, who is slugging .526, but he's not as consistent as Freeman, an established star who is slugging .577, so getting Freeman as the underdog is a good opportunity.
MINNESOTA-L.A. ANGELS
OVER/UNDERS
Trevor Cahill UNDER 4.5 STRIKEOUTS – The veteran Angels starter has recorded four strikeouts or fewer in four of his past six starts and faces a Twins team that has the third-lowest strikeout rate (19.5%) in the Majors.
Michael Pineda OVER 4.5 STRIKEOUTS – By the same token, the Angels have the lowest strikeout rate (16.2%), so it's not an easy matchup, but Pineda can miss bats – he has 41 strikeouts in 47 innings and that includes 19 in his past three starts.
ARIZONA-SAN DIEGO
OVER/UNDERS
Manny Machado UNDER 1.5 HITS + WALKS – While Machado is heating up, with a .400 on-base percentage in his past 15 games, the Padres shortstop has a .343 on-base percentage for the season, which is fine, but not great and when he gets a tough match-up against Zack Greinke, it's difficult to expect him to reach base multiple times.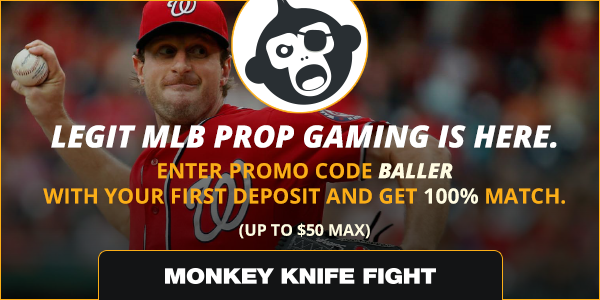 More 2019 Fantasy Baseball Advice