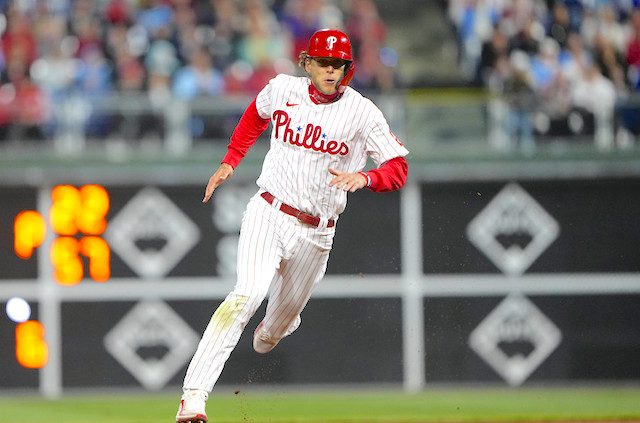 Welcome officially to the 2023 fantasy baseball season! Late-round picks in fantasy baseball can often be the difference between a mediocre team and a championship contender. While it's easy to get caught up in the excitement of selecting big-name players early in the draft, finding those hidden gems in the later rounds is equally essential. As a fantasy manager, it's crucial to do your due diligence and research these overlooked players' statistics, injury history, and current team situation. While taking a chance on a player based on a hunch or a cool name may seem appealing, making informed decisions that increase your chances of success is the wiser strategy. With careful consideration and some luck, these late-round picks could be the key to unlocking your team's full potential.
Today, we're looking at some late-round first basemen for you to consider drafting in your season-long leagues this season. Are their ADPs undervalued? Will they make significant fantasy contributions and become a priority late-round draft target? Read on to see our take.
Our editors have hand-picked these specific MLB players for your draft prep enjoyment. Usually only available to Premium subscribers, the five outlooks below are meant to give you a taste of the in-depth analysis you receive with our industry-leading 2023 Draft Kit. Be sure to subscribe today to start reading all of our in-depth 2023 player outlooks and many other premium articles and tools including Team Sync, the Live Draft Sync assistant, Custom Rankings Service, and so much more -- available exclusively in our 2023 Draft Kit.
Featured Promo: Get any full-season MLB and DFS Premium Pass for 50% off. Exclusive access to our Team Sync platform, Premium articles, daily Matchup Rating projections, 15 lineup tools, DFS cheat sheets, Research Stations, Lineup Optimizers and much more!
Sign Up Now!
Washington Nationals first baseman/outfielder Joey Meneses came out of nowhere at age 30 to be one of the best hitters over his 56 games in 2022. He hit .324, smashed 13 home runs, drove in 34, scored 33 runs, and stole one base. His .267 xBA and .457 xSLG reveal Meneses was a bit lucky, but these are still solid numbers.
He was a standout hitter in the minors, compiling a career .281/.337/.431 slash line and slugging 35 homers over his last 184 games. Meneses posted an excellent 91.4 mph average exit velocity with a 2.9% pop-up rate in 2022, and his 19.8% professional career strikeout rate means he should continue being a help in batting average. The former undrafted free agent ran a 25.5% FB/HR percentage in 2022 but barreled balls 9.9% of the time, and his 10 expected bombs still put him on pace for about 29 homers.
Meneses is slow on the basepaths (18th percentile sprint speed), so he won't be a factor in the stolen base department. However, he'll be in the heart of the lineup as one of the best bats on the Nationals, allowing him to reach 160 RBI plus runs. Pitchers will try to adjust, but Meneses is a talent at the plate and should be able to adapt in his sophomore season. He has dual eligibility at first base and the outfield, and his value makes him a steal at either position considering his 198 ADP.
-- Spencer Seguin - RotoBaller
After hitting 20 homers in 111 games for Oakland in 2021, Seth Brown found himself a regular starter for the A's in 2022 and made the most of it. In 150 games, Brown hit .230/.305/.444 with 25 homers, 73 RBI, 55 runs, and 11 steals. The stolen bases were a nice surprise after Brown only tallied five in his previous 144 games but he did rank in the 63rd percentile for sprint speed (27.9 ft/s) and his 9.2% BB% (63rd percentile) affords him more opportunities than you might expect from a .230 hitter.
After only being caught stealing twice last year, there's no reason Brown couldn't reach double-digit steals again in 2023. And his power certainly seems legit, with a 13.0% Barrel% (90th percentile), .454 xSLG (81st percentile), and 24.4 xHR last year all making a repeat look feasible.
The downside is Brown plays for the A's, so RBI and runs will be suppressed and a trade to a better team might lead to less playing time given his struggles against left-handed pitching (LHP). Last year, Brown hit .174/.232/.315 against LHP, with just three of his homers coming against them. Brown's ADP of ~204 certainly leaves room to provide value as a solid power with some speed, especially in leagues using OBP instead of AVG.
-- Jamie Steed - RotoBaller
Alec Bohm, Philadelphia Phillies
Alec Bohm posted a solid season in 2022, slashing .280/.315/.398 with 13 HR. However, his peripherals suggest that there could be more in the tank. Bohm cut his SwStr% from 11.7 to 9.6, with most of the gains manifesting in his Z-Contact% (87.1 from 80.3 in 2021). This suggests that his 17.4 K% last season is a lot closer to what we should expect rather than the alarming 26.6% rate he posted in 2021.
Cutting down the Ks is all Bohm needed to be a batting average monster in fantasy, as last season's .319 BABIP was a career-worst while his low FB% minimizes how many "dead" batted balls he hits. A 30.5 FB% makes it difficult to project Bohm for much more power, especially if you consider his mediocre Statcast power indicators such as his 92.4 mph average airborne exit velocity and 6.8% rate of Brls/BBE. Bohm's xBA of .290 is a good 2023 projection though, providing plenty of profit potential at his ADP of 185.06.
-- Rick Lucks - RotoBaller
New York Yankees infielder DJ LeMahieu's 2022 season was disrupted by an injury, limiting him to 125 games. He played well overall, though, slashing .261/.357/.377 with 12 home runs, 74 runs, 46 RBI, and four stolen bases. However, LeMahieu played with an injured toe the last two months and hit .285 with 11 home runs before the calendar flipped to August.
The 34-year-old heads into 2023 healthy, and fantasy managers should buy in again. LeMahieu has always been a batting average specialist with a .297 career mark and seven consecutive seasons of a sub-14.2% strikeout rate. The 26 home runs from 2019 are an outlier over his 12-year career, but he plays his home games in New York and has averaged about 16 dingers per 162 games over the past three seasons. The Yankees have a powerful lineup, and given LeMahieu's on-base ability (.367 OBP as a Yankee), he'll be touching home plenty.
The club doesn't have a set position for the veteran, but there's little doubt he'll reach 130 games (if he stays off the injured list) when considering his versatility, production, and the unproven youngsters on the roster such as Oswaldo Cabrera and Oswald Peraza. Providing fantasy owners with a .275 average, 12 HRs, 140 RBI plus runs, and a few stolen bases is something to be happy about, especially with eligibility at first, second, and third base. LeMahieu's 254 ADP is a bargain.
-- Spencer Seguin - RotoBaller
Wil Myers entered 2022 looking to prove to San Diego that he would be worth his $20 million club option in 2023. A thumb injury and knee inflammation limited him to only 77 games, and the Padres declined their option. He slashed .261/.315/.398 with seven home runs, 41 RBI, and 29 runs across 286 plate appearances in 2022. In December, the Reds signed him to a one-year, $7.5 million contract. Great American Ball Park was the best for home runs in 2022, which helped Myers maximize his power potential. Combine that with rule changes meant to make it easier to steal bases, and Myers could be looking at a 20 HR/10 SB season.
ATC projections are on board with this assessment and project Myers with 18 homers, six stolen bases, and a .325 WOBA over 126 games. The 32-year-old has had injury issues in the past, but if he can put together a healthy season, he will get plenty of playing time for a rebuilding Cincinnati team. At an ADP of 256 in NFBC leagues, it won't cost fantasy managers much to take a chance on him.
-- Jenny Butler - RotoBaller
Download Our Free News & Alerts Mobile App
Like what you see? Download our updated fantasy baseball app for
iPhone
and
Android
with 24x7 player news, injury alerts, sleepers, prospects & more. All free!
More Fantasy Baseball Analysis