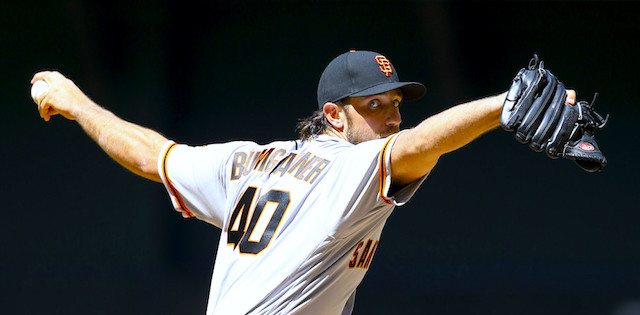 2018 was a season to forget for yours truly, both in terms of fantasy performance and hit rate on bold predictions. In the first three years as a participant in this feature, I connected on three per article, with a few others in the realm of respectable. Last year? An 0-fer, and most of them were impressively lousy.
Does that mean I plan to be any less audacious as a result? Hardly. That would defeat the purpose of the exercise. Besides, regression is inevitable! Right? Right?!
We're just gonna have to wait and see. But the wait to actually hear those predictions? It ends right...about...meow.
Editor's Note: Get any full-season MLB Premium Pass for 50% off, with exclusive access to our season-long articles, 15 in-season lineup tools and over 200 days of expert DFS research/tools.
Sign Up Now!
Domingo German is a top-40 starting pitcher.
German wasn't even supposed to open the season in the majors, but now that both Luis Severino and CC Sabathia are expected to open the season on the injured list, he's a flier worth taking late in drafts. The 26-year-old posted an ugly 5.57 ERA in 14 starts as a rookie last season but boasted a SIERA nearly two runs lower at 3.68.
Powering that metric was an impressive 18.4 K-BB%, which would've ranked 16th among starters if he had thrown enough innings to qualify. He'll need to do a better job of limiting the long ball, but German has elite whiff-inducing ability (his 15 percent swinging strike rate was top-10 among all pitchers with at least 80 innings) and now has the opportunity to show it off.
Adam Frazier is a top-12 second baseman.
I've been snagging a bunch of shares of Frazier, now that he's finally going to play every day. He's amassed nearly 1,000 plate appearances over three seasons as a backup with the Pirates and produced a .280 average thanks to an above-average contact ability.
He's got enough pop and speed to get to double digits in both HR and SB and is the team's most logical candidate to hit leadoff.
I've been lowkey touting Renfroe as the next Khris Davis since last summer, so I ain't gonna stop now. His overall numbers from last season are depressed by a slow start and lack of playing time (more on that in a bit), but over his final 220 plate appearances, Renfroe popped 18 bombs.
The surge was keyed by an improved barrel rate paired with a drop in strikeouts. The Padres' outfield remains crowded, and Renfroe might have to split time with Franmil Reyes for a bit (both deserve to start), but how long do you really expect Wil Myers to stay healthy out there?
Speaking of staying healthy, of course Vladito had to get hurt right before this article got published. I'm keeping this one in, though, because the majority of the reactions I've seen to the news so far don't suggest that the extremely expectant acquisition cost is likely to drop much.
The hype is real, and we all understand that the kid's raw talent is undeniable. But oblique strains can really waylay a season, and even if it doesn't linger, this injury could be all the excuse Toronto needs to delay his debut even further. Health aside, we've yet to see Guerrero play a single second in the majors, and third base is absolutely stacked. That's a lot of risk to take on with a fourth-round pick, and the bet here is that it backfires.
Blake Snell's ERA more than doubles.
Basically, anyone would agree that Snell isn't going to repeat his incredible Cy Young campaign (21 wins, 1.89 ERA, 0.97 WHIP, 221 strikeouts). Anytime you see an ERA that begins with a 1, regression is a safe assumption, no matter how talented the pitcher. The question, then, is how far you revise that figure upward. Most projections are pegging Snell for an ERA around 3.00.
This prediction puts him within shouting distance of 4.00. Where last season represented 99th-percentile luck on batted balls (.241 BABIP) and stranding runners (88.0 LOB%), this season will tend toward the opposite extreme, leading to Snell's still sometimes spotty control (9.1 BB%, 57.4 F-Strike%) being more of an obstacle.
The Royals are going to be bad, and they're going to run wild. It didn't feel bold enough to predict 60 steals for either the Hamburglar or The Artist Formerly Known As Raul, or that Mondesi (the player with the single widest range of outcomes in the game) would flop.
So I threw all of those predictions into one Frankenstein's monster. Kansas City has few alternatives to either player, so barring injury, they should continue to play every day even if they hit as terribly as I expect.
Madison Bumgarner finishes outside the top-60 starting pitchers.
Trevor Bauer's near-Cy Young season may have broken my streak of correctly predicting a big starting pitcher bust in this space, but to paraphrase Meat Loaf, three outta four ain't bad. This year will see MadBum follow in the footsteps of Felix Hernandez --the once-reliable stud who falls off a cliff earlier than expected.
After averaging 220 innings from 2014-16, the lefty has totaled just 230 frames since. He's seen his K-BB% tumble from 22 percent to 12 percent over the last three seasons and lost several inches of drop on his formerly fearsome curve. Additionally, the Giants are going to be terrible again.
Kirby Yates leads the league in saves.
The addition of a splitter to his repertoire helped Yates get his vulnerability to the long ball under control last season, and it led to a career year. With Brad Hand dealt away to Cleveland at last season's deadline, Yates assumed the closer role and hasn't looked back.
He is one of just a handful of ninth-inning arms with a firm grasp on the gig, and his 29.5 K-BB% ranks fifth among all relievers with at least 110 innings over the past two seasons.
With a 428 ADP, Justin Bour isn't even being picked in the majority of fantasy drafts this spring. Am I really saying he'll be better than a perennial top-20 outfielder, a guy who's hit .318/.411/.524 the last two years, or another guy who is top-20 in homers over that same span? You bet I am, pal.
Bour had a .902 OPS, 25 homers, and 83 RBI in just 108 games with Miami in 2017 before injuries cut his season short. His poor showing last season has turned him into a complete fantasy afterthought, but as of now, he's projected to bat cleanup for the Angels, behind Upton and Mike Trout.
Kenta Maeda is the Dodgers' most valuable starting pitcher.
There's a ton of talent in LA's rotation, but virtually all of it carries significant question marks. Clayton Kershaw's body may be betraying him yet again. Rich Hill is 39 and 80% blister. Hyun-Jin Ryu has made 39 starts over the past four seasons. Ross Stripling and Walker Buehler have to prove they can repeat 2018 performances, with larger workloads.
Enter Maeda, who has pitched great despite being bounced between the rotation and bullpen the past two seasons. The Dodgers still have depth, but this year they won't have enough to keep giving Maeda the short end of the stick. He'll get to 30 starts, and they'll be mostly good to great.
More 2019 Fantasy Baseball Advice