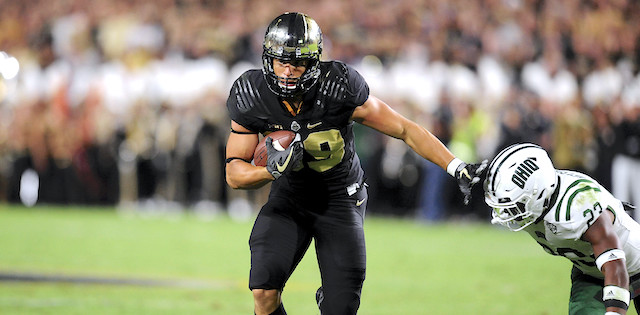 Out of all the skill positions, tight end is the one where rookies have the most issue making an immediate impact.
But there's still always some value at every position in every NFL Draft, and the 2020 one is no exception, even if people are very down on this year's crop of tight ends.
Let's look at the 2020 rookie tight end class. While expecting re-draft production right off the bat from all of these players is maybe wanting too much, the dynasty owners among us should keep a close eye on these guys and where they wind up this Spring.
Editor's Note: Get any rest-of-season NFL Premium Pass for 50% off. Our exclusive DFS Tools, Lineup Optimizer and Premium DFS Research through the Super Bowl.
Sign Up Now!
Brycen Hopkins, Purdue
Hopkins broke out in his senior year at Purdue, catching 61 passes for 830 yards and seven touchdowns. He's been a key part of the Boilermakers offense for the last three years, but 2019 really showed us what Hopkins could do and led to a spike in his draft stock.
Hopkins is very athletic, but big questions remain about him as a blocker at the next level. For that reason, Hopkins isn't getting nearly the amount of hype that last year's top tight ends got, which is definitely fair. Hopkins is still a project, and while his senior year production was a good sign, he's still got work to do. He should develop into a low-end TE1 at some point in his career -- maybe as soon as 2021? -- but definitely needs to work on his technique.
Hunter Bryant, Washington
Like Hopkins, Bryant's got the potential to be a dynamic receiving tight end at the next level, though he didn't find the end zone as much as Hopkins did this season. Bryant's final line -- 52 catches for 825 yards and three touchdowns -- is good, especially when you factor in that Bryant was a true junior in 2019.
Bryant fits into that mold of next generation tight ends, the kinds of guys who can make big plays happen after the catch and has enough size, even if he's not the lumbering, former basketball player style of tight end. He might struggle as a blocker, but on a team that can deploy him in more interesting ways, Bryant can be productive. Just hope he doesn't wind up on a team that expects him to be a traditional, in-line blocking tight end, because that's not the role that best suits him.
Cole Kmet, Notre Dame
Where Kmet ends up going in the draft is going to be one of the things to watch for, because he's been working his way into the first round in some mock drafts.
I don't necessarily think he ends up going that high in April, but I get where people are coming from in projecting that. Kmet didn't play a ton before 2019, but he broke out for 515 yards and six touchdowns on 43 catches as a junior. A lot of that production came against Georgia, when Kmet had nine catches for 108 yards and a touchdown.
Kmet is better suited to be a traditional, in-line tight end than some of the other prospects in this draft are. He's not going to run away from defenders like Bryant might, but he has good hands and the size to be a red zone threat. If any of these guys can make an instant impact, it might be Kmet since teams wouldn't need to build sets for him.
Thaddeus Moss, LSU
He's the son of Randy Moss! He was huge in the title game for LSU!
But Moss's bread and butter that'll keep him around the NFL is his blocking ability. He's not his dad, and he's not going to be one of those exciting tight ends who you're jumping to draft in your rookie draft, but he can be a solid player with a long career because of his power. I'm bad at player comps, but maybe he could have a Darren Fells-like career, which isn't the worst thing.
Jared Pinkney, Vanderbilt
Another guy who -- like Moss -- is going to make his living as a blocker more than as a receiver. He's got big hands and should be able to serve as a reliable option in the short passing game, but likely won't be able to do much after the catch.
If you're a fan of production, Pinkney's 2019 season was a disappointment. Just 29.1 receiving yards per game after a 2018 season in which he had 59.5 receiving yards per game. A four yard drop in yards per reception. Should that be something to worry about? Maybe!
Harrison Bryant, Florida Atlantic
Now, if we're talking about production, let's talk about Harrison Bryant. Unlike Pinkney, Bryant showed a ton in the numbers department last season, catching 65 passes for 1,004 yards and seven touchdowns. He was fourth in Conference USA in receiving yards.
Another guy whose blocking isn't a strength, Bryant would be best served in a situation where he could play out in the slot, but there are question marks about how versatile he could be if moved out into the slot. Bryant's a project, but at FAU he put up great numbers and showed he could dominate against weaker competition. Now, we'll get to see if he can adapt and survive against NFL-caliber opponents. I'd be interested in him late in rookie drafts, especially if I'm in need of a high-ceiling player and can eat the loss if he ends up at his floor.
More Dynasty League Strategy